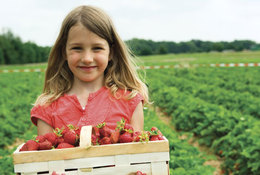 Best of Family 2014
Looking for something new to do with the kids? How about a doctor that meets all your needs? Don't worry, we've got you covered. We take a look at our 122 winners for Best of Family 2014 with a selection of editor's picks and reader votes. From food and family fun to medical needs and senior care, these standout companies are making South Jersey a truly great place to raise a family.
EDUCATION & CHILD CARE
Children's Art Classes
Markeim Arts Center
Markeim has all sorts of classes designed at getting your child's hands dirty and brains working, from wheel throwing and cartooning to painting and even henna design.
104 Walnut St., Haddonfield, (856) 429-8585, MarkeimArtCenter.org
Children's Dance Instruction
Bowman School of Dance
Getting a child started early on in dance can help spark a lifetime hobby, and at Bowman kids can pick from a handful of programs, including jazz, tap and even a musical theater class.
74 Kings Hwy. N., Cherry Hill, (856) 667-0447, TheBowmanSchoolOfDance.com
Reader's Choice:
Dee Dots Dance Academy
360 Garwin Road, Woolwich, (856) 467-8998, DeeDotsDance.com
Children's Martial Arts Instruction
Garaguso Classical Martial Arts
Channel your kids' energy—while simultaneously teaching discipline and self confidence—with Garaguso's selection of karate training programs for kids aged 3 and up.
206 Hoffman Ave., Williamstown, (856) 728-3315, Garaguso-Karate.com
Classical Ballet Instruction
South Jersey Ballet School
South Jersey Ballet School offers classes ranging from beginner to advanced, with a full year of instruction designed around giving children of all ages the opportunity to perform to the best of their abilities.
415 Commerce Lane, West Berlin, (856) 767-7060, SouthJerseyBallet.com
Community College
Camden County College
The next step in education doesn't have to be miles away. In fact, Camden County College has programs in place to help students transition from their school to local universities with ease.
200 College Drive, Blackwood, (856) 227-7200, CamdenCC.edu
Competitive Dance School
Jazz Unlimited
If you're going for the gold you want to make sure you have a team with the same goals, and the experienced instructors and choreographers at Jazz Unlimited have the résumé, and awards, to back that goal up.
201 Route 73 S., Marlton, (856) 983-6608, IBJazz.com
Contemporary Ballet Instruction
Cooper River Ballet
This studio prides itself on a team of advanced and educated instructors, particularly in the world of modern dance. Their lessons and instruction gives dancers the ability to combine technique with fun and modern dance.
712 Haddon Ave., Collingswood, (215) 696-9948, CooperRiverBallet.com
Early Childhood Education
The Malvern School
Malvern's programs begin at infancy, and are designed to help young minds grow and get ready for kindergarten. Teachers and staff guide babies, toddlers and little ones through physical and development projects designed for that moment in their life.
Locations in Medford, Voorhees and Washington Township, MalvernSchool.com
Inclusion Program
Liberty Lake Day Camp
Having special needs or a developmental disability doesn't get in the way of a fun summer experience at Liberty Lake. That's because the day camp has a specialty inclusion program designed at giving students with special needs a safe and secure place to learn and have fun.
1195 Florence-Columbus Road, Bordentown, (609) 499-7820, LibertyLakeDayCamp.com
Performance Coach
Renee's Studio
Acting instructor Renee Weisband offers up her lessons in stardom, with classes for kids and adults in everything from monologue preparation to auditioning and improv.
875 Cox Road, Moorestown, (609) 220-7537, Renees-Studio.com
Pre K-8th Private School
Haddonfield Friends School
Kids have the chance to grow in this unique school setting, set right in the heart of Haddonfield. Focused on Quaker principles, Haddonfield Friends uses those as an example in educational instruction and social communication.
47 N. Haddon Ave., Haddonfield, (856) 429-6786, HaddonfieldFriends.org
Pre K-12th Private School
Moorestown Friends School
As a community rooted in Quaker values and dedicated to the pursuit of educational excellence, you can rest assured your child could not spend his or her school years in a better place.
110 E. Main St., Moorestown, (856) 235-2900, MFriends.org
Social Learning Center
Brain Balance Centers
If you think your child needs a little help reaching his or her full potential, the cutting-edge approach to learning utilized by Brain Balance Centers can help him or her get there.
1030 Nixon Drive, Mount Laurel, (856) 380-1363; 176 William L. Dalton Drive, Glassboro, (856) 582-2115, BrainBalanceCenters.com
Specialty Services Camp
Tall Pines Day Camp
Tall Pines Day Camp offers unique programs such as a School of Rock, as well as theater and speech and language programs, taking children beyond the average day camp programming.
1349 Sykesville Road, Williamstown, (856) 262-3900, TallPinesDayCamp.com
Summer Camp
JCC Camps at Medford and Early Education Camps
No matter the age, JCC Camps at Medford and JCC's Early Education Camps can keep your children entertained and keep their brains stimulated all summer long.
400 Tuckerton Road, Medford, (609) 654-5192 (summer), (856) 751-1666 (offseason), JCCCampsAtMedford.org; 1301 Springdale Road, Cherry Hill, (856) 424-4444, KatzJCC.org
Summertime Enrichment Program
Great Times Day Camp
While your child can participate in typical summer camp activities at Great Times Day Camp, an enrichment program where children can continue their academic pursuits through the summer is also offered.
223 Ehrke Road, Waterford Works, (609) 567-2166, GreatTimesDayCamp.com
Teen Art Classes
Perkins Center for the Arts
If you have a budding artist in your midst that has outgrown her high school art classes, the Perkins Center for the Arts may just offer the creative outlet she's looking for.
395 Kings Hwy., Moorestown, (856) 235-6488; 30 Irvin Ave., Collingswood, (856) 833-0009, PerkinsCenter.org
Tennis Lessons
Cherry Hill Health & Racquet Club
When it comes to tennis, whether you're looking to improve your game or pick up a new hobby, the Cherry Hill Health & Racquet Club is the place to start.
1820 Old Cuthbert Road, Cherry Hill, (856) 429-1388, CHHRC.com
Tutoring Center
Huntington Learning Center
Offering one-on-one and small group tutoring in a variety of subjects, look to Huntington Learning Center if your child is aiming to advance or needs improvement in a specific academic area.
1990 Route 70 E., Cherry Hill, (856) 795-1933; 860 Route 168, Turnersville, (856) 227-0033, HuntingtonHelps.com
Voice Instruction
Mainstage Center for the Arts
Whether an audition for American Idol is in your future or you'd simply like to brush up on your public speaking skills, Mainstage Center for the Arts can coach you through it all.
27 S. Black Horse Pike, Blackwood, (856) 302-6485, Mainstage.org
FAMILY FUN
Apple Picking
Hill Creek Farms
Get into the fall spirit with Hill Creek's 20 acres of apple orchards. There are 11 varieties of apples for your picking pleasure, and the farm stays open for a full two and a half months of harvest season.
1631 Route 45, Mullica Hill, (856) 223-0028, HillCreekFarms.com
Arcade
Tilt Studio
This action-packed arcade has something for everyone—and that means mom and dad, too. Try your hand at classic arcade games like skee ball, ride one of their indoor rides, or get the gang together for a round of mini golf.
1580 Voorhees Town Center, Voorhees, (856) 782-6572 ext. 10, TiltStudio.com
Birthday Parties
Rastelli's Sports & More
It's important to have a birthday spot that's fun for kids and allows parents to watch and enjoy every moment, which is Rastelli's specialty. Party packages can cover food, access to the facilities, even paper products and clean-up, so all you have to do is celebrate.
1855 Hurffville Road, Sewell, (856) 401-8111, SportsAndMoreFun.com
Reader's Choice:
The Funplex
3320 Route 38, Mount Laurel, (856) 273-9061, FunplexMountLaurel.com
Children's Theater
Moorestown Theater Company
Creativity comes alive at Moorestown Theater Company, where a dedicated staff performs seasonal and year-round productions designed to ignite your child's imaginations. Check their website for their rotating list of shows for you and your little one.
19 W. Main St., Moorestown, (856) 778-8357, MoorestownTheaterCompany.org
Reader's Choice:
The Broadway Theatre of Pitman
43 S. Broadway, Pitman, (856) 384-8381, TheBroadwayTheatre.org
Date Night
Scaturro's Restaurant and Bar
After a long week of soccer practices and homework assignments, a date night should be effortless and easy. Which is exactly what the staff at Scaturro's—with their extensive bar and dinner menus—provides for you and your special someone. Just be sure to bring the romance.
841 Route 73 S., Marlton, (856) 985-4560, Scaturros.com
Reader's Choice:
Arthur Murray Dance Center
117C Route 73 S., Marlton, (856) 396-2490, NJArthurMurray.com
Day Trip
CoCo Key Water Resort
A day trip doesn't have to involve a long drive to another location, especially with CoCo Key right in your backyard. The indoor water resort boasts family packs to fit your needs, and a fun experience for all ages.
915 Route 73, Mount Laurel, (856) 234-7300, MtLaurelCoCoKey.com
Ice Rink
Hollydell Ice Arena
Experience the fun of winter without the cold weather and pesky snow shovels. Hollydell's rinks offer freestyle skating sessions as well as annual packages, learn-to-skate lessons and even recreation hockey teams.
601 Hollydell Drive, Sewell, (856) 589-5599, Hollydell.com
Reader's Choice:
Flyers Skate Zone
601 Laurel Oak Road, Voorhees, (856) 309-4400, Voorhees.FlyersSkateZone.com
Rainy Day Escape
30 Strikes Lanes
When the weather is looking gloomy, the lanes at 30 Strikes remain bright, and best of all, dry. There's a ton of open bowling opportunities aimed at giving you and your family a chance to turn off the screens and enjoy some classic competition.
501 S. White Horse Pike, Stratford, (856) 783-0558, 30Strikes.com
Reader's Choice:
International Sports, Skating & Fun Centres
Locations in Mount Laurel, Cherry Hill and Deptford, IntSports.com
Weekend Activity
BounceU
You'll never forget a weekend at BounceU, which packs their massive space with some of the most creative bounce houses we've ever seen. Each location offers open bounces for all ages—even a parents' night out.
1271 Little Gloucester Road, Blackwood, (856) 228-2834; 1205 Warren Ave., Cherry Hill, (856) 429-6400, BounceU.com
Year-Round Programs
The YMCA Camp
The YMCA Camp isn't just the classic summer camp you grew up with. For proof, check out their website, which is packed with year-round trips and retreats for all ages. From cooking classes to fishing and archery lessons, you'll feel like a camper all year round.
1303 Stokes Road, Medford, (609) 654-8225, YCamp.org
FOOD & DINING
Chicken Sandwich
Chick-fil-A
It's hard to find someone who doesn't love Chick-fil-A's chicken sandwich. Take a simple, but oh-so-good fried chicken breast and place it on a buttered bun with a few crinkle-cut pickles. Just thinking about this classic fast food staple has our mouths watering.
15 locations across South Jersey, Chick-fil-A.com
Cookies
Classic Cake
Don't let the name fool you, Classic Cake is more than just cake. For proof look to their selection of cookies; hand-crafted varieties served up by the box or tray, with favorites like chocolate chip and oatmeal, or more unique varieties of Ruggalah or seasonal creations.
480 Evesham Road, Cherry Hill, (856) 751-5448; 100 Hurffville-Cross Keys Road, Sewell, (856) 262-7400, ClassicCake.com
Family Lunch Spot
Cool Dog Café
With more than a dozen varieties of all-beef hot dogs and sliders topped with everything from cheddar cheese to Chow Mein, you'll need to bring the whole family to try one of everything.
2091 Route 70 E., Cherry Hill, (856) 424-0400, TheCoolDogCafe.com
Family Restaurant
Illiano Cucina Mediterranea
What's our key to a great family restaurant? A dish for everyone, which you'll find at Illiano Cucina Mediterranea. There's a children's menu to keep kids happy while adults can dive into a menu loaded with fish, pasta and pizza options.
200 Tuckerton Road, Medford, (856) 985-2721, IllianoCucina.com
Reader's Choice:
Yoshimoto Japanese Steakhouse
3501 Route 42, Turnersville, (856) 740-0021, YoshimotoHibachi.com
Farm Market
Springdale Farms
Produce doesn't get much fresher than when it's fresh from the vine or right out of the ground. And for that we turn to Springdale Farms. Just browse their site, which shares their rotating seasonal options for your picking.
1638 S. Springdale Road, Cherry Hill, (856) 424-8674, SpringdaleFarms.com
Reader's Choice:
Lew's Farm Market
864 N. Lenola Road, Moorestown, (856) 234-2480
HEALTH & BEAUTY
Adult Hair Care
Suede Salon and Spa
This local salon prides itself on staying on the cutting edge of its field—mastering new techniques and styles, all the while providing the luxurious services one expects when visiting a salon.
500 Route 73 S., Marlton, (856) 985-0700, SuedeSalonSpa.com
Reader's Choice:
Lotus Salon
36 Route 70, Marlton, (856) 574-4377, LotusSalonNJ.com
Alternative Orthodontics
Segal and Iyer Orthodontics
If traditional braces aren't on your radar, Dr. Ross Segal and Dr. Monisha Iyer offer a variety of Invisalign options for all ages, and can fit your needs down to the last tooth.
501 Route 73 S., Marlton, (856) 396-9518, SegalAndIyer.com
Athletic Performance Training
Next Level Quarterbacks
Up-and-coming quarterbacks can get a leg up on the competition with this professional athletic performance training gym, through state-of-the-art exercise and competitive tools from experienced experts.
614 Lambs Road, Pitman, (856) 452-1553, NextLevelQuarterbacks.com
Back Pain Management
Woodbury Spine
Living with pain doesn't have to be your reality. Woodbury Spine can manage all types of back pain, from arthritic and lumbar problems to lower back and herniated discs.
1225 N. Broad St., Woodbury, (856) 845-0707, WoodburySpine.net
Behavioral Treatment Center
CNNH
This treatment center uses a wide variety of clinical expertise and treatment options to treat your child's behavioral issues, helping them reach their full potential through a variety of diagnostic and developmental programs.
250 Haddonfield-Berlin Road, Gibbsboro, (856) 346-0005, CNNH.org
Reader's Choice:
Brett DiNovi and Associates, LLC
1771 Springdale Road, Cherry Hill, (856) 628-1686, BrettDAssociates.com
Botox
Aesthetic Dermatology
Dr. Sandra Elder has been producing serious results with the use of Botox for 20 years. That experience can transform your Botox treatments and give you the best look imaginable.
771 Route 70 E., Marlton, (856) 596-3393, ElderDermatology.com
Brain Injury Rehabilitation
Bancroft
Bancroft has been providing local brain injury victims with a new lease on life for almost a quarter century, using customized treatments designed to treat the patient, and not just the injury.
Serving South Jersey, (856) 428-2697, Bancroft.org
Cardiac Center
Lourdes Health System Vascular & Cardiac Care
Rated as one of the country's 100 best cardiac care centers by HealthGrades, Lourdes has grown to treat a sprawling list of cardiac problems, with locations across South Jersey for easy access.
Serving South Jersey, (856) 757-3500, LourdesNet.org
Chiropractor
O'Keefe Chiropractic Center
Dr. Michael O'Keefe, Dr. David Jones and Dr. Bibo Zhang have formed a practice that specializes in a full variety of chiropractic care, including therapy for sports injuries, Kinesio taping and DTS spinal decompression.
99 Taunton Road, Medford, (609) 654-4299, OKeefeChiropractic.net
Cosmetic Eye Surgery
Burlington County Eye Physicians
With options like Restylane, Radiesse and Botox from professionals at this office, there's no reason that you can't get the look for your eyes that you've always wanted.
711 E. Main St., Moorestown, (856) 235-2448; 225 Sunset Road, Willingboro, (609) 877-2800, BCEye.com
Dental Implants
Dental Arts of South Jersey
Dr. Jack Piermatti and his team of dental professionals are leading the way in dental implant advancements, with options in everything from periodontics to restorative dentistry.
1001 Laurel Oak Road, Voorhees, (856) 783-5777, DentalArtsOfSouthJersey.com
Dermatology
Dr. Ingrid Warmuth Skin Care Center
Everyone's skin is unique and different. Dr. Ingrid Warmuth understands that, and approaches each patient's dermatological needs with a personal and individual touch.
95 Woodstown Road, Swedesboro, (856) 852-9834, DrWarmuthSkinCareCenter.com
Diabetes Care
Joslin Diabetes Center at Deborah
Living with diabetes doesn't have to slow you down, especially with the nationally renowned professionals at the Joslin Diabetes Center right in your backyard.
200 Trenton Road, Browns Mill, (609) 621-2075, Deborah.org
Electrolysis Hair Removal
Bodywise Electrolysis
You can't get rid of unwanted hairs with the wave of a magic wand, but with Bodywise Electrolysis you can get pretty close, thanks to their treatment options designed to eliminate all types of unwanted body hair.
44 Cooper St., Woodbury, (856) 848-9991, BodywiseElectrolysis.com
Eye Surgery Center
Mazzuca Eye and Laser Centers
Whether treating for glaucoma and cataracts or solving vision problems through LASIK surgery, the three physicians at Mazzuca Eye and Laser Centers can help you get your sight back.
20 Village Center Drive, Swedesboro, (856) 241-8900, DrMazzuca.com
Family Dentistry
Mary Farren, DMD
When looking for a dentist that can take care of your family from childhood through adulthood, look no further than Dr. Mary Farren, who specializes in all of the hygienist and procedural assistance that you and your family might need.
1908 Springdale Road, Cherry Hill, (856) 751-6606, CherryHillFamilyDentist.com
Reader's Choice:
Center Square Family Dental
120 Center Square Road, Swedesboro, (856) 294-6767, CenterSquareDental.com
Family Eye Care
Village Eyecare
Monitoring eye health starts early, and Village Eyecare has exams in place for all ages, including a specialty pediatric program for your little one.
120 Center Square Road, Swedesboro, (856) 832-4950, SJVillageEyecare.com
Family Fitness
Virtua Health & Wellness Center
Keep fit in any of the three cutting-edge Virtua Health & Wellness Centers across South Jersey, equipped with childcare facilities, lessons and consultation support for all.
Locations in Moorestown, Washington Township and Voorhees, (888) 847-8823, Virtua.org
Family Medicine
Advocare Pediatric & Adult Medicine
An all-in-one physician's office like Advocare Pediatric & Adult Medicine can make all the difference in your family's medical care, and make it easier to get the help you need under one roof.
Locations in Marlton, Sicklerville and Voorhees, AdvocareDoctors.com/DocMir
Family Planning
Delaware Valley Institute of Fertility & Genetics
Having DVIF&G's dedicated staff on hand to help start your dream family can be a priceless commodity, especially when exploring alternative fertility options for your future.
6000 Sagemore Drive, Marlton, (856) 988-0072, StartFertility.com
Kids Haircuts
Kids Kuts
It's hard enough to get your child to sit still through dinner, and a haircut is no different. But the team at Kids Kuts brings a fun, child's perspective to their cuts that makes it more like a fun outing than a trim.
Locations in Cherry Hill, Merchantville, Turnersville and West Deptford, KidsKutsRUs.com
Reader's Choice:
Salon de Kids
660 Woodbury Glassboro Road, Sewell, (856) 464-3886
OB/GYN
Obstetrics & Gynecology Associates, Sewell
From well visits and prenatal care to contraception, Dr. Joann Richichi and her staff of physicians can provide all your OB-GYN needs under one roof.
239 Hurffville-Crosskeys Road, Sewell, (856) 262-8300, MyOBGYNDoctors.com
Orthopedic Surgery
Burlington County Orthopaedic Specialists
When you're ready to get back to moving like your old self, you need to know your orthopedic needs are being met to the "t." And the physicians at BCOS have 35 years of local experience helping patients achieve that goal.
204 Ark Road, Mount Laurel, (856) 235-7080, BCOS.us
Reader's Choice:
Premier Orthopaedic Associates of New Jersey
201 Tomlin Station Road, Mullica Hill, (856) 223-0007, POASNJ.com
Orthodontics
Morrone & Kaye Orthodontics
Nothing beats a confident smile. Dr. Mary Beth Morrone and Dr. Richard Kaye bring that confidence to life with their orthodontics, and have earned a reputation for success.
99 W. Main St., Moorestown, (856) 234-4044; 120 Madison Ave., Mount Holly, (609) 267-1221, MorroneAndKaye.com
Reader's Choice:
Kadar Orthodontics
485 Hurffville-Crosskeys Road, Sewell, (856) 582-1400, GoKadar.com
Pediatric Care
Advocare Lerch & Amato Pediatrics
When your little one is under the weather, Dr. Lee Lerch and Dr. Christopher Amato know and understand that only the most watchful eye will do.
63 N. Lakeview Drive, Gibbsboro, (856) 435-6000; 239 Hurffville-Crosskeys Road, Sewell, (856) 740-4440, AdvocareDoctors.com/LerchAmatoPeds
Pediatric Dentistry
Washington Township Dental Associates
Not only does Washington Township Dental Associates specialize in pediatric care, but they have a dedicated plan in place to cater to special needs children, making a trip to the dentist an easy and relaxing experience.
474 Hurffville-Crosskeys Road, Sewell, (856) 582-1000, WashingtonTownshipDental.com
Pediatric Emergency Care
Virtua Health System
You want the best for your child at all times, especially when an emergency strikes. Not only is Virtua's children's website fully stocked with tips, but their 24/7 emergency care centers span the South Jersey area, including specialty pediatric emergency centers in Mount Holly and Voorhees.
Serving South Jersey, (888) 847-8823, Virtua.org
Pediatric Specialty Care
Nemours DuPont Pediatrics
Special care for your child requires the special eye of Nemours DuPont physicians, who have earned a national reputation for their specialty care centers.
443 Laurel Oak Road, Voorhees, (856) 309-8508, Nemours.org
Personal Training
Athletic Solutions by GP Fitness
You want to get in shape, but where do you start? For us it all starts with Garnell Peters and his unstoppable physical trainers, who take a personalized approach to your fitness.
420 Commerce Lane, West Berlin, (856) 809-6492, AthleticSolutionsNJ.com
Personal Training for Student Athletes
Escape Medford
Whether it be training for the NCAA or trying to keep your student healthy and injury-free, student athletes can turn to the performance and progression training at Escape for real results.
135 Route 70 E., Medford, (609) 654-8900, EscapeMedford.com
Physical Training
Strive Physical Therapy
Recovering from a surgery or serious injury requires a proper team of experts, like the physical therapists at Strive. They have experience helping clients of all ages and lifestyles get back to where they want to be in life.
Serving South Jersey, StrivePhysicalTherapy.com
Rehabilitation Facility
PowerBack Rehabilitation
Leaving the hospital post-surgery doesn't have to be a struggle. With the help of PowerBack's rehabilitation facilities you can get back home and back to work quicker than you ever imagined.
113 Route 73 S., Voorhees, (856) 809-3500; 212 Marter Ave., Moorestown, (856) 291-4800, PowerBackRehabilitation.com
Speed and Agility Training
Parisi Speed School
Staying on top of your game also means out-running the comp¬¬etition. You just can't put a price on speed and agility skills, which is why Parisi specializes in getting athletes moving faster than ever.
1820 Old Cuthbert Road, Cherry Hill, (856) 429-1200, CHHRC.com/Parisi
Workout on a Budget
Giant Fitness
Fitness doesn't have to cost a fortune, especially with Giant Fitness' $10 monthly membership fee that includes access to all sorts of weight training and cardio machines.
Locations in Delran, Lindenwold, Mount Laurel and Woodbury Heights, GiantFitnessClubs.com
HOME & GARDEN
Carpet Cleaning Services
COIT
Regular carpet cleanings can keep your house looking and feeling like new. That's why COIT uses the most advanced equipment in the cleaning, deodorizing and carpet repair industry to get you results you can really see.
Serving South Jersey, 1 (855) 901-2648, COIT.com
Christmas Open House & Display
Dambly's Garden Center
There's no Scrooge at Dambly's, where Christmas gets the royal treatment. From an in-house Santa Claus through December to a sprawling display of holiday gear, tree skirts, stands, candles and ornaments, this garden center has got the Christmas spirit.
51 W. Factory Road, Berlin, (856) 767-6883, DamblysGardenCenter.com
Countertops
All Marble, Granite & Tile Imports Inc.
Whether you're a casual cook or a true home chef, the right countertops can totally change your kitchen. All Marble, Granite & Tile Imports offers hundreds of options in stone so that you can find the exact fit for your home, in a showroom that makes it easy to choose.
932 Route 70 W., Cherry Hill, (856) 354-4747, AllMarbleGranite.com
Custom Trimwork
Home Trimwork
You'll be amazed what customized trimwork by this specialty company can do to your space. Don't believe us? Just scroll through the before and after photos on their website and be amazed.
Serving South Jersey, (609) 206-8621, HomeTrimwork.com
Design Clinic
Cipriani Remodeling Solutions
You're dreaming of a remodel, but where do you even start? Turn to Cipriani, a company that hosts year-round design clinics on a wide variety of remodel and construction topics so that you have the tools you need to begin your next project.
665 N. Broad St., Woodbury, (856) 853-8398, CiprianiRemodelingSolutions.com
Garden Supply Center
Magnolia Garden Village
From shrubbery and perennials to mulch and topsoil, a real Green Thumb knows that the right supplies can make a garden a personal part of any home. That's why Magnolia stocks a full line of garden supplies to fit your unique needs.
405 S. White Horse Pike, Magnolia, (856) 783-4717, MagnoliaGardenVillage.com
Handyman
A5 Design, Build, Remodeling
We've all entered into an "easy" home project, only to realize—hours later—that it's not what we thought. A5's handyman service can step in and solve those problems, thanks to dedicated professionals with experience that most homeowners can't find anywhere else.
1258 Haddonfield Berlin Road, Voorhees, (856) 719-0200, A5Remodeling.com
Hearth Specialists
The Fireplace People
With winter looming, nothing warms you up like a toasty fire on a chilly evening. That's why it's key to contact The Fireplace People's hearth specialists now, to make sure your fireplace is in full working condition when the temperatures drop.
794 Route 73, West Berlin, (856) 768-0009, TheFireplacePeople.com
Home Construction
Brindisi Builders
A home construction project is a big deal for any homeowner. Which is why having a company with the reputation of Brindisi Builders is so important. This company has years of experience in additions and rebuilds, and can bring that knowledge to any space they see.
59 S. Maple Ave., Marlton, (856) 985-6219, BrindisiBuilders.com
Interior Design
Rooms in Bloom
Rooms in Bloom's team of interior designers has the knack for style that you want in your space, and can bring its unique sense of design to your home for a totally new perspective.
Serving South Jersey, (856) 722-1505, RoomsInBloomNJ.com
Kitchen & Bath Design
Matteo Family Kitchens
The kitchen and bathroom: They're two of your most-used rooms in the house, and definitely some of the most important. Matteo Family Kitchens takes that seriously, using almost 50 years of experience to craft the dream kitchen or bathroom that fits your budget and style.
20 Old Salem Road, Woodstown, (856) 769-2490, MatteoKitchens.com
Lighting
Ace Plumbing, Heating and Electrical Supplies, Inc.
Proper interior and exterior lighting can completely transform your space. Ace has experience brightening up the worlds of homes and large-scale retail spaces all over South Jersey, and their approach to lamps, chandeliers and LED lighting can make all the difference.
601 Aura Road, Glassboro, (856) 881-6550, TeamAce.com
Live Christmas Trees
Mr. Green Jeans Farm Market & Nursery
Nothing beats the smell and look of a fresh, live Christmas tree, which is why so many South Jersey residents keep coming back to Mr. Green Jeans year after year. They've earned a reputation for their fresh trees, and their selection of color poinsettias.
210 Route 73 S., Hammonton, (609) 567-5786, MrGreenJeansNJ.com
Patio Furniture
Green Lea
The right patio furniture can transform the look of your home's exterior, which is why Green Lea offers a sprawling selection of styles, finishes and materials to choose from.
204 Route 73, Voorhees, (856) 767-4413, GreenLeaGardens.com
Pond Supply
The Garden Center & Pond Supplies
From liners and pumps to stones, this company supplies a full stock of pond additions to make your mini water oasis really shine.
355 Center St., Sewell, (856) 468-8241, SewellGardenCenter.com
Pool Construction
The Pool Store
A family pool is a long-term decision, so you want a team like The Pool Store there to help provide the design expertise and construction knowledge that will make sure it lasts for years to come.
Locations in Sewell and West Berlin, ThePoolStore.com
Reader's Choice:
Swim-Mor Pool and Spas
920 Lake Drive, Mount Ephraim, (856) 456-3332, SwimMor.com
Realtor
Anne E. Koons
Finding your dream home can become a reality when you put your hunt in the hands of Anne Koons. Koons has 30 years of working experience in South Jersey, and that means knowledge you won't find anywhere else.
1401 Route 70 E., Cherry Hill, (856) 795-4709, AnneKoonsRealEstate.com
Roofing
Nuss Construction Company Inc.
Nuss' roofing experts can add years of value to your home, and give you peace of mind with a 10-year workmanship warranty and a free check on your roof after three years.
119 Church Road, Marlton, (856) 988-9982, NussConstruction.com
Vinyl Replacement Windows
New Window Factory Sales, Inc.
Staying warm in your home this winter—and keeping heating costs down—is easy with the New Window Factory's selection of vinyl windows designed to bring your home to life.
613 N. Black Horse Pike, Mount Ephraim, (856) 546-1120, NewWindowFactory.com
Window Treatments
Jen-N-Josh Blind Co.
Great window treatments don't just block out the sun, they can create a whole new look for your space. Jen-N-Josh have become the go-to experts for beautiful and unique treatments in the area.
1044 Industrial Drive, West Berlin, (856) 753-0505
RETAIL
Children's Clothing
Ragamuffins Children's Boutique
Your little ones are so cute that finding clothes to match are a necessity. Ragamuffins sells a range of casual and special occasion outfits fit for any celebration, including communion and flower girl dresses and beautifully crafted christening gowns.
2110 Route 70 E., Cherry Hill, (856) 751-9333, RagamuffinsKids.com
Dance & Yoga Apparel
Attitudes
Comfortable and movable dance apparel can be cool, too. Just ask Attitudes, a company that specializes in dance and yoga duds that are as fabulous as you are.
446 Route 70 W., Marlton, (856) 985-7270, AttitudesNJ.com
Floral Arrangements
MaryJane's Flowers
Whether you're celebrating an occasion or just looking for some fresh-cut flowers to add a breath of life to your day, MaryJane's floral arrangements are more of a work of art than a bouquet.
111 W. White Horse Pike, Berlin, (856) 336-2912, MaryJanesFlorist.com
Pet Supply
Cutter's Mill Pet Store
Your pet is a member of the family, and we all know how easy it is to spoil them, especially with the selection of toys, treats and specialty foods at Cutter's Mill.
1080 Nixon Drive, Mount Laurel, (856) 780-5552; 10 Route 70 E., Cherry Hill, (856) 429-1690, CuttersMillPetStore.com
Specialty Eyewear
Frederic Meserall Vision & Hearing
If you spend most of your time in glasses, you know how much the right frame can reflect your personality. Frederic Meserall caters to that demand, and offers a variety of lenses and materials to meet your lifestyle.
206 Kings Hwy. E., Haddonfield, (856) 429-6930, Meserall.com
Sporting Equipment
Danzeisen & Quigley
This athletic supply store leads the way in sporting gear for all ages, whether you're into extreme sports or the outdoorsy type looking for the most state-of-the-art equipment.
1720 Route 70 E., Cherry Hill, (856) 424-5969, DAndQ.com
Sportswear & Shoes
New Balance Shoes & Apparel
Runners know that the right shoe can be as important as your fitness regimen. That's why the staff at New Balance works with their customers to find the perfect fit every time.
1990 Route 70 E., Cherry Hill, (856) 874-0666; 4313 Dearborn Circle, Mount Laurel, (856) 840-0905, NewBalance.com
SENIOR LIVING & FAMILY CARE
Dementia Care
CareOne Harmony Village at Moorestown
A loved one's dementia or memory condition can be difficult to face on your own. But CareOne at Harmony Village has created specialty assisted living programs designed around Alzheimer's and dementia, so all your family has to worry about is being together.
301 N. Stanwick Road, Moorestown, (856) 638-1244, Care-One.com
Dog Training
South Jersey K9 Solutions
You want your dog to be a well-behaved and functioning member of the family, but where do you start? For us, it begins with South Jersey K9 Solutions' award-winning experts, who teach everything from basic obedience to protection and K9 training.
136 North Ave., Hammonton, (856) 745-3180, SJK9Solutions.com
Employment Law
The Vigilante Law Firm, P.C.
Understanding your rights as an employee is essential, especially when considering your family's financial future. Whether as an employer or employee, The Vigilante Law Firm specializes in employment law, to make sure you get the job done right every time.
99 N. Main St., Mullica Hill, (856) 223-9990, TheVigilanteLawFirm.com
Family Law
Borger Matez, PA
Matters of family law are significantly sensitive and require a dedicated level of care. The team at Borger Matez understands that, and dedicates their focus on alternatives to give your family the most stress-free results.
1415 Route 70 E., Cherry Hill, (856) 424-3444, NJFamilyLaw.net
Home Care
Spring Hills Senior Communities
Spring Hills Home Care Services provides seniors wanting to stay in their own home with a world of opportunities and care. With licensed caregivers offering everything from social to medical assistance, you can live worry-free in your own setting.
1450 Route 70 E., Cherry Hill, (856) 298-1407, Spring-Hills.com
Insurance
Michael J. McDyer
With 14 years of experience, Allstate's Michael McDyer has been providing local residents with insurance options that range from home and life insurance to car, boat and even retirement assistance.
1301 Route 70 E., Cherry Hill, (856) 216-0088; 649 Stokes Road, Medford, (609) 654-1426, Allstate.com
Residential Living
Collingswood Manor
When it comes to quality residential living, the key is to have a place that you can call home. The residential living program at Collingswood Manor provides residents with their own living space, but also provides housekeeping, food and transportation options to make your home a happy, healthy space.
460 Haddon Ave., Collingswood, (856) 854-4331, Collingswood-Manor.UMH-NJ.org
Reader's Choice:
Lions Gate
1110 Laurel Oak Road, Voorhees, (856) 782-1200, LionsGateCCRC.org
Respite Care
Woodbury Mews
Having a supportive recovery space after a hospital stay or surgery can be just as important as the procedure itself. Woodbury Mews' respite care program provides a comfortable and safe environment for those recovering or living with special needs, giving everyone in the family a better peace of mind.
122 Green Ave., Woodbury, (856) 494-6034, Woodbury-Mews.com
Senior Safety Products
All-Star Lifts
Finding the right stair lift, ramp systems or elevator systems for your aging loved one can turn their home into a safe and convenient space. And the products at All-Star Lifts help provide that aging-in-place opportunity.
(609) 442-7508, AllStarLifts.net
Sub-Acute Rehabilitation
AristaCare Health Services
AristaCare offers a unique seven-day, sub-acute rehab program that you can't find anywhere else, in an acute level setting that is aimed at providing rehabbing patients with a full range of resources for recovery.
1399 Chapel Ave., Cherry Hill, (856) 663-9009, CherryHillRehabNJ.com
Published (and copyrighted) in Suburban Family Magazine, Volume 5, Issue 9 (November, 2014).
For more info on Suburban Family Magazine, click here.
For information about advertising in Suburban Family Magazine, click here.
To find out where to pick up your copy of Suburban Family Magazine, click here.