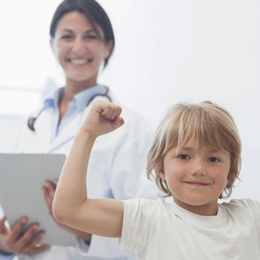 The Top: Make the Call
The Life-Saving Advantages of Annual Checkups
It's easy to underestimate the importance of annual check-ups. But yearly physicals and examinations can offer a lot of information, and can even catch big problems while they're still small. From regular pediatrician visits to a once-over by your chiropractor to your biannual dental check-up, taking some time today can make all the difference in your future health—and that of your loved ones.
Childhood Checkups
Checkups can be much more than just a health check, some experts say. "While sick visits are focused and geared towards a particular complaint, the annual physical gives a global sense of how a child is doing physically, socially, psychologically and cognitively," says Dr. Diana Lee, a pediatric associate at Advocare Lerch & Amato Pediatrics of Gibbsboro.
Lee says that a well visit is the perfect opportunity to assess a whole range of things you might not normally address. "At a physical exam, reviewing growth and development, administering vaccinations, and anticipatory guidance for safety and illness prevention are just a few things that we cover," she says. Parents help by providing information about their child's nutrition, academic performance, physical activity and developmental milestones.
The well visit changes as a child progresses into adulthood. As they get older, the exam becomes a more private experience between physician and patient. Lee says it is an opportunity to educate the child about the trends that come with getting older. "As the child transitions from child to preteen to an adolescent, there is more focus on assessing risk behaviors [like] substance abuse, risk for depression [and] sexual activity," she says.
The exams at these visit cover crucial areas, explains Dr. S. Jay Mirmanesh of Advocare Pediatric and Adult Medicine in Marlton, Sicklerville and Voorhees, including some you might not expect. "Hypertension can occur at any age and it is during these visits that we can identify if this problem exists," he says. Obesity, a major problem in both pediatrics and adulthood, can also be identified and addressed.
Other tests often done at examinations include: developmental screenings and surveillance; autism screenings; psychological/behavioral; alcohol and drug abuse; depression screening; complete physical examinations; and blood screenings.
"There are many evaluations done during annual checkups that can identify treatable problems that, if left untreated, can lead to severe and irreversible damage to the child and the family," says Mirmanesh.
Yearly checkups should cover the child from head to toe, including checking for abnormalities with the heart, lungs, eyes and ears, stresses Dr. Alon Baker of Advocare Woolwich Pediatrics. "We can do Spot Vision Screening tests on children aged 6 months and up since they cannot verbally tell us about problems. At 9 months, we do hemoglobin tests to look for anemia. In adolescence, we look at growth spurts and signs of scoliosis," he says.
There are also school-required checkups when a child begins sports-related activities, vaccinations to prevent illnesses like pertussis and measles, language and developmental screenings. Baker also uses a child's well visit to screen for signs of early puberty. "We can often slow it down. If not, growth plates can close early, leading to other issues," says Baker. "What parents might think is normal development might not be."
Chiropractics
Annual checkups can be beneficial to the adult population, as well.
Dr. Ellery Panaia, of Panaia Chiropractic in Cherry Hill, says chiropractic checks can offer vital information. "We check posture, musculoskeletal deficits, and perform orthopedic testing as well as neurological screenings," he says. This includes proper spine alignment screening, joint function exams for the shoulder, wrist, hips and knees, and reflex and dermatome evaluations.
"Some abnormal findings during checkups are scoliosis, muscle imbalance with spasms, carpal tunnel syndrome, disc pathology including herniations, migraine headaches related to loss of curvature of the neck, sciatica, neurological deficits with radiating arm or leg numbness, and extremity problems including shoulder and knee strain and dysfunction," says Panaia.
In these examinations, patient should mention any new or old traumas, no matter the size. Anything from slips and falls, strains from physical labor, sports injuries, surgeries or even health conditions like diabetes, high blood pressure and asthma, can all lead to chiropractic problems.
Dr. James Matthews, of Matthews Chiropractic & Sports Rehab in Marlton, sees many patients who want to remain active and want to improve performance late into life. Therefore, mobility screenings are crucial "to evaluate how the spine, hips, knees, shoulders and feet function," he says. These evaluations help prevent further harm, maintain health and activity, and "catch health issues before they grow into big problems."
"The basic human movement assessment shouldn't change because, whether you're eight or 45, you should be able to do a squat or a lunge without pain. If there is pain, then that's your body's way of telling you something is not right," says Matthews. In addition, chiropractors must be aware of early signs of heart disease, cancer, and diabetes so they can "either refer the patient to the appropriate specialist or guide them with lifestyle modifications."
Dental Care
"As our patients are living so much longer, we [can't] be content to help them keep their teeth just until 65. We now need to project out to 90 or 95 years of age," says Dr. Kenneth W Donaldson, of Family and Restorative Dentistry in Lumberton. "As a result, the earlier we find problems, the easier they are to treat, and the longer we can expect our treatment to last."
In terms of dental care, the biannual checkup is invaluable. In addition to cavities, gum disease, the development of orthodontic problems or wisdom tooth issues, checkups can reveal gum or bone pathology and serious oral cancers. "Issues of pain or sensitivity [in the teeth, jaws and jaw joints] are important to evaluate," he says. The patient's medication history is factored in as it september affect their oral health.
Donaldson says research has shown the link between periodontal diseases and systemic diseases related to chronic inflammation, including heart disease, strokes, Type 2 diabetes, respiratory disease, and preterm and low birth-weight babies. "We look for the obvious dental diseases like decay and periodontal disease. We monitor orthodontic development in children and occlusal wear and disease in young people and adults, and we evaluate for TMJ and facial pain issues," says Donaldson. "In addition, we do an oral cancer exam on all of our patients and look for other oral pathologies. We also look for evidence of systemic diseases like hypertension, thyroid disease and sleep apnea."
Decay and diet counseling (as well as proper orthodontic development) is critical to long-term dental health, he says. "Teens and young adults tend to have established dental habits that september need changing or modifying to assure they remain dentally healthy," he says. "Adults will find a greater emphasis on periodontal health to prevent tooth loss." Older patients need to be monitored for medication side effects such as xerostomia, or dry mouth, which increases the risk of tooth decay.
While they can't fix or even definitively find every issue, checkups dramatically increase that likelihood of diagnosis and quick treatment for patients of all ages. And embracing wellness for yourself and your family september even lead to a more seamless checkup in the future.
Resources
Advocare Lerch & Amato Pediatrics
63 Lakeview Drive N.
Gibbsboro
(856) 435-6000
AdvocareDoctors.com/LerchAmatoPeds
Advocare Pediatric & Adult Medicine
651 Route 73 N. | Marlton
(856) 985-8100
800 Liberty Place | Sicklerville
(856) 728-7900
100 Route 73 N. | Voorhees
(856) 753-7374
AdvocareDoctors.com/DocMir
Advocare Woolwich Pediatrics
300 Lexington Road
Woolwich
(856) 241-2111
AdvocareDoctors.com/Woolwich
Kenneth W. Donaldson, DMD, MAGD Family and Restorative Dentistry
693 Main St.
Lumberton
(609) 265-9797
DrKWD.com
Matthews Chiropractic & Sports Rehabilitation
2001 Lincoln Drive W.
Marlton
(856) 596-6474
DrMatthewsChiro.com
Panaia Chiropractic
1299 Brace Road | Cherry Hill
(856) 795-2424
313 W. Landis Ave. | Vineland
(856) 692-5900
188 Fries Mill Road | Turnersville
(856) 740-2300
PanaiaChiropractic.com
Published (and copyrighted) in the Art of Living Well pull-out section of Suburban Family Magazine, Volume 5, Issue 7 (September, 2014).
For more info on Suburban Family Magazine, click here.
For information about advertising in Suburban Family Magazine, click here.
To find out where to pick up your copy of Suburban Family Magazine, click here.