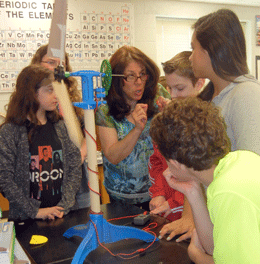 Star Teachers
Julie Lyons
Washington Township
Bunker Hill Middle School science teacher Lyons (pictured) was chosen to participate in the New Jersey Science Teachers Association's development program, "The Next Generation in Life Sciences Instruction." Lyons was one of 24 teachers selected across the state for the week-long program that provided educators with the chance to create new learning units to be used in state schools. The teachers studied cell structures, ecosystems and evolution as part of the program.
Beth Repsik
Haddonfield
Repsik, a Haddonfield resident who teaches English literature and AP composition at Notre Dame High School in Lawrenceville, was chosen to take part in a June teaching conference known as the Library of Congress Teaching with Primary Sources Summer Teacher Institute. The program, which received nearly 400 applications, is a five-day conference that allows teachers to work together to learn about using primary sources in the classrooms and taking advantage of digitized historical documents.
Dr. Antoinette Rath
Mount Laurel
Mount Laurel Superintendent Rath was honored as Burlington County's Superintendent of the year for 2015 by members of the Burlington County Chapter of the New Jersey Association School Administrators. During her time as superintendent, the district has transformed in the areas of standardized testing, the creation of a STEM program and other technological advances. Rath has been an educator for 29 years and will also be considered for the regional and state Superintendent of the Year for 2015.
Jeff Pollock
Washington Township
Hurffville Elementary School principal Pollock had another successful crop season. The Washington Township principal organized his 13th annual "Student Farmers Grow and Give" program with Duffield's Farm, in which third-graders from all six elementary schools harvested 4,800 pounds of squash. A portion of the harvest was donated to "Farmers Against Hunger," a program within the New Jersey Agricultural Society that donates fresh produce to local soup kitchens.
David Knecht
Tabernacle
Seneca educator Knecht was named both the Seneca High School Teacher of the Year and the Lenape Regional High School Teacher of the Year for the 2014-15 school year. Knecht, who teaches English, is an active part of school activities inside and outside of the classroom, and was honored for his work with extracurricular groups like the Gay/Straight Alliance, debate team and National Honor Society.
Eileen Radetich
Haddonfield
Haddonfield resident Radetich, a professor at Camden County College, was awarded with the 2014 Lindback Distinguished Teaching Award which is the highest award attainable for CCC faculty. Radetich was nominated because of her outstanding performance in the classroom, taking her students' needs and concerns to heart and creating a positive, lasting influence on them. She also never turns down an opportunity to speak at seminars, conducting research and speaking enthusiastically about topics such as Irish literature, Edgar Allan Poe and Jane Austen.
Dr. Farrah Mahan
Cherry Hill
Barton Elementary School principal Mahan now has her own day—Dr. Farrah Mahan Day. The day was assigned to her by Councilman John Amato on orders of the mayor at a surprise assembly in her honor. Mahan has left Barton Elementary School to take up a new post as Director of Curriculum for the Cherry Hill School District, where she will oversee all curriculum changes for all Cherry Hill students.
Maureen Heenan
Marlton
Heenan, a teacher at DeMasi Middle School, created the "6th Grade Survivor" program to ease the anxieties of students transitioning into middle school. The 25-year member of the school's staff developed workshops that will teach students the necessities needed to succeed in middle school such as taking notes, problem solving, and study techniques.
Jim Sheffer
Medford
Sheffer, Medford Memorial School's Jazz band instructor, conducted his band as they hosted and performed in a middle school jazz show that was judged by professors from The University of the Arts. The Memorial School Jazz band received a gold rating from the esteemed panel indicating a perfect score. Under his teaching, one of his eighth graders has been chosen to play the clarinet at Carnegie Hall.
Barbara Andrews
Voorhees
Andrews, a reading specialist at Kresson Elementary School, brought summer reading to the next level this year, engaging students throughout the summer months through social media and the internet. The program, called One School, One Theme: Friendship, uses a social media site known as Nimbus to allow students, parents and teachers to communicate and complete reading activities, while also helping the graduating fifth-graders transition to middle school.
Keira Scussa
Marlton
Scussa, a reading specialist for the Evesham Township School District, led a literacy event for Robert B. Jaggard Elementary School students and their families through her Passport for Literacy Night. Scussa's program allowed guests to participate in various activities staged across different continents, all laid out in the gym, library and different classrooms. Guests worked on reading and writing skills through a special book fair and theater production, and ended the night with an International Feast, all prepared and arranged by Scussa.
Kelly Ann Bixby
Moorestown
Bixby, a music teacher at Moorestown Friends School, competed at the National Association of Teachers Artist Award semifinals in Boston in July, where she won the $700 Bernard Taylor Award, one of the semifinalist recognitions. Before competing in Boston, the soprano singer competed for the Eastern Region prize in March at Hofstra University and was named the winner among singers from New Jersey, New York, Delaware, Pennsylvania, West Virginia and Quebec. Bixby was one of 14 regional winners who competed in Boston.
Published (and copyrighted) in Suburban Family Magazine, Volume 5, Issue 7 (September, 2014).
For more info on Suburban Family Magazine, click here.
For information about advertising in Suburban Family Magazine, click here.
To find out where to pick up your copy of Suburban Family Magazine, click here.