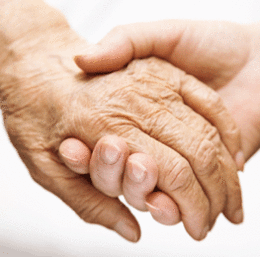 Ramping Up the Safety Factor
Questions you should ask and information you need to keep older loved ones protected.
With the elderly population growing all the time, keeping seniors safe is a major concern. As we age, the risk of being hurt through accidents or falls rises dramatically. Senior abuse and financial scammers are other potential concerns. Whether living at an adult care facility or aging at home, it's important to know what is being done to keep your elderly loved ones safe.
Assisted living versus home care
Safety and care are two of the main reasons seniors and their families choose to move to assisted living communities, says Christina O'Leary, director of branding and project management at Spring Hills Senior Communities, which has eight assisted living communities and four home care services locations in New Jersey, Florida, Ohio and Virginia. "Assisted livings are usually equipped with nurse call systems in residents' rooms and on their person via a pendant, a watch, or an ankle bracelet," she says. Some devices can be pressed when assistance is needed or will sound alarms when a resident leaves a secure area or the location has been otherwise breached.
To better assess a facility's safety factor, Spring Hills director of homecare operations Anthony Pusillo suggests people sit down with the senior in their care and ask a series of important questions. These answers will determine the next step in their care as they age, and are a good guide to see just how safe a senior is in the moment. Consider the following: How is the senior getting around? Can they still drive, and should they? Is their house clean and free of mold and dust mites? Is their food fresh or expired? Are they taking their medications properly with the food as required or at the right times of day? "Someone should be available to help monitor these concerns," he says.
O'Leary adds that some locations, like Spring Hills, have licensed nurses onsite 24/7 and a staff who uses behavior trending technology which allows the team to review normal routines and alerts them when there is a change in that routine. The data from this gives the nursing team additional opportunities to enhance coordination between medical professionals and the resident's family, she says.
Avoiding falls
At home, the senior or their family must maintain the safe environment. "Families and seniors need to consider various fall hazards around their home such as loose carpets and slippery tiles [and clutter]," says Pusillo. "They also need to consider what might happen if they fall in their own home and no one is there. They should be equipped with some kind of medic alert on their person as well as a medical alert system for emergency situations."
Preventing these accidental falls is key, others say.
"The most important thing is fall prevention," says Alyssa K. Muratore, director of services at the Safety Outfitting Services (SOS) Group, Inc., a business that provides home accessibility modifications and equipment to those with disabilities and looking to age in place throughout New Jersey. "The statistics for slips and falls in the home are overwhelming. It is proven that falls account for over 85 percent of senior citizen emergency room visits." Most falls occur in the bathroom, when entering or exiting the home, and walking up and down stairs.
"As people age, their joints are not as limber and muscles atrophy, minimizing their range of motion. This makes bathtubs difficult to get in and out of and creates an area of concern for falls," adds O'Leary. Grab bars and shower chairs are required in assisted livings and should be in seniors' homes, too.
Grab bars can be placed inside or outside the shower, next to the toilet, or anywhere they would be helpful to the person using them, says Muratore. "They also come in different shapes, sizes and finishes customized to your exact wants and needs." She also suggests non-slip gripping inside of tubs.
For entering and exiting a home, Muratore suggests handrails anywhere there is a step or lip, and ramps for wheelchairs. "For [stairs], it's important to make sure you have sturdy handrails. In some cases, you may want to have them on both sides of the stairs. As you age and the stairs become increasingly difficult, we suggest installing a stair lift for maximized safety," she says.
Throw rugs and clutter are other major hazards. "It's best to keep clean, open spaces and avoid throw rugs all together," she says. Also, make sure the edges and corners of any existing carpet aren't sticking up or frayed.
Proper footwear is a big help when it comes to falls, says Muratore. "It's best to avoid slippers with no backs and to invest in a full slipper with a non-slip grip. You can also wear non-slip shower shoes when bathing," she says.
Medications and emergencies
When it comes to medications, follow the doctor's instructions and double-check with the pharmacist to make sure there are no potential interaction issues between meds.
"Medications need to be stored in a cool, dark environment and all medications that require refrigeration should be found in the refrigerator," says Pusillo. Home health aids provide medication schedule reminders and can send a nurse out to fill medi-planners. "Assisted living communities can provide medication management 24/7 since this is the No. 1 care need of seniors as they age."
Medication management is key, especially when or if an emergency arises. "In an emergency, it is paramount for emergency responders to have access to phone numbers [such as] emergency contacts and physicians, and a medication list," says Pusillo. "Each senior should have this information in an envelope either attached to the refrigerator or located in the medicine cabinet. This information should be reviewed on a monthly basis in order to keep it accurate."
In assisted livings, emergency phone numbers are posted throughout the community and each resident's chart has emergency contact information such as primary physician, family emergency or power of attorney contact, as well as current medications list. It's a good idea to consider this practice in a private home as well.
"In case of a fall, we suggest having a medical alert bracelet and/or necklace that you can press to alert the proper contact that something is wrong. This device also has a 'fall detection' and a GPS feature should you become unconscious as a result of falling and cannot access the necklace or bracelet," she says.
Protecting your loved one's finances
According to the AARP, seniors lose billions of dollars each year to scammers. In fact, the elderly are targeted more often than other groups and fall victim more often, too. With adult children often living far from their aging parents, there is little they can do to protect them.
However, the AARP does have some suggestions. When you suspect a fraud, talk to your parents. Remind them they can't win a contest they haven't entered and that they never have to pay fees to collect lottery winnings. And government agencies don't make unsolicited phone calls or ask for personal information. Remind them not to trust strangers, especially those seeking personal information and money. And if your parent has been victimized, tell them how their experience could be helpful for others in the same situation.
In addition, the NJ Division of Consumer Affairs has created The FedUp Program–Senior Fraud and Protection. This program provides information against scams, including advance fee fraud (where a senior citizen is informed that he/she won a prize but needs to send in money to pay for alleged processing fees and/or local taxes); bogus charities that ask for donations in cash or via checks made out to cash; and rebate or reward checks that covertly enroll the person cashing the check into a subscription or contract.
The importance of early prevention
In the end, the most important idea is to be proactive when it comes to safety, says Muratore. "Prevent injuries before they happen, especially when looking to stay in your home as long as possible," she says. And if you have suspicions of problems, talk to caregivers and, if concerns persist, authorities. "Barrier-free living is a direct investment in your long term quality of life. Your home should be your sanctuary and a place you should feel 100 percent comfortable and safe."
Resources
AARP New Jersey
101 Rockingham Row
Princeton
(866) 542-8165
AARP.org
SOS Group, Inc.
1829 N. Black Horse Pike
Williamstown
(856) 740-4000
SOSGroup.info
Spring Hills Assisted Living Community
1450 Route 70 E.
Cherry Hill
(856) 298-1407
SpringHillsCherryHill.com
Published (and copyrighted) in the Art of Living Well pull-out section of Suburban Family Magazine, Volume 5, Issue 7 (September, 2014).
For more info on Suburban Family Magazine, click here.
For information about advertising in Suburban Family Magazine, click here.
To find out where to pick up your copy of Suburban Family Magazine, click here.