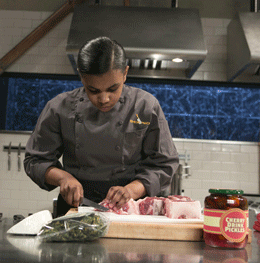 Star Citizens
Know a Star Citizen? Tell us about him or her at Family@SouthJersey.com.
Alexandria Brooks
Voorhees
At just 16 years old, Brooks (pictured) was one of 16 national teens to compete on Food Network's Chopped Teen Tournament. She faced off against three other teens in the first of two rounds. Though she didn't make it to the finale, she was praised for her plating techniques and knowledge of ingredients.
Jared Barag
Marlton
Drexel student Barag was more than a friendly neighbor one summer day when he was home from college, coming to the rescue of a fellow neighbor when he went into cardiac arrest. Barag was washing his car when he noticed his neighbor lying on the ground, across the street. Barag phoned 911 and performed CPR until paramedics showed up, who said the man would not be alive had Barag not been there.
Richard and Christine Hluchan
Haddonfield
Hluchan and his daughter accomplished a feat only some can dream of —they climbed Mount Kilimanjaro in Africa with only little training. They trained on the Stairmaster and did most of their prepping on the ground, which got the Hluchans ready for their climb. The two had barely hiked at all before their trek, but they still accomplished reaching the top of the tallest mountain in Africa, seven days from the start.
Stephanie Marks Sawyer
Mount Laurel
A long-time Mount Laurel resident, Sawyer authored the book "Mount Laurel," about the history and growth of the town. Released in July, the book features a variety of old photographs and stories and is part of the "Images of America" book series. Sawyer plans to write another book about Mount Laurel's history, comprised of the research she was unable to include in her first story.
Spencer Levy
Cherry Hill
Levy has a knack for baking, particularly his now-famous cookies. The 12-year-old even found a way to use that skill to help his community. With the help of his mom and ShopRite of Marlton, Levy is donating all the proceeds from his baking to the Children's Hospital of Philadelphia. In this year alone, he has raised $1,923 and since 2008, has raised more than $6,000 for children at the hospital. Cherry Hill Township has even honored Levy for his generosity, marking June 23 "Spencer Levy Day."
Stephanie Masapollo
Washington Township
Masapollo's hard work in her charity organization Costumes for Kids has been rewarded through the national Kohl's Cares Scholarship Program. The 11-year-old started collecting Halloween costumes in 2012 for her neighbors after she saw many victims of Hurricane Sandy had no costume for the holiday, and has been raising costume donations ever since to help local kids. The regional winner received a $1,000 scholarship and will appear on posters in Kohl's stores across the state.
Robert Flynn
Moorestown
Moorestown native and Navy Commander Flynn became the first executive officer of the Navy Flight Demonstration squad known as the Blue Angels. His new title puts him second in command, focusing on day-to-day management and training of the legendary Blue Angels. Flynn is a graduate of the U.S. Naval Academy in Annapolis, Md., a S-3B Viking naval flight officer, and the author of two recently published military-themed children's picture books.
Howard Shivers, Bob Metrione and Kathleen Finan
Haddonfield
Members of the Mabel Kay House Senior Center showed off their art skills at the Camden County Senior Art Show; and three members took top prizes during the competition: Shivers won first place with his non-professional oil painting, "Lem's Cabin;" Metrione won first with his "Arches N.P.;" and Finan won second place with "Garden Glories," for her non-professional pastel paintings. All winners from the art show will be featured in the New Jersey Art Show from Sept. 25 to Oct. 30.
Jonathan Moraglia
Medford Lakes
For the fourth year running, 13-year-old Moraglia has designed his own mini golf course in his backyard. But this time, Moraglia is asking those who come to play for only a quarter, to bring donations for troops overseas as he and his father are working with Operation Yellow Ribbon. Moraglia created the 75-foot by 40-foot course to include obstacles, water and bridges.
Alexa Rosen
Medford
Rosen's dream became a reality when she was crowned Miss Night in Venice at the Ocean City Miss Night in Venice Boat Parade. The 15-year-old Medford resident was awarded because she raised the most money out of all the participants, donating money to the Sunshine Foundation helping chronically ill children, the HERO Campaign for Designated Drivers and the Ocean City Food Cupboard.
Edward Martino
Cherry Hill
Honors and appreciation were shown to 89-year-old Martino at a patriotic event hosted by the New Jersey Employer Support of the Guard and Reserve (ESGR) program and Cherry Hill Dodge. Martino, a World War II Army veteran and a recipient of the Purple Heart, was honored for his sacrifices during the Battle of the Bulge in 1945.
Susan Rose
Washington Township
Rose was awarded the Jefferson Award for Volunteer Leadership by the New Jersey State Governor's office, for her dedication to her self-started charity, the Lauren Rose Albert Foundation. The foundation aims to provide solutions to struggling women, providing emergency grants, free business clothes and bags of everyday items to women in need. The program was founded by Rose in 1999 in honor of her daughter Lauren, who was killed in a car accident.
Melissa Burr
Mount Laurel
Burr of Mount Laurel is the first woman in history to advance to the final table in the Poker Players Championship at the Rio Convention Center in Las Vegas. She finished seventh out of all contestants at the five-day competition, conquering eight varieties of poker to make her way to the final round, where she competed to win the $50,000 buy-in with a group of all men.
Ronald Henry
Marlton
Officer Henry of the Evesham Police Department was recently recognized as Outstanding Officer of the Year for 2013 by the Marlton Elks and Evesham Police Department. Henry led a team that accumulated 25 percent of the arrests for 2013. The Elks organized an awards ceremony that honored Henry, along with a handful of other officers and scholarship-winning students from the area.
Jeffrey Chiusano and Seung-Yub Lee
Cherry Hill
Chiusano, a 2014 graduate of The College of New Jersey, and Lee, who received her Ph.D. in organic chemistry from Stony Brook University in 2000, were each named Woodrow Wilson Teaching Fellows by Gov. Chris Christie in June. The $30,000 grants are given to graduates who show a passion for the science, technology, engineering and math fields. After each of the fellows completes a year-long master's degree program with the fellowship, they will teach for three years in a New Jersey school district lacking STEM teachers.
Star Citizens is proudly sponsored by:
Huntington Learning Center
HuntingtonHelps.com
Published (and copyrighted) in Suburban Family Magazine, Volume 5, Issue 6 (August, 2014).
For more info on Suburban Family Magazine, click here.
For information about advertising in Suburban Family Magazine, click here.
To find out where to pick up your copy of Suburban Family Magazine, click here.