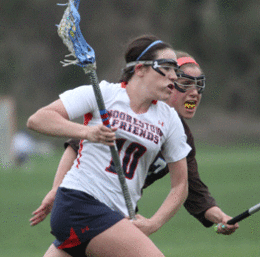 Star Athletes
Know a Star Athlete? Tell us about him or her at Family@SouthJersey.com.
Noelle Smith and Dan McGinn
Moorestown
Smith and McGinn, Moorestown Friends School lacrosse standouts, have been named Academic All-Americans by US Lacrosse. As much as these two athletes have shown athletic prowess on the field, both being school record holders for goals scored, they have excelled even more in the classroom. Their success on and off the field has led them both to continue their educations and lacrosse careers at the next level, as Smith will head to Trinity College and McGinn will attend Davidson College.
Trevor Jones
Moorestown
Jones, a William Allen Middle School eighth-grader, was named a 2014 Brine National All-Star this year. The Brine National Lacrosse Academy selects the top middle school players in the country to gain invaluable experience and develop their skills under the tutelage of NCAA coaches from top programs. Jones represented New Jersey at the 2014 Brine National Lacrosse Academy and as a member of the National Lacrosse Classic team in Baltimore, Md.
Adam Felker
Voorhees
Felker, of Voorhees, took home the silver medal in softball along with the rest of Team New Jersey at the U.S. Special Olympics this summer. Felker, an employee with the Voorhees Administrative Office, has been playing softball for the last 10 years and helped his team medal at this national event. Felker resumed play with his local recreational team after the Olympics ended.
Lauren Schmetterling
Moorestown
Schmetterling was announced as a member of Team USA's women's eight rowing team and will compete in the 2014 World Rowing Championships in the Netherlands. The 26-year-old is no stranger to international competition, having raced in last year's World Cup 3 in Switzerland, where she and her team won gold and set a world record. Proud to represent her country, Schmetterling also hopes to compete in the 2016 Summer Olympics in Rio de Janeiro, Brazil.
Champion Goldy Sr.
Haddonfield
In an astonishing feat, 97-year-old Goldy was part of the Atlanta Team Elite, the first men's team of four athletes ages 90 and older to run in the USA Track and Field Masters Outdoor Championship at Wake Forest University. As the oldest member of the team, he ran the 4x100, 4x400 and 4x800. Goldy and the men set world records for the oldest team to finish all three events.
Kirby Quinn
Cherry Hill
Quinn, a sophomore diver at Duke University and native of Cherry Hill, advanced to the 2014 AT&T NCAA Zone B Diving Championships in Knoxville, Tenn., in July. The promising young athlete and Bishop Eustace graduate placed third in the women's synchronized 3-meter springboard event at the USA Diving National Preliminary Zone B Championships in Florida, earning Quinn a spot in the NCAA Championships.
Bryce Reece
Mount Laurel
After playing lacrosse with the Mount Laurel Indians for two years, Reece was selected as one of the few athletes to earn a place at the 2014 World Lacrosse Championships, which is held once every four years. Reece beat out more than 70 other athletes, and faced off against other top lacrosse players in Denver this summer in the 13-and-under category.
Dana Guglielmo
Moorestown
Guglielmo is now a part of world history, as she's had her name etched into the "Guinness Book of World Records" for her unusual talent. The Moorestown resident now holds the fastest time for joggling—that's right, joggling—a 5K with a time of 20:40, beating the previous record of 27:42. Joggling combines running, which Guglielmo has been practicing since high school on the track team, and juggling, which she mastered this year.
Shawn Wilson
Marlton
Wilson, a 2013 Cherokee graduate, won the annual Marlton Mayor's Cup 5K Race with a time of 15:56. This is Wilson's second time winning the race, last winning in 2012 with a time of 16:46. Wilson currently attends Syracuse University.
Collin Day and Joe Naulty
Cherry Hill
These two athletes and Y.A.L.E Cherry Hill students dominated the 50-yard individual breaststroke at this year's U.S. Special Olympics Games, with Day earning silver and Naulty taking bronze. Day also won a gold medal in the men's individual 50 yard freestyle, and both Day and Naulty also competed together in the 4x25 medley relay and took home gold. They were awarded medals by Lieutenant Governor Kim Guadagno.
Christopher Pelose
Washington Township
The Brick Invitational Super Novice Hockey Tournament only accepts the best 10-year-olds from North American hockey teams, but they made an exception for 9-year-old Pelose. The Washington Township fourth-grader was one of only 40 players chosen to play on Team PA in the Edmonton, Alberta, tournament, and helped his team go 3-3. It was a huge improvement from last year's tournament, where the team went 0-6.
Kurt Elmer
Mount Laurel
Success was in the air the day Elmer took the field, pitching six innings for the Mount Laurel Senior American Legion baseball team. With three strikeouts and allowing just five hits, Elmer led his team to victory as they triumphed over Washington Township, 10-5.
Sean Doolittle
Medford
Doolittle, the closer for the Oakland Athletics and a 2004 Shawnee graduate, had the honor of playing in the 2014 MLB All-Star Game in Minneapolis this summer. While at Shawnee, Doolittle compiled an astonishing 30-3 record. Doolittle was the only member of the A's All-Stars to have played his entire career in Oakland, and helped the American League triumph over the National League.
Blaine Lafferty
Marlton
Lafferty, a graduate of Cherokee High School, came in second place at the Golf Association of Philadelphia's Christman Cup this summer. Held at St. David's Golf Club, Lafferty came just shy of winning the cup. The Burlington County College student scored an impressive 1-over 141 total during the Wayne, Pa., tournament.
Published (and copyrighted) in Suburban Family Magazine, Volume 5, Issue 6 (August, 2014).
For more info on Suburban Family Magazine, click here.
For information about advertising in Suburban Family Magazine, click here.
To find out where to pick up your copy of Suburban Family Magazine, click here.