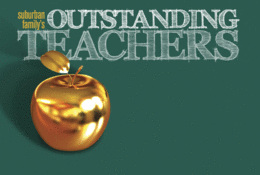 Suburban Family's Outstanding Teachers
…From the pages of Suburban Family Magazine…
Our annual look back at our favorite Star Teachers from the past school year, as well as some new names that caught our eye in the process.
Some travel abroad in search of lessons to bring back, while others are inspired at conferences to develop new innovative curriculum. Whatever their method, South Jersey is full of educators who are leading their classroom into a new era, helping their students better understand the world, the opportunities available, and the importance of developing strong relationships with their peers and communities. Here, we highlight just some of these leaders who are truly some of the region's Outstanding Teachers.
Kathy Assini
Franklinville
Assini's path to teaching wasn't typical. At the urging of her son's teacher, she went back to school at age 42, earned her degree, and "never looked back," says the former hair salon manager. The choice paid off. A teacher for 11 years now, the history/social studies teacher at Delsea Regional Middle School was named the 2013-2014 New Jersey Teacher of the Year, which has allowed her to spend the last six months on sabbatical. She has acted as the voice of the teaching community for the Department of Education, traveling the state visiting schools; meeting decision-makers in Trenton; attending conferences as far away as Arizona; and even having lunch in the home of Dr. Jill Biden. In July, she'll attend the National Network of State Teachers of the Year Conference in Philadelphia and even Space Camp in Huntsville, Ala. She looks forward to returning to the classroom though, where, as Teacher of the Year, she has a new supply of gadgets and software to make her room a Smart Classroom.
What did you learn during sabbatical? I have come to see firsthand how hard the NJEA works to support the teachers in New Jersey. ... Although the concept is not new to me, I have seen up close and personal how hard New Jersey teachers and teachers from around the country work and how much they care about the children in their charge.
What did you miss the most? My kids! I love helping my students learn to learn. I love seeing them make connections to the content, as well as make connections to each other.
Jaclyn Pryzbylkowski
Voorhees
Students are surrounded by inspirational posters in the halls of Voorhees Middle School encouraging respect and understanding the significance of their actions and words. This can be credited thanks in part to the culture of empathy that's being promoted by the Free to Be club, which was started by Pryzbylkowski in 2012 because she felt the school needed an outlet to discuss bullying and self-esteem. One of the most significant acts of the club is their Box of Wisdom, which allows a student to leave an anonymous message about a problem they are facing, and a club member will respond on the Box of Wisdom message board. "The club wanted to have something in place in school that students could always go to so they would never feel alone," Pryzbylkowski says.
Have the students' reactions to the Box of Wisdom surprised you? After students get the letters … we read them out loud and discuss the situation. It was surprising to see some members react to the letters by saying, "Wow, I didn't know someone else could be going through that," or "I have no idea what advice to give." Students have a difficult time giving advice and this surprised me.
What's your ultimate hope for the group? For each member to know that they have the power to make a positive change in their surrounding world. The simplest smile can make all the difference in someone's life.
Maureen Barrett
Mount Laurel
Barrett became fascinated with the idea of teaching students how to build underwater robots after seeing the idea presented at a National Marine Educators Association conference, so when the Mount Laurel School District presented the idea of adding a STEM class to the curriculum three years ago, the Harrington Middle School science teacher seized the opportunity. Her seventh-grade class now focuses on the principles of technology, engineering and design—culminating in teams of four building an underwater exploration device to solve a problem assigned at the beginning of the marking period (such as a leaking oil well). In recognition of her innovation, the class earned the Recognized Program designation in the 27th Annual School Leader Award Program presented by the New Jersey School Boards Association last fall. This year, her after-school Sea Bots team also won first place in the New Jersey Sea Perch competition held at Rowan University.
Why ocean exploration? It is believed that less than 5 percent of our oceans have been explored. Since we know so little about what is below the ocean's surface, I think it is important for students to understand both why and how our oceans are being explored.
What's your favorite lesson students take from this? It is great to watch the students work in teams to build their underwater robots. They learn to collaborate and communicate, and they also learn how to be team leaders.
Joyce Fazio
Cherry Hill
Fazio is an English/literature teacher at The Kings Christian School, which often gets international students with limited English-speaking/reading skills in 10th and 11th grade. Far from home and often behind their new peers, Fazio has become known for her commitment to preparing these students for college in a short period of time. Most recently, she helped a senior from Cairo, Egypt, the first student from Egypt that the small private school welcomed. "I'm so thankful I met her this year because she has had a big impact on my life," Reham Ibraham says. "I'll always take her lessons with me no matter where I go." Fazio, a finalist in the New Jersey Cape Teacher of the Year competition this school year, is quick to point out that it's a team effort. Together with the school's ESL and advanced writing teachers, they formulate personalized plans to ensure the students are accepted into an American university.
What have you learned from your foreign students? They make me eradicate all preconceived ideas of their respective countries. They teach me about our immense similarities. They have families that miss them and love them. They have hopes, dreams and drive—so much drive that they travel far and work countless hours to achieve an American education.
What is the most satisfying part of your job? I love teaching poetry. It's universal. Since poetry is in essence another language, students come to its study on the same level.
Griffin Kidd
Haddonfield
Kidd, a physics teacher at Haddonfield Memorial High School, introduced students to a three-week engineering summer camp two years ago with the goal of preventing summer slide as well as introducing them to the variety of fields that involve engineering. Projects have included building windmills, bridges, robots and solar-powered racecars. Field trips have included the Atlantic City Municipal Utilities Authority and Temple University Hospital's surgical robots training facility. Due to its success, Intro to Engineering, taught by Kidd, was added to the curriculum this past school year. He has also been inspiring other teachers lately with his adoption of the Flipped Classroom model, in which he produces videos that introduce students to a new topic at home and allows them to solve a practice problem, then come into school the next day to work on a more challenging version. It's the opposite of the traditional homework method and allows Kidd the opportunity to work one-on-one with students who might be struggling.
Why is it important to have a program like this during the summer? Getting involved in a summer program such as this one keeps students engaged in education during the summer, which allows them to keep up their momentum from one school year to the next so that when they return in the fall, it will be easier to jump right in to their classes, refreshed and rejuvenated and hopefully inspired.
What is it that inspires you? Teaching subjects that I am passionate about at a school that is supportive of my pursuits. I have been able to develop a course in engineering and in doing so was inspired to continue my own personal education. I am currently attending Drexel University, working on a masters in environmental engineering. With an advanced degree in engineering, I will have even more to offer my students in the years to come.
Vicky Gorman
Medford
It's not only what you learn inside the classroom that matters, according to Medford Memorial Middle School science teacher Vicky Gorman, but also what you learn outside school walls. This past year, Gorman spearheaded a number of projects that helped reinforce her students' science education and its application to their community. She was recently honored by the American Meteorological Society as the Distinguished K-12 Educator for her Citizen Science Education Program that provides students and residents of Medford information pertaining to the region's weather, climate and geography. She was also honored this past school year by the National Oceanic and Atmospheric Administration as a climate steward and the National Science Teachers Association at their spring conference.
Kevin Appleby, Tom Ryan, Iwan Balinge, Vincent Dacquisto, Patrick Goliszewski and Nick Guerrieri
Washington Township
These teachers showed just how far they'll go to make a lasting impression on their students—and with it came a lesson on the importance of keeping your word. After promising the student body that they would spend a night camped out on the roof of Bunker Hill Middle School if they met a hefty goal of collecting 1,500 items for the Toys for Tots drive in December, the students went ahead and garnered more than 2,000. So on a cold night in mid-December, when the temp was barely above freezing, the teachers—showing no reluctance—set up a tent and air mattresses and fulfilled their end of the bargain.
Nicole Snodgrass
Marlton
Snodgrass has led the choral program at Cherokee High School to an extraordinary national reputation. Just this past year, the school's concert choir performed at the White House, Carnegie Hall, Longwood Gardens and a Phillies game. And last month, the talented students won the WMGK Let Freedom Rock Fest, which allows a local choir the opportunity to perform during its Fourth of July festivities. The young singers will perform on stage with Foreigner at the Susquehanna Bank Center on July 3. School administrators say Snodgrass' ability to get students to not just sing, but connect with the pieces, has provided an amazing experience for more than 150 students this year.
Kelly Wormann
Voorhees
Wormann, a music teacher at Osage Elementary School, directed a fourth-grade performance of The Castaways this year, a play surrounding the struggles of immigrant children living on the streets of New York in the early 1900s. Wormann organized the performance to introduce the young performers to the reality of homelessness, so appropriately, the event served as a fundraiser—donating clothing and other goods to a shelter in Philadelphia. Passionate about exploring different cultures of music, Wormann plans on traveling to Kenya, Zimbabwe, Tanzania, Malawi and Zambia this summer. She is a member of Music Together, an international music program that supports the notion that all children can learn how to play or sing music. Last summer, she traveled to India.
Kathy Lee Simpkins
Medford
Simpkins, the media specialist at Taunton Forge School, instituted a new circulation system that resembles the public library system, and as a result drastically increased the amount of readers in the school. There is no longer a limit to the amount of books/magazines a child can check out, and they can check out regardless of whether or not they've returned books. In February 2013, the total number of books circulated to K-5 students was 2,463. This past February, that number jumped to 4,807.
Jake Greenberg
Moorestown
As a history teacher at Moorestown Friends School, Greenberg helps students develop a greater appreciation for current affairs around the globe. Thanks to a grant from the Zekavat Summer Sabbatical Endowment, he traveled to Gambia and Sierra Leone last summer in order to bring back a better understanding himself of "an often misunderstood and underrepresented continent in history," he says. This school year, he also organized a successful ninth-grade mock debate that addressed the conflict in Syria. Each student was assigned a political group involved and had three weeks to research its history and dynamics. Last year, Greenberg conducted a similar lesson involving Egypt. In addition to helping students gain a sense of important conflicts, Greenberg organized the Middle School Service Fair in the fall, as the Lower and Middle School Service Coordinator, which raised nearly $2,000 to be split among Make-A-Wish, the NJSPCA and CHOP.
Published (and copyrighted) in Suburban Family Magazine, Volume 5, Issue 4 (June, 2014).
For more info on Suburban Family Magazine, click here.
For information about advertising in Suburban Family Magazine, click here.
To find out where to pick up your copy of Suburban Family Magazine, click here.