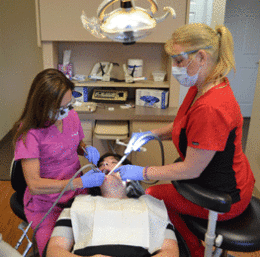 Conway & Sardina Family & Cosmetic Dentistry
Some people turn 50 years old and celebrate with a lavish party or perhaps a dream vacation. Marlene Sardina-Kelly, DMD, hit the milestone last year and responded by taking on the biggest physical challenge of her life.
And now she's getting ready to do it again.
A lifelong athlete and avid runner and cyclist, Dr. Sardina flew to Panama City, Fla., last November to compete in her first Ironman competition, a grueling triathlon consisting of a 2.4-mile swim, 112-mile bike ride and 26.2-mile run. Not only did she finish the race, but she beat her goal by over an hour and placed ninth in her age group.
Dr. Sardina believes the event has had a major impact on her everyday life and career. Always a dedicated dentist for her patients, she is now even more committed to providing the best care possible.
"It really gives you a lot of confidence and a lot of courage that you can apply to everything in life. For me, it has made me a more self-assertive dentist," says Dr. Sardina, who is currently training for another Ironman this fall in Arizona.
"I'm willing to tackle things that I normally wouldn't and I'm more open to something different. I get more excited about specific dental courses, things that maybe I wouldn't have done that I'm going to try now. You just feel more accomplished, more in control."
That is welcome news for patients of Dr. Sardina and her partner, Dee Conway-Quinn, DMD, who have been providing high-level dental care to South Jersey residents since 1994 at their Cherry Hill practice, Conway & Sardina Cosmetic and Family Dentistry.
Dr. Sardina, who has also run in 11 marathons, says her commitment to athletics gives her a special bond to many of her patients with a common love for sports. She felt their support in April, when she competed in the Boston Marathon and crossed the finish line 19 minutes before the terrorist bombings that shook the nation. "When I came back to work, Pat my office manager said, 'We had about 30 patients who called to see if you were OK,'" Dr. Sardina says. "Physically, I had a good race, but it was a tough, emotional day."
The challenge of that day was nothing new for Dr. Sardina, a Cuban refugee who left her native country at age 6 with her family. They arrived in the United States with basically nothing but soon found a better life.
Dr. Sardina grew up in New York and went to high school and college in Miami before moving to Philadelphia to attend the University of Pennsylvania School of Dental Medicine. She ended up staying in the area after meeting her husband; they have been married 22 years, have three children and live in Mount Laurel.
Dr. Sardina met Conway at Penn, and the two friends started their practice from scratch in 1994. They provide a number of dental services in a warm and welcoming environment, everything from cleanings to crowns and bridges to porcelain veneers and onlays.
"My favorite patient is that person who comes in and I can give them that smile they always wanted," Dr. Sardina says. "I've had people almost cry in the chair, even men. They were embarrassed to talk, they were embarrassed to smile. Whether it's crowns or veneers or implants or just bleaching, you change them, you transform them completely. It gives a lot of confidence to them and to me."
Dr. Sardina's practice uses the most up-to-date dental technology available, including digital X-rays and white fillings with a composite resin material. Working closely with oral surgeons and periodontists, she also does a large number of implant restorations.
The two doctors and their seven-person staff have created a family atmosphere in the office. Dr. Sardina has become close with many of her patients and gained their trust through the years.
"We have patients as young as 2 and as old as 98," she says. "I love the fact that there are people that I saw when they were in kindergarten, and now they're in college. That's a great thing about family dentistry, that some of my colleagues who are specialists don't have. They'll see a patient just for a specific treatment, but we follow people, we follow families. We see them when they're younger, then they're graduating college and starting their own families and bringing in pictures of their babies."
Dr. Sardina always makes time for her patients despite her extremely busy schedule. She wakes up most days at 4:30 a.m. and gets in a 2-mile swim, 15-mile run or 30-mile bike ride before arriving at the office. In addition to also spending time with her family, she is heavily involved with her church, St. Isaac Jogues in Marlton, as a Eucharistic minister, CCD teacher and church council board member.
But through all of her activities, she still enjoys coming to work every day. "I love what I do. I love general dentistry, because every time you go into a room, you're going to do something different on a patient of a different age," Dr. Sardina says. "Everybody has a different need, and I like that. My middle daughter, who is a sophomore at Johns Hopkins, actually wants to go to dental school, so it's been an honor to have her want to follow in my footsteps. Maybe she'll take over the practice someday."
Dr. Dee Conway-Quinn and Dr. Marlene Sardina-Kelly Cosmetic and Family Dentistry is located at 1500 N. Kings Highway, Suite 100A, in Cherry Hill. To schedule an appointment, call (856) 795-0900, or for more information visit ConwaySardina.com.
Published (and copyrighted) in the Art of Living Well pull-out section of Suburban Family Magazine, Volume 4, Issue 6 (August, 2013).
For more info on Suburban Family Magazine, click here.
For information about advertising in Suburban Family Magazine, click here.
To find out where to pick up your copy of Suburban Family Magazine, click here.