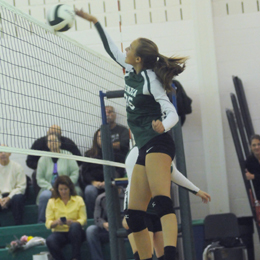 Fall Sports Preview: Girls Volleyball
CAMDEN CATHOLIC
Fighting Irish
PLAYERS TO WATCH: Camden Catholic graduated a large portion of its starting lineup but does bring back junior outside hitter Madeline Dutterer, who led the team with 82 kills. She also had 141 digs and 53 aces and will be an important piece of the offense once again. Junior setter Veronica Cava is another key returner who recorded 108 assists and 38 kills. Senior Bianca Abbate also returns and could move into the starting lineup.
OUTLOOK: The Fighting Irish had a 13-match winning streak at one point last fall, earned a playoff victory for the second year in a row and finished with an 18-4 record. They have some spots to fill around Dutterer and Cava but hope to keep moving in the right direction.
CHEROKEE
Chiefs
PLAYERS TO WATCH: Cherokee graduated 10 seniors and all six starters—including all-state third-teamer Alayna McNally—so this year's team will clearly look a lot different. Junior outside hitter Kayleigh Kitchen had an excellent season off the bench as a sophomore, as her 91 kills were second on the team behind McNally's 208. She should become the focal point of the offense. Senior outside hitter Carly Pederson is another key returner. Junior Erica Marchlowitz and senior Amanda Harvey are also hoping to contribute.
OUTLOOK: The Chiefs went undefeated in the Olympic Conference American Division in 2015 to win their fifth championship in six years. They also reached the Group IV state semifinals and finished with a 21-7 record. That will be a hard season to follow up considering the losses to graduation, but this program expects to be competitive year in and year out.
CHERRY HILL EAST
Cougars
PLAYERS TO WATCH: Cherry Hill East has a strong nucleus returning, including four senior starters. Leading the way are outside hitter Kelly Babitz, who was second on the team with 98 kills, and middle hitter Chelsey James, who added 73 kills and 31 blocks. Megan O'Rourke (285 assists) is back as the starting setter and Kim Longa (74 digs) returns at libero. Junior middle Star Beasley is another key returner who had 43 kills and 18 blocks, and sophomore outside hitter Sarah Pintel had an impact as a rookie with 43 kills. Pintel was recently measured at 6-foot-4 and is poised for a breakout year.
OUTLOOK: After a solid 10-8 season last year, the Cougars have the returning talent to improve on that mark and possibly contend in the Olympic Conference American Division.
CHERRY HILL WEST
Lions
PLAYERS TO WATCH: Junior outside hitter Sofia Russo has been a varsity contributor since her freshman year and emerged as a force in 2015. She led Cherry Hill West with 85 kills and 82 digs. Senior Sarah Ungerleider (46 kills, 23 aces) is another returning starter and senior Haylyn Haver could move into a starting spot. Senior Aleks Salcito will look to take on a bigger role.
OUTLOOK: The Lions finished with a 9-12 record last year and hope to keep improving this fall with Russo leading the way.
CLEARVIEW
Pioneers
PLAYERS TO WATCH: Clearview has a solid group of experienced veterans, including senior middle Abby Farrow, who recorded 62 kills, 55 blocks and 66 digs last year and is a key player on both offense and defense. Setter Emily Miske (212 assists) and libero Elly Drees (77 digs) are other senior returning starters. Other key players are junior setter Aislinn Grant (198 assists), junior defensive specialist Sam Gehringer (50 digs) and senior middle Abby Ware.
OUTLOOK: The Pioneers had a rare losing season in 2015, finishing with a 4-16 record, but have a good chance of returning to their winning ways this fall.
EASTERN
Vikings
PLAYERS TO WATCH: Eastern suffered major losses to graduation, as it bid farewell to five starters, including all-Group IV second-teamer Jill Wilson. Senior setter Gia Astacio is the lone returning starter as she had 252 assists as a junior. Other players expected to step into bigger roles are senior outside hitters Sophia Caputi and Stephanie Mariano, junior middles Jen Hoffman and Amanda Ravitz, junior opposite Kara Hinkle and junior outside hitter Araya Hebert. Sophomore Myyona Boyd hopes to contribute at setter and sophomore Ariana David will also be a valuable player for the Vikings.
OUTLOOK:The Vikings' 18-8 season included two playoff victories and a trip the Group IV state quarterfinals. Repeating that success will be a tall order but they hope to stay competitive.
GLOUCESTER CATHOLIC
Rams
PLAYERS TO WATCH: Gloucester Catholic brings back a pair of potent weapons in senior outside hitters Cassie Hickman and Alexis Gawason. Hickman, the Rams' captain, led the team with 74 kills and 289 digs last year, while Gawason added 41 kills and 240 digs. Junior Lauren Rossi returns at defensive specialist and junior Taylor Caldas could be ready for a starting role after contributing as a sophomore. Other returners include senior defensive specialist Victoria Caldas, junior middle Brooke Cloak and junior defensive specialist Amy Gartland. Sophomore Kate Orgera and freshmen Heidi Wolf and Emily Duer are promising newcomers.
OUTLOOK: Last year was a rebuilding one for the Rams as they finished with a 7-15 record and missed out on the playoffs for the first time in six years. With a lot of experience returning they should be much improved.
KINGSWAY
Dragons
PLAYERS TO WATCH: Kingsway graduated just one senior so hopes are high entering the season. Senior outside hitter Jessica Lail leads the way after recording team-highs with 174 kills and 67 aces last year to go along with 106 digs. Senior outside hitter Regan Healey (104 kills, 146 digs) and senior opposite Victoria Checca (96 kills) are other offensive weapons, while senior middles Gina O'Donnell (63 kills, 15 blocks) and Danielle Kelly (49 kills, 13 blocks) also provide a presence at the net. Senior Rachael Kelley (435 assists) is back as the setter and junior Camryn Norman (208 digs) returns as the libero.
OUTLOOK: The Dragons went 17-8 in their first season under new coach Tina Yoroshko, a six-win improvement from the year before. With almost the entire team back, expect another successful campaign.
LENAPE
Indians
PLAYERS TO WATCH: Lenape will be paced by four returners who emerged as key players in 2015: senior Taylor Jacobs and juniors Sara Blackburn, Sara Burgos and Julianna Day. Jacobs is the captain and leader of the defense. Blackburn, an outside hitter, had 28 kills and should be the focal point of the offense. Burgos will be the one looking for her, as she compiled 72 assists last year as the starting setter. Day, a middle hitter, spent the offseason improving as a member of the Cherry Hill Volleyball Club 16-and-under team and will be a strong asset.
OUTLOOK: The Indians endured a rebuilding season last year but should make progress behind their experienced players.
MOORESTOWN
Quakers
PLAYERS TO WATCH: Moorestown brings back most of its roster, including a pair of standouts in senior middles Jasmine Pearcy and Shelby Williams. Pearcy led the team with 138 kills and 69 blocks in 2015, while Williams added 88 kills, 70 digs and 59 aces. Senior Dani Scola (81 kills, 98 digs) is a weapon on the outside, and the strong senior class also includes setter Emily Fordham (295 assists, 113 digs) and libero Brittney Wright (273 digs). Other key contributors are senior Hannah Clarke (49 kills) and junior Tori Britton (25 kills, 109 digs).
OUTLOOK: After posting an 18-14 record last fall, look for the Quakers to follow their seniors to another season with double-digit wins.
MOORESTOWN FRIENDS
Foxes
PAUL VI
Eagles
PLAYERS TO WATCH: Paul VI graduated all-Non-Pub- lic second-teamer Rachel Robb, a key part of the team for the last several years. But one star player remains in junior middle Grace Underwood, who made the all-Non-Public third team. She led the Eagles with 135 kills and added 25 blocks, 85 digs and 59 aces. Senior libero Sophia Marziello has been a starter since her freshman year and had 64 kills and 172 digs as a junior. Senior Alexa Pattinson is back as the starting setter after recording a team-high 263 assists, and senior Elaina Stark (123 assists) is also an experienced setter. Other returning seniors include opposite Caroline Mahurter, outside hitter Ashton Brown, middle Celine Assi and defensive specialists Isabel Caruso and Monica Mercado.
OUTLOOK: The Eagles posted a 20-5 record in 2015—including a perfect 10-0 in the Olympic Conference National Division—and won a pair of playoff matches to reach the Non-Public state quarterfinals. Although there will be several challengers in the National Division this year, Paul VI will not relinquish its title easily.
SENECA
Golden Eagles
PLAYERS TO WATCH: Seneca said goodbye to a special senior class that featured three all- conference first-teamers and one second-teamer, but they left the program in good hands. Leading the returners is junior outside hitter Casee Bryan, who had 55 kills on her way to all-conference second-team honors for the second year in a row. Junior middle Jenna Daunoras is another key player who had 37 kills and 33 blocks. Other returners who saw time off the bench and could be ready to move into the starting lineup are seniors Tabitha Conard and Olivia Gordon. Several members of the 18-2 JV team should also contribute on varsity.
OUTLOOK: The Golden Eagles went 19-5 to set a school record for wins and earned a share of the Olympic Conference Freedom Division championship, the first division title in program history. There is no replacing last year's seniors, but Seneca hopes to build on what they accomplished.
SHAWNEE
Renegades
PLAYERS TO WATCH: Shawnee has a large portion of its starting lineup back in the fold, including senior middle Athena DeFulio, who led the team with 106 kills and added 21 blocks. Senior outside hitter Jessie Maier (51 kills, 71 digs) and senior middle Reagan Feudtner (26 kills, 15 blocks) are other forces at the net. Senior Sydney Harris returns at libero, and the Renegades have two experienced senior setters in Samar Ahsan and AnnMarie Cooker. Jen Seroka and Courtney Kaiser are other returning seniors on a team loaded with veteran leadership.
OUTLOOK: After going 8-12 in 2015, the Renegades have the returning talent to contend for a winning record.
WASHINGTON TOWNSHIP
Minutemaids
PLAYERS TO WATCH: Washington Township returns several imposing figures at the net, including junior middle Alyssa Fooks, who led the team with 88 kills and 37 blocks as a sophomore. Senior opposite Briana Iannelli (66 kills, 76 digs) and senior outside hitter Allison Gracie (30 kills, 36 digs) are back as well, and the person in charge of getting them the ball is senior setter Kyra Bevenour, a three-year starter who reached 500 assists last season to go with 48 kills. Senior Marissa LaSalle (24 kills) is another key returner.
OUTLOOK: With a large portion of their starting lineup returning, the Minutemaids have a good shot at improving on last year's 8-11 record.
To see a complete list of our girls volleyball sports schedules, click here to go to our digital edition.
Published (and copyrighted) in Suburban Family Magazine, Volume 7, Issue 5 (July, 2016).
For more info on Suburban Family Magazine, click here.
For information about advertising in Suburban Family Magazine, click here.
To find out where to pick up your copy of Suburban Family Magazine, click here.