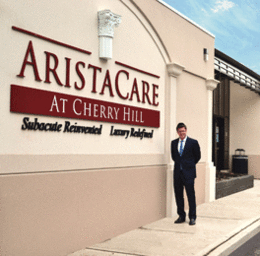 AristaCare
World-Class Care: Superior sub-acute rehabilitation treatment and nursing care combine with luxury amenities at AristaCare at Cherry Hill.
For those looking for post-hospital, inpatient rehabilitation or long-term nursing care, AristaCare at Cherry Hill is reinventing the way these services are provided. By offering the latest in medical and rehabilitative technology in a luxurious setting, AristaCare sets itself apart from other centers in the region.
According to Benjamin Kurland, Cherry Hill administrator, AristaCare at Cherry Hill serves two populations: those who need post-hospital care for several weeks after a surgery, injury or illness; and those who need long-term traditional nursing home care.
"We differentiate ourselves in the unique programs we offer," says Kurland, who is a recipient of the 2011 Administrator of the Year award from the American College of Health Care Administrators.
"From our cardiac program and our seven-day-a-week inpatient rehab, to the Alzheimer's memory care unit and the five-star hotel setting, we're providing quality treatment that you wouldn't expect in a traditional rehab or nursing care environment."
Kurland says cardiac care is a specialty offered through The Cardiac Center at AristaCare—one of the most comprehensive programs in the state. This includes cardiac telemetry monitored rehab, a specialized cardiac nurse practitioner, a congestive heart failure (CHF) recurrence prevention program, and Cardiac Boot Camp, a sub-acute conditioning and education program where the cardiac patient and patient's family receives multidisciplinary education on areas such as diet, nutrition, stress reduction, healthy lifestyle, home self-monitoring and more. The cardiac nurse practitioner focuses on prevention through thorough cardiac assessments, and follows the patients through their course of treatment, post discharge, monitoring a host of areas in the effort to progress the patient safely and prevent any complications.
Additionally, AristaCare offers a large spectrum of other clinical services as well, including, but not limited to, LiveMD, an after-hours telemedicine program, wound care, trach care, TPN/IV therapy, peritoneal dialysis, hospice and respite care.
In fact, AristaCare recently took home the Bronze award from McKnight's Excellence in Technology Awards for its telemedicine initiative. This state-of-the-art equipment allows physicians to see and evaluate residents after hours through a video monitor. "If a resident is exhibiting symptoms that would have otherwise caused them to go directly to the hospital, we roll this machine into their room and a doctor comes in live on-screen to do a full assessment," says Kurland. "Through this initiative, we have seen an over 40 percent decline in hospitalizations, and earned us the respect of hospitals and physicians in the area."
AristaCare at Cherry Hill also offers an Alzheimer's memory care unit, aptly named Nostalgia Park. The fundamental approach is based on the Montessori and Best Friends approaches to Alzheimer's, in addition to resourcing and networking through the Alzheimer's Association and NCCDP (National Commission of Certified Dementia Practitioners), through which all staff are dementia-certified, as well.
"We have a nurse who handles the clinical side of the care for this unit, but AristaCare also has a dedicated dementia care coordinator who runs other aspects of the unit," says Kurland. "We look at the big picture of care. This includes their nutrition, recreational activities and sensory rooms that help to soothe and calm residents. Our goal is for each dementia resident to experience meaningful and purposeful days."
AristaCare and its staff embrace an overall mission to do whatever is needed for the patient, and that means continually raising the level of care. "Our Cherry Hill location opened in 2012 and since then we've increased the staff, introduced valuable care programs and improved the aesthetics of the surroundings to that of a luxury hotel," says Kurland. "There are also plans in the works for adding a unit featuring all private rooms, based on high demand."
He continues, "A large part of what sets AristaCare apart is our philosophy of care and customer service in our ability to get to know and understand people, and treat them like family. AristaCare is the creator of The Quality Experience Initiative. At the heart of this program is 'The Director of Quality Experience,' a full time administrative position dedicated to ensuring that our patients are completely satisfied with every aspect of their stay. Our director is never behind closed doors; you do not need an appointment to speak with him. Having a personal advocate has proven to make a huge impact in our patients' overall experience. Additionally, we put a great amount of emphasis on food. Once a week, we offer Breakfast with the Chef, which has been a big hit."
Kurland says there are a range of activities for both sub-acute rehab patients and those living in long-term care, such as tai chi and massage. "This is not your typical nursing home. Nothing is cookie cutter," he says.
"AristaCare does have a corporate infrastructure, but each location is able to make decisions in real-time," Kurland says. "The ability to act quickly has made a difference in our success. Families can also feel confident that we will always keep them in the loop if there is a change in their loved one's condition." He adds that the staff is extremely receptive to email and families should have no hesitation to call or email about any issue.
In the end, it's the quality of care that matters. AristaCare has also teamed up with the mayor's office in Cherry Hill to provide monthly health screenings and host topical discussions. Kurland says, "Community involvement is important to AristaCare and we want to be a resource for the towns in which we operate. Partnering with townships, insurance companies and local physicians is only going to help improve the quality of care we provide."
AristaCare at Cherry Hill
1399 Chapel Ave. W. at Route 38, Cherry Hill
(856) 663-9009
AristaCare.com
Published (and copyrighted) in Suburban Family Magazine, Volume 4, Issue 8 (October, 2013).
For more info on Suburban Family Magazine, click here.
For information about advertising in Suburban Family Magazine, click here.
To find out where to pick up your copy of Suburban Family Magazine, click here.