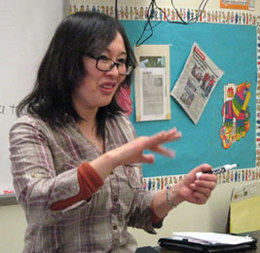 Star Teachers: September, 2013
Li Salewski
Washington Township
Salewski (pictured), a Chinese language teacher at Washington Township High School, was selected to participate in a four-week China Workshop Program for Foreign Chinese Language Teachers (Hanban) in Beijing, China, this past summer. The program took place from July 14 to Aug. 10 at the Beijing International Chinese College, and was created to improve cooperation and communication in the area of Chinese instruction at home and abroad. Each course in the program focused on linguistic knowledge, cultural knowledge or education theory.
Carolyn Brennan
Mount Laurel
The Burlington County School Nurses Association named Mount Laurel Hartford School nurse Brennan as Burlington County's 2012-2013 School Nurse of the Year. Brennan's fellow nurses cited several reasons for recommending her for this award. They included her training of colleagues in health service-related issues, coordination of staff wellness events and her willingness to go beyond the traditional role to help families in need.
Martine Howard
Blackwood
Howard, a language professor for Camden County College, received the 2013 Lindback Distinguished Teaching Award. This award is given by the college to a faculty member who has demonstrated concentration on the needs of his or her students and has achieved positive outcomes in student learning. Not only does Howard bring a love of language to her classroom, she also leads trips abroad for her students so they have a chance to really absorb the culture of the people whose language they study.
Vicky Gorman
Medford
Medford Memorial Middle School teacher Gorman participated in a week-long sustainable energy institute this summer at Rowan University, in which teachers investigated solar power, wind turbine construction and more. The program, a partnership between the New Jersey Science Teachers Association (NJSTA) and the Center for Innovation in Engineering and Science Education (CIESE) at Stevens Institute of Technology, aims to have teachers take the STEM skills they learned and implement them in the classroom this fall.
Sybil Cohen
Washington Township
An art teacher at Washington Township High School, Cohen was selected to attend The Dinner Party Institute Workshop at Kutztown University in Pennsylvania. The Dinner Party is a piece of art created by Judy Chicago that fellow educators have created curricula around. The workshop, which took place in July, provided Cohen and her peers with materials to teach about cultural context, social issues and women's achievements through history and content of The Dinner Party.
Dr. Kauser Jahan
Glassboro
A civil and environmental engineering professor at Rowan University, Jahan received the George Stout Award from the South Jersey Branch of The American Society of Civil Engineers. The former chair of the Civil and Environmental Engineering program at Rowan, Jahan qualified for the award by meeting its standards in demonstrating a willingness to support the chapter's activities, being a practitioner of the profession for at least 10 years, and embodying the ethical and integrity standards, both professionally and personally, in which the ASCE was founded.
Gregory Wilkinson
Moorestown
William Allen Middle School teacher Wilkinson received a fellowship from Earthwatch to complete a two-week study this past July on climate change and caterpillars in Arizona. Earthwatch is a nonprofit organization which encourages people in scientific field research and education. Wilkinson studied parasites that affect the caterpillars and how the climate affects them, as well as how the caterpillars affect the local vegetation, and will share his new-found knowledge with his students during the 2013-2014 year.
April Hiltabidle
Marlton
The garden at H.L. Beeler Elementary School saw some improvements in its fruit and vegetable plots thanks to Hiltabidle's fifth-grade class last year. Together, the fifth-graders researched different types of plants to help make the garden the best it can be. Planting the garden came with its share of obstacles such as pests and cold weather, but the class overcame them with the help of Hiltabidle and community members.
Griffin Kidd
Haddonfield
Kidd, a physics teacher at Haddonfield Memorial, helped close the education gap sometimes experienced during the summer by hosting a three-week engineering camp for high school students that included building robots, solar-powered racecars, and visiting Temple University Hospital to get a first-hand look at the daVinci surgery robot. The goal of the camp was to expose the students to the different fields they could pursue in engineering, as well as keep them thinking critically over the summer.
Dr. Ira Kosloff
Cherry Hill
The board of education recently honored Kosloff upon his retirement, marking an impressive 44 years of service to the Cherry Hill School District. Kosloff most recently served as assistant principal at Cherry Hill West. Kosloff also served as the school's athletic director, and he's expected to continue his service by volunteering with the district.
Peyton Ebbeson and Bill Seng
Mount Laurel
As advisors of the Lenape Television club, Ebbeson and Seng not only guided their talented group of student TV producers to four Best of District awards at the 18th Annual LDTV Awards earlier this year, but also to four awards at the JAM Video Awards in New Brunswick for Best Student Short Segment, Public Service Announcement, Documentary and Entertainment Series.
Irene Afek
Voorhees
Under the guidance of Afek, the five schools in the Voorhees K-8 school district experienced a notable decrease in bullying cases last year. Afek, who is the district's anti-bullying coordinator, brought events and presentations regarding bullying to the district, exposing the district's students to the cruelty of bullying. One popular event Afek introduced will return this year when Trudy Ludwig, author of My Secret Bully and Just Kidding, visits the district on Sept. 24. Ludwig's presentation last year was appreciated by students and parents alike.
Published (and copyrighted) in Suburban Family Magazine, Volume 4, Issue 7 (September, 2013).
For more info on Suburban Family Magazine, click here.
For information about advertising in Suburban Family Magazine, click here.
To find out where to pick up your copy of Suburban Family Magazine, click here.