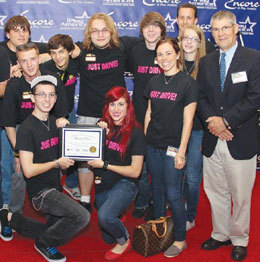 Star Students: September, 2013
Lenape Regional High School Students
Burlington County
A team of Lenape Regional High School District (LRHSD) students (pictured) won the 3rd Annual "U Got Brains" Champion Schools Program contest this past June, claiming a driving simulator and $10,000 for the district's four schools with the win. For the contest, the students created an original distracted driving campaign, a year-long project that culminated in the group's performance of "Heads Up, Eyes Forward!" The LRHSD team also designed an impressive social media campaign and formed partnerships with several prominent organizations, including the New Jersey Department of Transportation for the project. This marks LRHSD's second contest victory out of the three years the program has been in place.
Elizabeth Anne Schopfer
Cherry Hill
Schopfer, who graduated Magna Cum Laude from the University of Pennsylvania with a B.A. in psychology and a certificate in Spanish this past May, was awarded a $10,000 Academic Merit Scholarship and a $3,500 Penn GSE Graduate Assistanceship. She will continue at the University of Pennsylvania toward her master of science in education, counseling and mental health services.
Shaun Burns
Washington Township
The Bill Rogers Entertainment (BRE) Presents Scholarship was awarded to Burns, a 2013 graduate of Washington Township High School attending Gloucester County College this fall. Burns received the $1,267 scholarship in recognition of his leadership and teamwork as part of the high school's stage crew. The scholarship amount was determined by the amount of tickets purchased by employees of Washington Township public schools this year for shows produced by BRE Presents at the TD Bank Arts Center.
Annie Lynch
Haddonfield
A new freshman at Haddonfield Memorial High School, Lynch received the Alvin R. Schomer Award for her outstanding work in human relations. The Haddonfield Human Relations Commission recognized Lynch for her volunteer work with children through her middle school's Bulldawg Buddies program, peer leadership, and her team spirit during sports.
Lauren Brill
Moorestown
Brill, now a senior at Moorestown Friends High School, was nominated by her school and accepted to participate in a three-week program this past summer at The New Jersey Governor's School in the Sciences. Held on the campus of Drew University in Madison, Brill explored science topics, career choices, and was afforded hands-on experience in her subject choice through the program.
Jessica Keller
Marlton
Cherokee High School senior Keller knows firsthand just how unpleasant bullying can be. But instead of letting the antagonism of others keep her down, she focused on reaching out to other people who may need help, creating a support network called You Are Never Alone. What began as a Facebook page in 2011 evolved into a YANA club at Cherokee, and Keller was recognized by the Lenape Regional High School District board of education for her efforts with the club, which raised money to buy rubber bracelets emblazoned with a suicide hotline number to distribute to every Cherokee student.
Medford Memorial Eighth-Graders
Medford
After learning about young people with facial anomalies through R.J. Palacio's book Wonder and the film Mask, students from last year's eighth-grade class at MMMS were inspired to work with the Children Craniofacial Association and "WonderKids." They designed a mural, put together care packages for WonderKids, bought bracelets to benefit the CCA, and held a "Choose Kind Day" where they practiced acts of kindness with four guests affected by craniofacial anomalies.
Maggie Balderstone
Cherry Hill
Balderstone, now a sixth-grade student at Rosa International Middle School, participated in the Junior National Young Leaders Conference this past summer after being nominated as a result of her academic achievement and recognized leadership potential. She spoke at the conference to an audience of close to 300 and had the opportunity to visit historic sites near Washington, D.C. The purpose of the conference was to enhance students' leadership skills by studying those of prominent figures.
Lenape Knowledge Bowl Team
Mount Laurel
Lenape's Knowledge Bowl Team put their school on the map when they took home the third-place trophy at the Washington, D.C. National Academic Championship tournament, their sixth appearance at nationals and first time making it to the playoff round. In addition, now graduated senior Hassan Haider won the "Who Wants To Be A Game Show Host?" competition and was invited to read at next year's tournament.
Nicholle Giberson
Voorhees
Giberson, a student in the Nurse Anesthesia Master of Science in Nursing program at Thomas Jefferson University's School of Nursing, represented her school at the American Association of Nurse Anesthetists College Bowl in Las Vegas in August. The purpose of the bowl is to invoke excitement for learning new anesthetic practices, and requires that 20 percent of the open-ended questions asked during the bowl involve new topics in nurse anesthesia from the past year. This was the third AANA competition Giberson, who will complete her nursing program in 2014, has attended.
Elijah Hampton and Duncan Adams
Mount Laurel/Medford
Hampton and Adams received perfect scores on the 2012-2013 National Latin Exam. Of the more than 140,000 students across the country who took the exam, which has been administered since 1978, only 792 students received perfect scores, and Hampton, of Lenape, and Adams, of Shawnee, were two of them.
Kiera and Amber Malone
Tabernacle
For the past few years, the Malone sisters have organized food drives in the summer and toy drives in the winter to benefit those in need. This past year, the Seneca High School students collected 867 pounds of food for the South Jersey Food Bank through the "Students Change Hunger" program. Their goal for this summer was to collect 1,200 pounds of food.
Published (and copyrighted) in Suburban Family Magazine, Volume 4, Issue 7 (September, 2013).
For more info on Suburban Family Magazine, click here.
For information about advertising in Suburban Family Magazine, click here.
To find out where to pick up your copy of Suburban Family Magazine, click here.