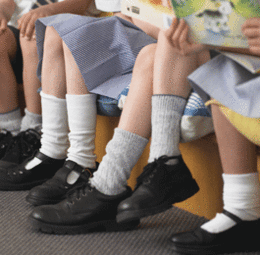 On the Right Path
It's hard to beat a private school education when it comes to getting ready for college.
The public vs. private school debate is certainly nothing new. Parents have long wondered whether the costs associated with private schools were worth it. According to the Council for American Private Education (CAPE), there are numerous reasons why some parents say they prefer a private school education. These include parent/teacher satisfaction levels, a safe environment, and a values-based setting, among others.
For Diane Ziegler of Bordentown, academics was the main reason she initially sought private schooling for her son. Adam (now 14 years old) has been a student of Doane Academy in Burlington for more than 10 years, beginning at age 4 at the pre-K level. Academics is, in fact, a key reason why many choose private school. A body of research shows that private schools may outperform when it comes to education. But many parents, like Ziegler, have learned there is so much more to private school than the academic rigor.
Private benefits
Jane Affleck, dean of admission for Doane, says small class sizes, more individualized attention, and more accountability help give the school an academic lead. She also says the private school environment has the advantage of being filled with "other kids that want to be there" as well as "teachers that don't have to teach to a test."
The flexibility in curriculum is also a key benefit that many parents appreciate. "At Doane, there is a focus on character and leadership development," Affleck says. "It plays a part in everything—academics, athletics, arts, etc. We offer many opportunities for students to challenge themselves and step out of their comfort zone—whether it's in a canoe or on a high ropes course. These experiences not only make our community stronger but instill confidence in young people so that they are more successful in everything they do."
Of course for many, it's that values-based or religious education component that sets private school apart. "The edge we have is in our Catholic education," says Mary Whipkey, interim president and director of admissions for Camden Catholic High School. "The students through our retreat programs and our leadership academy learn about their strengths and weaknesses as well as appreciating the strengths and weaknesses of their peers. The culture we build is for students to appreciate these strengths and understand the weakness. This is what gives the edge—the ability to see the good in everyone."
"For many families, private school continues to be an excellent educational choice," adds Kathleen Stewart, director of admissions of Paul VI High School in Haddonfield. "While the reasons for this vary from family to family and from school to school, for the families who send their children to Paul VI High School, the first reason is the supporting framework of the school's Catholic identity. Paul VI students enjoy an educational environment that acknowledges the student's spiritual life and nurtures that part of each student that aspires to be a truly moral individual."
Michael Schlotterbeck, director of marketing and communications for Moorestown Friends School, says the school was founded on Quaker values and, while it is now open to students of all faiths, it has maintained its focus on value-based education. "We feel that makes our school special," says Schlotterbeck. "We have many faiths represented so it makes for a really dynamic class, but the balancing of academics with spiritual values still sets us apart."
A propensity toward civic duty and community service was another reason many parents said they prefer a private school education, according to CAPE research. Many private schools encourage or require active participation in community service. "We have a Christian service requirement which every student at the school must satisfy," says Nick Italiano, director of institutional advancement for Bishop Eustace Preparatory School in Pennsauken. "But our students often go above and beyond what is asked and organize a variety of other initiatives, including a Thanksgiving basket drive, Giving Tree program, coat drives and walks. In addition, we have a program called BE Outreach where students go to North Dakota, New Orleans and Navajo Nation in New Mexico over the summertime to perform a variety of projects for those in need."
College prep
For many parents, the choice for private school is all about that "college edge." Ziegler does feel her son will have an edge when it comes time to apply to college. "Because of the dedication of his teachers, and their involvement in building of his work ethic, he is a very diverse young man with outstanding academic success," she says. "His ability to carry himself and speak confidently is immediately apparent."
Ziegler says a lot of that has to do with the private school teaching style. With small classroom sizes and hands-on learning, students gain a lot of confidence. "In private schools, students are often called upon to give presentations to their classmates, perform for audiences, and compete in academic tournaments," Ziegler says. "All of these activities lead to outstanding public speaking skills and more self-confidence. I feel this will serve Adam well when applying for colleges and conducting himself in an interview."
In private school, students may also receive more one-on-one counseling. Schlotterbeck says the ratio of counselors to students sets Moorestown Friends apart when it comes to college prep. "We have one counselor for every 36 seniors," he says. "That's pretty tremendous. It's the combination of the rigorous academics and that personalized college guidance process where parents really find the value in our school. Students start working with a counselor at the end of their sophomore year to identify colleges and go through the process of school visits and writing letters of recommendation."
With the aim of preparing students early, students don't feel the pressure of a last-minute scramble to begin the college application process. At private school, the focus is on college admissions from the very beginning. "Each year, students work toward the goal of college admissions by interacting with their guidance counselors in a classroom setting," says Stewart. "The process is paced over four years so that by senior year, students are organized, informed and ready to tackle their college admissions process."
When it comes to college prep, a well-rounded education is certainly also helpful. "We prepare students for college not only academically but also spiritually and socially," adds Whipkey. "Because of our diverse environment our students are better-prepared to handle issues in the real world."
Encouraging participation in extracurricular activities and fostering student interests is a key component of the well-rounded private experience. "Paul VI acknowledges the other aspects of the individual—the academic, artistic, athletic and social—and provides the programs, instruction, facilities and equipment that students need to develop their gifts to the fullest," says Stewart. "The school accomplishes this part of its mission in a way that makes it unique among private and public schools. For instance, Paul VI was the first school in the area to achieve a 1:1 student-to-computer ratio and today our iPad program reflects over 10 years of leadership in technology for high school students."
In addition to preparing students for college both academically and through extracurricular activities, private schools also help set the tone for the college environment. In many ways, the private school experience seems to mimic the college experience. "When compared to the public schools, we are able to have a bit more freedom with the curriculum in our scheduling, which is a net benefit to our students," says Italiano. "We work on a six letter day cycle. Some of the academic classes do not meet on every letter day. In place of the class, students have a scheduled 'Prep Time' where they are able to work in the library, go to Crusade Hall (which is like a student center), or spend time with classmates in the 'Quad.' Prep Time teaches students the importance of time management and prepares them for the free time they will have in college. Prep Time also offers students individualized instruction from teachers in the library resource areas and provides the opportunity to complete assignments and study during the school day."
Italiano says Bishop Eustace even has a "college-style campus," sitting on 32 acres of land. "Students walk outside to as many as six different buildings throughout the day, much like they will in college," he says. "An integral component of the campus is Lulli Memorial Library, which functions as our educational center. Students may study, read or conduct research on the main level or seek individual assistance from a teacher in several subject resources on the second and third levels. There are computers throughout the library and a computer room that the students can access during the day."
Producing future leaders
Whether it's prepping for college or just life in general, many feel that the private school experience has key advantages that make it worth the added expense. Adds Affleck: "The emphasis is not just on having students pass a test but on becoming better citizens of this world—ones who will make a difference."
Ziegler feels confident that her decision to send her son to private school will make a lifelong difference. She adds: "I am certain Adam would not be the person he is today if I had not chosen this particular school for him."
Published (and copyrighted) in Suburban Family Magazine, Volume 4, Issue 7 (September, 2013).
For more info on Suburban Family Magazine, click here.
For information about advertising in Suburban Family Magazine, click here.
To find out where to pick up your copy of Suburban Family Magazine, click here.