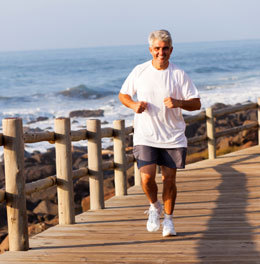 Guide to Grace
It's more feasible than ever to age gracefully in today's health-conscious world.
It's a well-known fact that healthy living habits begin at an early age. By learning the benefits of making good health-focused choices, we can reduce the possibility for potential problems as we age.
"One of the most comprehensive studies on this topic followed a group of college students throughout their lives," explains Dr. Donald Noll, a geriatrician at the New Jersey Institute for Successful Aging (NJISA), located at Rowan University's School of Osteopathic Medicine in Stratford. "The study showed that not smoking, exercising four or more times per week for 30 minutes, and maintaining a healthy weight will have the biggest influence on avoiding disability later on in life."
So what can one do to ensure they don't miss a step as they age? Local experts share their best tips for those in their 30s, 40s, 50s, 60s and beyond.
In your 30s
Despite the fact that you may be too tired to think about exercise after logging in long hours at work or waiting for your children to get off of the bus, the body needs a workout to maintain good muscle tone and flexibility. "As we age, we lose muscle and flexibility," says Jon Hohing, owner/trainer at Fitness Together in Moorestown.
Fitness Together is a nontraditional gym setting where Hohing and his staff help clients achieve personal goals that are geared to their individualized program. "The goals help motivate them and the clients want to stay with the program," says Hohing.
Trying to fit a skincare regimen into a busy routine also seems almost impossible, but a little pampering can go a long way in keeping the anti-aging process at bay.
"Sunscreen, sunscreen, sunscreen is the first line of defense in the anti-aging process," says Colleen Gurovich, practice manager and licensed aesthetician at Mullica Hill Skincare. Also, Gurovich recommends a certain procedure for patients with blemishes and skin pigmentations. Called Forever Young BBL, it involves a broad-based light (BBL) facial. "Research has shown that using BBL regularly can reduce the look of aging on your skin," she says.
Eating and drinking habits can also affect the way the skin can tolerate changes in the body, so adopting healthy practices can prevent the skin from showing signs of aging. "The key to healthy skin is to stay well hydrated, have a healthy diet and minimal alcohol intake," says Dr. Danielle Brenza, physician at Ageless Skin & Laser Center in Sewell.
By eating right, the body will be set on the right path. Valerie Stancill, a holistic health counselor and owner of What Are U Eating?, LLC, is passionate about helping people develop a healthy relationship with food. "The focus is not a diet but to change the way you feel about food," she asserts.
In your 40s
Again, reverse the effects of aging by making sure to add in a dose of exercise. "Exercise can include a combination of strength and training to stay fit," says Cary Huggard, partner at Velocity Sports Performance in Cherry Hill. His advice for individuals jumping back into an exercise program after taking a break is to proceed with caution, especially for those weekend warrior types.
Dr. Ingrid P. Warmuth, of Warmuth Skin Care Center in Elmer and Swedesboro, points to another benefit of working out.
"Exercising regularly, preferably aerobic, increases the oxygen supply to the skin and rejuvenates cells," she says. Warmuth also urges patients to apply sunscreen daily and recommends the use of Retin A to iron out fine lines and reduce the plumping of the skin.
Unfortunately, hormonal imbalances during the 40s can impair a youthful appearance. To treat hormonal imbalances, Dr. Pooja Malik of Mullica Hill Skincare treats patients with hormone therapy. "Hormone therapy is wonderful for anti-aging because it treats the inside of the body and replenishes what the body is missing, " says Gurovich.
Healthy eating habits are a must to feel great. "You can be in control of your eating habits and not feel the pressure of a diet, " says Stancill, who designs her six-month program with different components of eating that can alleviate health problems such as diabetes, weight gain and hypertension. At Cavallaro Family Practice in Voorhees, Dr. Joseph Cavallaro III and his staff recommend the "Take Shape for Life Program" based on the Medifast program. "Unlike other diet programs that can end after a period of time, this program is something you can continue indefinitely because of the various stages of the program," he says.
In your 50s
Exercise may seem to be at the bottom of the priority list when juggling the demands of daily living and it can get pushed to the backburner. However, it is extremely important to continue. "Paying attention to exercises for the hip and core stability and focus on postural muscles will eliminate health problems," says Huggard. At Fitness Together, Hohing and his staff ease clients into an exercise program that incorporates movement so it is not a huge shock to the body.
When starting an exercise program, especially at this age, it is important to speak to a medical professional first. "Always consult your physician prior to starting an exercise program. Personal trainers are also a valuable resource to help guide you on a path to health and fitness," says Cavallaro.
Brenza advises maintaining youthful skin with a treatment that will keep the wrinkles from interfering in the process of aging. "Botox is the key to keeping the face looking young and it diminishes wrinkles," she says.
Another way to aging gracefully is to make sure the body is getting enough vitamin D. Noll stresses the importance of taking vitamin D to promote good health and well-being. He explains that vitamin D is the most abundant mineral in the body and works with calcium to regulate the functions of the body.
In your 60s and beyond
This dynamic category of individuals should be focusing on staying healthy by continuing to incorporate an exercise regimen into a daily routine. "Simple exercise programs and programs in long-term care facilities can increase strength, mobility and decrease the risk of falls that can lead to hip fractures and head trauma," says Cavallaro. Exercise is the best defense in losing precious muscle mass. "Research has shown that you can lose up to 50 percent of muscle fiber by the age of 70," says Hohing.
While we can't prevent wrinkles forever, proper skincare remains a must no matter what age. "Along with sunscreen, we urge to avoid smoking; it causes accelerated aging, sallowing of the skin and increases wrinkle formation," says Warmuth.
Watching your eating habits will also reduce the process of aging too quickly. "Keeping your cholesterol levels in check, particularly keeping your LDL levels down, is essential to maintaining good health as you age," says Noll. When it comes to eating, following a regulated nutrition program that helps you make selections about healthy food choices is helpful, adds Stancill.
From the 30s to the 60s and beyond, there are many ways to stay strong and youthful, as our experts stress. And as Huggard concludes, "Whether you are 7 or 70, you need to listen to your body and adapt to change to live a happy, healthy lifestyle."
Resources
Ageless Skin & Laser Center
660 Woodbury-Glassboro Road, Sewell
(856) 218-4848
AgelesSkinCenter.com
Cavallaro Family Practice
701 White Horse Road, Suite 4
Voorhees
(856) 344-7916
CavallaroFamilyPractice.com
Dr. Warmuth Skin Care Center
Locations in Elmer and Swedesboro
(856) 358-1500
DrWarmuthSkinCareCenter.com
Fitness Together
110 Marter Ave., Suite 411, Moorestown
(856) 778-3700
FitnessTogether.com/Moorestown
Mullica Hill Skincare
201 Bridgeton Pike, Mullica Hill
(856) 478-4700
MullicaHillSkincare.com
New Jersey Institute for Successful Aging
42 E. Laurel Road, Suite 1800, Stratford
(856) 566-6843
Rowan.edu/SOM/NJISA
What Are U Eating?, LLC
240 S. Broad St., Woodbury
(856) 287-7227
WhatAreUEating.com
Velocity Sports Performance
2005 Route 70 E., Cherry Hill
(856) 874-9700
VelocitySP.com/cherryhill
Published (and copyrighted) in the Art of Living Well pull-out section of Suburban Family Magazine, Volume 4, Issue 7 (September, 2013).
For more info on Suburban Family Magazine, click here.
For information about advertising in Suburban Family Magazine, click here.
To find out where to pick up your copy of Suburban Family Magazine, click here.