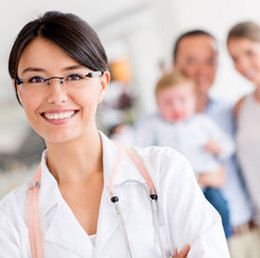 Being Proactive
Your annual checkup really matters in ways you may never imagine
Our country has begun to take the initiative when it comes to our health care. We monitor what we eat, we exercise often, we check our cholesterol, and we try to know everything we can about illnesses that affect our families. Information like this helps us to live longer, healthier lives.
One proactive health care behavior everyone can benefit from is the annual checkup. Beyond seeing how your weight, blood pressure and assorted illnesses have changed during the past year, you can also get a look at what your future may hold. Instead of seeing your doctor while you're ill and focusing on your malady that day, at your checkup your doctor can go into detail about your health in a more complete fashion. Tests they run can tell you what may be happening before things get more difficult. In short, by taking the time today, you are making an important step towards a better tomorrow.
Important for all ages
Newborns benefit from almost constant medical attention when first born and this focus needs to continue as they age. "The physician needs to check physical, mental growth and development," explains Dr. G. Lee Lerch of Advocare Lerch & Amato Pediatrics in Gibbsboro, whose patients—from Camden, Gloucester and Burlington counties—are newborns through college-age adolescents. "Everyone needs at least an annual checkup. Children and patients with specific medical conditions need additional checkups or monitoring. This would include celiac disease, asthma and diabetes. Numerous other conditions need medical monitoring."
What is included in the checkup varies depending on the patient's age. "The annual checkup is designed to the age of the child. My providers do an in-depth, head-to-toe examination and evaluation tailored to the individual patient and their needs. There is discussion of medical, social, school and family issues, all which have an impact on the child's health. Updating immunizations is critical as well as checking for hidden problems which can occur."
Dr. Joann Richichi, co-owner of Obstetrics & Gynecology Associates in Sewell along with Drs. Marianne DiGiovanni and Kim Huggins, is clear that everyone should get a checkup, especially considering how crucial they are in looking for potential problems.
"We want to be proactive and checkups let you know what's possible. A lot can be found that would otherwise go undiagnosed." In practice for 25 years, Richichi has been serving South Jersey, Camden and Burlington counties and the Shore for about two decades. She works with bioidentical hormone replacement therapy for women and men, menopause, and gynecology for ages 16 to 95. Her subspecialty is perimenopause and she does a lot of work with andropause, the male version of menopause.
Things to be aware of
With any visit to the doctor, it is important to listen carefully to what you're being told and to read and understand the information provided. "Make certain the child is developing appropriately for their age, with concern to height, weight, mental, social and scholastic development and health," advises Lerch. "Parents should always be aware of and closely monitor what is going on in the child's life, especially when the parent is not present, i.e. when the child is in daycare or school, at the babysitter's or friends' house."
Very high on the list of what important information you get are the things you might not expect to learn. "Issues almost too numerous to mention could come out of an annual checkup. This would include but not be limited to high blood pressure, elevated cholesterol and obesity, just to name a few. Problems in the child's health which were undetected by the parents and diagnosed by the medical provider can be treated with a positive outcome to the child," says Lerch.
The direction of the annual checkup changes based on your age, says Richichi. "For patients who are teens or in their low-20s, we focus on what they're using for birth control, precautions against STDs, and do complete physicals, including pelvic and breast. We also do pap smears every three years," she says. "For ages 35-40, we do mammograms every two years and for ages 40-plus, we do them yearly. We also do rectals yearly after age 40 and advise people when to begin going for colonoscopies. It's also very important to consider the role of family history because that indicates what else needs to be done, depending on types of cancers."
She adds that annuals are really important for young people. "Teens can be taught self-inspection and self-examination, learn about sexual activity and protection, and vaccinations. Counseling is really important at that age, talking about what precautions to take. For example, cervical cancer can be prevented but HPV is very prevalent, so we talk about the value of the vaccine. The exam at this age is more about counseling," says Richichi.
While the details of what you could learn in an annual exam can seem endless, the fact is that having one is a smart, proactive decision we should all make. By doing so, we are giving ourselves the opportunity to maintain our health before something potentially catastrophic can happen. We arm ourselves with knowledge and prepare ourselves better for a variety of eventualities. This way, we reduce the chances of illness and allow ourselves to have happier lives.
Resources
Advocare Lerch & Amato Pediatrics
63 N. Lakeview Drive, Suite 202
Gibbsboro
(856) 435-6000
AdvocareDoctors.com
Obstetrics & Gynecology Associates
239 Hurffville-Cross Keys Road, Suite 250
Sewell
(856) 262-8300
MyOBGYNDoctors.com
Published (and copyrighted) in the Art of Living Well pull-out section of Suburban Family Magazine, Volume 4, Issue 7 (September, 2013).
For more info on Suburban Family Magazine, click here.
For information about advertising in Suburban Family Magazine, click here.
To find out where to pick up your copy of Suburban Family Magazine, click here.