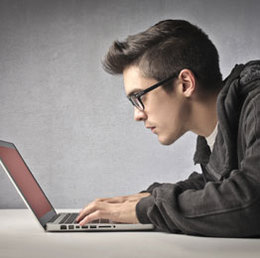 Easing Eye Strain
In today's digital age, the latest eyewear aims to reduce the aches and pains of the 9-to-5 worker (and gamers, too).
Eyeglasses—an iconic staple of the serious and studious—are these days getting a makeover for the digital age, as more optical experts are prescribing lenses to accommodate long hours in front of digital devices.
Whether it is the modern office worker spending the bulk of nine to five plugging away in a cubicle, the Internet socialite making every other moment count updating an online profile, or the user thumbing through the vast array of new technologies, they may all unwittingly feel the effects of digital eye strain.
According to the Vision Council of America, a nonprofit research and trade association for the U.S. optical industry, nearly 70 percent of adults surveyed across the country have reported some form of discomfort linked to the use of electronic devices. This can include headaches, neck or back pain, dry eyes, blurriness and irritation. By prescribing eyewear specifically to prevent these negative effects, local eye care professionals are attempting to stem the strain before more serious complications occur.
"Computer glasses are some of the most under-utilized 'specialty' glasses on the market. They can help patients feel less eye strain," says Dr. Sally Halim of Village Eyecare in Woolwich. "In addition, they are a great alternative to patients in bifocals or progressive lenses (no line bifocals) because they offer a wider field of vision."
Halim explains that extensive computer use can cause focusing issues, dry eyes, and can wear out the ocular muscles that help a patient focus up close, therefore causing a patient to need bifocals sooner. Glare issues from the computer screen can also put undue strain on the eyes. The industry is finding innovative ways to both prevent digital eye strain and enhance consumers' viewing experience, notes Liz Fortuna of Fortuna Optical in Marlton. Combining digitally surfaced lenses with an anti-glare coating is one measure that is being recommended for computer-specific usage by many professionals.
Meeting a 21st-century need
Digital lenses are surfaced with a computer system that can tailor the prescription based on factors such as how far away the glasses sit from the patient's face, Halim says. She says this computer-based technology dramatically cuts back on glare and enhances visual acuity, especially in patients with higher prescriptions.
And as Fortuna adds, the computer lens not only has the potential to maintain eye health, but it also provides patients a chance to expand their style through the newest fashions in frames. "Color is in for men and women, as well as different materials like leather and wood … styles that are a little avant-garde," Fortuna says.
"Occupational glasses have always been there, whether you are a carpenter or sit at a computer all day … the digitally surfaced lenses you can put in them nowadays, that is as close to LASIK (eye surgery) as possible."
Demand for computer lenses has been brisk at Frederic Meserall Vision and Hearing in Haddonfield, which has seen trends come and go and come again since they opened in 1947. And as more of the first generations of computer users age, it appears to be a need that won't be diminishing any time in the foreseeable future.
Owner Fred Meserall mentions the particular rise in popularity of gaming lenses, which are typically digitally surfaced and tinted yellow to provide a better color contrast. Digital surfacing technology can create lenses in power increments of 0.01 diopter, which is an industry term for measuring optical power. Conventional eyeglass lens tooling can only surface in increments of 0.125 to 0.25 diopter, meaning digital technology provides a certain edge in precision capability.
Benefiting overall eye health
These days, glasses are even changing shape to fit their wearer's lifestyle. "One of the newest trends we see is the wrap-around frame, so less air gets in leading to less eyes drying out," Meserall says. "Staring at any screen too long, your blink rate slows way down, your eyes dry out and you get eye fatigue."
Some manufacturers report that their glasses create such a tight seal that it forms a micro-climate within the eye, raising the humidity within but without fogging the lens. Right now, these digital age issues are coming into focus as we spend more of our lives on our devices, Meserall says. "We are on the computer all day, our eyes aching and hardly anybody knows there is a solution out there."
In the shop of Somerdale's DiDonato Eyecare, proprietor Joe DiDonato illustrates that although he mostly serves senior citizens, they typically realize the greatest benefit from digitally surfaced lenses. DiDonato says that in some of the fashions with progressive lenses, the progressive or bifocal portion is molded on the outside, whereas now the whole prescription is digitally mastered on the inside of the lens.
The benefit of digitally enhanced lenses can be expressed through better vision from side to side and up and down, meaning less head movement and more eye movement, concludes DiDonato. "They are working out very well for people who could not adapt to progressive lenses," he says. "I am so convinced of it in my store that anybody who comes in and gets a pair of progressive bifocals, it is my in-house product to use digitally surfaced lenses."
He is not alone in recognizing that as the way we use our eyes evolves and changes, so must the ways we protect them while continuing to fully utilize their potential.
For Halim, a digital lens combined with a high-quality anti-glare coating can dramatically improve a patient's vision, bringing a tool once only thought of as low-tech up to speed in a high-tech world. "I can give a patient the same prescription in a standard plastic material without anti-glare and then give them that same prescription in a digital lens with anti-glare, and the difference in vision is remarkable."
Resources
DiDonato Eyecare
918 S. White Horse Pike
Somerdale
(856) 783-4545
DiDonatoEyewear.com
Fortuna Optical
501 Route 73 S.
Marlton
(856) 797-0600
FortunaOptical.net
Frederic Meserall Vision and Hearing
206 Kings Highway E.
Haddonfield
(856) 429-6930
Meserall.com
Village Eyecare
120 Center Square Road
Woolwich
(856) 832-4950
SJVillageEyecare.com
Published (and copyrighted) in the Art of Living Well pull-out section of Suburban Family Magazine, Volume 4, Issue 7 (September, 2013).
For more info on Suburban Family Magazine, click here.
For information about advertising in Suburban Family Magazine, click here.
To find out where to pick up your copy of Suburban Family Magazine, click here.