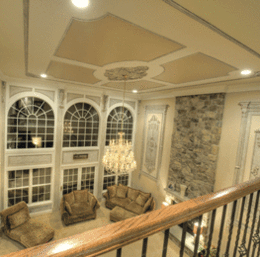 Home Trimwork
Time For Home Renovation Projects: Home Trimwork helps give your home a facelift for the season
With the leaves changing and the days getting shorter, there's no denying cooler weather is on the way. Since you'll likely be spending more time at home during the next few months—due to everything from stormy weather to the holidays—you might want to take a minute to consider what a small facelift could do for the overall aesthetics of your home. Beautiful trimwork like crown molding, wainscoting and chair rails are quick changes that can make a big difference without being too time consuming, while bigger projects such as kitchen and bath redesigns can also make a huge difference, and can be surprisingly quick and affordable.
If you think a few changes are just what you need to welcome fall into your home, Home Trimwork is the company you should call. Company President Igor Szczerba is a third-generation carpenter and trimwork specialist and is known as the area's leading contractor for molding. With years of experience in the industry, he knows how to make your home improvement dreams a reality. "In just one or two days, you can take a room from boring to breathtaking," he says.
Making the change
When you decide you are interested in discussing a project, a designer from Home Trimwork will visit your home to analyze the space being considered for improvement. The designer will offer ideas and show you a portfolio of completed projects from satisfied customers, and a quote will be prepared on the spot with everything itemized so you can pick and choose the services you're interested in. Szczerba says it is important to note that while he specializes in molding, you can consider Home Trimwork for other projects as well. As a general contractor before he got started in trimwork, Szczerba can put together package prices for services like flooring, stair work, tile installation, painting and more.
"We're Home Trimwork, and while we're known for our interior designs and moldings, we have these amazing capabilities for the outdoors as well, thanks to Mark Ollivier, who for years has been a South Jersey deck designer and builder," he says. "We can completely transform your outdoor living experience with custom decks, pavilions and exterior lighting."
If you do not have time for the initial consultation, you can simply send in photos of the desired project and a quote can be developed before moving forward. The main objective is to allow you to warm up to the idea of change and develop your own ideas for the project. "It takes the pressure off," Szczerba explains. "By the time we come out there, the customers know what we're going to be offering."
Szczerba says it's the company's extensive planning process that sets them apart from other builders, and allows you to realize how affordable and fun the project can be.
"We do a lot of planning, a lot of sketching before we do the work," he says. "Our carpenters make sure anything they put up makes sense."
Once the plans are in place, construction can begin in as little as 10 business days, or as long as it takes for the materials for the project to be ordered and delivered.
Satisfied customers
Home Trimwork has so many customers in the tri-state area that no matter where you live, there is sure to be someone nearby who can offer his or her opinions of the company's work. One such client is Steve R. from Mount Laurel, who says he could not be more pleased with the work he had done to his home. "I think Home Trimwork is very professional and they did a great job," he says. "They were very tidy. They came out and did their work, got it done, cleaned up and got out. The work was very beautiful."
Every service Home Trimwork offers, and the way they approach each project, is designed to impress the customers, not only with great design ideas but with absolute attention to detail.
"We are so different from other companies because our service extends to many additional projects after the first one," Szczerba says, noting that kitchen and bath remodels are projects the company is receiving more requests for. "We know that the home we are working on today will have us back in a few months for more work if we do an outstanding job and stand behind our work with warranty and outstanding customer service."
Only high-quality, top-of-the-line materials are used by designers and installers employed by the fully licensed and insured company. When a client comes to Home Trimwork, he or she can expect nothing but the best service from start to finish.
For inspiration, check out the thousands of images and links on their Facebook page at Facebook.com/HomeTrimwork. To schedule a free estimate and design consultation with a carpentry specialist, contact Home Trimwork at (800) 888-4467 or email them at Info@HomeTrimwork.com.
For more information, visit the company on the Web at HomeTrimwork.com.
Published (and copyrighted) in Suburban Family Magazine, Volume 4, Issue 7 (September, 2013).
For more info on Suburban Family Magazine, click here.
For information about advertising in Suburban Family Magazine, click here.
To find out where to pick up your copy of Suburban Family Magazine, click here.