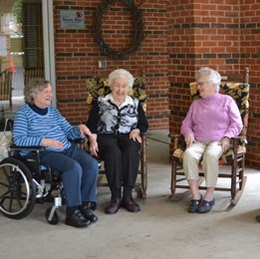 Collingswood Manor
Never a Dull Moment: Collingswood Manor residents stay busy because they decide what's going on.
When one thinks of the activities in a retirement community, things like Bingo or Bridge come to mind. Those might be the well-loved staples, but not all retirement communities are created equal.
"If you're not researching or looking into retirement communities for your loved ones right now, you might think that these are the only activities offered," says Barbara Wrzeszcz, marketing director at Collingswood Manor. "Some communities offer more than others, and we have tried to diversify the activities we offer to keep our residents engaged and happy."
Those activities include going out to lunch, trips to the Shore, fishing trips in Somers Point, bus trips to New York City to see the Rockettes or the sights around Baltimore's Inner Harbor, shopping trips at the mall or Phillies games, to name a few. The activities are not only open to residents, but their families and friends, as well as the surrounding community.
For many of its current residents, Collingswood Manor's wide range of excursions and events was the deciding factor in choosing to live there. "I had looked at nearly 10 different places before selecting Collingswood Manor," says resident Dot Wolff. "This was the best fit for me because I don't like to just sit in my room."
Collingswood Manor has been serving seniors in South Jersey for more than 100 years.
The retirement community, located on Haddon Avenue in Collingswood, offers several living arrangements, including residential living, assisted living, short-term rehabilitation and long-term living.
Being nestled in the heart of Collingswood—one of the most sought-after neighborhoods in South Jersey—residents have access to some of the best restaurants within walking distance, a town pool, regattas at Cooper River Park, and one of the best farmers markets in the country. "Our residents are truly living in a community," says Wrzeszcz. "Things are constantly going on right outside and inside our front door." That includes the town's concerts in the park, Thanksgiving Day parade or outdoor movies on the lawn.
Anna Bradford moved to Collingswood Manor from Pennsylvania and didn't know much about the community beforehand. "I had toured several other places and this one just felt the homiest to me," she says. "Everyone is so friendly and has made me feel welcome. I know my family feels relieved to know I'm being so well taken care of."
When moving into Collingswood Manor, residents are asked their likes and dislikes, which the activities director then uses as a basis for planning events. Throughout the year, residents can make suggestions and have input to changes and additions to the calendar.
Residents are constantly asked for their input in decisions related to the community since this is their home (ie. meals, lifestyle changes, furniture, etc.).
A recent trip to the Philadelphia Art Museum to hear a jazz concert came at the request of resident Jack Geigelman, who once played saxophone and keyboard. "I'm a big fan of jazz and I found out my mentor would be performing there, so we asked around and enough people wanted to go, so we did," Geigelman says. "It was quite an evening and the most memorable trip I've been on yet. I hope we can repeat it."
For some residents like Terry Guarnieri, activities weren't the top reason for choosing Collingswood Manor. "I was living alone in Florida but my children were all in New Jersey and I first and foremost wanted to be closer to them," she says. "Now that I'm here, I appreciate being closer to my family, but I also value the activities that help keep my mind occupied. My family is at ease knowing that I'm staying active."
It's only natural that residents have formed strong friendships by participating in all of these excursions and events. "When I was choosing a retirement community, I didn't want to be isolated, so I wanted to make sure I was close to family," says resident Marie Siri. "That's still important to me, but it's less important because I've made so many friends that it's impossible to feel isolated. My family doesn't have to worry about me because they know I have things to do with my friends."
Most nights, you can find a large group of residents hanging out in the rotunda after dinner, conversing and getting to know each other. "We've all become so close from doing the events together and we remind each other about upcoming activities," says Geigelman. "This group of people has become my support system and they were all a great help to me after I lost my wife. From the staff to the other residents, everyone is friendly and compassionate."
Families who are looking into retirement communities for their loved ones can feel comfortable with the knowledge that Collingswood Manor offers the opportunities to maintain an active lifestyle in a safe and secure environment.
Collingswood Manor
460 Haddon Ave., Collingswood
(856) 854-4331
UMH-NJ.org
Published (and copyrighted) in the Art of Living Well pull-out section of Suburban Family Magazine, Volume 4, Issue 7 (September, 2013).
For more info on Suburban Family Magazine, click here.
For information about advertising in Suburban Family Magazine, click here.
To find out where to pick up your copy of Suburban Family Magazine, click here.