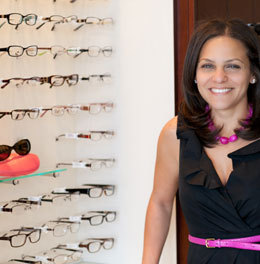 Village Eyecare
Eye On Health: Dr. Sally Halim believes eye care and overall health are more related than people realize.
When it comes to overall health, eye care is an area that is often overlooked by most people. While people may visit their doctor because of an ache or pain, many people will put off going to the eye doctor if they do not see well. People also do not think vision problems are related to those aches and pains when, in reality, they could be.
"Everything is related," says Dr. Sally Halim. "Health care is not about isolated parts of the body. It's about overall health."
As the owner of Village Eyecare in Woolwich, Halim says she and her staff make a concerted effort to educate their patients about overall health, letting them know that ignoring something today may lead to bigger problems down the road. If patients push off getting their eyes examined because they feel like they are seeing well, they could also be putting off a diagnosis of major medical conditions like diabetes or hypertension. "I am not just performing an eye exam," she says. "I am educating my patients about how what I am seeing in their eyes could also be affecting other parts of their bodies. If I diagnose a patient with a medical condition like diabetes, I stress the importance of having a dental exam, a podiatric exam, along with regular visits to the endocrinologist. It is also important to have the patient's pharmacist on board so everyone is on the same page regarding the patient's medication history."
When it comes to patient care, not only does Halim stress the importance of eye health, but she also believes in utilizing the latest in medical technology. In doing so, she hopes to make her patients feel as though they are receiving the best overall care. "I've gone to practices in other health care fields where the office is lacking in medical technology and it can make you second guess the doctor," she explains. "I want my patients to be confident that Village Eyecare is a practice that embraces medical technology. I owe it to my patients to provide them with the best available care."
Halim and her staff utilize technology to make a visit to Village Eyecare as streamlined and simple as possible. "Before patients come in, our staff sends them an e-mail with a link to a patient registration form so they can get that done in advance. This saves time at the check-in process, which patients appreciate," she says. "We also do a lot of upfront work to verify insurance coverage and explain what costs might be involved to patients before they even come in. Our office is equipped with electronic medical records and we send prescriptions from our office software directly to their pharmacy. Our medical equipment and office computers are new and we are continually maintaining and upgrading them. With all of these little things, our goal is to make a visit to our office a little more convenient than the average practice."
In addition to technology, Village Eyecare also offers the latest trends in eyewear, maintaining a rotating inventory that includes the latest fashions and styles in frames available. "About once a quarter, our opticians overhaul the optical and bring in all new styles," she says. "We like to keep things as current as possible." Village Eyecare also offers contemporary options when it comes to contact lenses, including a new brand of daily contacts that are only being offered to a select number of practices. "They're blowing everything out of the water as far as comfort goes," Halim says of the Dailies Total 1 lenses by Alcon. "We've received a lot of positive feedback about them."
Another contemporary option Halim says is available to her patients is refractive eye surgery. She says more and more patients are coming in with questions regarding the procedures like LASIK, PRK, and the Visian ICL (an option for patients who are not candidates for LASIK). "Technology has really transformed the way these procedures are done and word is getting out about it," Halim notes. "It's nice that patients are reading up on these procedures before even coming in to see me."
Halim co-manages patients with Kremer Eye Center, with locations in Cherry Hill, Wilmington, Del., and King of Prussia, Pa., since they are the leaders in refractive surgery.
While Halim says technology has helped her field in many ways, one area it has caused problems in is improperly fitting eyewear that patients purchase online. Halim stresses to her patients that while online retail is convenient and often more economical, it is not always the best route when it comes to glasses. "You need a skilled optical professional who can take proper measurements to make sure the glasses fit the way they're supposed to," she says, noting that an improper fit can cause a number of side effects, including headaches and visual distortions, which hardly seem worth the money a patient might save by buying glasses online.
According to Halim, patients should also be careful when purchasing contacts online. "Buying contacts online is not quite as dangerous as buying glasses because they come in sealed packaging; however, I have had several patients complain of discomfort when ordering their contacts online," she says. "Most times, our office sells contacts for the same price as the online retailers and we have a link on our website that allows patients to purchase their contacts 'online' from our office, as well. Purchasing an annual supply of contacts entitles patients to a manufacturer's rebate. The rebate can also be combined with a patient's vision insurance plan. Some of our patients actually make money by combining the rebate with their insurance plan. In the end, it's all about convenience and patients appreciate that we take the time to inform them of ways they can maximize their insurance benefits and save money."
Proper eye care is important for patients of every age. Halim starts seeing patients as early as 6 months of age and encourages all of her patients to have annual eye exams. Even if you think you have generally good vision, you never know what your eye doctor may find during a routine exam.
Village Eyecare
120 Center Square Road, Woolwich
(856) 832-4950
SJVillageEyecare.com
Published (and copyrighted) in the Art of Living Well pull-out section of Suburban Family Magazine, Volume 4, Issue 7 (September, 2013).
For more info on Suburban Family Magazine, click here.
For information about advertising in Suburban Family Magazine, click here.
To find out where to pick up your copy of Suburban Family Magazine, click here.