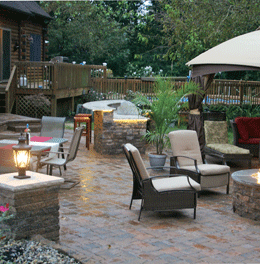 Think Pavers Hardscaping
Revitalize Family Living: For comfort and practicality in family outdoor areas, turn to Think Pavers Hardscaping
With five adolescents and two adults in her house, you can't blame Heather Tambone for wanting to revitalize her family living areas. Thanks to Nick Furfari and his company, Think Pavers Hardscaping, she's found the perfect setting—and it's right in her backyard.
Tambone, a Woolwich Township resident, recently had a stunning stone patio—equipped with a half-moon bar, natural gas fire pit and pillars for outdoor lighting—installed by Think Pavers, a hardscaping installation company located in Swedesboro. She could not be happier with the results.
"I absolutely love it, it revitalizes my entire backyard. It's the only place I go now," Tambone says. "I called three people and had all of them come out, and Nick was the guy I thought I could work with. He does beautiful work. He did the natural gas fire pit at the River Winds Restaurant; he did work for the town of Swedesboro. His work is done in public places, which made me feel better about my choice of having him. I would highly recommend Nick to install a project for anyone. He does what he says he's going to do."
Furfari has been in the business for 26 years and started Think Pavers in 1997. His team has extensive experience in commercial and municipal work, such as the Cape May Washington Street Mall, the Ocean City Route 52 Bridge, the Wildwoods Rio Grande Entrance to the boardwalk, Shore Memorial Hospital and city streets and parks. Think Pavers can also revitalize your backyard into your outdoor family living dream. "I consider myself a revitalizer. I revitalize," Furfari says. "We make practical outdoor living space for your family's use."
With comfort living in the outdoors becoming more and more popular, families are constantly looking for affordable ways to revitalize their backyard with a functional and picturesque realistic area. Whether it's a small patio for family barbecues or a large area for holidays and graduation parties, Furfari can design the perfect plan for your needs.
"Everybody has a budget," he says. "We listen when it comes to your family's wants and needs. We also do full landscaping around the patio. We have a licensed landscape architect that does our designs and makes the area really stand out."
Outdoor kitchens are one of the hottest recent trends, and Think Pavers has designs that vary from simply functional to beautifully elaborate. Some of the amenities include natural gas grills, pizza ovens, refrigerators and granite countertops. "What we do is a radius countertop," Furfari says. "The one side is 42 inches high, so you can put out bar stools and your guests can sit and have a drink while you're cooking.
On the other side, it drops down to 36 inches where the grill is, so you can put out your hors d'oeuvres and everybody can gather around. We also have LED lights that cascade down on the walls and onto the pavers and illuminate the whole area."
The LED lighting can also be used to light the rest of the patio, the walkways, and trees or shrubbery around the area. Not only does it help set the mood for your party, it also works for security reasons by discouraging unwanted visitors. Think Pavers also recommends that you install sealer on each project. The sealer will bring out the brilliance of the colors of the products. If it is a natural blue stone installation, clay brick or concrete, paver sealer will protect the product.
Another exciting trend is the use of outdoor gas- or wood-burning fireplaces, which come in a variety of shapes, styles and sizes. Furfari recommends gas fire pits for a number of reasons. "The gas fire pits are a little more expensive than the wood fire pits, but in the long run you're going to use it 10 times more," he says. "Not everyone wants to go collect wood, and then it's windy and you end up smelling like char. Or the wood's wet and you can't get it lit. With the gas fire pit, you turn a Dante Valve on, and poof—instant gratification. In our fire pits we use glass, so the flames come up through a colored glass and give it a nice illumination. It adds to the outdoor living. In the spring you'll come outside earlier, and in the fall you can stay out later and use the outdoor fire pit so you can enjoy your patio."
That's exactly the reason Tambone decided to include a fire pit in her plans, and she can't wait to use it this fall. "I'm going to have a Halloween party," she says. "With the fire pit, I have couches that wrap around it; I have reclining chairs that sit on the other side of it. You can fit about 11 people around, and a few more can pull chairs over. You can stay outside way into October. I use it at my parties; I just had a party a couple of weeks ago and everybody loved it and wanted to know who did it."
Furfari's team of pavers and masons—who also do dazzling mosaic walkways and pool patios—are easy to work with and pay careful attention to their clients' needs.
"His crew is excellent," Tambone says. "They were all very respectful, and they were respectful of my property, which was great."
For anyone considering a fantastic outdoor living space, fall is a great time to get started to ensure your project is completed by the spring. No matter what your needs or budget are, Think Pavers is certain to deliver the backyard of your dreams.
"I encourage people to initiate things now because it takes a few steps to get it going," Furfari says. "We guide you through the process. We don't rush; we want you to think it through. You're spending money and we want to make sure it's perfect.
We always tell our customers that we're going to give them a phenomenal patio installation, but they're the ones who are going to live it."
Think Pavers Hardscaping is located at 405 Helms Ave. in Swedesboro. For more information or to schedule an appointment, call (856) 832-4680 or find them on YouTube at Think Pavers Video. FIND THEM ONLINE AT ThinkPavers.com.
Published (and copyrighted) in Suburban Family Magazine, Volume 4, Issue 7 (September, 2013).
For more info on Suburban Family Magazine, click here.
For information about advertising in Suburban Family Magazine, click here.
To find out where to pick up your copy of Suburban Family Magazine, click here.