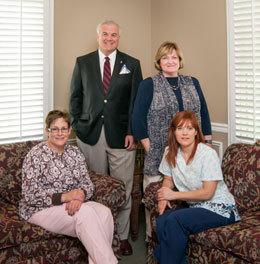 Periodontal Health Professionals
Promoting Education for Patients and Professionals: Dr. Gail Childers looks to the future of periodontal health care.
For the past 26 years, Dr. Gail Childers has been providing superior dental care to the South Jersey community through his practice, Periodontal Health Professionals, located in Marlton and Turnersville. Patients have access to a wide range of periodontal therapy ranging from dental implants, cosmetic periodontal surgery, gum grafting and crown lengthening.
After receiving his pharmacy degree from Temple University School of Pharmacy, Childers continued to his alma mater's dentistry school, graduating with his DMD degree and receiving a HARCO award for periodontics and a specialization certificate in periodontology.
One might say Childers has never quite left college. A proponent of continuing education in his professional field, Childers has been teaching post-graduate periodontics and implant perio-prosthodontics for the past 12 years at the University of Pennsylvania. He is a Diplomate of the American Board of Periodontology and president of the Northeastern Society of Periodontology. Most recently, Childers became president of the New Jersey Society of Periodontists and has been sought after by manufacturers in a consulting capacity.
Childers feels honored to be a part of these major professional organizations while maintaining a full-time practice. "Many doctors on these boards are retired or teaching at universities, and few have continued their private practices," he says.
"I'm proud to be a leader in my field, bringing the latest innovations and therapies to my patients."
Periodontists are physicians of the oral cavity, says Childers, trained to diagnose and treat disease. Periodontal diseases are infections of the gums that gradually destroy the teeth's supporting bones. Approximately 80 percent of Americans are affected by these diseases by age 45. "Research has proven that the health of the mouth leads to the health of the body, and periodontists can save teeth that patients may have thought were beyond repair."
Through treatments like scaling and root planing, gum reconstruction, dental implants and guided bone regeneration, Childers utilizes the latest techniques available to restore his patients' smiles, which results in a greater level of confidence. "In my years of experience, there have been easy and hard cases, but by treating the disease and using cosmetic procedures, we can improve a person's overall appearance and enhance their smiles and improve the quality of life," he says.
Childers has embraced technological advancements to improve patient outcomes.
For implants, CAT scan technology creates a 3-D model of a patient's jawbone that is then used in computer software that will help plan the implant placement. "We are able to perform surgery without exposing the bone, basically doing everything virtually first to determine the measurements and analyze through the technology what is there," he says. "The results are more accurate implant placement and less chair time for the patient at the surgery office. Additionally, we are able to more easily share the scans with the patient's general dentist for a continued treatment plan."
Dental implants used to take four to six months for the entire process, but with these tech advancements, it's now about six to eight weeks. "The technology is just mind boggling and I like to stay on the cutting-edge to provide the best to my patients," Childers says.
From a professional standpoint, Childers would like to see more dental students go into the specialties. "Dental schools are watching their costs and it's important for the public to know that there aren't 'super dentists' out there who can handle everything," he says. "When less people study specialties, it's a loss to patients. It takes specialized knowledge and experience to provide optimal outcomes."
Childers is co-director of the Southern New Jersey study club of the International Team of Implantology (ITI), along with Dr. Joseph Pino of Mount Laurel. This organization unites professionals from the field of implant dentistry and tissue regeneration. There are approximately 25 people in the South Jersey club (and growing), and Childers says this multi-disciplinary approach to treatment benefits the public. "Patients want to go to one doctor for all of their treatments because it's easier, but when you deal with a specialty, there's a team approach," he says. "You may need to consult an orthodontist or lab technician. The public doesn't know what it takes to recreate and regenerate tissue, so the more eyes, the better."
On a more intimate level, Childers hosts the Spear Study Club, along with orthodontists, prosthodontists, endodontists and general dentists. "As a smaller group, we have discussions regarding treatment and diagnoses, going through expected patient outcomes," he says. Together they travel to educational seminars, interacting with top-tier clinicians.
Childers says his participation in these educational efforts outside of the office wouldn't be possible without a strong support system around him, including his staff and family. "We take a team approach to treatment at the office, and my employees are extremely professional and experienced," he says. "Staff is key to taking care of patients and I praise them for their hard work." Additionally, Childers' wife Susan, and four daughters–Stephanie, Kimberly, Liz and Kate–offer him a great deal of support. "They make it possible for me to have my own practice and stay involved in the other aspects of my field," he says. "This is how I can influence the future of periodontology and improve the quality of life for patients."
Periodontal Health Professionals
48 South Maple Ave., Marlton, (856) 983-5593
900 Route 168, Suite B-6, Turnersville, (856) 228-4141
DrGailChilders.com
Published (and copyrighted) in the Art of Living Well pull-out section of Suburban Family Magazine, Volume 4, Issue 7 (September, 2013).
For more info on Suburban Family Magazine, click here.
For information about advertising in Suburban Family Magazine, click here.
To find out where to pick up your copy of Suburban Family Magazine, click here.