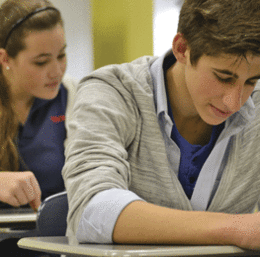 King's Christian School
Teaching life lessons: The King's Christian School: An exceptional education
Next April, high school students from The King's Christian School in Cherry Hill will head off to places as far away as England and Arizona for spring break. The purpose of these trips isn't fun and games, however, as students will be spending their vacation participating in service projects—working in homeless shelters and daycares—as part of the school's King's Cares missions program.
This emphasis on serving others at The King's Christian School—a non-denominational, college preparatory school for students from pre-K through 12th grade—is not the only aspect that makes it a superior place to educate your child.
But it is one of the most exceptional. "A core Christian value is to serve others and to love one another as you would love yourself. We make this value a continual theme at King's," says Sue Trimble, director of Admissions and Development. "If you are looking for a unique educational experience for your child—one that integrates biblical values and real world experiences with exceptional academics—then King's may be the perfect fit for your child."
King's has been educating local children for almost 70 years and has been at its current location in Cherry Hill since 2003. It offers quality, value-based education that aims to develop its students' academic, spiritual, physical and emotional well-being. The school is accredited by the Middle States Association of Colleges and Schools and the Association of Christian Schools International.
Small classroom sizes and a student-teacher ratio of 12:1 allow students to be given the attention that they might not get at a larger school. Parents are encouraged to take an active role in their child's education and often work with teachers to ensure their son or daughter is on a path to success. "We believe that each student is unique. There are many elements that impact a student's ability to reach their full academic potential. Students come to us with different learning styles and abilities as well as different personalities and home situations," explains Trimble. "Gaining the parents' perspective is a critical part of our incoming assessment process for all students. This perspective, combined with our teachers' expertise and our personal, small-classroom environment, affords our students the opportunity for optimum academic success."
Students at all levels, from elementary through high school, consistently score well above the national average on standardized tests. In the last two years, 100 percent of graduates have moved on to college, and through the years, King's graduates have attended many illustrious institutions, including Wake Forest University, the Air Force Academy and Wheaton College.
As a Christian school, King's provides daily Bible classes and weekly chapels, but the Christian faith is integrated into every subject throughout the day. "Through faith-based learning, students are taught to evaluate everything based on the consistent values of the Bible," Trimble says. "The lens through which one views their world greatly influences how one will respond to all areas of their life. Training a student with a biblical worldview gives them the tools for thriving in every area of life. Interpersonal relations, conflict resolution and ethical decision-making are just a few of the areas that benefit from this type of training." Thanks to this approach, issues of bullying and harassment—which are so prevalent in schools today—are a rare occurrence at King's.
The King's Christian School embraces diversity. Students of African American, Asian and Hispanic heritage make up 52 percent of the student population. Thanks to the Global Impact, the school's international student program, King's has a large contingent of foreign exchange students—currently 42 children from China and South Korea—and encourages students to understand and appreciate their differences. "Through our value-based education, our students are not taught to simply tolerate people; they are taught to get to know each other on an individual basis, to learn what each person's gifts and talents are, and to love each person for who God created that person to be," says Trimble. "This type of education provides an accepting, stress-free social environment which is conducive to optimal learning for students of all academic levels. It is our experience that students who are relaxed and confident perform to their highest academic potential."
Outside of the classroom, there are also a variety of activities for students to get involved in. King's boasts an award-winning fine arts program, and students traditionally take home awards in the Best of Camden County competitions as well as in other ACSI competitions. Every spring, the high school students have the opportunity to participate in the school drama production.
The athletic department recently received a major boost with the hiring of two highly regarded coaches. Ron Simpson, the new athletic director and boys basketball coach, was a star player at Rider University and has enjoyed coaching success at the high school and college levels. Brian Gibney, the new boys soccer coach, is well-known to South Jersey fans for his distinguished career at Shawnee, where he won more than 650 games and seven state titles in 36 years as the head coach. "Our students are really excited about the upcoming athletic seasons and we are grateful for the opportunity to provide them with the experiences that come with team unity, team spirit and, hopefully, winning," Trimble says.
Tuition rates for King's are among the lowest for private schools in the area, and 38 percent of students receive financial assistance. Parents and children seeking an affordable and superior educational experience are encouraged to find out more at the school's Open House on Oct. 5 from 11 a.m. to 1 p.m., with registration starting at 10:30 a.m. Private tours can also be scheduled, or parents can arrange for their children to shadow a current student to experience a day in the life of a King's student.
The King's Christian School is located at 5 Carnegie Plaza in Cherry Hill. For more information about the school or to schedule a private tour, call (856) 489-6720 ext. 117 or visit TKCS.org.
Published (and copyrighted) in Suburban Family Magazine, Volume 4, Issue 7 (September, 2013).
For more info on Suburban Family Magazine, click here.
For information about advertising in Suburban Family Magazine, click here.
To find out where to pick up your copy of Suburban Family Magazine, click here.