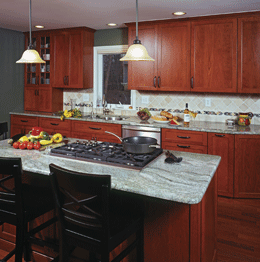 Brindisi Builders
Making Dreams a Reality: Brindisi Builders creates stunning projects that exceed customer expectations.
When contemplating a major construction project, homeowners have a great deal to consider before choosing the right professional for the job. They want to know that the company will deliver results on time and handle the project with respect. And considering that most home remodeling projects are a financial investment, homeowners deserve to have a finished product that is going to add value back to the home and leave them completely satisfied.
For more than 36 years, Brindisi Builders has been providing award-winning service to the tri-state area. A family-owned and operated business, Brindisi has the expertise necessary to handle residential and commercial construction projects of any size at competitive pricing. Whether it's a kitchen or bath remodel, addition or historical renovation, this company has been delivering results that keep customers coming back.
Cutting-edge craftsmanship
Brindisi Builders is known for its quality craftsmanship and personalized service. Brindisi Builders President Mike Brindisi says a commitment to pride in workmanship, professionalism and ethics is made for every project.
Brindisi attended Drexel University and majored in construction management. He also completed four years in the Philadelphia Union Carpenter's Apprentice Program and has served on the boards of professional organizations. Brindisi believes in continuing education in his field, attending trade seminars and work-study groups throughout the Northeast.
"Other companies do not take the time to stay up to date on these things, which is why they don't last. We've been here since 1976 and investing time and energy into education only improves our position as the area's preferred provider," Brindisi says. "We believe in staying in tune to the latest developments in construction to make sure we're using the best materials and methods that will ensure we're providing customers with a superior and cost-effective end-result."
Brindisi and his project team take the time to listen to customers and how they envision the space. "It's an exciting experience and we want to go into the project with complete certainty," he says. Throughout the process of a renovation or remodel, Brindisi and his team keep open lines of communication with the homeowners, scheduling meetings and walkthroughs during the course of the project. "We want to ensure that things are coming along to their specifications every step of the way."
As an added level of comfort, a director of operations is assigned to each client. If a homeowner wants to know about inspections, materials or products, their questions can be answered at any time. Even after the project is completed, Brindisi offers a total warranty on all work for two years and a five-year warranty on all direct structural work.
Going above and beyond
For some construction companies, walking a homeowner's dog on their lunch break would be out of the question. But for Brindisi's crew, it's just another way of showing how much they care about the homeowner's space and family. "We understand that projects like these can turn your home into a work zone, so we do everything we can to maintain that balance," Brindisi says. "We take special care to provide a safe and sound environment for the whole family, and sometimes that means letting a dog stretch its legs on our lunch break."
When talking to Brindisi customers, it seems that an overall theme of customer satisfaction runs throughout their feedback. Many are impressed with the quality of work and the values of the crew—their attention to detail, respect, cleanliness and punctuality.
Voorhees residents Jennifer and Gary Saladino recently had their kitchen remodeled by Brindisi Builders. "[Brindisi has] old school values that other companies seem to have lost. [They] went above and beyond our expectations not only in workmanship, but their professionalism. …We cannot express enough how happy we are with the way the kitchen came out, but also how the Brindisi family conducted business," says Jennifer Saladino.
Doretta Lupinacci contracted Brindisi Builders for a new kitchen at her Shore home. She says she has been through several home renovations through the years and none have come close to the quality and integrity she experienced with Brindisi. "My new kitchen is a dream come true," she says. "My tired, old beach rancher looks like a totally new home. Brindisi kept me apprised of the work and schedules throughout the process. Their talent and attention to detail sets them apart. It was a great experience from beginning to end."
The company has been recognized with the Super Service Award from Angie's List four years running. Angie's List is a consumer-run website that rates companies based off of member reports from more than two million users. Brindisi was awarded for its consistently positive reviews and ratings and was selected out of the five percent of national companies eligible. Brindisi was also recently awarded the qualified Remodeler's Top 550, placing 63rd in the nation and first in South Jersey.
"Customer service is at the core of our company and we understand how our work is impacting their lives," says Brindisi. "Maintaining these standards in our relationships and craftsmanship is key to our success."
Brindisi Builders is located at 59 S. Maple St. in Marlton. For more information about their services, call (877) 284-5353 or visit BrindisiBuilders.com.
Published (and copyrighted) in Suburban Family Magazine, Volume 4, Issue 7 (September, 2013).
For more info on Suburban Family Magazine, click here.
For information about advertising in Suburban Family Magazine, click here.
To find out where to pick up your copy of Suburban Family Magazine, click here.