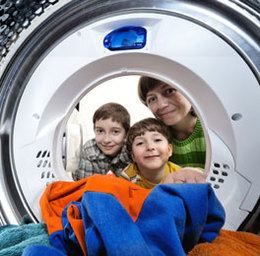 COIT Cleaning Services
Cleaning with a purpose: COIT Cleaning Services works with your family's safety in mind.
Every year, thousands of homes are destroyed by fires caused by clothes dryers, according to the U.S. Consumer Product Safety Commission. Those same fires cause millions of dollars in damage. "Due to the ignitable nature of lint, dryer vent fires are the hottest and fastest spreading fires," says Lori Colino, owner of COIT South Jersey and Philadelphia. "They are known to cause some of the greatest damage and too often, there's just nothing left of the home."
While the fires are tragic, they can be avoided with a few simple steps—steps that take minutes to complete, but save years of heartache. "It's sad, because with proper maintenance, the fires are often preventable," Colino adds. During the past 60 years, COIT has cleaned thousands of dryer vents with their state-of-the-art equipment and technique, and has helped families make their homes more fire resistant. With October designated as Fire Safety month, now is as good a time as any to get started with your own cleaning process, and COIT offers a few tips to help you along the way.
Clean your dryer vent
You can start by doing a visual inspection of the area around your dryer. Is there dust and lint collecting behind, underneath or on the outside of the dryer vent hose? Use a vacuum to remove the lint. Are your clothes or towels still damp after the first cycle of drying? It could indicate there is a clog. Next, go outside to where the vent exits your house. Check to see if the flaps open while the dryer is running. If the flaps do not open or only open slightly, this is a sign that the air flow is poor. While outside, take notice of any signs of a bird's nest inside your dryer vent. Birds often build their nests right inside dryer vents, restricting the air flow and causing fires.
Vents collect dirt, dander, dust and other contaminants each time you run your dryer. Utilizing an exclusive HEPA-Aire vacuum and Aire-Sweep compressor system, COIT technicians, who are certified dryer exhaust technicians, can clean the vent, removing all the built up lint, and helping to make your home not only safer from fire, but also helping to lower your energy bills and to help with shorter dryer running times. Rather than just simply clear the hose connection and exterior trap, COIT technicians use compressed air to flush through the entire dryer vent and blow the lint outside. COIT's "snake-through process" starts at the back of the dryer and continues all the way to the outside of the vent. This improves airflow and ensures the maximum cleaning and removal of lint.
Clean your lint filter
The filter or lint screen in your dryer collects the same contaminants that your vent does, and should be cleaned each time you utilize your dryer. If you use dryer sheets, they can also cause your filter to clog, since they deposit a waxy film on the lint screen, as well as your clothes. Wash your filter every few months to keep it properly functioning, and ask COIT about installing their LintAlert dryer safety alarm, which can provide additional peace of mind for your family.
If you live in a town house, condo or apartment, it may be a good idea to speak with your neighbors about how often they have been cleaning the vents and ducts of their dryers. A fire in an adjoining home can be just as detrimental as a fire in your own home.
Clean other areas of your home
That same dust and debris can also gather in your home HVAC system. COIT can utilize the same HEPA-Aire vacuum and Aire-Sweep compressor system to clear out your air ducts. Not only will a clean system be more efficient, resulting in lower utility bills, but indoor air quality is important to your family's health, and cleaning your air ducts will help eliminate dust and dirt that circulates through the air. Households with pets or smokers, as well as homes with an excessive number of floor vents, especially benefit from consistent air duct care.
"There are several key times when we strongly suggest air ducts be cleaned," Colino says. "This should be done prior to turning on your heat for the first time each season, and we also suggest clearing ducts before painting, installing drapery and in conjunction with carpet cleaning."
It is also suggested that new homeowners have their air ducts cleaned prior to moving in to eliminate contaminants left by previous residents. This should especially be done in homes that have been vacant for some time.
Take action now
COIT cleans dryer vents for over 200 condo units a month. They work closely with homeowners, home owner associations, residential and commercial property owners to ensure the health and safety of their residents and families. While there are steps you can do yourself to ensure the fire safety of your home, the help of a professional can give you that much more peace of mind.
COIT's regional office is located at 609 Grace Street in Somerdale and services South Jersey and Philadelphia. For more information or to schedule an appointment, call (800) For-COIT (800) 367-2648 or visit COIT.com.
Published (and copyrighted) in Suburban Family Magazine, Volume 4, Issue 7 (September, 2013).
For more info on Suburban Family Magazine, click here.
For information about advertising in Suburban Family Magazine, click here.
To find out where to pick up your copy of Suburban Family Magazine, click here.