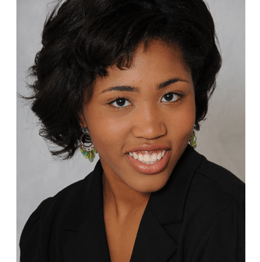 Star Students: August, 2013
Raina Lindsey Searles
Mount Holly
Searles (pictured), a 2013 graduate of Rancocas Valley Regional High School, was awarded a National Achievement Scholarship, as well as a $12,000 corporate sponsorship from Pfizer, Inc. As the now former community service chair for the high school's National Honor Society, Searles has continuously taken initiative to help others. One of her biggest projects was developing the "SuperGirl Workshop," a series of events designed to inspire younger girls to succeed. She received a Girl Scout Gold Award for her impressive outreach through the workshops. Searles will be heading off to the University of Pennsylvania in the fall.
Daniel Cooper, Kevin Hornibrook and Jason Thorpe
Washington Township
Middle school students Cooper, Hornibrook and Thorpe made it to the state finals for the National Geographic Bee, which was held at Rowan University. The three students won their individual school competitions at Bunker Hill Middle School, Chestnut Ridge Middle School and Orchard Valley Middle School, respectively, bringing statewide attention to all three middle schools for the first time in the 25 years the Bee has been in existence.
Rose Ni
Cherry Hill
Ni, a student at Beck Middle School, won Junior Scholastic magazine's "Can You Find the Mapman?" contest. Chosen out of 5,000 entries from students around the globe, Ni's original map of Croatia earned her $250 and a Nintendo Wii. The 13-year-old figured out the mystery destination from the clues created by Jim McMahon, the magazine's cartographer, and made her own map of Croatia to win the grand prize. Ni was featured in the May edition of Junior Scholastic.
Elizabeth McGinley and Tara Liu
Mount Laurel
Lenape High School students McGinley, now a senior, and Liu, now a sophomore, won the school's American Math Contest this past school year for their respective grades. The American Math Contest recognizes and encourages building the math skills of students across the country. McGinley and Liu were also part of the school's math team, which placed first in the final competition of the 12-team Burlington County Math League.
Vinay Panayanchery
Moorestown
Moorestown Upper Elementary School student Panayanchery came in first place at the regional Science Bee and second in the Math Bee organized by the North South Foundation. He'll be at Duke University this month as one of 85 students to compete in nationals. The North South Foundation is a nonprofit organization that runs academic bees to promote educational success among Indian American students. The annual contest awards college scholarships to the first, second, and third place national winners.
Washington Township Interact Club
Washington Township
The Washington Township High School Interact Club was honored as Rotarians of the Year by the Washington Township Rotary Club. In this past year alone, the club raised more than $190,000 in donations. Additionally, the school's Interact Club advisors, April Renzetti and Natalie Taylor, were named honorary Rotarians.
Christine Barbieri
Medford
The Perry Resources scholarship for 2013 was awarded to Barbieri, a recent graduate of Shawnee High School. In the fall, Barbieri looks forward to attending James Madison University, and the $1,000 scholarship from the staffing firm will help with her education costs. Barbieri's grades, academic achievements, activities, community involvement, leadership and essay explaining her motivation and goals helped her to win the award.
Alexandra Gobeler
Marlton
Recent Cherokee High School graduate Gobeler was the recipient of one of more than 25 scholarships the Daughters of the American Revolution award nationally each year. The scholarships from the women's service organization are based on academic achievement and presented to students pursuing degrees in several areas including education, history, law and nursing.
Christine Castorino
Haddonfield
Fourteen-year-old Castorino wrote a children's book in order to earn her Girl Scout Silver Award. Castorino's book, Heroines of Haddonfield, focuses on women who played an important part in the town's history. Her book could not have come at a better time, since the town is currently celebrating its 300th anniversary. The book is fully illustrated and is available for purchase at the town's book swap.
Andrew Jaffe
Voorhees
A 2013 Moorestown Friends School graduate and budding scientist, Jaffe was selected to attend the 45th annual Dr. Bessie Lawrence Summer Institute at the Weizmann Institute of Science in Israel. Jaffe was one of 19 Americans chosen for the program. During the four-week science exploration, Jaffe worked in small groups with world-renowned scientists on actual, ongoing research.
Christina Breen
Marlton
The World Poetry Movement, an organization that features student poets, chose two of Breen's poems to be published in its anthology, Stars in Our Hearts. The organization chose the 2013 Holy Cross High School graduate and Marlton resident's "Show Me" and "Immortality" to be featured among the hundreds of other poems printed in the internationally distributed publication.
Brenna Fallows
Moorestown
Fallows, a 2013 graduate of Moorestown High School, was awarded a $5,000 college scholarship from the Volunteer Center of Burlington County in recognition of her commitment to community service. Fallows received the biggest scholarship from the organization because of her impressive volunteer service during the past several years. Not only did Fallows participate in service projects at Moorestown High School, but she also served on the teen advisory council for the Ronald McDonald House of Southern New Jersey and volunteered at Fort Dix as well as the Moorestown Library.
Know a Star Student? Tell us about him or her at Family@SouthJersey.com.
Published (and copyrighted) in Suburban Family Magazine, Volume 4, Issue 6 (August, 2013).
For more info on Suburban Family Magazine, click here.
For information about advertising in Suburban Family Magazine, click here.
To find out where to pick up your copy of Suburban Family Magazine, click here.