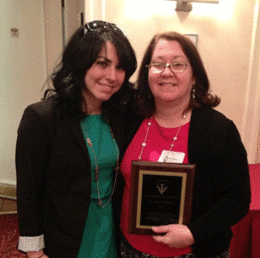 Star Teachers: August, 2013
Dr. Terry Molony
Cherry Hill
Joyce Kilmer Elementary School psychologist Molony (pictured) was named New Jersey's School Psychologist of the Year at the N.J. Association of School Psychologists convention. Molony remains actively involved on the national level of school psychology as the N.J. Delegate on the National Association of School Psychologists board. She now moves forward for consideration as the National School Psychologist of the Year.
Wendell Steinhauer
Riverside
The New Jersey Education Association named current NJEA Vice President Steinhauer, a Riverside High School math teacher, the new president for the union. The NJEA is the largest teachers' union in the state. Steinhauer, who has been teaching at Riverside since 1978 and has served as NJEA vice president since 2009, will be taking over for Barbara Keshishian, whose term expires at the end of August.
Rosemary Conners
Moorestown
Conners, who retired after 23 years from teaching at Our Lady of Good Counsel this year, was honored with the school's Sister Michael Vincent Award. The award is given by the Catholic school to its most dedicated staff members each year during Catholic Schools Week, a celebration that focuses on the relationship between religion and community. Conners was loved by students and faculty alike for her focus, as well as for her sense of humor.
Donna Costa and Washington Township's middle school gym teachers
Washington Township
Physical Education Department Supervisor Costa, along with physical education teachers from all three of the middle schools, coordinated the seventh annual Fitness Challenge Day. Students with the highest scores in the school district's new Fitnessgram program were invited to participate, and awarded with a day of friendly competition outdoors at the Washington Township High School stadium.
Kwame Morton
Cherry Hill
Morton, the current principal at Joyce Kilmer Elementary School, was chosen to take over as principal of Cherry Hill High School West this fall. According to school officials, Morton will be the first black high school principal in Cherry Hill. Before coming to Kilmer, Morton worked for 10 years in the New York City School District as a teacher and assistant principal and then as an assistant principal at the now-closed Thomas FitzSimons High School in North Philadelphia. He was also designated by the Philadelphia School District as a "turnaround specialist," trained through an education reform program at the University of Virginia.
Rick Bozarth
Medford
Bozarth, a business teacher at Shawnee High School, was named the Burlington County Teacher of the Year. This is the second honor he received during the 2012-13 school year, following his recognition as Shawnee Teacher of the Year. In addition to the accounting courses he instructs, Bozarth serves on multiple committees, and can be seen outside the classroom as the advisor of Student Council, for which he helps plan the annual senior trip.
Jamie Vermaat
Haddonfield
Vermaat, an American literature and AP English language and composition teacher at Haddonfield Memorial High School, was chosen to participate with 27 other teachers from across the country in John Steinbeck: the Voice of a Region, a Voice for America, a National Endowment for the Humanities summer institute for teachers. The institute explores Steinbeck himself, his works of fiction and prose, and his "environmental, scientific and political sensibilities." The program was held at Hopkins Marine Station of Stanford University in California from July 14-Aug. 2.
Kelly Wiechnik
Medford
Wiechnik's fifth-grade class at Milton H. Allen Elementary was busy this spring collecting donations for Ronald McDonald House Family Rooms, rooms in local hospitals supported by the Ronald McDonald House where families can stay while their children are hospitalized. The donations, which included microwaveable soups, small water bottles, fruit and pudding cups and much more, were distributed to family members utilizing the rooms.
Tom Pol and Jeff Thompson
Marlton
It is not every day students hurl water balloons at their teachers. However, Cherokee High School physics teachers Pol and Thompson gladly gave their students that opportunity this past school year, all in the name of science. The students took what they had been learning in class and applied it to real life by building full-sized catapults to hurl their water balloons a distance of 75 feet and over an 8-foot barrier to splash their teachers in this unique lesson.
Dr. Gregg Molotsky
Voorhees
Molotsky directed Eastern High School's successful performance of the musical, City of the Angels, this spring. The musical received 16 nominations for the Greater Philadelphia Cappies Awards, including Best Show, Best Lead Actor, Best Lead Actress, Best Supporting Actor, Best Supporting Actress, Best Ensemble, Best Featured Actor, Best Lighting, Best Set, and Stage Crew. At the annual awards gala, which recognizes excellence in high school theater, Eastern took home the Best Stage Crew award.
Marianne Rubba and Cecilia Lynn
Mount Laurel
Rubba and Lynn brought a new level of creativity to teaching math and writing to the students at Countryside and Springville schools this year. The two teachers formed a partnership with a group of senior citizen residents in Mount Laurel. As part of the program, students from each class practiced their writing skills by penning letters to each other as pen pals. Then, both second-grade classes visited the senior citizens at the clubhouse in Holiday Village and taught the residents how to play math games, which improved their own math skills and introduced them to an older generation.
Walter Bowne
Voorhees
Under the direction of Bowne, Eastern Regional High School's newspaper, The Voyager, won first place in the American Scholastic Press Association 2012-2013 Scholastic Newspaper Awards. The newspaper also won the outstanding poem award for its publication of a student-written piece entitled "The Fall of Aphrodite."
Know a Star Teacher? Tell us about him or her at Family@SouthJersey.com.
Published (and copyrighted) in Suburban Family Magazine, Volume 4, Issue 6 (August, 2013).
For more info on Suburban Family Magazine, click here.
For information about advertising in Suburban Family Magazine, click here.
To find out where to pick up your copy of Suburban Family Magazine, click here.