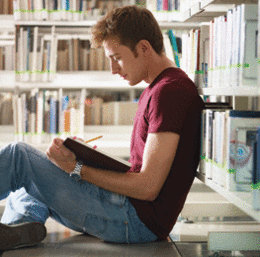 More than a Major
…From the pages of Suburban Family Magazine…
Picking an area of study is important—but there is more to consider for your career path than just the major selection.
Most parents of high school seniors have their hands full trying to help their children decide the next step after graduation. For those who want to head off to college, finding the right fit can be a process. Along with cost and location, picking a major—and all the internship or co-op opportunities that might go with it—weighs heavily in the decision.
Carol Hazel of Washington Township had all of those concerns this past year, multiplied by three. Hazel is the mother of triplets—recent Washington Township High School graduates David, Amanda and Megan—so for her and husband Dave, the ordeal was even more hectic than usual.
"It was a very overwhelming experience," says Hazel, a teacher at Whitman Elementary School in Washington Township. "It was a lot to think about. You have to decide where you're going to apply, then you apply, then you see where you got in, and then you have to figure out which one of the schools you got into that you want to go to. It's a crazy year trying to decide where you're going to go to school.
"I'm not going to lie and say where they got the most financial aid wasn't a huge factor, because it was. But we had a lot of things to look at. It was always driven by their majors. They're all pursuing what they love and I think they're all going in the right direction. I can see them all in the fields that they've chosen."
Luckily, it all worked out perfectly in the end. Despite having vastly dissimilar interests, the Hazel triplets all ended up in the same city, although at rival schools. Starting this fall, David will be studying engineering at Temple University, Amanda will major in elementary education at St. Joseph's, and Megan will be a biology major with a concentration in pre-med at Villanova.
While their situation is obviously a unique one, the Hazels are not the only family that knows how difficult it can be to navigate through the process of choosing a college. Increasingly, one of the most crucial factors is thinking about four or five years down the line and getting on the right career track.
Preparing for the real world
In the past, going to college wasn't just about finding a career; it was also about broadening your horizons and receiving an all-around education. While those aspects may still be important, more and more the focus is on setting yourself up for life after graduation.
"Students are looking for majors that will have a job attached to it," says Dennis Murphy, vice president for enrollment and student affairs at Neumann University in Aston, Pa. "I don't know that anthropology would necessarily have a job attached to it, but accounting does; nursing certainly does.
"The business programs are always very desirable, the hard sciences are strong, and education continues to be an area of great interest for our young people, especially given the fact that so many of the baby boomers are now retiring [from teaching]. Even with some of the tightness in the market at the moment, in three or four years, those freshmen will be graduating and there will be plenty of jobs available at that time."
Dr. Albert Betts, director of admissions at Rowan University, is entering his 20th year on the Glassboro campus. He agrees with Murphy that students more than ever are focused on their job prospects when searching for the right school. This past year, engineering was by far the most popular major for Rowan applicants, with business and the health sciences drawing heavy interest, as well.
"You see a lot more students who have a clear vision of what they want, or at least what they think they want, and what kind of job they hope to get," Betts says. "You see a lot more students than in the past that have a specific path in mind and are looking for majors that have internships and provide a training experience while they're in school to help them get a job when they're done."
For those students who aren't thinking that way, parents and teachers can try to influence them in that direction. George Bakey, a guidance counselor at Gloucester Catholic High School in Gloucester City, often hears students talking about a college's location or how good its football team is. He tries to remind them of other areas to focus on.
"We tell the kids to ask the college reps these questions all the time. The first thing is, how many kids are graduating in four years? And two, when they graduate, how many of those kids, based on the majors they have, are finding jobs?" Bakey says.
"What we try to do is get the kids to understand that as important as the college experience is and being able to socialize, at the same time you have to be able to balance your work and everything. The big thing is that you have to realize that when you get out, you're in the real world. You're either going to be getting a job or going to graduate school, and you have to be able to handle it financially."
To keep student loans to a minimum, many students start their education at a community college before finishing up at a four-year school. In the past, these institutions were often perceived to be for less serious students or those who were unsure of their future plans. But now, community colleges welcome in plenty of students with a clear career goal in mind.
It helps that in New Jersey, it's easier to move your credits from a community college to any state school thanks to the Lampitt Bill, which provides for full transfer of associate's of arts and associate's of science degree graduates.
"We would like to believe that students go to college to become well-rounded and educated, but you have to be realistic. The economy is what it is," says Dr. Margaret Hamilton, vice president for academic affairs at Camden County College in Blackwood, who explains that traditional majors like nursing as well as "hot" majors like computer science are currently popular.
"At least in our experience here, this generation of students and this generation of parents are much more economically driven than 20 years ago. [In the past], folks were looking more to get a well-rounded college degree while they thought about what they wanted to do. Here, they're walking in and saying, 'I want to be a nurse, I want to be an IT systems manager, etc.'"
Hands-on experience
In addition to finding the right major, students are seeking to get the most out of the college experience, preferably in ways that will stand out to employers. At Arcadia University in Glenside, Pa., that means taking a semester or more to study abroad in places ranging from South America to Europe to Eastern Asia.
"Arcadia is known for its study-abroad program," says Mark Gress, interim director of career education. "That's why a lot of the programs like international business and international studies are so popular. About two-thirds of the students will study abroad during their time here. A lot of them are interested in some kind of global perspective.
"A lot of employers value students going abroad for a semester or for a few different semesters, to both study and intern abroad. That translates well on a résumé; it looks really good when you search for a job or search for a graduate school. When we're meeting with the students, we tell them when they're going on the job market to make sure they emphasize the skills they learned and the things they did when they were in another country working or studying."
All three of the Hazel triplets took hands-on experience into consideration when researching colleges, but each had a different reason. For Amanda, the elementary education major, she knew no matter what school she chose, she would be student-teaching as a senior. But St. Joe's stood out because it gave her a chance to get out in the field much sooner.
"I think they have the best program as far as opportunities to observe in the classroom," she says.
"They got you out the earliest and I really liked that. It's your first semester of your freshman year. This way, if I don't like it, I have a lot of time to change my major."
Megan Hazel, who knew she wanted to be a doctor since the beginning of high school and hopes to work at The Children's Hospital of Philadelphia someday, wants hands-on experience at the undergraduate level to prepare her for medical school.
"I was looking to see if there were any internships or co-ops or opportunities to work in a professor's lab, because that's all good experience for med school," she says. "I was also looking for advisers, specifically for pre-med, to kind of guide you, especially when you're taking the MCATs and applying for med school. And I was looking for a program that was well known. I figured that would help me when I'm applying to med school, to come from a school with a good reputation. "Villanova has a big alumni network, so that was important, because I thought that could help with internships or shadowing doctors in hospitals. I know they have opportunities to work in someone's lab, so that was big. I went to a presentation on pre-med advising, and they seemed very supportive, like they would help a lot with the process. That all kind of stuck out to me."
David Hazel was impressed with Temple's engineering program because it's accredited and it offers co-op opportunities to gain professional work experience. He will also live in a dorm called a Living Learning Community, where he will be surrounded by fellow engineering students.
"I'm going to get a really good education there," he says. "They have a lot of great facilities, so I won't feel like I'm missing out on anything. I was stuck between Temple and Widener for a really long time, but then I decided Temple is a bigger school with a little more to offer. I will definitely consider trying the co-op in the future. I think that would be the smartest decision, to get some exposure in whatever path I'm going to choose."
Finding your way
While most college administrators agree that students—such as the Hazel triplets—are much more career-driven than even 10 years ago, the fact remains that not every incoming freshman knows exactly what kind of profession they want to pursue.
"There are folks who want to think about what they want to do, and this is the perfect place to do that," Hamilton says of Camden County College. "I, personally, would not want to spend $40,000 a year at a college if my son or daughter was still trying to decide what they want to do."
"There's always going to be a lot of students that just aren't sure, that aren't ready to make a commitment in any specific area," adds Rowan's Betts.
"Over a quarter of our freshman applicants each year apply undeclared. Because of the liberal arts background of our institution, nearly half of your credits are general education credits, which gives the student a lot of opportunities to kind of test different areas and then gradually zero in on what they do want to major in. Then when they do major in something, just about every major at the university offers internship opportunities."
No matter when you decide your major, that internship experience is what it often comes down to for employers. Neumann's Murphy had three job offers to choose from when he entered the workforce in the 1970s. In today's economy, students can struggle to find one.
"Today, you can be competent, but that's not good enough," Murphy says. "You need to have other skills that are going to set you apart from the other applicant. GPA is the most important thing; it often determines who's going to get interviewed. Once that interview happens, they want to know what else you've done in college. We provide service learning, volunteer opportunities, chances to assist others, internships. All of our majors have some opportunity for students to work outside of the classroom, whether they're in a hospital or a school district or working with the Flyers or the Phillies, or working for some other business. All of those opportunities are out there, and that is needed in today's market for someone to get a job. They're not going to get a job if they haven't had some real life experience."
Gress advises his Arcadia students to take advantage of the Internship and Career Fair held twice a year at the school. He also encourages them to stay involved throughout their college career. "There's a ton to do on campus," he says. "If you join a student group or you do something on campus, whether it's intramurals or writing for the school newspaper, that looks good on a résumé. You have to always be thinking, 'Hey, graduation is this many years away.' What is an employer going to think about the time you spent here? Are you just going to classes and not doing anything else, or are you building that portfolio of sports, of extracurriculars, of this and that? Ultimately, that's what's going to help them down the line."
While all of this can sound a bit overwhelming for a young student, it's important to remember that college is supposed to be fun, too. Carol Hazel and her husband, while reminding their children throughout the decision process about things like student loans and internship opportunities, also wanted to stress that college life is not all stressful. They're confident that even though the journey was arduous, all three of their kids found the perfect spot to make them happy and productive students.
"I'm excited for them. It's an exciting phase of their life," Carol Hazel says. "It's going to be really weird when they leave; the house is going to be a lot more quiet. But it's all about making transitions and growing, and we're really happy for them."
Published (and copyrighted) in Suburban Family Magazine, Volume 4, Issue 6 (August, 2013).
For more info on Suburban Family Magazine, click here.
For information about advertising in Suburban Family Magazine, click here.
To find out where to pick up your copy of Suburban Family Magazine, click here.