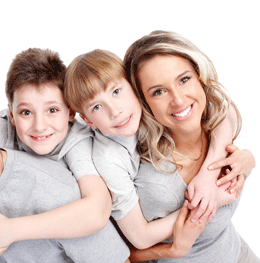 All in the Family
Why picking the right family dentist isn't just the best choice for your child, but for the whole gang.
In a year filled with work, school, sports and music practices, and a little fun here and there, squeezing in appointments with doctors and dentists can be a chore. Perhaps you've stuck with your beloved dentist in the city, while your kids visit the pediatric practice in town, and your husband tries to skate by without any checkups at all.
In South Jersey, a growing number of dental practices are aiming to bring each member of the family under one roof for their dental care. Family dentistry, which handles patients of all ages, is on the rise. Among several reasons, dentists cite convenience.
"We know that our patients have very busy lives," says Dr. Vicki Scotti, who practices with Team Dental, a new practice in Woolwich. "It's great to be able to have your children and yourself seen in back-to-back appointments."
Team Dental, like most family dental practices, handles a wide range of dental procedures, including general checkups, fillings, extractions, root canals, crowns and bridges. Practices do vary on what they handle in-house and what they refer to a specialist, like an orthodontist or an oral surgeon.
Scotti noted that on one recent morning, Team Dental saw a family of three children. "Two kids got cleanings, one got a filling, and they were all taken care of in the course of one morning."
Scotti and the practice's founder, Dr. Murtuza Jaffari, are general dentists and see patients as young as age 2 and as old as age 90. A pediatric dentist is available on Saturdays for young patients whose parents favor pediatric dental care.
In Cherry Hill, Conway & Sardina Cosmetic and Family Dentistry handles a growing amount of work with dental implants, which are artificial tooth roots placed in the jaw to hold replacement teeth or bridges. However, Dr. Marlene Sardina-Kelly says she prefers to handle the restoration and maintenance of implants. For the initial placement of the implant, she refers patients to a periodontist whose work she respects.
Dental health boosts overall health
In recent years, health experts have discovered that oral health is a strong indicator of overall health and wellness. People with poor periodontal health are more likely to develop diabetes. There's also a close relationship between poor dental health and heart disease.
"The type of plaque in your mouth is very similar to the plaque that is found in the arteries of your heart," Scotti says. "So teaching our patients to maintain a clean, healthy mouth is certainly a step in the right direction for their overall health."
To that end, family dentists keep an eye on nutrition, tooth-brushing habits and other lifestyle factors, including smoking. Over time, they feel that they can encourage whole families to adopt better habits that may improve their overall health.
"Parents who have a high dental IQ pass that on to their kids," adds Sardina. "With good tooth-brushing and fluoride in the water, we see a lot less decay today." She notes that the teen years, when kids may brush more erratically and consume more soda, are a typical period in which patients may start to develop cavities.
Dentists can also be the first line of defense against some health problems. Many now routinely check for signs of oral cancer or for thyroid problems.
At Center Square Family Dental in Woolwich, Dr. Nishit Shah says he likes to talk about any medications his patients are on, because some can cause side effects that hurt the teeth and gums. He's also mindful of signs of wear on the teeth, whether from grinding or from an outlying health problem.
"Sometimes it is the dentist who first notices excessive wear on the teeth, which can be a potential sign of acid reflux," he says. In that situation, he would encourage the patient to visit his or her general physician, who could diagnose and treat the problem.
Family-friendly features
In order to teach good dental care to family members of all ages, local practices are using the latest technology. For example, many have "intraoral" cameras, which allow patients to see their teeth in the same way the dentists do.
"When one of our hygienists sees a patient for the first time, she will get the mirror out and work with them to show them the best way to brush and floss," says Scotti. "Then, seeing the images from the intraoral camera really brings it home and motivates them."
If you've ever faced the wrath of a teacher when pulling your child out of school for a dentist's appointment, you'll be happy to know that many family practices have longer or more flexible hours. For example, Center Square Family Dental, Team Dental and Conway & Sardina Cosmetic and Family Dentistry all have Saturday hours, with some weekday hours extending to 7 or even 8 p.m.
No fear
Every dentist knows that some patients enter the office with fear. Whether it's due to past experiences or just a general case of the jitters, patients can be reluctant to visit the dentist unless there's a severe problem.
Dentists strive to build ongoing relationships to minimize that sense of fear. They anticipate that by getting to know patients at a young age, they will be able to encourage them to maintain their dental health.
"We take a lot of time to explain things, whether it's during an office visit or even in the course of a phone call," says Shah. "We give patients a tour of the office; we go over our procedures very carefully. We really want to get across to the patients that we are here to help them."
Dentists note improvements in technology have greatly decreased the pain that was once associated with dental procedures. Also, modern preventive care, such as better toothbrushes, increased patient education, and sealants can often keep small problems from growing into big ones.
Even in the field of orthodontia, parents who carry memories of painful wire-tightening now see their children going through the process with little to no discomfort. See our sidebar on the next page for more on that topic.
Dentists say they hope that the new model for family care—with close, long-term relationships, and family members visiting the dentist together—may help create more positive associations and a better foundation for dental care. Sardina, who has practiced family dentistry for 19 years, is now treating college graduates who she has known since they were in kindergarten.
"That continuity really only happens in family dentistry," she notes.
Shah says he hopes to be part of a legacy of positive dental experiences.
"A lot of times, people neglected their teeth previously, because they were scared or felt like it wasn't a top priority," he says. "I want my patients to know that I want to make sure their children don't have those troubles."
Resources
Center Square Family Dental
120 Center Square Road, Suite 205
Woolwich
(856) 294-6767
CenterSquareDental.com
Conway & Sardina Cosmetic and Family Dentistry
1500 N. Kings Highway, Suite 100
Cherry Hill
(856) 795-0900
ConwaySardina.com
Segal & Iyer Orthodontics
501 Route 73 S., Suite 202
Marlton
(856) 810-1006
SegalAndIyer.com
Team Dental
300 Lexington Ave.
Woolwich
(856) 467-4677
TeamDentalNJ.com
Brace for It
The orthodontist has also become a spot for parent and child alike. About 20 percent of the patients at Segal & Iyer Orthodontics in Marlton are adults, says Dr. Ross Segal. Some are the parents of patients, while others never wore braces and had lingering regrets. Other adult patients have found their teeth are shifting out of alignment, even if they did wear braces as teens.
Either way, adults are discovering that braces no longer mean awkward headgear and painful tightening of wires.
"Braces are not the same braces that they were when you were a teenager," says Segal.
"The pain factor is significantly diminished." He explains that today, his practice favors "self-ligating" braces, which put less pressure on the teeth and rely on movable brackets rather than rubber bands. "Today, we know that the lower the force, the better the teeth move," Segal says. The new technology often necessitates fewer office visits, which can be appealing for a busy adult.
The cosmetic improvements that have changed the world of orthodontia have also enticed many adult patients.
"Today, no one has to know that your teeth are straightening," he says. Invisalign, a system that uses invisible, removable aligners rather than braces, is an extremely popular choice. Other options include clear ceramic braces or lingual braces, which are placed behind the teeth. An orthodontist can help explain the best options for each patient, depending on the degree of crookedness, the structure of the mouth, and other dental considerations.
Segal says most patients who wear braces as teenagers won't need to repeat the process, if they adhere to all recommendations. Most patients are asked to wear retainers in the years following orthodontic treatment, and failure to do so can cause the teeth to drift back.
The benefits of straight teeth are significant: Orthodontic problems can cause tooth decay, gum disease, bone loss, speech impairment, chewing and digestive disorders, and unnecessary tooth loss. But Segal says it's the cosmetic factor that attracts many adult patients.
"Our adult patients see colleagues or others who may have nicer teeth, and they decide to do something about it. They see that their kids are having a much better experience than they did, and they decide to give it a try."
Published (and copyrighted) in the Art of Living Well pull-out section of Suburban Family Magazine, Volume 4, Issue 6 (August, 2013).
For more info on Suburban Family Magazine, click here.
For information about advertising in Suburban Family Magazine, click here.
To find out where to pick up your copy of Suburban Family Magazine, click here.