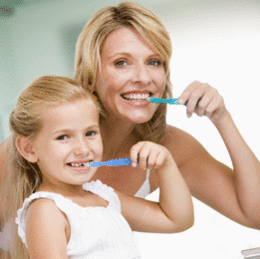 Mary Farren, DMD, LLC Family & Cosmetic Dentistry
Bright Smiles for the Whole Family: Mary Farren, DMD, puts all ages on a path to dental health.
Earlier this year, Mary Farren, DMD, celebrated a major milestone: seven years of running her own dental practice in Cherry Hill. She has been practicing dentistry for more than 16 years and enjoys the control she has over her schedule, which allows her to service her patients without being rushed. "I don't want to leave my patients waiting, so I make sure I don't double book anyone," Dr. Farren says. "I give each one the time they need to ask questions and discuss their treatment. Their time is just as valuable as mine."
Perhaps it's this consideration of others' time that has kept her patients loyal—many of whom she has seen grow up to start families of their own—or maybe it's her friendly and warm personality that quickly puts patients at ease. For many, it may be the homey office environment, complete with couch, chairs and coffee table, that welcomes patients when they arrive. Whatever it is, it's working. "I really feel that the relationships between me and my patients are most important," Dr. Farren says. "I like to get to know them and I want them to know me as well. I feel like they are more friends and family than my patients."
Jane Fort of Southampton has been seeing Dr. Farren for almost 16 years. "She knows my family well now and treats us as friends, not just patients," says Fort. In addition, Fort says Dr. Farren has helped her overcome her fear of dentists. "I began as a patient who only came when the pain overrode the fear to one who now goes for regular check-ups every six months. She is patient and allows you to feel that you have control of your choices."
As the only dentist on staff, Dr. Farren knows every patient's history. This continuity of care means patients don't need to spend the first 10 minutes of every appointment reviewing their history with a dentist to refresh their memories. "I know what we've done, what we've tried, or if a patient requires a different anesthetic," she says. "Even my hygienists, of which there are only two, know each patient's personality and when to be especially kind or gentle with the cleanings."
Dr. Farren's practice provides both general dentistry and cosmetic services. Standard services include fillings, root canals, extractions, crowns and bridges and new CEREC treatments. CEREC is an acronym for Chairside Economical Restoration of Esthetic Ceramics. "Translated, it means that a dentist can economically restore damaged teeth in a single appointment using a high-quality ceramic material that matches the natural color of other teeth," says Dr. Farren. CEREC uses CAD/CAM (Computer Aided Design/Computer Aided Manufacturing) technology, incorporating a camera, computer and milling machine in one instrument. The dentist uses a special camera to take an accurate picture of the damaged tooth. This optical impression is transferred and displayed on a color computer screen, where the dentist uses CAD technology to design the restoration. Then CAM takes over and automatically creates the restoration while the patient waits. Finally, the dentist bonds the new restoration to the surface of the old tooth. The whole process takes about one hour.
On the cosmetic side, patients can get in-office bleaching. "Teeth whitening is in high demand and, while in-office bleaching gives quick results, it's also more expensive," she says. For this reason, Dr. Farren has started to explore alternative options for her patients that may be more affordable, such as an at-home bleaching kit, or porcelain veneers. "Veneers are jackets that get permanently cemented to the front of the teeth. It can correct the shade of teeth, as well as minor discrepancies with spacing or crowding. It also won't stain like natural teeth."
Dr. Farren is also trying to get in the forefront of early detection of oral cancer. "It is often detected in the late stages, but if it's caught early, it's much more curable," she says. Using something called Identafi—a wand that uses different wave lengths of light—Dr. Farren can detect pre-cancer under the skin and suggest less aggressive treatment.
"My family have been patients of Dr. Farren's for more than 10 years now," says Mount Laurel resident Susan Lombardo. "My kids adore her. She makes them laugh, talks to them, calms their fears, lets them know what to expect so they're not scared, etc. If ever I had a concern, required a last-minute or emergency appointment—she's been available. I've heard horror stories from friends who wait weeks for an emergency appointment. Mary and her staff triage the situation, and if an appointment is required, they fit you right in. As a patient, it's a huge relief."
As an expert in treating all ages, Dr. Farren stresses the importance of parents instilling good dental habits in their children to put them on a path to dental health. She says children should start seeing the dentist regularly at ages 2 or 3, and as soon as teeth come in they need to be brushed. "Fluoride is the No. 1 defense against cavities and most kids these days are not drinking tap water—which is treated with fluoride," Dr. Farren says. "When children get their adult teeth, we can put clear sealants on their molars. Treatment is pain free and keeps bacteria out."
Conveniently located at 1908 Springdale Road in Cherry Hill, Mary Farren, DMD, LLC Family & Cosmetic Dentistry schedules appointments Monday, Tuesday, Thursday and Friday with office hours in the early morning and evenings to accommodate patients' busy lives. Dr. Farren also has systems in place so that patients with emergencies can always reach her. For more information or to schedule a visit, call (856) 751-6606 or visit MaryFarrenDMD.com.
Published (and copyrighted) in the Art of Living Well pull-out section of Suburban Family Magazine, Volume 4, Issue 6 (August, 2013).
For more info on Suburban Family Magazine, click here.
For information about advertising in Suburban Family Magazine, click here.
To find out where to pick up your copy of Suburban Family Magazine, click here.