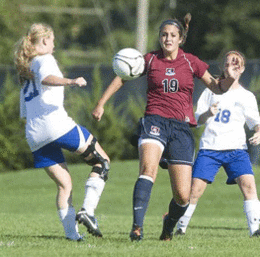 Girls Soccer
Bishop Eustace Crusaders
Bishop Eustace only loses a few starters from last season, but they're good ones. Nicolette Wilkins was a Non-Public first-team forward who had 10 goals and 10 assists, while Taylor Baranowsky led the team with 11 assists and Ashley Gault had 13 goals. The Crusaders are excited about the returning talent, however, led by senior midfielder/ defender Alexandra Fiato, an all-Olympic Conference National Division first-teamer. Other senior starters are midfielder Taylor Tralie—who has already committed to The College of New Jersey—midfielder/forward Cayla Barry, defender Cristina Johnson and keeper Ellise Sullivan. Junior midfielder/forward Caitlin Golden scored five goals a year ago and senior Kim Johnson had two goals, while sophomore midfielder/forward Gabby Pietrangolo scored a goal in the state semifinal. Pietrangolo and another sophomore, defender Julia Ferrelli, moved into the starting lineup toward the end of their freshman campaigns. Senior Jamie Brandenburger is another key defender, but the Crusaders will be without senior defender Kristen Kelbon, who tore her ACL and will miss the season.
The Crusaders went 14-9 in 2012 and, despite being the ninth seed in the South Jersey Non-Public A playoffs, made a run all the way to the final before losing to Pingry, 2-1, in overtime. That experience will pay dividends this year as Eustace tries to end rival Paul VI's run of Olympic National titles.
Camden Catholic Fighting Irish
Senior midfielder/forward Cara Racobaldo is Camden Catholic's most seasoned veteran, as she's been on the varsity team since her freshman year. She is coming off a season in which she had four goals and five assists. Juniors Juliet Esposito (two goals, three assists) and Megan Kilpatrick (one goal, two assists) will control the middle of the field, while sophomore Julia Braungart will also be a full-time midfielder this season. Senior defenders Adrienne Sherman and Morgan Dwyer also return to the starting lineup, while senior goalie/defender Gabby Curry, junior midfielder Monica Lucci, sophomore defender Taiah Thornton and sophomore defender/midfielder Kaeleigh Becker also return. Sophomore goalie Ashley Surgner, who took last year off from soccer, is a newcomer who could have a major impact.
The Fighting Irish went 5-13-2 in 2012, a four-win improvement from the year before in the first season for coach Varsay Lewis. With Racobaldo leading the way, they expect to take another step forward.
Cherokee Chiefs
Cherokee must replace four-year varsity and Division I players Devon Cummings and Kristin Sullivan. The top returners are junior forward/midfielder Ashley Koester, who led the team with eight goals and had four assists, and senior midfielder Sarah Jackson, who had five goals and seven assists. Senior Christine DiLullo, who had a goal and two assists, is also back in the midfield, while senior Lilly Navarra returns on defense. Senior Courtney Simpson and junior Devon Kearns are experienced keepers.
The Chiefs made a five-win improvement from 2011 to last year and lost to Williamstown in the South Jersey Group IV quarterfinals. Cummings and Sullivan are big losses, but Cherokee hopes to remain competitive.
Cherry Hill East Cougars
Senior midfielder Alex Manofu had five goals and one assist in 2012 and is Cherry Hill East's leading returning scorer. Senior midfielder Brooke Beatty also adds offensive punch after scoring four goals a year ago, while senior defender Dana Barth contributed two goals and four assists. Other returning players are midfielders McKenzie Miller, a senior, and Emily Rimdzius, a junior, and junior keeper Nicki Zaso. Sophomores Kelsey Gorman, Bianca Christophe and Alexa Beatty also saw some varsity time and should make a bigger impact this season.
The Cougars, who went 8-10-1 last year, will again face tough competition in the Olympic Conference American Division but have set their sights on qualifying for the Coaches Tournament and the playoffs.
Cherry Hill West Lions
Senior Christiana Ogunsami is one of the top keepers in the area and returns for her third year as the West starter. She has been named all-conference in her two previous varsity seasons and will continue her career at Vanderbilt University. Other returning seniors are defenders Erin McBride, Taylor Gentile and Michele Borgesi; forwards Jessica Iannetta and Molly Swanson; and midfielders Mary Smyth and Mackenzie Tyler. Junior midfielder Sarah McGlinn should also be a big contributor.
The Lions were competitive against a difficult schedule in 2012, going 9-10 and losing to top-seeded Eastern, 2-0, in the first round of the South Jersey Group IV playoffs. With a terrific keeper in Ogunsami, they should be among the best defensive teams in the area and will have a chance to win in most of their games.
Clearview Pioneers
The Pioneers have young talent up front, as junior forward Gianna Bowe was a Tri-County Conference Royal Division second-team all-star last year and sophomore forward Dana Weismore was an honorable-mention selection. Sophomore midfielder Jessica Shanahan is another exciting young player who was a Royal second-teamer as a freshman. Also returning are sophomore keeper Celia Voltaggio and senior Stephanie DeAngelo.
Normally one of the top teams in the Tri-County Conference, Clearview has been a bit down the last two seasons, including last year, when it went 7-11-2 and lost in the first round of the South Jersey Group IV playoffs. But the Pioneers' young players gained valuable experience at the varsity level and appear ready to emerge as the next stars of the program.
Eastern Vikings
Two-time All-American Madison Tiernan, who had 26 goals and 19 assists as a senior, is now at Rutgers University. While she definitely will be missed, don't feel too bad for the Vikings, who do return senior defender/midfielder Miranda Konstantinides (pictured), an all-South Jersey first-team pick who had four goals and eight assists a year ago. Sophomore forward Jaylyn Thompson had nine goals and eight assists as a freshman and could pick up some of the scoring slack left by Tiernan's absence. Junior forward Sydney Jackson (three goals, four assists) and senior defender Christina Padovani (eight goals, 10 assists) are also capable scorers, and junior forward Sam Mlkvy could be ready for a bigger role. Senior defender Maxine Turchin and junior keeper Imani Taylor, who has 28 career shutouts, also return.
The Vikings had a tremendous season in 2012, going 23-2-1 and losing to rival Lenape, 1-0, in the South Jersey Group IV final. Despite the loss of Tiernan and Jamee Simone, they have the talent and depth to once again be a top-five team in South Jersey.
Gloucester Catholic Rams
Senior Maria Petrongolo is one of the top players in South Jersey and returns to anchor the Rams' defense. She was named to the South Jersey Soccer Coaches Association first team last year after making the second team as a sophomore. Junior Elysa Virella is another standout defender who has great speed and vision and has the ability to join the attack. Her sister, Lisette Virella, played keeper and outside midfielder last year as a freshman and will again play a key role. Offensively, Maddie Hogan took her team-leading 23 goals and 11 assists to Old Dominion University, but the Rams still have talent up front. Senior forward Lauren Wilson knocked in 17 goals to go with three assists last year and was a Tri-County Diamond second-team all-star, while sophomore Kaylee Kupiec started as a freshman and was an honorable-mention choice. Arden Sulit is a senior who was an all-conference honorable-mention selection last year and keeps the Rams composed in the midfield.
The Rams, who went 11-5 and lost to eventual champion Pingry in the South Jersey Non-Public A quarterfinals last year, are one of the top programs in South Jersey year in and year out. While they must replace two great leaders in Hogan and Katie O'Shea, this year should be no different.
Haddonfield Bulldawgs
The Bulldawgs graduated a phenomenal defender in all-South Jersey third-team sweeper Olivia Blaber, who is now at the University of Pennsylvania. But they do return a very experienced senior class that includes three-year starting midfielder Kylie Kirk, Nikki Gavranich and Lauren Roberts. Junior midfielder/defender Carly Bonnet and sophomore keeper Taylor Sehdev also return.
The Bulldawgs went 15-2-1 last year, won the Colonial Conference Liberty Division and earned the top seed in the South Jersey Group II playoffs before suffering a 1-0 upset loss to Cinnaminson in the quarterfinals. That signaled the end for highly successful head coach Glen Gess, who stepped down after winning three state championships, six South Jersey titles and eight division crowns in nine seasons. But the program is in good hands with new coach Lori Quintavalle, a former standout player at Haddonfield who was an assistant under Gess.
Kingsway Dragons
Senior goalie Maria Kirby has started since her freshman year and is coming off an outstanding junior season in which she broke her own school record with nine shutouts. She was named to the all-state team by the New Jersey Girls Soccer Coaches Association and was a Tri-County Conference Royal Division first-team all-star. Senior defender Corinne Almeida was also a Royal first-teamer, while junior midfielder Gab Griffiths and senior forwards Lindsey Thomas and Kerri Burns were Royal honorable mention selections. Junior Gab Campbell returns to the team after taking last year off because of an ACL injury. She led the Dragons in scoring her freshman year.
Kingsway won the Tri-County Royal title and qualified for the South Jersey Coaches Tournament last season, both firsts for the program. The Dragons finished 13-6-2 after losing to Central, 2-1, in the South Jersey Group III semifinals. With an outstanding goalie in Kirby and several other key returnees, they should again be one of the best teams in the conference.
Lenape Indians
The bad news for the Indians is that they must replace their two best players in all-state first-team defender Rachel Johnson, now at Old Dominion University, and all-South Jersey first-team forward Tori Prager, now at Rutgers. The good news is that they've always found a way to reload during their recent stretch of dominance, and this year should be no different. Junior midfielder Kenie Wright was an all-county first-teamer who scored six goals as a sophomore and will be one of the offensive playmakers. Forwards Rachelle Ross, a senior, and Lizzie Kinkler, a junior, were both all-county second-teamers. Other returners include senior midfielder Nicole Donnelly, sophomore midfielder Justine Stoner and junior forward Marissa Topolski. The defense is led by senior back Courtney Norton and junior keeper Alicia Hampton, who were both named to the all-county second team. Junior Brielle Stoner and senior Chloe Lavell are also experienced defenders.
Lenape's run of five straight state championships came to an end last year with a loss in the state semifinals. But the Indians did win their sixth straight South Jersey Group IV title and the South Jersey Coaches Tournament and finished with a 20-4-1 record. They have established themselves as one of the premier programs in the state and 2013 should see them near the top of the South Jersey rankings yet again.
Moorestown Quakers
While all-South Jersey first-team midfielder Nicole Varela is now at Georgetown, the Quakers return eight other starters and five girls who saw significant playing time from last year's state finalist team. The defense is stacked, with junior Jessi Button, an all-South Jersey second-teamer, leading the way. Junior Kiera Dalmass and sophomore Genie Santarpio also return in front of sophomore keeper Carly Blessing. Senior forward Marie McCool, an all-South Jersey third-teamer, leads the offense, which also includes senior forward Anne Keim, senior midfielder/forward Frankie Angeleri and junior midfielder/forward Katie Verela.
The Quakers went 19-5-1 in 2012, winning the South Jersey Group III title and losing in the state final. If they can score consistently to complement the stingy defense, they should compete for a league title and make another run in Group III.
Moorestown Friends Foxes
Junior Evelyn Feigeles is a standout goalie who was an all-Friends School League honorable mention choice a year ago. Another honorable mention all-star, senior Noelle Smith, returns to the lineup as well. The Foxes also have a pair of dynamic young scorers in sophomores Kathryn Gregory and Andrea Kinzler. Gregory led the team with 10 goals and added three assists, while Kinzler had nine goals and one assist. Another sophomore, Nia Francis, had four goals and five assists in 2012.
After going 7-8-1 overall and 2-4-1 in the Friends School League a year ago, the Foxes appear ready to become a winning team. Thanks to Feigeles in goal and the extremely talented sophomore class, the future is bright.
Paul VI Eagles
Senior midfielder Jackie Carty returns after a junior season in which she had five goals and two assists and was named to the all-South Jersey second team. Another potent scorer returning is senior midfielder Kristen Morawski, who had four goals and six assists. There is experience in goal with senior keepers Kristen McShane and Stephanie Verna, while seniors Brooke Palmieri, Gabrielle Rainey and Alexandra Jurgelis and sophomores Caitlin Gross and Gabrielle Giaccobe are important defensive players. Seniors Casey Baker, Amanda Darley and Rachel Fanrak bring experience to the midfield. Senior Kelsey Vick and junior Jordan Callahan are veteran forwards.
The Eagles have been the class of the Olympic Conference National Division lately, with four straight championships, including last year, when they finished with a 12-6-1 overall record. With returning talent and promising players moving up from JV, they should once again contend for a division title.
Seneca Golden Eagles
The Golden Eagles graduated many of their key players from a year ago, but some experienced veterans do return. Junior Lauren Bogardus has a knack for finding the back of the net and should be one of the team's top scorers. Returning seniors include Nicole Swindell and Paige Chladek, while juniors Carly Donia, Casey Brockett and Julia Green are also expected to contribute.
Seneca went 4-15-1 and lost to eventual state finalist Moorestown, 2-1, in the first round of the South Jersey Group III playoffs. While they must replace a lot of their starters, the Golden Eagles are hoping the new lineup comes together quickly.
Shawnee Renegades
Sophomore Alexis Palladino was an impact player as a freshman, when she started every game in the midfield. Seniors McKenna Burns and Caroline Shinske are also experienced midfielders, and senior forward Kayla Bertolino returns up front. Juniors Gianna Pizoli and Ariana Gerber provide depth at forward and in the midfield, while the defense is led by senior Maggie Sande and junior Taylor Ryan. Sophomores Brittany and Amanda Hartwell-Miller also started some games in the back as freshmen.
The Renegades, who went 14-5-3 and lost in the South Jersey Group IV quarterfinals to eventual champ Lenape, graduated three of the best players in school history in all-state third-team defender Erin Smith and all-county twin sisters Glade and Shannon Nugent. But they return several starters and should be competitive again this season as long as they find a capable goalie.
Washington Township Minutemaids
The Minutemaids must replace a whopping 15 seniors from last year's team, so they will definitely have a new look this fall. One of the top returners is junior forward Cathryn McCarry, who had seven goals and three assists in 2012. Also back on offense are senior Danielle Kitzinger and junior Megan McKinley. In the midfield, seniors Reilly O'Connell and Jamie Mitchell are the key players, while seniors Kelsey Powell and Aleeyah Carter and junior Erica Monte-Carlo pace the defense. Junior Jessica McKee is expected to be the starting goalie.
Township will need an inexperienced group to mature quickly in the powerful Olympic Conference American Division. The Minutemaids have a chance to improve on last year's 5-8-5 record but are likely a year away from becoming really dangerous.
Click here for the Girls Soccer Schedules.
Published (and copyrighted) in Suburban Family's High School Fall Sports Preview, July, 2013.
For more info on Suburban Family Magazine, click here.
For information about advertising in Suburban Family Magazine, click here.
To find out where to pick up your copy of Suburban Family Magazine, click here.