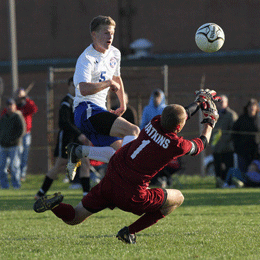 Boys Soccer
Bishop Eustace Crusaders
The Crusaders graduated a dominant pair of seniors from last year's South Jersey finalist team in all-South Jersey first-team forward Alec Palmieri and all-South Jersey third-team sweeper Nick Hanuscin. Junior Andreas Papadourakis, an Olympic Conference National Division second-team all-star, leads the list of returners. Senior Quinn Laughlin is back in the midfield, while junior Zach Pharo will take over for Hanuscin as the anchor of the defense. Junior Brian Keller, who received the team's Most Improved award last year, also returns.
The Crusaders went 16-6-2, won the Olympic National title and lost a 1-0 heartbreaker in overtime to Pingry in the South Jersey Non-Public A final. Coach John Loidice feels the team can reload with its core group and some exciting new players as it looks to defend its division title and make another run for a South Jersey championship.
Camden Catholic Fighting Irish
Senior midfielder Ryan Irving leads the list of returning players. He is a three-year starter and will also be Camden Catholic's captain for the second straight season. Other returners include Dan Zazzera, Joe Wolfram and Adam Giordano.
After taking their lumps in a 1-19 season in 2012, the Fighting Irish hope to string together a few more wins and continue to move in a positive direction this fall.­
Cherokee Chiefs
All-South Jersey first-team defender Jon Tarzy and leading scorer Kevin Slusarz are among the top players who must be replaced at Cherokee. While head coach Glenn Thomsen didn't want to mention any key players for this season until his roster is finalized in the preseason, there are several experienced Chiefs who could be ready for breakout seasons. Junior midfielder/forward Danny Hampton showed an ability to finish last season with eight goals. Senior midfielders Shawn Russell (three goals, two assists) and Denis Hickey (three goals) and senior forward Steve Scian (two goals, five assists) all had an impact on the offense last season. Other possible returning players are seniors Justin Fisher, Michael Ross, Anthony Cutillo and Conor Smith, and juniors Robert Gillin and Joe Dikmak.
After going undefeated and winning their second straight state title in 2011, the Chiefs slipped to 11-7-4 and lost in the South Jersey Group IV quarterfinals last season. They have a lot of skill at the offensive end and, if they can rebuild their defense, they should be a contender in South Jersey.
Cherry Hill East Cougars
This is the season of change for Cherry Hill East, which said goodbye to long-time coach Karl Moehlmann, as well as 10 seniors starters, after 2012. Moehlmann won 270 games and two state championships in 24 years at East and last year he led the Cougars to the South Jersey Coaches Tournament title. The only returning starter from that squad is senior defender Jake Russ, who will play a huge role on and off the field this season. Other players who could have an impact are seniors Matt DiPatri, Matt Grazioli and Nevin Shanker, and juniors Kyle Lochbihler and Ronan McVeigh.
The Cougars went 12-8-4 and advanced to the South Jersey Group IV semifinals a year ago. Most of that team has graduated, leaving new coach Dennis Stein with a massive rebuilding project, but it shouldn't take him long at a school known for soccer success over the years.
Cherry Hill West Lions
The Lions return a strong core from last year's successful season, including a proven scorer in senior forward Gabe Watkins. Center midfielders Carlo Martines, a senior, and Colin McBride, a junior, are also returning starters and playmakers on offense. Senior Harry Bach would have been another experienced midfielder, but he will miss the season with a torn ACL. Junior Justin Major is back at forward, and the defense looks solid with seniors Michael Clauss and Pascal Dylewicz and junior Cory Bond. Senior Hayden Remphrey and junior Diego Restrepo are expected to share the goaltending duties.
The Lions went 10-4-3 and lost in a shootout to Washington Township in the first round of the South Jersey Group IV playoffs last year. Washington Township went on to win the South Jersey title, so clearly Cherry Hill West has the talent to match up with some of the best teams in the area. The Lions should battle Timber Creek and Bishop Eustace for the Olympic Conference National Division title and expect to make runs in the Coaches Tournament and the playoffs.
Clearview Pioneers
Junior forward Gavin Bright enjoyed a breakout year as a sophomore, when he had 17 goals and four assists, and should continue to be one of the top finishers in the Tri-County Conference. Senior forward/midfielder Brett Milden and junior forward Matt Hendrickson are also proven scorers. Returning midfielders include seniors Mike Mannino, Brendan Kane and Joe DiBabbo and junior Quinn Grossman. Defensively, seniors Shane Burke and Ian Hunter and junior River Young all return in front of junior keeper Ricky Nelson.
The Pioneers went 14-5-2 and lost in the quarterfinals of the South Jersey Group IV playoffs. They finished second in the always-competitive Tri-County Royal Division behind Kingsway. With Bright leading the way, they are capable of winning the Royal and making a deep playoff run.
Eastern Vikings
The Vikings lost two significant players in keeper Cory Brodkin, an all-South Jersey second-teamer, and Evan Dannenbaum, an all-South Jersey third-teamer. They also will be without another starter in junior Daniel Neumann, who has been ruled out for medical reasons. Their key returnees include senior forward Carlos Valle, junior defender Logan Edwards and senior midfielder Dom D'Agostino.
With several losses from last year's 13-7-2 team that was defeated in the South Jersey Group IV quarterfinals, especially on defense, Eastern will need its younger players to emerge as solid contributors. A .500 season is likely, but the Vikings should be a much better team by the end of the season.
Gloucester Catholic Rams
The bad news for the Rams is that several notable defenders from last year's team have graduated. The good news is that senior Kyle Nunan is back after being named Tri-County Conference Diamond Division honorable mention and should be primed for another big season. Junior Kevin Breeze scored three goals last season as a sophomore, while other experienced returners include seniors Tyler Graham and J.R. Hall.
The Rams went 6-8-5 and lost in the first round of the Non-Public A playoffs last year. Nunan's solid play in goal should keep them in most games, and if they can find some offense, they can turn some of those ties into victories and post a winning record.
Haddonfield Bulldawgs
Haddonfield has eight starters back from a team that went 15-4-1, including three seniors who scored at least 10 goals in midfielder John Alemi and forwards Luke Pease and Brendan Werner, a four-year varsity player. Center midfielder Eric Kaulback was an all-Colonial Conference first-teamer, while Charlie Clarke and Isaac Anderson return as starting defenders.
Despite losing nine starters from 2011's South Jersey championship team, Haddonfield repeated as Colonial Conference Liberty Division champs last year. This season, they will be experienced on the field but will be missing legendary coach Joe Falana, who retired in May after 38 seasons at the helm. Falana is one of only two coaches in South Jersey history to win at least 600 games, and he also brought seven state championships, 18 South Jersey titles and 24 conference crowns to the school. The program should continue to be one of the best in the area, but will surely look different without Falana on the sideline.
Kingsway Dragons
Gone from last year's South Jersey Group III finalist team are three terrific seniors in midfielder David Malaquias, defender Drew Viereck and forward Tommy Schmiegel. But the Dragons do have an outstanding trio of senior midfielders coming back, led by Garrett Hoagland, who was a Tri-County Conference Royal Division first-team all-star. Benny Gialloreto was a Royal honorable mention selection and Alec Sery was also a key starter for the Dragons. Bryan Ahearn, a senior defender, is Kingsway's other returning starter, while seniors Rod Bradbury, Justin Hartzell, Austin Schober and Darrin Flanagan were contributors off the bench who should be ready for bigger roles.
The Dragons went 19-4, won the Tri-County Royal title and suffered a tough 1-0 loss to Moorestown in the South Jersey Group III final. While they lost a lot of talent from that squad, Hoagland, Gialloreto and Sery could have them in contention in the division and South Jersey again.
Lenape Indians
The Indians were hit hard by graduation but they do return some experienced players on defense, including juniors Eric Wright and Dean Roller. Senior Ryan Proebstle is an impact player in the midfield, while forward Michael Gerst and forward/midfielder Justin Blumberg, both juniors, also return.
All-South Jersey third-team midfielder Stephen Meixner was among the eight starters from last year's team who graduated. That squad went 11-10-1 and lost in the first round of the South Jersey Group IV playoffs. Coach Chris Foley thinks Lenape can be competitive again in the Olympic Conference American Division if it can find a few scorers to complement the talented defense.
Moorestown Quakers
The South Jersey Group III champions have the tools to defend their crown thanks to a pair of 20-goal scorers and a stellar goalie. Senior forwards Michael Kassak, an all-South Jersey first-team choice, and Michael Handlan, an all-Burlington County first-teamer, are both premier finishers. Senior goalie J.T. Bretschneider recorded 10 shutouts, including the South Jersey final, and made the all-South Jersey third team. Other returners are senior defender Trevor Hall and juniors Alex Musgnug, Thomas Dovell and Enrique Arvelo. The Quakers could also add some promising players from last year's outstanding JV team.
After going 19-5-1 and winning the Burlington County League Liberty Division title to go with the South Jersey crown, the Quakers will certainly expect nothing less than to contend for both championships, as well as a state title.
Moorestown Friends Foxes
The Foxes are terrific in the midfield, led by senior Dan Richards, who was a Friends League honorable mention all-star a year ago. Also returning at midfield are seniors Andy Schultz, Peter Bader and Steven Mannion and junior David Howarth. Up front, juniors Andy Cook and Adam Quaranta will be called on to provide scoring, while junior Brian Pansius will patrol the defense. Midfielder/forward Matt Mullock and midfielder/back Kieran McMenamin saw significant playing time last year as freshmen and should be ready for even bigger roles as sophomores.
The Foxes were young and inexperienced last year and it showed in five one-goal losses. They still finished 7-12 against a very competitive schedule and reached the South Jersey Non-Public B quarterfinals. The future of the program is bright, and if some of those close losses turn into wins, this year could be a winning campaign.
Paul VI Eagles
Senior midfielder Eric Goodmok has excellent ball skills and should be one of the top playmakers for the Eagles. Other returning seniors include midfielders Matt Zaccone and Jimmy DelRocini and keeper Tyler DiOrio. The JV team enjoyed a winning season in 2012 and should also send several promising newcomers up to varsity.
The Eagles, who lost in the first round of the South Jersey Non-Public A playoffs, finished just 4-14 last year but were competitive in most of their games. They have a lot of senior leadership and should make a run at a winning record.
Seneca Golden Eagles
The Golden Eagles will have a lot of new faces in the starting lineup after graduating several top players. Seniors Matt Moore, a midfielder, and Nick LeSaint, a forward, lead the list of returning players. Also back are midfielders Justin Williams, a junior, and sophomores Pierce Adams and Sean Heins.
Among the graduated players from 2012's squad that went 8-11-1 and lost in the first round of the South Jersey Group III playoffs are all-South Jersey defender Alex McGrainer and all-conference players Tom Coyne, Ryan Oyola and Alec Schuler. But coach Sam Maira­ says the team has put in the work in the offseason and expects to reload and contend for a division championship.
Shawnee Renegades
The Renegades return 13 varsity letterwinners from a year ago, including seven seniors. Their strength lies in the midfield, with seniors Sean Welch, Justin Wigley, Austin Marias and Kurt Boenning expected to lead the way. Senior forward Nick Cristea is one of Shawnee's best finishers, while senior Jake Baldwin and junior Domenic Silvestro are returning starters on defense.
The Renegades went 6-9-2 last year in their first season under new head coach Ryan Franks, who replaced long-time coach Brian Gibney. They were extremely young in 2012 but gained valuable experience playing in the Olympic Conference American Division, arguably the toughest division in South Jersey. With those players now veterans, and a lot of them seniors, Shawnee could make significant progress this season.
Washington Township Minutemen
The Minutemen graduated 12 seniors from last year's South Jersey Group IV championship team, but eight letterwinners do return, led by seniors Joe Casaletto and Tyler Logar. Casaletto was an all-South Jersey second-team forward who had 10 goals and four assists, while Logar is a three-year starter in the midfield. The other returning starters are junior forwards Derek MacKinnon (pictured) and Burak Ozdemir—who made the all-Olympic Conference American Division second team—and junior defender Zack Burns. Other returners who saw a lot of playing time in 2012 are junior midfielder Lou Vilotti, senior defender Ross Hubbard and junior defender Ed McCusker.
Washington Township is coming off one of its best seasons ever, as the Minutemen went 20-4-1, claimed the Olympic American and South Jersey crowns, and reached the state semifinals. Despite losing several top players, such as all-South Jersey forward Eric Jordan, they have a skilled, knowledgeable core of returners that should lead the Minutemen to another successful campaign.
Click here for the Boys Soccer Schedules.
Published (and copyrighted) in Suburban Family's High School Fall Sports Preview, July, 2013.
For more info on Suburban Family Magazine, click here.
For information about advertising in Suburban Family Magazine, click here.
To find out where to pick up your copy of Suburban Family Magazine, click here.