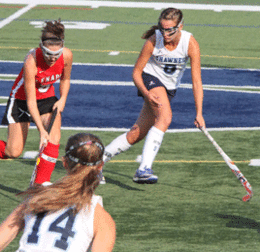 Field Hockey
Bishop Eustace Crusaders
Bishop Eustace bid farewell to three outstanding seniors, all Division-I players, in all-state first-team forward Kelly Quinn, all-state second-team goalie Alex Pecora and all-state second-team midfielder Montana Fleming. But several high-profile players remain from last year's Group II state championship team, and there is a lot of potential in the freshman, sophomore and junior classes as the Crusaders look to reload. Senior midfielder Sarah Furey is the top returner, as she was named to the all-state third team a year ago. Senior forward Lauren Crudele made the all-Group II second team and all-Olympic Conference National Division second team. Senior defender Eileen Dwzill, an all-conference second-teamer, and senior forward Katie Feeney both scored goals in last year's state final. Senior defender Trish Casey is a three-year starter and senior Elizabeth Love, who also started on defense, could possibly move up to the forward line. Gabby Lewis is another returning senior who will contribute.
Eustace clearly has some important positions to fill, particularly in goal, where Pecora was a four-year varsity player. But after going 20-2 last season and winning their second Group II championship in the last three years, the Crusaders have proven to be a team to watch in South Jersey year in and year out, and 2013 will be no different.
Camden Catholic Fighting Irish
Senior forward Tara Vittese is coming off a remarkable junior season in which she recorded 42 goals and 16 assists and was named first-team all-state. She is joined by senior midfielder Alyssa Olenick, who had 12 goals and three assists and was named to the all-Group II second team. Sophomore Kelli Connolly returns after being named to the Olympic Conference National Division first team as a freshman and senior Cara Hardy is back in the midfield. Junior goalie Caroline Hearn played in about five varsity games in each of her first two seasons and is expected to be the full-time starter now that Isabella Dolente has moved on to the University of Scranton.
The Fighting Irish went 15-5 and captured the South Jersey Group II championship in 2012. They shared the Olympic Conference National Division crown with rival Bishop Eustace, but fell to the Crusaders, 1-0, in the state semifinals. With a proven scorer like Vittese and several other impact players back in the fold, they should again be one of the top teams in South Jersey.
Cherokee Chiefs
Junior Lily Feldman, who assisted on the game-winning goal in last year's playoff win over Triton, returns as one of the team's top playmakers. She could emerge as one of the top players in the area. Junior forward Jessica Havers is an experienced offensive player, and Samantha Rubin returns as the starting goaltender.
The Chiefs finished 6-13 last year in the Olympic Conference American Division, facing the likes of Eastern, Shawnee and Washington Township. Winning a playoff game was a nice accomplishment and Cherokee will look to build on the momentum this year.
Cherry Hill East Cougars
Cherry Hill East is led by a trio of dependable senior captains in forward Meg Thompson, midfielder Leah Singer and defender Alisa Verratti. Sophomore goalie Zoe Peterzell is coming off an impressive freshman campaign and coach Beth Scharff has high hopes for her future. Junior Kelsea Kenniff adds depth in the cage and senior Taylor Patrizi returns in the midfield. The Cougars are also excited about the return of senior Megan Martin, who is back after missing last season with an ACL injury and is expected to bring needed energy to the squad.
East went 2-14-1 in the ultra-competitive Olympic Conference American Division last season, but one of the wins was a 2-1 upset over Brick in the first round of the Central Jersey Group IV playoffs. Their division foes will again be strong, but if the Cougars can turn some of their close losses into victories, they can make a run at a winning record.
Cherry Hill West Lions
Some of the key players for the Lions last year who are now seniors are midfielders Erica Sunstein and Francesca Benitez, midfielder/defender Jamie Robertson and forward Katie Stester. Colleen Clancy also earned valuable varsity experience as a freshman.
The Lions finished 2-16-1 as they faced a brutal schedule in 2012. But they were competitive in a lot of games and hope to make strides this fall.
Clearview Pioneers
Senior forward Jackalyn Pauling, a Tri-County Conference Royal Division first-team all-star in 2012, had 24 goals and 12 assists last year. The St. Joseph's University recruit could potentially become the school's all-time scoring leader with a big final season, as she sits 29 goals behind career leader Courtney Branco. Senior forward Holly Tevis combines with Pauling to give Clearview a dynamic scoring duo. Tevis, a Tri-County Royal first-team selection, had 15 goals and 10 assists a year ago. Senior Bella Mumma is also a proven scorer, as she found the cage 10 times in 2012. Defensively, the Pioneers are led by senior Tori Chiodo and junior Allison Dickson, who were both all-conference honorable-mention choices last year. Senior Devon Cassidy and junior Olivia Mittleman are also key returnees, and several freshmen could be in the mix for varsity playing time.
The Pioneers went 14-4, won a division title and lost to eventual state champ Eastern in the South Jersey Group IV semifinals last year. They should again be a top area team, as coach Britney Ewan, a former South Jersey star player at Millville, has built the program into a consistent winner.
Eastern Vikings
Eastern, the No. 1 team in New Jersey last year, returns what coach Danyle Heilig calls "an experienced and lethal" forward line that is the best in the state. Junior forward Austyn Cuneo has led New Jersey in goals in each of her first two seasons, as she had 68 goals and 26 assists last year on her way to first-team all-state honors. Senior forward Jade Dixon, who will continue her career at Rutgers University, made the all-state third team in 2012, while senior forward Kasey Morano—a Penn State recruit—made the all-South Jersey second team. The midfield is led by senior Karlee Spirit, an all-state second-teamer who is headed to Wake Forest. Other returners include senior midfielder Mackenzie Mlkvy and sophomore Madison Morano.
The Vikings finished 25-0 last year, winning their 14th straight Group IV state championship and 16th overall, tying them with Moorestown for the most in state history. Despite being young and inexperienced in the backfield, their dominance up front will once again make them a state power.
Gloucester Catholic Rams
Junior forward Kelly Getty is the Rams' leading returning scorer and is coming off a solid sophomore season in which she made the Tri-County Conference Diamond Division first team. Senior forward Rachel Haines is another top scorer back for the Rams. Senior Gianna Gibison started at goalie a year ago.
The Rams went 6-8 and lost to Florence in the first round of the Central Jersey Group I playoffs in 2012. They return some offensive talent and, led by Getty, should contend for a winning record.
Haddonfield Bulldawgs
Seniors Tenaya Clark, a Colonial Conference Liberty Division first-team all-star, and Ali LaMaina lead the list of returning forwards for the Bulldawgs, while sophomores Suzie Clark and Ana Buzzerd will also contribute to the attack. Defensively, senior goalie Kelsey Welsh returns, and she'll have veteran defenders in front of her in seniors Emily Fell and Katie Rodenhaver and junior Amanda Augugliaro.
After winning the South Jersey Group II championship in 2011, the Bulldawgs had a young team last year as they went 12-9 and lost in the quarterfinals to eventual champion Camden Catholic. They have the potential to become a title contender again if their veterans can set a winning tone and the younger players follow suit.
Kingsway Dragons
Kingsway has a pair of standout seniors who were fantastic in 2012 in Jackie Neary and Tori Danner. Neary, a midfielder, had five goals and 16 assists and was named to the Tri-County Conference Royal Division first team and all-Gloucester County second team. Danner, a defender, helped the Dragons record 13 shutouts and was a Royal second-teamer and county first-teamer. Senior forwards Danni Hall and Alexis Damask also return after being named to the Royal second team. Other seniors include Lexi Toanone, Gabi Marcucci, Tiera Lloyd and Sara Balliet, while returning juniors include Brittany Stinger, Sarah Molloy, Alyson Keene, Alex DiScascio, Marissa Ciocco, Gabby Gillespie, Jaclyn Roll, Marissa Anderson, Alexa Roll and Thalina Rentas.
The Dragons went 14-7 and reached the South Jersey Group III championship game last year. They have the talent to make another run at a sectional crown and will also be one of the favorites in the Tri-County Royal along with Clearview.
Lenape Indians
Lenape returns most of its team from a year ago, including seven starters. The four seniors who started a year ago are midfielder Taylor Nesnay, forward Jenna Priore and defenders Rachel Smalfus and Katie O'Brien. Returning junior starters Natalie Peel, Kaity McKenna and Alexa Colfer will be factors on the attack. Also back on varsity are seniors Kaelyn DiGiamarino, Sara Jubanyik and goalie Sarah O'Connor. Seniors Morgan Rider and Melanie Shpigel and juniors Emily Hunt and Caitlin Darreff are promising newcomers.
The Indians, who finished 7-12 and lost in the Central Jersey Group IV quarterfinals last year, compete in one of the toughest conferences around. But they have some standout players of their own and shooting for a winning record is a realistic goal.
Moorestown Quakers
Moorestown has a big hole to fill with the graduation of midfielder Mary Flick, the Burlington County Player of the Year last season as a senior, but the Quakers have several important players returning to the starting lineup. Senior Alexa Massa is the cornerstone of the defense, and last year she was rewarded with spots on the all-Burlington County first team and the Burlington County Scholastic League Liberty Division first team. Junior defender Rachel Stefano was also on both of those all-star teams, while senior forward Jess Dadino was an all-Group III and Liberty Division second-team selection. Also returning to the offense is junior forward Alex O'Donnell, an all-county second-team and all-Liberty first-team choice. Senior midfielder Kayla Pruitt was named to the all-Liberty first team, while senior midfielder Annie Sencindiver and junior defender Kendall Coughlin both made the second team. Other returners include junior defender Jamie Rafter, senior goalie Monica Hernick and senior forward Emmalyn Steiner. Newcomers are senior forward Lauren Martinelli, junior midfielder Paige Powell and sophomores Grace Kuszmaul, Susan Orth and Ally Darmo.
The Quakers finished 19-3 last year, as they won the BCSL Liberty title and the Central Jersey Group III championship before falling in the state semifinals. Despite losing Flick and facing a challenging schedule, their goal is to defend those crowns and take the next step by winning the state championship.
Moorestown Friends Foxes
The Foxes graduated three all-league players from a team that lost in the first round of the Central Jersey Group I playoffs last year. Senior Amy Gilligan highlights the returning players, as she was named an honorable-mention all-Friends League player as a junior. Other impact veteran players include senior forward Gina Tamburri and junior forward/midfielder Alaina Shivers. Moorestown Friends is also hoping several newcomers emerge as varsity contributors.
The Foxes went 9-7-1 overall and 3-4-1 in the Friends League in 2012, placing in the middle of the pack in the league. They have posted a winning record in three straight seasons and look to extend that streak in 2013.
Paul VI Eagles
The Eagles' defense kept them in a lot of games last year, and they return a number of key players to the "D," including juniors Alie DiSandro and Maureen O'Kane and seniors Brooke Boucher, Taylor Humski and Marisa Santora. Offensively, sophomore Breck Urban is one of the leading returning scorers, while juniors Carly Murphy and Caroline Haeffner were both all-conference honorable-mention selections. Senior Emily McNeill is back to control the center of the field again this season. Paul VI also has a strong freshman class joining the program this fall.
The Eagles finished 2-17-1 and lost in the first round of the Central Jersey Group III playoffs in 2012, but they could be ready to take a big leap forward. In her third season with the team, coach Shannon Enders believes her players have become invested in the program and dedicated themselves to the sport.
Seneca Golden Eagles
Seneca was a senior-laden team in 2012, as eight starters and a key reserve have moved on, including Division-I college players Sarah Regn and Kalyn O'Brien. The returning starters are all seniors: sweeper Annina Aracacri, the anchor of the defense; midfielder Holly Kiffer, an important player on both offense and defense; and forward Kayla Raparelli, who should be one of the squad's leading scorers. Other returning letterwinners are junior defender/midfielder Colleen Kazokas and sophomore Kate Taylor. Senior defender Morgan Brownell returns after missing last season with an injury, and Gianna Petagno and Cailey Talbot are junior goalies with a lot of promise who should share time in the cage.
The Golden Eagles have to rebuild after losing so many starters, but they think they can still be competitive with a strong foundation and two impressive young goalies. They went 11-8 and lost in the Central Jersey Group III quarterfinals in 2012 and can make another playoff run if the new players develop quickly.
Shawnee Renegades
Senior Sophia Miller (pictured), who was an all-South Jersey third-team and all-Burlington County first-team all-star in 2012, is back to lead the Shawnee defense. She'll be aided by another defensive-minded player, senior defender/midfielder Corrine Baliga, who was an all-county second-team selection last year. Senior forward Casey Eck is one of the veterans returning for the offense.
The Renegades went 14-6 and reached the South Jersey Group IV final last year before losing to eventual state champion Eastern. They lose a pair of Division I players from that team in leading scorer Marissa Cutry and goalie Elina Pereira, as well as second-leading scorer Haley Canuso. They'll need the defense to lead the way and new offensive stars to emerge.
Washington Township Minutemaids
Senior midfielder Shea McGee is the catalyst for the Minutemaids, as she brings high energy at both ends of the field and is tough in the circle. McGee, who had 11 goals and 17 assists last year, has committed to the University of Massachusetts. She is joined by fellow seniors Julia Borgesi and Courtney Rempfer, the anchors of the defense, as team captains. Junior forward Jessica Hughes led the team with 17 goals in 2012 and added 10 assists, and again will be counted on as the offensive spark. Junior midfielder Kaitlyn Hatch is also a returning starter, while senior forward Frankie Savage and sophomores Jenna Patrone, a back, and Colleen McAninley, a midfielder, also return to the varsity and should be ready for bigger roles. Junior midfielders Lauren Sandelier and Taylor Kelly are other players to watch.
The Minutemaids posted a 12-7 record and lost in the South Jersey Group IV quarterfinals a year ago. While Eastern is still the clear favorite in the division and Shawnee is also tough, the 'Maids will be competitive and are capable of making a deep playoff run.
For this year's schedules, click here.
Published (and copyrighted) in Suburban Family's High School Fall Sports Preview, July, 2013.
For more info on Suburban Family Magazine, click here.
For information about advertising in Suburban Family Magazine, click here.
To find out where to pick up your copy of Suburban Family Magazine, click here.