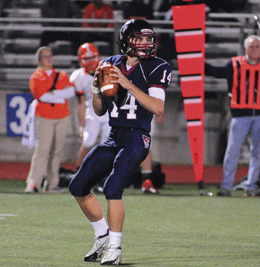 Football
…From the pages of Suburban Family Magazine's Fall Sports Preview…
Bishop Eustace Crusaders
The Crusaders played a lot of young players in 2012 and are hoping that experience pays off now, as they return 14 seniors and 17 starters. Offensively, four of the five starters on the line are back, including West Jersey Football League Royal Division second-team all-star Matt Fitzpatrick. He'll be joined up front by senior linemen Mark Madrigale, Bobby Nevin and Jack Brandt, as well as senior tight ends Brandon Scott and Dillon DiCiurcio. The top two running backs from last season, senior Myles Hauser and junior Roy Hansen, also return, as does junior wide receiver Vinny Papale, a Royal second-teamer. Defensively, Brandt and Hansen highlight the nine returning starters, as both were Royal second-teamers a year ago. Brandt is a defensive lineman, while Hansen and senior Dan Wilkins are solid linebackers. Three of the four starting defensive backs return in Hauser and seniors Tim McConnell and Tom Tyrrell. Head coach Rob Cormier expects newcomers Isaiah Wingfield, a sophomore, and Chris Smith, a junior, to be playmakers at wide receiver. Senior wide receiver/defensive back Dave Osuch and sophomore fullback/linebacker Jack Smith are expected to contribute on both sides of the ball.
After going 4-6 overall in 2011, the Crusaders slipped to 2-8 last season and 1-4 in the WJFL Royal, and lost in the first round of the playoffs. Delsea remains the team to beat in the division, but after taking its lumps a year ago, Eustace should be primed for a nice bounce-back season.
Camden Catholic Fighting Irish
Star running back/linebacker Jarred Alwan, an all-state second-team selection on defense, has taken his talents to Temple, leaving a big hole on both sides of the ball for Camden Catholic. But that doesn't mean there isn't plenty to be excited about, particularly on defense. The Fighting Irish bring back standout defensive linemen in seniors Mark Burke, a West Jersey Football League Constitution Division first-team all-star, and Nick Tretina, a three-year starter. The secondary is also strong with returning Constitution second-team defensive backs Carl Garnes, a junior, and Benny Walls, a sophomore. On offense, senior Ryan Ziegler returns as the starting quarterback and junior running back Daequan Allen could be primed for a breakout season.
An old familiar face is back on the sidelines for Camden Catholic as Dennis Scuderi returns for his second stint as head coach. Scuderi was the team's head coach from 1998 to 2004, compiling a record of 53-21. He replaces Gil Brooks, who stepped down after going 17-5 in two seasons. Scuderi takes over a team that went 7-4 and reached the Non-Public Group III semifinals in 2012. While the Irish will certainly miss Alwan, the program is in good hands moving forward with Scuderi.
Cherokee Chiefs
The Chiefs return a number of starters from both sides of the ball. Senior tight end Jake Powell, who had 35 catches for 440 yards last year and was a West Jersey Football League American Division first-team all-star, is a Division I prospect who excels at blocking and receiving. He should hook up often with senior quarterback Trevor Osler, a returning starter and all-conference second-team choice. The offensive line has three starters back: all-conference senior tackle Chase Hoger, junior tackle Dan Iannone and senior guard Kyle Naddeo. All-conference fullback Matt Stickney and all-conference kicker Kenny Ravel, both seniors, join junior tailback Marc Woodard and senior wide receiver/punter Matt Curry in the starting lineup. Powell will also anchor the defense along with fellow senior defensive end Troy Domenick and senior defensive back Rob Agnoni, an all-conference second-team pick in 2012. Senior defensive tackle Mark Adams, sophomore linebacker Evan Powell, senior safety Anthony Gambone and Stickney, a cornerback, also figure to start. Senior tight end/defensive end Shane Kelley and junior wide receiver Jesse Streb have both battled back from torn ACLs and should be ready for the season opener.
The Chiefs went 6-4 overall and 2-3 in the American Division last year, missing the playoffs for the second straight year after winning back-to-back South Jersey Group IV titles in 2009 and 2010. With a ton of talent returning, they should find their way back to the postseason and contend for South Jersey and American Division titles.
Cherry Hill East Cougars
The Cougars are in a bit of a rebuilding phase after losing a whopping 26 seniors, including all-South Jersey lineman Jonni Cassano and single-season rushing leader Daishi Goto. The good news is that junior quarterback Brandon Stern is back behind center after making great strides as a sophomore and leading East to all four of its wins. Other juniors are running back/linebacker Mario Paglione, tight end/linebacker Terry Hall and defensive back/wide receiver/running back Josh Hall. Senior receivers Shane Deguzman and Colin Pumphrey will be key targets for Stern. Head coach Tom Coen is also excited about a talented group of sophomores who will see a lot of varsity action, including two-way lineman John Lass, offensive lineman/linebacker Justin Garcia, defensive backs Jordan Clark and Vinny Guckin, and running back/linebacker Zach Volm.
The Cougars slipped from 7-3 in 2011—their first winning record since 2006—to 4-6 last year. They might have trouble climbing above .500 this season, but the future looks bright.
Cherry Hill West Lions
Senior quarterback/defensive back Rodney Williams has played varsity since his freshman year and is one of the most exciting players in South Jersey. A West Jersey Football League Constitution Division first-team selection on defense, he has made a verbal commitment to continue his career at Syracuse University. One of the key blockers for Williams is senior offensive lineman Mike Miklus, a Constitution second-team selection. Seniors Dwuane Allen and Geronimo Santana will be important players on both sides of the ball at wide receiver and cornerback. Senior John Bendig is back at fullback, and junior Joey Argentina will contribute at quarterback.
The Lions improved from 2-8 in 2011 to 4-6 last year in Brian Wright's first season as head coach. With a small but talented group of senior leaders led by Williams, they believe they will continue to make progress in 2013 and contend for a playoff berth.
Clearview Pioneers
George Kerasinis was a West Jersey Football League National Division first-team running back last year and should be in store for a solid senior season. He'll have room to run behind senior offensive lineman Justin Hunt, a National second-team all-star, and senior Austin Damminger, a two-way lineman. Junior fullback Joseph Coles and junior tight end Mike Williamson are also impact players on offense. Key players on both sides of the ball include senior wide receiver/linebacker Gerod Dvorak, senior running back/safety Brendon Wilmer, junior fullback/linebacker Nick Bodine, junior running back/cornerback Nahir Nelson, junior quarterback/safety Frank Pipich and junior tight end/defensive end Ryan Malane, who is also an excellent long snapper. Junior linebacker Dalton Reim also returns, while senior Brendan Lee—who led last year's JV team to a one-loss season—and junior Sterling Sheffield, a transfer from Paul VI, will compete for the starting quarterback job.
The Pioneers' 5-5 season in 2012 included a share of the WJFL National Division championship and a first-round loss in the South Jersey Group IV playoffs. They return talent on both sides of the ball and have gotten stronger and faster thanks to their aggressive strength and conditioning program in the offseason. If they can develop some depth and become a strong defensive team, they can once again contend for a division title and a playoff run.
Eastern Vikings
While six key players from last year's team are now playing college football—most notably all-state defensive back Eli Apple, who's at Ohio State—some star power remains at Eastern, starting with the most important position on the field. Senior quarterback Tom Flacco (pictured), a three-year starter, made the all-South Jersey second team and the West Jersey Football League American Division first team last year, when he threw for 25 touchdowns and 2,957 yards, the fourth-highest total in South Jersey history. Flacco, who has been offered a scholarship to the University of Delaware, needs 1,400 passing yards to become the first quarterback in South Jersey to ever eclipse the 6,000 mark. Flacco also has a couple of his top weapons back in senior running back T.J. Gardner and senior wide receiver Keshawn Segers. Gardner was an American Division second-team all-star after rushing for nearly 700 yards and three touchdowns and making 31 catches, including a touchdown. Segers had 38 catches for 781 yards and three touchdowns. Returning starters on the offensive line are senior left tackle Mike Montemurro, an American first-teamer, and senior left guard Diante Young. Defensively, the linebacking corps is strong, led by senior Brian Hart, who was second on the team with 82 tackles and also forced three fumbles. Also back at linebacker are seniors Kingsley Ayeni, who had four sacks, and David Wilcox, who had 50 tackles. Montemurro and Young are returning starters on the defensive line and Gardner and Segers are back in the secondary, while Hart is also an all-conference punter. Newcomers include senior offensive linemen Stefan Buruschkin, Dan Viereck and Vince Simone; senior wide receivers/defensive backs Emiliano Andujar, Jamie Cassius and Alex Janesky; junior tight end Pete Flacco; junior linebacker Tyler Wilson; and junior defensive back Cinque Hill.
Eastern, which won just one game in 2010 and four in 2011, made the leap to a 7-4 record last year and lost a 30-27 heartbreaker to Southern in the South Jersey Group V semifinals. With Flacco directing an explosive offense, the Vikings should continue to play at a very high level this year and will be among the top teams in South Jersey.
Gloucester Catholic Rams
Glenn Garrison, a senior linebacker and offensive lineman, was a West Jersey Football League Diamond Division first-team selection on defense last fall. He should be primed for another standout season after competing against some of the nation's top players at the Nike Football Training Camp at Ohio State University this summer. Offensively, the key player is senior quarterback Mike Davis, who ended last season with a terrific game in an upset win over rival Gloucester City. His key targets will be his brother, Matt Davis, a senior wide receiver who was a Diamond second-teamer, and senior receiver James Higginbotham. Senior Zach Carney, a Diamond second-teamer, anchors the offensive line, while senior Anthony Antonini is a two-way lineman and senior defensive back Pat Rafferty also returns.
The Rams should be much improved after struggling through a 2-8 overall season and 0-5 mark in a challenging Diamond Division that includes Penns Grove and Glassboro. Many of the veterans have started for two years, but the team needs a running back to emerge and take pressure off Davis.
Haddonfield Bulldawgs
Most of the standouts returning for Haddonfield are on the defensive side of the ball. Senior defensive lineman Henry Klaus was one of three Colonial Conference Liberty Division first-team all-stars a year ago, as he had 49 tackles, including 17 for loss. Junior defensive end Tyler Klaus (51 tackles) and junior defensive back Michael DeFeo (three interceptions) were also first-teamers. Other returning starters on the defensive line are seniors Charlie O'Neill and Patrick Porter, while junior Mark Walker returns at linebacker. The secondary is strong with seniors Mike McLaughlin and Teddy Stavetski and juniors Michael Alberto, Jacob Robinson and Jake Klaus all having varsity experience. On offense, McLaughlin, Alberto and sophomore Thomas Kadar all saw time at quarterback last season. Alberto also got carries at running back along with DeFeo, while Henry Klaus and Walker return at fullback. Juniors Troy Crompton and Nick Rollo join O'Neill and Porter as returning starters on the offensive line. Stavetski, Robinson and senior Julian DiNoia are back at wide receiver and Tyler Klaus is the tight end. Sophomore Drew Tomlinson will again handle the kicking duties and juniors Wes Dengler and Matt Gilbert are expected to contribute at wide receiver.
Haddonfield followed up a sensational 2011 season, in which it went 11-1, by going 6-4 last season. Frank DeLano has built the Bulldawgs into a consistent winner and this year should be no different.
Kingsway Dragons
What will Ray Lawry do for an encore? As a junior in 2012, the Kingsway running back had a dominant season, rushing for 2,225 yards and 28 touchdowns on his way to all-state honors. He also had two touchdowns on special teams and had five interceptions on defense and should be in line for another outstanding campaign. Kingsway also returns starting quarterback Robert Green, a senior, who threw for more than 700 yards and seven touchdowns a year ago. Denzel Polk and Mike Morris are juniors who gained valuable experience on defense in 2012. Polk, a defensive end, had 11 tackles for loss and four sacks. Morris, a linebacker, had seven tackles for loss. Damir Johns, a senior defensive back, had more than 50 tackles and a pair of interceptions and has outstanding speed.
Kingsway went 8-4 and reached the South Jersey Group IV championship game before losing to Timber Creek. The Dragons also shared the West Jersey Football League National Division title with Shawnee and Clearview. They lost a lot of seniors from that team, but Old Dominion recruit Lawry is a bona fide star and should have his team in the hunt for division and South Jersey titles.
Lenape Indians
After a terrific finish to the 2012 season, the Indians have plenty of reasons for optimism heading into this season. Senior quarterback Justin Holl returns after starting every game a year ago, although he could face a challenge in camp from junior Jimmy Kennedy. Senior lineman Craig Cassidy and junior tight end/defensive end Steve Anderson started on both sides of the ball, while senior Sean McNally and junior Paul Fullerton are experienced offensive linemen. Senior John Morgan is a returning starter at wide receiver and junior Malcolm Anthony will be in the mix at running back. Defensively, returning starters include Kennedy and junior Anthony Brunetti at linebacker, junior safety Ben Hunt, senior cornerback Tyree Black and junior cornerback Joel Bartow. Junior Jerry Jones, who kicked a game-winning field goal in the final seconds of Lenape's victory over Shawnee on Thanksgiving, is back to handle kicking and punting duties. Other returning letterwinners are seniors Nick Giamello, Brandon Sweder, Darius Montague, Levi Gervasi and Antonio Gray, while newcomers include juniors Dave Roberts and Darren Spitzer and sophomores Conor Gaffney, Cole Keyes, Jordan Davis and Kareem Pritchett.
After losing its first six games last season, Lenape rebounded to win its last four and finish 4-6 for the second straight year under head coach Tim McAneney. The Indians will look to ride that momentum into this season and avoid another rough start. Despite lacking size, they are an aggressive bunch and should be competitive in the difficult West Jersey Football League American Division.
Moorestown Quakers
Senior Tyreek Robinson is one of the most explosive players in the area on both sides of the ball. As the Quakers' starting quarterback last year, he was named to the West Jersey Football League Constitution Division first team. He also played cornerback and was Moorestown's best player in the secondary. Senior linebacker Shayne Lawless, who also plays tight end, was a Constitution second-team choice on defense. The Quakers' emotional leader on defense, Lawless is a sideline-to-sideline linebacker who is getting a lot of attention from college recruiters. Other returning starters include two-way linemen Trevor Allen, a senior, and Tyreek Smith, a junior; senior wide receiver/safety Dallas Clark; senior linebacker Justin Varga; and sophomore Niles Turner, who started on the defensive line as a freshman. The senior class also includes wide receivers/defensive backs Jake Frantz, Brandon Hammons and Bryce Rozier; running back/linebacker Kevin Ewers; and linemen Wasiu Ojuolape, Casey McIlmail and Yuseth Green. Junior running back/linebacker Anthony Williamson saw time on both sides of the ball last year and is expected to be a big contributor this season, while sophomore Mike DiMarino could compete for minutes at quarterback.
Longtime head coach Russ Horton stepped down after 2012, his ninth playoff season in 11 years. Former assistant Beau Sherry inherits a squad that went 6-4 overall and 3-2 in the Constitution Division. Several big-time playmakers on both sides of the ball should make the transition a smooth one.
Paul VI Eagles
The Eagles have a number of key players back from a squad that made great strides last year, especially on offense. Senior quarterback Alec Vignola was a West Jersey Football League Constitution Division second-team all-star in 2012 and could put up big numbers this fall. His main target is junior wide receiver Irvin Charles, a 6-foot-4, 215-pounder who is being heavily recruited and already has offers from Rutgers and Temple. Junior Christian DiAntonio is also back at wide receiver. Along the offensive line, senior guard Keaton Sentak was a Constitution first-teamer and senior Robert Marrah was a second-teamer. Senior linemen Evan Tootle, Matt Pergola and John Petrongolo and junior tight end Kishon Banks are other returning starters on offense, and sophomore Gavin Sentak was a Constitution second-team kicker. Defensively, Marrah and Tootle are returning starters on the line and the linebacking corps is terrific with Banks, seniors Na'eem Crawley and Rob Hehl and junior Matt McEwen all back. Other returning letterwinners are seniors Jordan Anderson, Mark Alberto, Nick Ferrara, Matt Arthur and Gavin Gerold and juniors Alex Toplyn, Kyle Goodwin and Steven Lomax. Newcomers who could have an impact are sophomores Mike Johnson, Stephon Moore-Green and Kevin Fields.
Paul VI went from 2-8 in 2011 to 6-4 overall and 3-2 in the Constitution Division last year, an impressive turnaround. With a roster that is deep, experienced and loaded with team speed, the Eagles hope to continue their rise and take the next step by winning at least one playoff game.
Seneca Golden Eagles
Seneca was hit hard by graduation, as seven West Jersey Football League Constitution Division all-stars have moved on. They do have some experience in the trenches, with seniors John Maurer and Bryce Sonberg returning as starters on both sides of the ball and senior Chase Vena returning at tight end and defensive end. Seniors Zac Aho and Matt DiCroce return at running back, while Aho also starts at linebacker and DiCroce starts at defensive back. Also back in the secondary are seniors Eric Shugars and David Owl, while Shugars will also play wide receiver on offense.
The Golden Eagles went a solid 4-6—a one-win improvement from the year before—with last season's senior-laden team. They will be counting on a lot of new starters this year, and the experience those young players get will pay dividends in 2014.
Shawnee Renegades
Shawnee returns eight starters on offense from a team that went 6-5 in 2012. Senior running back Anthony DiOrio, a four-year starter, rushed for 5.5 yards a carry and scored seven touchdowns as a junior. Senior Dylan McCaughan and junior Jake Parola are also experienced running backs, while senior wide receiver Kyle Borbi had 17 catches for 241 yards last season. Senior Nick Corbi also returns at receiver and senior tight end Joe Lynn is an excellent blocker and serves as the Renegades' kicker as well. Seniors Pat Blair and Reece Tursi are back on the offensive line, and sophomore Michael Welsh will take over as starting quarterback for Andrew Bertolino, who graduated. Filling in for an injured Bertolino in last year's South Jersey Group IV semifinal against Timber Creek, Welsh completed six of 13 passes for 76 yards and three touchdowns in a 32-22 loss. Defensively, DiOrio was all-conference first team, all-county second team and all-South Jersey third team at linebacker after recording 142 tackles and an interception. Shawnee also had four all-conference second-team selections in Blair, a defensive lineman who had 84 tackles; junior linebacker Curtis Corley, who had 76 tackles, four sacks and four fumble recoveries; McCaughan, a defensive back who had 41 tackles; and senior punter Mike Caffrey, who had a 40.7 average. Sophomore defensive lineman David Gajderowicz started every game as a freshman and had 51 tackles and two sacks, while junior linebacker David Smith added 26 tackles and a pair of sacks.
Tim Gushue reached the 200-win milestone and guided the Renegades to a share of the WJFL National title in 2012, his 30th year as head coach at Shawnee. With 14 total starters returning and an exciting young quarterback in Welsh, the Renegades will be a strong contender in the National along with Kingsway and could make a run in the playoffs.
Washington Township Minutemen
The Minutemen are excited about the abilities of new starting quarterback Christian Maiden, a senior who takes over for the graduated Tom Hildebrand. Maiden will get plenty of help from all-purpose threat Andrew O'Neill, a senior who was a West Jersey Football League American Division second-team selection in 2012. O'Neill rushed for a team-high 495 yards and six touchdowns last year, caught a team-high 34 passes for 430 yards and four touchdowns and had a kickoff return for a score. The Minutemen also return starting offensive tackles Connor Hunt and John Walsh. On defense, the entire secondary is back, led by Mark Graziano, Shawn Robinson and Maiden, who was an American second-team choice on defense. O'Neill had 104 tackles last season at linebacker, and Adrian Torres also has experience at the position. Hunt and Nick Kukral are veteran defensive linemen.
The Minutemen are coming off a 7-3 season, including a 3-2 mark in the American Division, and lost a heartbreaker to Southern, 33-32, in the first round of the Group V playoffs. Township is a consistent winner every year and, led by O'Neill, should be in the postseason hunt again.
Click here for this year's Football schedules.
Published (and copyrighted) in Suburban Family's High School Fall Sports Preview, July, 2013.
For more info on Suburban Family Magazine, click here.
For information about advertising in Suburban Family Magazine, click here.
To find out where to pick up your copy of Suburban Family Magazine, click here.