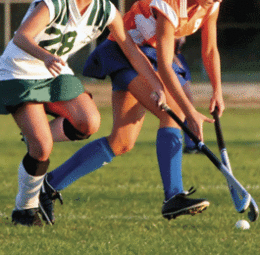 Straight To Varsity
Athletes dish on what it's like to play at the highest level as freshmen—and how they earn the right to be there.
Kelli Connolly, like any typical high school freshman, desperately wanted an iPhone. The way she got one was anything but typical.
While most athletes her age need that first year of high school to adjust to a new level of competition, and usually spend a season playing freshman or even JV sports, Connolly took a different path. She was among a small but impressive group of South Jersey rookies to have a major impact on the varsity level last fall.
Connolly surprised herself by spending her entire freshman season on the varsity field hockey team at Camden Catholic High School. All she did was become an Olympic Conference National Division first-team all-star and help the Fighting Irish win the South Jersey Group II championship. She also scored a memorable goal against perennial state power Eastern, winning a bet with her father and earning the iPhone she craved.
"That really boosted my confidence," Connolly says of the goal against Eastern. "A lot of people look at it and say, 'It was just a goal.' But I look at it like, I didn't even want to step foot on the field because I was so scared. And I went out and scored against the best team in the state. It really helped me along."
Making a name for themselves
For Eastern's Jaylyn Thompson, a girls soccer player at one of the top programs in South Jersey, she overcame the freshman nerves early on last year with a big assist from her older teammates on the varsity team. She went on to have nine goals and eight assists for a squad that posted a 23-2-1 record.
"I played varsity in the summer league last year, so it wasn't much of a surprise [to make the varsity team]," Thompson says. "I spent a lot of time with the team over the summer, so I kind of expected it. Starting off, I was a little bit nervous, but the older girls accept you and help you through it.
"It was a great experience, because I was playing with really good seniors like Madison [Tiernan] who are going on to play soccer in college."
Tiernan, a two-time All-American during her career at Eastern who is now at Rutgers University, was once a freshman star herself on varsity. And Vikings coach Jamie McGroarty won't hesitate to put another rookie on the top team if she deserves it.
"I believe the best 11 should be on the field; I don't care what grade you're in," McGroarty says. "On the girls side, a lot of times their best years are their first years. On the guys side, you don't see that, but the girls tend to get there a little quicker."
Sure enough, there were several standout female freshmen last year in the area in a number of sports. In addition to Thompson, Gloucester Catholic's Lisette Virella and Haddonfield's Taylor Sehdev were terrific goalkeepers in girls soccer. Bishop Eustace cross country runner Natalie Kelly was an Olympic Conference National Division first-team all-star. And in girls tennis, Julianna Bidic and Caitlyn Sorelle were all-conference doubles partners for Bishop Eustace.
"Usually with freshmen, it is an adjustment because the players are bigger and stronger and faster," McGroarty says. "But a lot of times, the skill level is not an issue. Jaylyn, for example, plays such a high level of club ball that the skill level is not an issue. It's just matching up to the speed and the physicality and the size of the girls on the field."
Measuring up
The physical aspect for freshmen is clearly significant, especially in a violent sport like football, where rookies must be able to match up with older kids to stay safe on the field. Moorestown's Niles Turner started every game last fall as a rookie, most of them on the defensive line, but only because he had the tools to compete.
"It's different in football just because of the physical nature of the sport," Moorestown head coach Beau Sherry says. "You have to be physically mature to play as a freshman. In Niles' case, he's a man-child. He was the strongest guy on the team last year."
"It was almost the same thing as playing pee-wee football, just with bigger guys, guys my size," says the 5-foot-9, 230-pound Turner. "Learning the plays, learning my position [was the biggest adjustment]. It was just a faster pace than football was before. The defense wasn't that bad, but on offense the plays are a lot more complex. You have to know your job, but you have to know everything else, too."
Camden Catholic defensive back Benny Walls and Paul VI kicker Gavin Sentak were other South Jersey football players who made an impact last fall as freshmen, as both were named all-conference second team.
No matter the sport, playing varsity as a freshman has physical and mental demands. It can also be hard socially, as rookies who make varsity are often the only athlete from their grade on the team. As most find out, though, if they can help the team win, they are accepted.
"They were actually great," Connolly says of her older teammates. "I love every single one of them; they're like my second family now. I think it was hard because I was the only freshman on the team and I didn't really know anyone. But once the season started going on, everyone became closer and they really made me feel welcome, like part of the family."
Most of the freshmen who played varsity last year believe the experience will only benefit them as they look forward to their sophomore seasons and the rest of their careers. For that reason, Thompson says incoming freshmen who have the opportunity to play at the highest level should embrace the opportunity.
It's good advice to follow for some of this year's rookies who could have an impact at the varsity level, such as Eastern volleyball player Gia Astacio, tennis players Grace Kim of Moorestown Friends and Lizzy Benedict of Haddonfield, and Lenape cross country runner Megan Quimby.
"I would tell them to just be comfortable and not be too nervous, because you're not as good when you're nervous," Thompson says. "Go show them what you're made of. If you're good enough to make varsity, then you're obviously meant to be there."
College Commitments
Though many more commitments will be made this fall, local schools are reporting the following students will be headed off to Div. I teams in 2014.
Duke University:
Sarah Furey, Bishop Eustace field hockey
Indiana University:
Kylie Kirk, Haddonfield girls soccer
Longwood University:
Maria Kirby, Kingsway girls soccer
Old Dominion University:
Ray Lawry, Kingsway football
Penn State University:
Kasey Morano, Eastern field hockey
Rutgers University:
Jade Dixon, Eastern field hockey
St. Joseph's University:
Jackalyn Pauling, Clearview field hockey
Syracuse University:
Rodney Williams, Cherry Hill West football
University of Massachusetts:
Shea McGee, Washington Township field hockey
University of New Hampshire:
Marissa Toci, Lenape gymnastics
University of North Carolina:
Austyn Cuneo, Eastern field hockey *
Vanderbilt University:
Christiana Ogunsami, Cherry Hill West girls soccer
Wake Forest University:
Karlee Spirit, Eastern field hockey
* Junior
Published (and copyrighted) in Suburban Family's High School Fall Sports Preview, July, 2013.
For more info on Suburban Family Magazine, click here.
For information about advertising in Suburban Family Magazine, click here.
To find out where to pick up your copy of Suburban Family Magazine, click here.