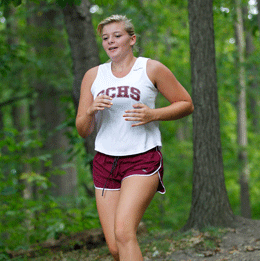 Girls Cross Country
BISHOP EUSTACE CRUSADERS
PLAYERS TO WATCH The Crusaders have a few up-and-coming runners who could be primed for big seasons in sophomore Natalie Kelly, an Olympic Conference National Division first-team all-star, and junior Sarah DiDomenico, a National second-teamer. Kelly took 24th at the Olympic Conference meet last fall as a freshman and was named team MVP, while DiDomenico placed ninth in the 3,200 meters during the spring's South Jersey Non-Public A Track and Field Championships. Senior Karrsen Aron joined Kelly on the National first team and junior Dominique Ceretti was on the second team a year ago; both provide strong veteran leadership along with junior Danielle Cristinzio.
OUTLOOK During what was supposed to be a rebuilding season in 2012, Eustace still went 4-1 in dual meets—good for second place in the Olympic National—and finished 14th in the state in Non-Public A. The Crusaders should be able to build on that foundation, contend for a division title and move up the rankings in the championship meets.
CAMDEN CATHOLIC FIGHTING IRISH
PLAYERS TO WATCH Junior Kelly McHugh and sophomore Meghan Giordano both had impressive showings at the Olympic Conference Championships last fall, with McHugh placing 13th and Giordano crossing the finish line in 22nd place. McHugh also took sixth at the Camden County Open and Giordano was 16th. Junior Jessica Griffith and seniors Caroline Burns and Caroline Thomas could also be in Camden Catholic's top seven.
OUTLOOK The Fighting Irish have a pair of solid runners in McHugh and Giordano and will be a team to look for in the major meets after placing 12th in the state in Non-Public A and ninth in the conference.
CHEROKEE CHIEFS
PLAYERS TO WATCH The Chiefs were hit hard by graduation, losing five of their top seven runners. Senior Ally Moraschi is back after placing 25th at the Olympic Conference meet and 34th in South Jersey Group IV. Junior Gabby Vassalotti placed 43rd in the conference and 60th at sectionals. Senior Morgan Shea will look to fill one of the top spots, along with sophomores Kassie Kromish, Carly Larosa and Izzi Moraschi and freshman Keirsten Montegnaro.
OUTLOOK The Chiefs finished fifth in the conference and sectionals while placing 18th in the state last year. They can stay competitive if their young runners are able to contribute right away.
CHERRY HILL EAST COUGARS
PLAYERS TO WATCH Cherry Hill East has a terrific one-two punch in senior Maddy Berman and junior Monica Lee, and coach Anthony Maniscalco expects the pair to finish in the top 10 in most major races. Lee took fifth and Berman placed 11th in the Olympic Conference Championships last year. Senior Sara Downie, junior Rebecca McCormack and sophomore Jill Ranes are other returners from last year's top seven, while seniors Caroline Sawn and Jenny Gao and junior Isabelle Roncace are also experienced runners at the varsity level. The Cougars also have several incoming freshmen who could have an impact.
OUTLOOK East placed eighth in South Jersey Group IV and sixth in the Olympic Conference meet in 2012. With Lee and Berman and some promising young runners in the fold, it wouldn't be surprising to see the Cougars move up at both of those meets and post their best finishes in the last five years.
CHERRY HILL WEST LIONS
PLAYERS TO WATCH Junior Julia Marzocca was the Lions' top finisher at the Olympic Conference Championships last fall, as she clocked a time of 21:23 to finish 35th. Marzocca could be in store for even bigger things in 2013. Senior Casey Owens and sophomore Gabby Rash were also in the team's top seven at the conference meet. Other returners for West include seniors Valerie Wilson and Amanda Norris, and junior Kristen Holloway.
OUTLOOK The Lions took eighth at the conference meet and 12th at the South Jersey Group IV meet. They expect to continue to improve and could turn some heads this year with Marzocca leading the way.
CLEARVIEW PIONEERS
PLAYERS TO WATCH After missing all of her sophomore season with an injury, Kate Lynch returned last year and was a Tri-County Conference Royal Division first-team all-star. She should be in store for another solid campaign this fall as a senior. She'll be joined at the front of the Pioneers' pack by a pair of runners coming off strong freshman seasons. Emily Schaeffer was a Tri-County Royal second-teamer and Julia Stumpf was an honorable-mention selection. Senior Elizabeth Lessman also returns after an all-conference honorable-mention season. Other runners include senior Krystyn DiLuigi, junior Cecily DeMarco and sophomore Megan Jones.
OUTLOOK While Kingsway enters the year as the favorite in the Tri-County Royal, Clearview is a team to keep an eye on. The Pioneers went 4-2 last year and can match or better that record behind Lynch and company.
EASTERN VIKINGS
PLAYERS TO WATCH Junior Carly Kenselaar took fifth at the Camden County Championships and 18th in the Olympic Conference meet last fall, and in spring track she placed 13th in South Jersey Group IV in the 3,200 meters. She will once again be one of the Vikings' top runners. The seniors to watch are Emily Davidson, Mily Shah, Jen Strube and Debbie Meskin, while junior Hannah Moyle and sophomore Gabby LaRocca are also expected to make an impact.
OUTLOOK The Vikings return their top three runners and, while they might not have a guaranteed frontrunner, they do have a very strong pack. In addition to winning the Camden County Open last year, they took sixth in South Jersey Group IV and fourth in the Olympic Conference. The county title is again a strong possibility and they could also move up in the major meets.
GLOUCESTER CATHOLIC RAMSM
PLAYERS TO WATCH The Rams' solid core of seniors is led by Julia Hickman and Devon Murphy. The pair shared top honors on the team last season, and Hickman was a Tri-County Conference second-team all-star. Other returning runners entering their final season in maroon and gold are Caroline Conte, Jamie Ryan, Madelyn Fee and Annie Pegues (pictured), while juniors Megan Thelen, Jade Broussard and Cara Rabatin also return. Newcomers include senior Colleen Ward, junior Caitlyn Hill, sophomore Bailey Wethman and freshmen Katie Gerardi, Elizabeth Heath and Haley Finley.
OUTLOOK Hickman and Murphy should be challenged for top honors by Broussard, and coach Jack Heath is also expecting a push from the team's newcomers. That competition should help the Rams improve on last year's 17th-place showing in the state in Non-Public A.
HADDONFIELD BULLDAWGS
PLAYERS TO WATCH Haddonfield graduated the South Jersey Runner of the Year in Meghan Malloy, but senior Shelby Cain placed second to Malloy at the South Jersey Group II meet and leads a strong group of returners. Cain will be joined by fellow seniors Claire Plunkett and Molly Bolinger as team captains this season. Other seniors are Colleen Meidt and Melissa Meidt, while juniors include Olivia Peifer, Lauren DeCoursey and Julia Fonshell. Natalie McCrudden and Bridget Poisel are sophomores looking to make an impact, and there is also a large number of freshmen joining the program.
OUTLOOK The Bulldawgs are coming off a season in which they won titles in the Colonial Conference and South Jersey Group II while taking sixth in the state. Veteran coach Mike Busarello has built a tremendous program in 26 years at Haddonfield, and the Bulldawgs will continue to be a team to watch in South Jersey.
KINGSWAY DRAGONS
PLAYERS TO WATCH The Dragons should be in store for a special season thanks to a stacked returning lineup that includes three Tri-County Conference Royal Division first-team all-stars in seniors Roisin Breen and Casey Hagstoz and junior Claudia Wells. Breen placed 10th at the Gloucester County Open, 15th at the conference meet and 19th at the South Jersey Group III sectionals. Hagstoz was 12th in the county, seventh in the conference and 23rd at sectionals, while Wells was 11th in the county, sixth in the conference and 26th at sectionals. Juniors Kara Clark and Thaila Cooper were all-conference second team and juniors Courtney Scharer and Hannah Arulampalam were all-conference honorable mention.
OUTLOOK The Dragons won team crowns at the Gloucester County and Tri-County Conference meets in 2012 and took fourth in South Jersey Group III. With almost all of their top runners back, they will be a definite contender in all three meets this year.
LENAPE INDIANS
PLAYERS TO WATCH A whopping 14 seniors from last year's South Jersey Group IV championship team, including all-South Jersey runner Natalia Ocasio, have moved on, but that doesn't mean Lenape won't be in the hunt for another title. Senior Emily McGee and junior Camille Franklin are the co-captains this year and will be among the best runners in South Jersey. McGee took 14th at both sectionals and the Olympic Conference meet in 2012. Junior Maeve Ryan finished strong last season and took 22nd at sectionals. The Indians will need some of last year's JV runners, such as Lizzy Restivo and Brenna Vicente, to take on important roles for varsity, and they are also hoping for contributions from incoming freshmen like Megan Quimby.
OUTLOOK Lenape has won back-to-back South Jersey Group IV titles, and last year the Indians placed seventh in the state and second in the conference. They're not as deep this year, but the talent remains and, by November, they expect to be contending for their third straight sectional crown.
MOORESTOWN FRIENDS FOXES
PLAYERS TO WATCH The Foxes have only one returning runner with varsity experience in sophomore Margaux Vellucci. She improved her time significantly as a freshman and coach Sarah Slack is expecting great things from Vellucci, pointing out her amazing drive and determination. Newcomers to watch include senior Michelle Marzoev and juniors Hannah Creighton, Sabrina Patel, Katherine Thai and Aliya Williams. Julia Levine and Breanna Riddick are sophomores who could have an impact, and freshman Leah Gemino could also earn a spot.
OUTLOOK The Foxes finished 13th in the state in Non-Public B in 2012, when they finished 2-5 in the Friends League. With an almost entirely new team, it will be exciting to see how quickly the new talent can develop.
MOORESTOWN QUAKERS
PLAYERS TO WATCH Junior Natalie Cooper was outstanding as a sophomore, as she placed fourth in South Jersey and 23rd in the state in Group III. Cooper also finished fourth at the Burlington County Open. Lizzy Gorman, a senior, took 16th at the county meet and 24th at sectionals, while senior Alina Voelker finished 35th at sectionals. Also placing at the county meet were sophomore Heather Warren in 22nd, senior Aura Thoma in 33rd and sophomore Madeline Farmer in 45th.
OUTLOOK The Quakers have a ton of talent returning from a team that placed third in South Jersey Group III and eighth in the state, including a special runner in Cooper. They are one of the teams to beat in South Jersey this year.
PAULVI EAGLES
PLAYERS TO WATCH The Eagles return a strong group of veterans from last year's South Jersey Non-Public A championship team, led by senior Stephanie Hiester, who took 20th at the Olympic Conference meet. Other seniors are Emma Cerveny, Catherine Janis and Samantha Zanetti. Rounding out the top seven are junior Morgan Hesser and sophomores Michaela Urbach and Molly Gallagher. Paul VI also has 10 JV runners and five to seven incoming freshmen who could have an impact on the varsity program.
OUTLOOK After winning the South Jersey title, the Eagles took 11th in the state last year. They also went undefeated in dual meets, winning the Olympic Conference National Division. They have a terrific chance at defending their sectional and division crowns, but will be challenged by rivals Camden Catholic and Bishop Eustace.
SENECA GOLDEN EAGLES
PLAYERS TO WATCH Last year was truly a memorable season for Seneca, and Mara Schiffhauer was a major reason why. Schiffhauer placed second in South Jersey and 16th in the state in Group III as a junior, capping the year with a 26th-place effort at the Meet of Champions. She also took third in both the Olympic Conference and Burlington County meets and will again be a runner to watch at this fall's premier events. Fellow senior Stephanie Flemming also returns after taking 11th in South Jersey Group III and fourth in the conference, while sophomore Lindsay Hoffman will look to build on an impressive rookie campaign after joining junior Kirsten Horn and senior Bridget Kurp in the top 20 at the South Jersey meet. Juniors Ashley Peoples and Lauren Tocci are also back, while sophomore Joey Webb will run cross country for the first time and could have an immediate impact. She emerged as one of the best distance runners in South Jersey during the spring track season.
OUTLOOK Seneca won the South Jersey Group III title and took second in the state in 2012 while also winning its division. With Schiffhauer leading a tremendous returning group and Webb adding a spark, the Golden Eagles will again be contenders for South Jersey and state crowns.
SHAWNEE RENEGADES
PLAYERS TO WATCH Shawnee graduated just two seniors from a very good 2012 team and has several runners coming off impressive seasons, including three who placed in the top 10 at the South Jersey Group IV meet. Senior Shannon Stang consistently performed well at the big meets, as she was eighth at sectionals, 31st at states, sixth at the Burlington County meet and eighth at the Olympic Conference meet. Senior Julie DeSpirito took ninth at sectionals, 33rd at states and 12th in the conference, while junior Nina Bendixen placed 10th at sectionals and ninth in the conference. Seniors Julia Malpass and Mary Kate Dowling are leaders of the team along with fellow captains Stang and Bendixen, and junior Marybeth Fair is another top runner back in the fold. The Renegades will also be boosted by several sophomore and junior track runners who are coming out for cross country for the first time, and by a few incoming freshmen with running experience.
OUTLOOK Shawnee posted top-five finishes at both sectionals and the conference meet while placing 13th in the state in Group IV last year, and most of that talented team is back. With an influx of new promising runners and a solid core, the Renegades should challenge for conference and South Jersey titles this fall.
WASHINGTON TOWNSHIP MINUTEMAIDS
PLAYERS TO WATCH Senior Lexie Taylor clocked a time of 19:27 for fifth place at the always-competitive South Jersey Group IV meet. She also took 24th at states, third at the Gloucester County Open and sixth at the Olympic Conference meet and will be the leader for the Minutemaids this year. Other returning runners who scored at sectionals are seniors Kelly Laible, Melinda Walters and Claudia Schrader, and juniors Gianna Ambrosano and Alyssa Ambrosano.
OUTLOOK Taylor should be among the top runners at all of the major meets, and if the Minutemaids can continue to make progress behind her, they can improve on last year's 10th-place showing at sectionals and seventh-place effort at the conference meet.
Click here for the Girls Cross Country Schedules.
Published (and copyrighted) in Suburban Family's High School Fall Sports Preview, July, 2013.
For more info on Suburban Family Magazine, click here.
For information about advertising in Suburban Family Magazine, click here.
To find out where to pick up your copy of Suburban Family Magazine, click here.