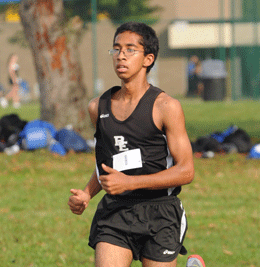 Boys Cross Country
BISHOP EUSTACE CRUSADERS
PLAYERS TO WATCH Despite losing all-South Jersey runner and multiple school-record holder Eric Franklin and No. 2 runner Alex Stelmaski to graduation, the Crusaders have talent and depth returning. Senior Anthony Morelli was an Olympic Conference National Division first-team all-star, while junior Shawn Hutchison was a second-teamer and ran sub-10 minutes in the 3,200 meters during spring track. They're joined by D'vonne Trumbo, a second-team all-star, and fellow seniors Alex Hull, Brennan Edel and Ryan Giarraputo as returners. Junior Praveen Vulimiri (pictured) ran 4:50 in the 1,600 during the spring and leads a strong group of runners moving up from the JV team. A large senior class also includes JP Calzonetti, Jared Deffler, Mike Manuelli, Andrew McGuire, Tyler O'Donnell and Ben Tso.
OUTLOOK The Crusaders went 4-1 in dual meets, finished second in South Jersey Non-Public A, fifth in the state and fifth in the Olympic Conference Championships last year. With a roster full of dedicated runners, they should again contend for the Olympic National title but will be challenged by Camden Catholic and Paul VI.
CAMDEN CATHOLIC FIGHTING IRISH
PLAYERS TO WATCH Camden Catholic boasts one of the area's premier runners in senior Kyle Kirk, who was named to the all-state third team and all-South Jersey first team as a junior. Kirk placed 10th in the state in Non-Public A with a time of 16:18 and took second at the Olympic Conference meet in 15:52. Also returning are seniors Collin Pierlot, Kevin Benjamin and Daniel Fisher, and juniors Tim Slack, Tyler Levine and Edwin Pellot.
OUTLOOK The Fighting Irish took ninth in the state in Non-Public A and sixth in the Olympic Conference Championships in 2012. With Kirk leading the way, this season figures to be another exciting one.
CHEROKEE CHIEFS
PLAYERS TO WATCH While the Chiefs lost South Jersey's top runner in state champion Shawn Wilson—who is now at Syracuse University—they could be deeper than in recent years. Senior Kaleb Burch leads the list of returners after placing ninth in South Jersey Group IV and 27th in the Olympic Conference meet last year. Rob Harper took 48th in the conference last fall, while fellow junior Justin DeTone took 69th. Another junior, James Transue, was part of Cherokee's first-team all-conference 4x800 relay in the spring, along with Harper and sophomore Tyler Kurzawa, who is running cross country for the first time and could have an impact. Others who could challenge for spots in the varsity top seven are seniors Carlo Lingesso, Zach LoPresti and Anthony Marrazzo; juniors Noah Gil, Joe Lacy and Cameron Rabinowitz; and sophomores Steve Gravlin and Mike Zurzolo. Talented freshmen Jack Shea and Nick Falk could also be in the mix.
OUTLOOK Although Cherry Hill East is the team to beat in the Olympic Conference American Division, Cherokee will be competitive. The Chiefs are loaded with underclassmen, and a successful season could set them up for really big things in 2014.
CHERRY HILL EAST COUGARS
PLAYERS TO WATCH A tremendous trio of runners that should be among the best in South Jersey leads the way for Cherry Hill East. Senior Ben Dillon took fifth in South Jersey Group IV and 10th at the Olympic Conference meet a year ago, while junior Dan Helfand placed 11th at the conference meet. Sophomore Aaron Groff, meanwhile, will look to build on an impressive rookie season in which he took 23rd in the conference and won the Camden/Gloucester County Freshman Race. Junior Christian Mele is another varsity returner who made great strides last season and ran 2:01 in the 800 meters during spring track. The Cougars are also counting on a young but inexperienced group of runners to work hard in the summer and contribute this fall.
OUTLOOK The Cougars placed second in South Jersey and 12th in the state in Group IV last year, and also took second in the conference. With four of their top runners back, they are one of the favorites in the Olympic and South Jersey.
CHERRY HILL WEST LIONS
PLAYERS TO WATCH The Lions have a strong senior class led by Tyler Brake, Nickolas Boensch and Anthony Verme. Co-coaches Kevin Brake and Nick Mitidiari are hoping some varsity newcomers emerge in the top seven, as well.
OUTLOOK After placing eighth in both the South Jersey Group IV and Olympic Conference meets last season, the Lions are hoping to at least equal, if not improve upon, those showings.
CLEARVIEW PIONEERS
PLAYERS TO WATCH Despite graduating a solid senior class last year, the Pioneers return one of South Jersey's top runners in senior Bill Dolan, who took third at the Gloucester County meet, fifth in the Tri-County Conference and eighth in South Jersey Group IV last fall. Dolan followed that up by winning the mile at the Eastern States Indoor Meet, and in the spring, he was the South Jersey Group IV champion in the 1,600 and placed second in the state. Other returning runners include juniors Casimir Kmiec, Dan Henry and Hunter McNamara, and sophomore Nathan Shivers.
OUTLOOK Dolan is a star runner and the Pioneers also have a strong supporting cast, so an improvement on last year's 3-3 record is a possibility.
EASTERN VIKINGS
PLAYERS TO WATCH Seniors Erik Lee and Spiro Kokolis lead a solid group of returning runners, along with juniors Jake Caruso and Anthony Sokolowski. Sophomores Vipal Bhat and Nicolas Plsunder appear to have a bright future.
OUTLOOK The Vikings took 12th in South Jersey Group IV and 11th in the Olympic Conference last year. The competition in those two meets will again be top-notch, but a solid returning cast and some young talent could move Eastern up a few spots.
GLOUCESTER CATHOLIC RAMS
PLAYERS TO WATCH The Rams are excited about their sophomore class, which is led by Sean Simila, one of the top freshman runners in South Jersey last year. Simila was a Tri-County Conference second-team all-star and shared the team's No. 1 runner honors with Andreas Logothetis, who is back for his senior season after earning all-conference honorable-mention honors. Other returning runners who were consistently in the top five last year include senior Billy Simila and sophomores Matt Dyson and Louis Rodriguez. Junior Brendan Kain and sophomore Phil Brenner are also back, while the newcomers who could contribute are seniors Anthony Hezlep and Zach Kummer; junior Kyle Kroker; sophomore Jonathan Brown; and freshmen Sean Ward, Brian Delzangle, Nicholas Myers, Carson Connelly, Jacob Nocentino, Jordan Ciocco, Mike Nuss and Frankie Tassi.
OUTLOOK A new junior high cross country team at Gloucester Catholic is already paying dividends as numbers are up with the addition of many rookie runners. The Rams are hoping that new talent can help them improve on last year's 16th-place showing at the Non-Public B state meet.
HADDONFIELD BULLDAWGS
PLAYERS TO WATCH One of the area's best runners, Greg Halla has graduated, but Haddonfield always seems to reload when top athletes move on. Senior Alex Gigliotti is one of the returning runners to keep an eye on after he took seventh in South Jersey Group II and 76th at the Meet of Champions in 2012. Sophomores Austin Stoner and Greg Pelose showed tremendous improvement throughout the winter and spring track seasons and should have a major impact this fall. Returning seniors include Patrick Shea, John Greenberg, Chris Ehrhardt and Matt Stewart, while juniors Danny Brennan, Chris Goings, Danny Stevens and Matt Troiani also return. Sophomore Colin Gallagher is a newcomer to watch.
OUTLOOK The Bulldawgs have won an amazing 152 straight dual meets, a streak that started in 1998. They will be favored to defend their titles in the Colonial Conference and South Jersey Group II and will battle for a state championship after placing third a year ago.
KINGSWAY DRAGONS
PLAYERS TO WATCH The Dragons may have lost five of their top eight runners, but the three returning are all coming off impressive campaigns. Junior Noah Culbreath was all-South Jersey after taking second in Gloucester County, third in the Tri-County Conference and 10th in both Group III sectionals and Group III states. He also ran at the Meet of Champions, finishing 48th. They also return junior Kyle Evernham, who took fourth in the county, eighth in the conference and 13th at sectionals; and junior Myles Boerlin, who was all-conference second team and placed 18th at sectionals.
OUTLOOK After suffering heavy losses to graduation, the Dragons might not be the favorites, but they'll definitely be contenders for county, conference, South Jersey and state titles, especially if some of last year's JV runners develop as expected.
LENAPE INDIANS
PLAYERS TO WATCH Lenape is paced by outstanding senior Julian Greco, who placed third in the South Jersey Group IV meet, 12th at states and 34th at the Meet of Champions a year ago. Greco also took second at the Burlington County Open and fourth at the Olympic Conference Championships. Senior Dan O'Leary and junior Yianni Christou, who both placed in the top 40 at sectionals and the conference meet, also return to give the Indians a strong top three. Other returners are senior Joe Yecco and sophomore Craig Lauer.
OUTLOOK After placing fourth at sectionals, 10th at states and third at the conference meet, while also winning the county title, Lenape is definitely one of the teams to beat this year. An experienced core led by Greco will put the Indians in contention during the major meets.
MOORESTOWN QUAKERS
PLAYERS TO WATCH The Quakers are led by a strong senior duo in Kevin Horton and Joe Inglis. Horton took ninth in the South Jersey Group III meet and sixth in the Burlington County meet last year, while Inglis was 11th and fourth. They are joined by fellow seniors Reed Kramer, Ryan Caffrey and Greg Munilla. Sophomores expected to have an impact on varsity are Harrison Morris, Ty Schneider and Christian Cramer.
OUTLOOK The Quakers placed sixth in South Jersey Group III in 2012 and have an experienced group of seniors leading a large team this season. They could possibly move up a few spots at sectionals while also contending for the Burlington County League Liberty Division title.
MOORESTOWN FRIENDS FOXES
PLAYERS TO WATCH Senior Coles Driscoll ran his way to a Friends School League honorable mention selection as a junior and could be in store for even bigger things in 2013. Senior Joe Mulholland and sophomore Harvey Robin were also top scorers a year ago. Senior Dan Van Deerlin, whose 2012 season was cut short by an injury, is looking for a healthy end to his scholastic career. Anthony Torres and Ray Mayer are returning juniors, while the Foxes are also excited about junior Adam Mohsen-Breen, who is coming out for the team for the first time. Other newcomers are senior Roy Thorstensen and juniors David Berg, Jeremy Berinson, Brandon Boyce, Alex Master and Luke Shaffer.
OUTLOOK After finishing in the middle of the pack in the Friends School League with a 3-4 record last year, the Foxes are putting in the work in the offseason with hopes of moving into at least the top three in the league.
PAUL VI EAGLES
PLAYERS TO WATCH A number of talented runners return from Paul VI's South Jersey Non-Public A championship team. Senior George Balzer took sixth place at sectionals, 10th at the Camden County meet and 16th at the Olympic Conference meet, while senior Jake Durante-Koller placed seventh at sectionals and 16th in the county. Senior Robert Cleary was 19th at sectionals and 23rd at the county meet and another senior, Anthony Feeney, came on strong toward the end of the season, including a 21st-place finish at sectionals. Juniors William Schmidt and Ben Rottler-Gurley made terrific progress as sophomores a year ago.
OUTLOOK In addition to their South Jersey title, the Eagles were also Camden County champions, took fourth at the Non-Public A state meet, and placed fourth at the conference meet. Behind their superb senior leaders, they expect to compete once again for a sectional title and hope to take the next step by qualifying for the Meet of Champions.
SENECA GOLDEN EAGLES
PLAYERS TO WATCH A list of seniors from last year's squad has moved on, leaving many open spots to fill for Seneca. Among the top returners are senior Nate Balcerkiewicz, who took 63rd at the Olympic Conference Championships, and junior Joseph Hackney, who placed 87th at the conference meet.
OUTLOOK The Golden Eagles are looking to make progress after finishing 11th at the South Jersey Group III meet and 12th at the Olympic Conference meet a year ago.
SHAWNEE RENEGADES
PLAYERS TO WATCH Trevor Sye, a senior, placed in the top 20 in South Jersey Group IV and also took 39th at the Olympic Conference meet and leads a solid group of returning runners for Shawnee. John Peterson and Zach Blanco are the other seniors who ran in the top seven a year ago. Junior Brian Dickinson and sophomores John Kearns, Jason Richwall and Joey Lipinski also return for the Renegades and could have an impact this year.
OUTLOOK The Renegades will look to build on last season, when they placed ninth at sectionals and 10th in the conference. With a solid core returning, they should be competitive once again.
WASHINGTON TOWNSHIP MINUTEMEN
PLAYERS TO WATCH The Minutemen said goodbye to a number of senior runners after a remarkable 2012 season. The biggest loss was Kyle Leonard, who won the Gloucester County individual championship. This year's team will likely be built around senior Anthony Mills, an all-county honorable mention choice who took 15th in the conference.
OUTLOOK Washington Township's memorable 2012 season included the South Jersey Group IV championship and a ninth-place showing in the state. It will be difficult to match those accomplishments after all the losses to graduation, but the Minutemen have a strong tradition of developing distance runners.
Click here for the
http://www.southjersey.com/articles/?articleID=28282 Target=main>Boys Cross Country Schedule
Published (and copyrighted) in Suburban Family's High School Fall Sports Preview, July, 2013.
For more info on Suburban Family Magazine, click here.
For information about advertising in Suburban Family Magazine, click here.
To find out where to pick up your copy of Suburban Family Magazine, click here.