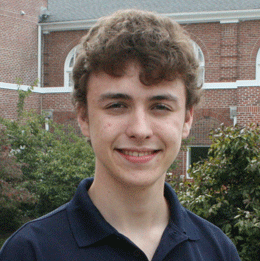 Star Students: June, 2013
Know a Star Student? Tell us about him or her at Family@SouthJersey.com.
Joseph Kiernan (pictured)
Haddonfield
Moorestown Friends School senior Kiernan, a Haddonfield resident, will join three other students from the United States in Kyoto, Japan, this summer for the International Geography Olympiad. Kiernan qualified for the international competition when he finished third in the National Geography Bee in Washington, D.C. Not content to rest on his laurels, Kiernan also competed in the National History Bee this year, making the quarterfinals.
Nicole Keough and Anna Cryer
Mount Laurel
Lenape High School students Keough and Cryer both received awards recently for their artwork. Keough, a sophomore, submitted an animated slab construction house to Clay in Mind 2013, a three-dimensional ceramics competition and exhibition, and placed second. Cryer, a junior, was recognized at the "A Night of Stars" event, which celebrates artwork and music from the Teen Arts Festival, where her painting placed first in its category.
Tech Club Students of Wedgwood Elementary School
Washington Township
Under the leadership of instructor Paula DiGianivittorio, the students recorded their chorus' performance of four inspiring musical performances, and put them onto a CD for sale. Proceeds from the CD were donated to Bay Head Elementary School in Ocean County, which suffered the loss of its music room from Hurricane Sandy. Within the first few days of its release, more than $600 in donations was raised.
Meghan Knecht
Haddonfield
Haddonfield Memorial High School junior Knecht received the 2013 Princeton University Prize in Race Relations for her work with the high school's Lead for Diversity Program. Knecht is also the founder of the group "Stand Up for Camden," which raised $4,000 this year to benefit a child enrolled in Camden's Urban Promise Academy, a private, Christian high school for students who have struggled in traditional school settings.
Alexander McBride
Medford
McBride, a 12th-grade home-schooled student, placed third and earned $1,000 in the Engineering: Materials and Bioengineering category at the Intel International Science and Engineering Fair in Phoenix this May for his project, Enhancing Quantum Dot Solar Cells with Metal Nanoparticles. McBride qualified for the fair after placing first at the Delaware Valley Science Fair. He plans on attending Drexel in the fall.
Kathryn Matlack
Cherry Hill
Matlack, considered a rising star in the field of nuclear science and engineering, was awarded a $15,000 scholarship from the Philanthropic Educational Association, which aims to aid in the advancement of women seeking doctoral-level degrees. A Ph.D. student in mechanical engineering at Georgia Institute of Technology, Matlack received her bachelor's degree from MIT, and is currently researching acoustics and material ultrasound technology.
Samantha Hourahan
Marlton
Hourahan, a fifth-grader at DeMasi Elementary School, won first prize in the first-ever essay contest held by The Marlton Rotary Club. The contest was held for fifth- through eighth-graders and was split into two categories--—fifth/sixth grade and seventh/eighth grade—and each category had its own essay question to answer.
Washington Township Students in Action
Washington Township
This group earned top honors at the statewide Students in Action spring competition and claimed the Jefferson Award for Public Service, becoming the first school from South Jersey to ever win the state's big prize. Students, community members and volunteers from the school district completed 40,000 hours of service and raised more than $182,000 this year for various charities with fundraisers such as the annual Monzo Madness all-night dance contest for ALS research and the Super Bowl Helping Hands Hoagie Sale.
Colleen McGill
Marlton
McGill, a Beeler School third-grader, was selected to have her original illustration featured in Steve Hochman's book, Lazy, Crazy, and Amazing. The students at Beeler were visited by Hochman and he challenged all the students to illustrate a part of his story. Many children entered the contest and McGill was chosen as the winner. She received a signed copy of the book and a $25 gift card for her efforts.
Adrian Kase and Jeff Gao
Voorhees
Eastern students Kase and Gao will participate in summer programs at Drew and Rutgers universities, respectively, after winning an award that 400 other New Jersey schools were eligible for. Gao was selected for the Governor's School of Engineering and Technology and Kase was selected for the New Jersey Governor's School of the Sciences.
Baker Elementary School Students
Moorestown
In honor of Sean Fischel, a 7-year-old Baker student who passed away after battling a rare autoimmune disease called HLH, students and staff held a song- and dance-filled celebration, complete with a DJ. Those who participated in the bittersweet event wore T-shirts, donated by Campbell Soup, which featured Sean's logo—an "S" that connects two links in a chain. Ultimately, the purpose of the celebration was to bring the community together, in grievance and remembrance.
Tyler Proetto and Andrew Bertolino
Medford
For the second year in a row, Shawnee High School engineering teacher Stefani Kirk asked her students to design a miniature golf course, which students would then build and be able to utilize. Upon completion, family and friends were able to come and play on the course for $1. Last year, proceeds from the course went toward the purchase of more construction materials for the project. This year, Proetto and Bertolino insisted that all of the proceeds raised go toward a charity for fellow classmate Katie Kernan, who is undergoing treatment for brain cancer.
Published (and copyrighted) in Suburban Family Magazine, Volume 4, Issue 4 (June, 2013).
For more info on Suburban Family Magazine, click here.
For information about advertising in Suburban Family Magazine, click here.
To find out where to pick up your copy of Suburban Family Magazine, click here.