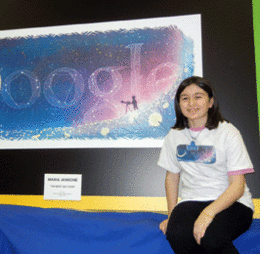 Star Citizens: June, 2013
<P>
Know a Star Citizen? Tell us about him or her at <a href="mailto: Family@SouthJersey.com">Family@SouthJersey.com</a>.
<P>
<B>Maria Iannone</B> (pictured)
<BR>Washington Township
<BR>Iannone, a Chestnut Ridge Middle School student, earned national recognition and a $5,000 college scholarship after winning the annual "Doodle 4 Google" competition in the sixth- and seventh-grade category. The national contest accepts submissions from all K-12 students in the U.S. for an image to be used on the Google website. Iannone's illustration, reflecting her love of astronomy, won her a trip to New York City and a digital design tablet.
<P>
<B>Alyssa Lesher</B>
<BR>Mount Laurel
<BR>This Lenape High School student collected $3,000 during her Stay Alive, Just Drive campaign to assist Cooper University Hospital's Cooper Foundation in educating the community and helping other patients affected by serious trauma injuries. Lesher's inspiration stems from the care she received from Cooper after a serious auto accident last summer.
<P>
<B>Jack Fanous</B>
<BR>Marlton
<BR>The Russ Berrie Foundation awarded Fanous, the founder and executive director of the G.I. Go Fund, $25,000 at the Russ Berrie Awards for Making a Difference. His organization in Newark helps homeless veterans find employment, homes, financial assistance and benefits. During the past seven years, the program expanded to Washington D.C., Baltimore and Philadelphia.
<P>
<B>Joseph Robinette</B>
<BR>Richwood
<BR>Robinette, a Richwood resident, wrote the libretto for the musical adaptation of A Christmas Story, which was presented to sold-out Broadway audiences this past winter. Now, Robinette's hard work has paid off even further with his Best Book of a Musical Tony Award nomination. The awards ceremony was held at Radio City Music Hall on June 9.
<P>
<B>JoDee Pettine</B>
<BR>Medford
<BR>Pettine was recently named the president of the New Jersey state chapter of the Philanthropic Educational Organization. PEO is a national non-profit organization of women helping other women reach the highest potential with a strong focus in education. Pettine's grandmother, mother and daughter have all been members of the organization.
<P>
<B>Loretta O'Donnell</B>
<BR>Mount Laurel
<BR>Former county public information officer and journalist O'Donnell was presented with the first-ever Loretta O'Donnell Courage Award named in her honor by the Burlington County Freeholders. O'Donnell, who is fighting stage 4 colon cancer, participates in the Colon Cancer Alliance's national conference and run in Philadelphia. She has also volunteered her time to contributing to newsletters for Cooper University Hospital and the American Pain Association and is currently editing women's cancer survivor stories for a book.
<P>
<B>Gianna Koulous</B>
<BR>Cherry Hill
<BR>As a premature baby herself, Koulous understands more than most the important work that the March of Dimes does to reduce the number of premature births. When Koulous was born, she weighed less than 2 pounds and struggled to survive. A healthy child of 9 now, Koulous was nominated for the second year as South Jersey's ambassador for the March of Dimes.
<P>
<B>Kim Custer</B>
<BR>Haddonfield
<BR>Custer's activities and volunteerism were recognized at the Haddonfield Civic Association's annual dinner with her receipt of the Alfred E. Driscoll Community Service Award. Custer has been tirelessly working as a volunteer archivist for the Historical Society of Haddonfield, and she's also known for her efforts to fight for the preservation of open space.
<P>
<B>Dick Subber</B>
<BR>Washington Township
<BR>For 26 years, after retiring from the U.S. Postal Service back in 1986, Subber has been volunteering at Kennedy University Hospital in Washington Township and now assists in the management of other volunteers at Kennedy's three campuses. He was recently recognized for surpassing 7,500 hours of service for the hospital system.
<P>
<B>Girl Scout Brownie Troop No. 30671</B>
<BR>Voorhees
<BR>Soccer is popular around the world, but the equipment can be expensive, making it difficult for kids in impoverished countries to play. That's why members of the Osage Elementary School-based Brownie Troop organized a drive for gently used soccer gear and clothes, such as uniforms, socks, shin guards, cleats, and balls, to be donated to children in Kwabeng, an isolated village in Ghana. In addition, the Troop collected book donations; their concurrent project is the creation of a Kwabeng library.
<P>
<B>Mitchell Davis</B>
<BR>Cherry Hill
<BR>Davis was named Habitat Volunteer of the Year by the nonprofit organization that builds low-cost housing. Davis and members of his company, Davis Enterprises in Marlton, have been involved with Habitat for Humanity for five years building homes. His company was honored at the High Heels and Hard Hats Gala at the Laurel Creek Country Club in Mount Laurel.
<P>
<B>Dave Walters</B>
<BR>Moorestown
<BR>Walters, a Vietnam veteran, spearheaded efforts to bring The Wall that Heals, a traveling replica of Washington, D.C.'s Vietnam Veterans Memorial, to Moorestown earlier this month. The wall is sponsored by the Vietnam Veterans Memorial Fund and is joined by a small mobile museum and visitor's center.
<P>
Published (and copyrighted) in <B>Suburban Family Magazine</B>, Volume 4, Issue 4 (June, 2013).
<BR>For more info on Suburban Family Magazine, click <A HREF=http://www.southjersey.com/?fa=contact&type=shg Target=main>here</A>.
<BR>For information about advertising in Suburban Family Magazine, click <A HREF=http://www.southjersey.com/?fa=advertising_rates Target=main>here</A>.
<BR>To find out where to pick up your copy of Suburban Family Magazine, click <A HREF=http://www.southjersey.com/?fa=distribution Target=main>here</A>.