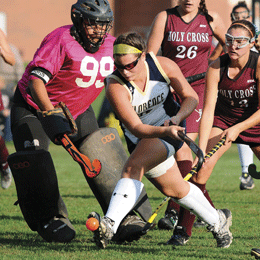 Athletes of the Year
Whether they're wrestling in the tot division, capping off a record-breaking high school season, or competing for a Division I university, South Jersey is full of remarkable athletes who are making their hometowns proud. Here, we take a look back at some of the most accomplished young athletes we've encountered in the past year. Their willpower and talent is undeniable: From the daughter of Olympic figure skaters who's clearly making a name for herself on her own accord to a middle school student scoring goals on the lacrosse field after a leg amputation, these are names you'll want to remember.
Lexi Smith (pictured), Florence
Smith capped her tremendous field hockey career at Florence High School last fall by not only breaking the state career scoring record but also becoming the nation's all-time leading scorer. She bested the national mark of 174 goals—which had stood since 1985—during a game against Riverside in October and finished her career with 191 goals. She will play field hockey and lacrosse at The College of New Jersey, where her mother, Gina Carey-Smith, was a star player and is now an assistant coach in lacrosse.
SUBURBAN FAMILY: Now that you've had some time to think about breaking the record, has it sunk in what a remarkable accomplishment it was?
LEXI SMITH: When it first happened, it was more of a shock. Now that I've had six months to look back on it, I realize that maybe it wasn't a shock after all. I did work so hard for so long, and that was my goal, to break that record. It wasn't as much of a surprise now that I've thought about it, considering how hard I worked.
SF: What are your athletic goals for college?
LS: I want to win as many national championships as possible; that's my goal going to TCNJ. They are such phenomenal programs and I want to strive for the highest achievement I can get.
SF: Was that your motivation for choosing TCNJ, to play for national championships?
LS: It's actually my mom's alma mater and she did phenomenal there. She coaches lacrosse there now and I grew up around the program. I have a comfort level there and the coaching staff is phenomenal. The university has amazing programs; I'm majoring in biology and they have one of the best biology programs in the country. That was also a factor, the education aspect of it, not just the athletic aspect.
Cooper Pontelandolfo, Marlton
A wrestler since the age of 4, 11-year-old Pontelandolfo is a member of the Marlton Recreation team and trains at the Wrecking Crew Academy in Lumberton and the Intensity Wrestling Academy in West Deptford. This year, he took first place in his weight class at the South Jersey State Championships for the third year. At the USAW New Jersey State Tournament, he took second place, losing to friendly rival Alex Strashinsky in the finals. But the following week, he came back to avenge that loss to Strashinsky and win the prestigious War at the Shore Tournament in Wildwood.
SUBURBAN FAMILY: You've been wrestling a long time. What do you love about the sport?
COOPER PONTELANDOLFO: I like winning a lot. I like that it's only me out there and no one can ruin it for me. No one else can make a mistake and I get the penalty for it.
SF: Are there any wrestlers that you look up to?
CP: [Olympic gold medalist and South Jersey native] Jordan Burroughs. I actually did a clinic with him for a couple hours. I got his autograph and got to talk to him at a meet and greet afterward. He was nice and he's definitely a good wrestler.
SF: Who has had the biggest impact on your wrestling career?
CP: My coach from Wrecking Crew [Dave Miller]; he's taught me a lot. He's actually brought me to the next level. But my dad [Carmen] has been my biggest help. He wrestled in high school and he teaches me what he knows. He takes me to all my practices, we watch videos online, we watch videos of my matches that he records. After practice, he tells me what I did wrong, and we also go to the gym and he works me hard there. He is very helpful.
Brandon Outlaw, Moorestown
Outlaw, an eighth-grade track star at William Allen Middle School, broke the school record this spring in the 400-meter dash with a time of 55.52 seconds. The old record of 55.8 seconds had stood for 18 years. This is the fourth record Outlaw has broken in his track career. Outlaw, pictured above at right, was also a standout running back on his Moorestown youth football team last fall, rushing for more than 1,500 yards and 18 touchdowns.
SUBURBAN FAMILY: How long have you been running track and how did you get involved in it?
BRANDON OUTLAW: This past year was my eighth year running. I come from a family of athletes who do track. They told me to try it and I just happened to be good at it. I've always loved track. I love competing and running and I've had a lot of success with it over the past couple of years.
SF: What is your favorite event?
BO: The 400-meter dash. It's just a long sprint and that's the kind of runner I am. It's probably my best event, it's the one I've gotten the most medals in. [The record] meant a lot to me. In the beginning of the season, I said I wanted to break it, even when I first got to middle school I wanted that record.
SF: Who are the athletes you like to watch?
BO: Adrian Peterson and Usain Bolt are probably the guys I like the most in football and track, even though [the flashy Bolt] is the exact opposite of who I am. I always watch track in the Olympics, but football is my favorite sport. I love football.
Caitlin Delaney, Cherry Hill
Despite entering her final lacrosse season at Cherry Hill East High School with 108 career goals, Delaney was determined to reach the 200-goal milestone. Thanks to a monster season, she did just that, hitting the magic number in the final game. Delaney found the net 95 times this spring and finished with 203 career goals. Also a standout soccer player at East, she will focus on lacrosse next year at Sacred Heart University.
SUBURBAN FAMILY: What stands out as your greatest sports memory from this year?
CAITLIN DELANEY: Scoring my 200th career goal. That was my goal from the beginning of the season and to get that was a big accomplishment for me. I went into the year with 108, so I had to average five goals a game and make sure I never let down. It was very difficult, but I'm very happy with the progress I made.
SF: Is it difficult to move on from high school athletics or are you excited for the next step?
CD: It's definitely sad knowing that I won't get to play with the girls I've been playing with since seventh grade anymore. But I'm excited for next year; I want to see what I can bring to the college level. It's going to be different but it's going to be interesting. I won't have a starting position like I did in high school, so I'm going to have to work even harder.
SF: What made you choose Sacred Heart?
CD: I came to visit and the coach was so nice and the girls were so open. They had won the NEC [Conference] the past two or three years, so I knew I wanted to be part of a winning team. Once I saw them play, I knew I could fit in with their style of play.
Gabriella Marvaldi, Lumberton
Marvaldi, a 12-year-old sixth-grader who has been skating since she was 4, was the 2012 U.S. Juvenile Pairs Champion along with partner Kyle Hogeboom. This year, the duo moved up to the Intermediate Division and turned in another strong showing, placing third at nationals. Hogeboom has since moved on from the sport, so Marvaldi is working with a new partner, Cody Douglas, with the Skate Club of South Jersey. They train at the Igloo Ice Rink in Mount Laurel.
SUBURBAN FAMILY: What is it like working with a new partner?
GABRIELLA MARVALDI: It's hard, but I have known my new partner for a while because he skates at the rink, obviously. We've been working together just for a few weeks. It will take time to get our timing down, and I'm not up to his level, either, so I have to learn a lot.
SF: Your parents, Rocky Marval and Isabelle Brasseur, were both Olympic figure skaters. Does that put pressure on you, or do you see it as a benefit?
GM: I do feel like I have a lot of pressure. I feel like I have to be good because they were good and the judges look at me as their daughter. But they also help me a lot. [They tell me] to work hard and do my best.
SF: Do you dream of becoming an Olympian yourself?
GM: I definitely think about that every day when I'm practicing. I'm tough on myself most of the time. I skate six days a week for two hours, and next year I'm going to a new school that will allow me to get out at 12:45, so I'll be able to practice even more.
Cole Hagerty, Washington Township
Hagerty, a 5-year-old Tot Division wrestler in the Washington Township Youth Wrestling program and the Spazz Wrestling Club of Williamstown, enjoyed a dominant season on the mat. He posted a 45-15 record with 33 pins, and claimed first place at eight different tournaments. Hagerty also entered the Middle Atlantic Wrestling Association Tournament in the Bantam Division and placed second in the qualifier, second at the South Regional finals and fourth at the Eastern Nationals, earning MAWA All-American status.
Tom Flacco, Voorhees
Flacco was a man for all seasons during his junior year at Eastern Regional High School. In the fall, he passed for 2,957 yards—the fourth-highest total in South Jersey history—and led the Vikings to a 7-4 record and a berth in the South Jersey Group V semifinals. During the winter, he moved on to the basketball court, helping Eastern go 21-7 and reach the South Jersey quarterfinals. This spring, his speed and power were a major reason for the baseball team's run to the Group IV state championship.
Taylor Ng, Haddonfield
Ng completed her remarkable tennis career at Haddonfield Memorial High School in the fall by leading the Bulldawgs to an undefeated season and the Tournament of Champions title. In February, she squared off against some of the best 18-and-under players in the country at the United States Tennis Association Level 2 National Open. Ng competed in five singles and two doubles matches at the Baseline Tennis Center at the University of Minnesota, winning all of them. Also a standout lacrosse player at Haddonfield, Ng scored her 100th career goal during a game in April.
Susan Wysocki, Cherry Hill
Wysocki recently completed her senior softball season at Camden Catholic High School, leading the Fighting Irish to their sixth straight Olympic Conference National Division championship. In the title-clinching win over rival Paul VI, Wysocki was the winning pitcher and also hit a three-run home run. Camden Catholic's season ended with a 20-8 record after a heartbreaking 3-2 loss to Gloucester Catholic in the South Jersey Non-Public A quarterfinals, but Wysocki will continue her career next year at the University of South Florida, a Division-I program.
Marissa Toci, Mount Laurel
During her junior year at Lenape Regional High School, Toci won the all-around competition at the Olympic Conference Gymnastics Championships for the second year in a row. She took first in vault with a score of 9.6 and first in bars with a score of 9.75, and her first-place score in the all-around was 38.6. Toci, a member of the Will-Moor School of Gymnastics, also qualified for the USA Gymnastics Level 10 J.O. Nationals this spring and competed at the event in May.
Cole Pitcher, Moorestown
Pitcher didn't even get to finish the season for the Moorestown 60-pound, 5-6-year-old football team last fall, but he still left quite an impression. Despite missing the final three games because of a broken ankle, Pitcher rushed for more than 700 yards and 10 touchdowns and led the defense with 67 tackles and two fumble recoveries. After taking the winter off from sports to recover, he returned to action this spring and had 11 goals and three assists in six games for the Moorestown Little Scoopers lacrosse team.
Corey Clement, Glassboro
Clement ended his storied football career at Glassboro High School last fall as South Jersey's all-time leader in career rushing yards. His total of 6,245 yards smashed the previous record by almost 1,000 yards. Clement, who also holds the South Jersey records for most rushing yards in a game and a season, finished fifth on the state career rushing list. He will continue his career at the University of Wisconsin.
Imani Taylor, Voorhees
In just her second season with the Eastern Regional High School girls soccer team, the sophomore goalie broke the program's career record for shutouts. She has already kept the opposition scoreless on 28 different occasions during her career, with two more seasons to add to that total. Taylor helped the Vikings win the Olympic Conference American Division championship and share the Coaches Tournament title with rival Lenape as they went 23-2-1.
Kendall Lippert, Marlton
A Marlton Middle School student, Lippert competed at the National Junior Olympics last summer in Long Beach, Calif., earning a silver medal in the trampoline event. The success has continued this year for the member of Jersey Jets Gymnastics. In January, she took first in her division in the trampoline at the Winter Tumblefest, and in March's Fairland Classic she notched a second-place showing.
Jason Garstkiewicz, Haddonfield
Garstkiewicz, an eighth-grader, scored a goal he will never forget last fall for his Haddonfield travel lacrosse team. A cancerous tumor was discovered on the right ankle of the three-sport athlete in December 2011, and eventually his right leg had to be amputated from just below the knee. But he refused to give up his love for sports, and remarkably returned to the lacrosse field just 10 months after the amputation with a prosthetic leg, scoring a goal in his first game back. Garstkiewicz marked the one-year anniversary of his final cancer treatments on May 31 and continues to be active in sports. He plans on playing for the Haddonfield Memorial High School football team this fall.
Owen Demmerly, Medford
Demmerly became the first Shawnee High School boys lacrosse player to score 200 goals as he wrapped up his career last spring with 201. He led the Renegades to the Group III state quarterfinals as a senior. This spring, his first with the Goucher College men's lacrosse team, Demmerly had nine goals and an assist to help the team post an 8-8 record.
Megan Lacy, Marlton
After wrapping up her spectacular running career at Cherokee High School¬—in which she won multiple state championships in cross country and track and field—last spring, Lacy moved on to Stanford University. In the fall, she was the cross country team's No. 7 runner at the NCAA Championships, helping the Cardinal to a third-place finish, its best since 2007. Lacy is also a member of the Stanford track and field team.
Taylor Coroneos, Washington Township
The senior pitcher was the ace for the Washington Township High School softball team during a magical spring season. The Minutemaids dominated the regular season, going 24-2. In the South Jersey Group IV playoffs, they defeated four more opponents, with Coroneos earning the win each time. In the championship against rival Shawnee, Coroeneos allowed just two runs on two hits while striking out seven as the Minutemaids prevailed, 4-2, for their second South Jersey crown in three years.
Lauren Anderson, Cherry Hill
A senior at Cherry Hill West High School, Anderson shattered the girls lacrosse scoring record at the school, surpassing the old mark of 208 goals early in her final season with the Lions and finishing with an impressive 227. Anderson—who wears uniform No. 23 to honor her brother Jack, who passed away in 2009—was also a standout soccer and basketball player at West. She has accepted a scholarship to continue her lacrosse career at Division-I Wagner College.
William Potts, Haddonfield
Potts, a sixth-grade student who has autism and epilepsy, completed his first season of organized athletics last fall with the Haddonfield Middle School cross country team. Potts, who first started running on a track with his father, showed up for just about every optional workout and also ran the 1.5-mile course during meets, along with a support manager to keep him focused on running. His endurance, which got better and better throughout the season, was an inspiration to other students. He ended up participating in spring track this year and looks forward to cross country again in the fall.
Erin Smith, Medford
Smith, a Shawnee High School senior, scored five goals as the Renegades girls lacrosse team toppled Eastern, 17-2, to win the South Jersey Group IV championship this spring. Last fall, Smith was an all-state player for the Shawnee girls soccer team, as she had nine goals and 11 assists while also excelling at the defensive end. She will continue her soccer career at the Division-I level for Rutgers University.
Published (and copyrighted) in Suburban Family Magazine, Volume 4, Issue 4 (June, 2013).
For more info on Suburban Family Magazine, click here.
For information about advertising in Suburban Family Magazine, click here.
To find out where to pick up your copy of Suburban Family Magazine, click here.