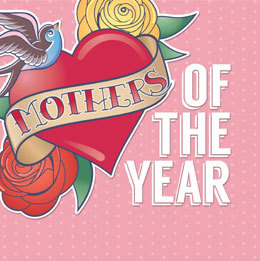 Mothers of the Year
No Mother's Day card or even the most carefully planned gift can really express the gratitude we have for our mothers, the ones who have cheered us on at our Little League games and been there through all of life's most important milestones since. Still, that didn't stop us here at Suburban Family from going in search of noteworthy moms who deserve a little extra recognition this month.
From helping their children handle everything from schoolwork stresses to life-threatening illnesses, these 2013 Mothers of the Year have seamlessly managed to juggle the demands of pursuing their own goals and careers with the needs of their families—all while passing on a few important lessons along the way.
Jill Pritikin Jill Pritikin and her family are living proof that a positive attitude goes a long way. The New Egypt resident is mom to Jessica, 17, and Justin, 13, and despite grappling with the unique demands of parenting teenagers, she still manages to find the time to work alongside her husband, Andy, as a camp director at Liberty Lake Day Camp in Bordentown, which Andy owns and directs. High school sweethearts, the couple dated for a decade and have been married for nearly two.
Pritikin also recently launched her own business as a certified Beachbody coach, successfully adopting a more healthy, active lifestyle not only for herself, but also for her husband and children. But it was perhaps when Justin was diagnosed with acute lymphoblastic leukemia in March 2012 that the family really learned the value of their health. "Unfortunately, cancer doesn't really give you a big warning that it's going to come in and disrupt your entire lives," she says. "We just had to do what we could to get through it."
The past year has been a whirlwind of hospital visits and cancer treatments, but through it all, Pritikin remained positive—and remains forever grateful to the family members, friends and neighbors who rallied together to do everything from provide meals for the family to organize fundraisers to help cover medical expenses. Justin's cancer is now in remission; he's back in school, and the entire family looks forward to returning to camp this summer. "We always kept things open and honest … and I just never even went to that place in my mind where things wouldn't be OK," she says.
The family remains closer than ever and is slowly returning to their normal routines, whether it's sharing stories during their nightly family dinner or laughing together over their favorite show, ABC's Modern Family. "Whether it's a fitness-related challenge or something greater than that, I want to help inspire others to always be positive," she says. "No matter what life throws your way, you can get through it with the right mindset."
Chrissy Azarian For Maple Shade resident Chrissy Azarian, her children, Kevin, 13, and Natalie, 9, are her life—and in her career as a hospice nurse for VITAS Innovative Hospice Care in Mount Laurel, she is faced with the realization of just how precious life is every day. "My kids are the best gifts I'll ever receive … and my line of work has really helped me keep things in perspective," she says.
A registered nurse for 20 years, Azarian manages to juggle her emotionally demanding career with being a mom. "Sometimes it feels like I've worked a full-time job just getting the kids ready and out the door for school in the morning … and my day is just beginning," she says. She traded in her 15-year post at Our Lady of Lourdes Medical Center in Camden five years ago to work in a hospice setting. "I just want to take care of people, and I really felt I could make a difference," she says. Whether they're outside playing hockey together, catching up on their favorite television shows, or taking in a Philadelphia Phillies game, Azarian always makes time just to hang out with her children. "It's the everyday stuff that I cherish the most," she says.
Azarian also manages to find the time to volunteer; she teaches her daughter's CCD classes at Our Lady of Perpetual Help in Maple Shade. A single mom, Azarian relies on the support from boyfriend Dan and her parents John and Natalie.
Though she tries to "leave her work at work," she says, Azarian is always honest with her children about the demands of her career—and believes it helps them to value what's most important in life. "I've seen things I wish I didn't see, but I try to instill in my kids that every day is a blessing, and you have to appreciate every moment," she says.
Christine Pietrow Christine Pietrow is a powerful role model for her children, but she's equally inspired by Quentin, 17, Samantha, 12, and Christopher, 9. She works as an administrative assistant at Musulin Law Firm, LLC in Mount Holly by day, but along with husband, Rich, a police detective in their hometown of Maple Shade, she also serves as a licensed foster parent—and the family recently welcomed a new addition to the family—3-year-old Owen.
When Christopher was diagnosed with Down syndrome shortly after he was born, Pietrow's devotion to helping children succeed grew even more. "It turned out to be such a blessing … it has completely changed my life and who I am as a person," she says. Her son's diagnosis came as a surprise, but her reaction was steadfast: to do her best not only to help her own son flourish, but to reach out to other families and help promote awareness and support for children dealing with disabilities. "I didn't want to sit on the sidelines waiting for change … I wanted to be part of the change," she says. As such, Pietrow and her family participate in the Buddy Walk for the National Down Syndrome Society, she serves as a councilmember for developmental disabilities for the Partners in Policymaking program, and she has also organized her own local Our Little Hero, COP (for Christopher Owen Pietrow) Buddy Walk.
"Children inspire me so much; they make you think about the things you take for granted. There's nothing like seeing the pride on a child's face when they accomplish something that's difficult for them," she says. "Helping people to think more positively about those who have different abilities than they do makes me feel as though I'm doing something really important."
Though she's busy advocating for children and adults who may not be able to do so for themselves, Pietrow makes sure she's always there for her children. "Like many families, we're busy, we're always on the go … but we work together, and we communicate, and we love each other."
Michele Junod-Memis In Mullica Hill resident Michele Junod-Memis' kitchen hangs a plaque with a quote that was given to her by her daughter on Mother's Day: "Good moms have sticky floors, dirty ovens, and happy kids." And that's exactly the kind of mom that Memis has always strived to be for her four children: Jaclyn, 28, Troy, 24, Kayla, 15, and JT, 10. "Honestly, I'm a mom who loves her kids and who enjoys being a mom. I long for the summer or days off during the school year when we can spend more time together," she says.
The family enjoys some favorite rituals, like Friday pizza night, church on Sundays, and summers at the Jersey Shore, but they also have another shared passion: TOPSports (The Outreach Program for Sports). Inspired by her son, JT, who has Down syndrome, it's a program that helps make team sports accessible to all children with special needs. Memis handles paperwork, her husband, Troy, works as a coach, her daughter is a "buddy," and her son is an athlete in the program. "Bringing a child with a disability into your family comes with many challenges you weren't expecting … you constantly worry if you're meeting all of your children's needs, while trying to help your child with a disability reach his full potential," she says. "We eventually eased into a life where we attempt to give JT everything he needs without making Down syndrome our entire lives—so we have time to enjoy all our children as people."
Within the last year, the family has been instrumental in bringing TOPSoccer (The Outreach Program for Soccer) to their town, and helped transform TOPSoccer of Harrison Township into non-profit organization TOPSports; currently in its baseball season, Memis hopes to introduce bowling and basketball to the program.
Meanwhile, Memis lives her lifelong dream of teaching every single day; as a science teacher in the Glassboro School District, she has worked with students ranging from eighth to 12th graders since 1990. She graduated from Temple University with a bachelor's degree in secondary science education, and earned a master's degree in environmental education from Rowan University.
When she was pregnant with JT and discovered he had Down Syndrome, the family received information and support from a young couple within the KIIDS organization (Knowledge and Information about Individuals with Down Syndrome), and were inspired to give back. Memis serves as secretary of the organization, and Troy as an outreach coordinator.
"The most rewarding part of being a mother is when I feel like I'm helping my children to be better people," she says. "I kissed my husband goodbye the other morning and JT told us we were beautiful; my 15-year-old daughter will grab my hand in the car when I pick her up from practice and sincerely ask, 'How was your day?'" she says. "My 24–year-old texts me he loves and misses me, and my 28-year-old never fails to remind me how much it meant to her that I always attended her sporting events."
Mary Whipkey Though her three children are all grown up, Mary Whipkey remains just as loving and devoted a mom to Patrick, 30, Molly, 28, and Shane, 26. She recently added grandmother to her list of titles; Patrick welcomed Kayleigh in February, and Molly's son is due in July. "Now that my kids are having kids, I think the most important thing you can give to your family is time," she says. "I tried to always be there to support and listen to my kids, and I know they'll do the same for their children."
Whipkey and her husband, Colin, a specialty sales pharmaceutical representative for Genentech, reside in Marlton, though her family's memories remain deeply rooted at the Jersey Shore. She cares for her father, who owns a home in Wildwood Crest, and the beach remains the family's favorite place to spend time together. "My kids grew up at the Jersey Shore … there are just so many memories there," she says. All three of her children have worked in various jobs at the Jersey Shore over the years, including waitressing and lifeguarding.
Along with their shared passion for sun and sand, Whipkey also made sure her children remained connected to their Irish heritage; they can often be found together checking out Irish bands. "I think what also keeps us so close is our communication … everything has always been on the table, and there was never hiding anything," she says.
When Whipkey was diagnosed with stage-three breast cancer in 2007, the family's bonds just grew that much stronger. "It was a life-changing experience not just for myself, but for the entire family," she says.
"It makes you appreciate life just a little bit more." Six years later, she is a cancer survivor who remains dedicated to her job as director of admissions for Camden Catholic High School. "This was always a dream of mine … education has always been very important in our family," she says.
After earning her undergraduate degree at Villanova University and working for 13 years in pharmaceutical sales, Whipkey succeeded in earning her master's degree in professional communication from La Salle University while taking care of her family thanks to a strong work ethic that she aimed to instill in her own children. Today, Patrick is a project manager for IMS Audio Visual, Molly is an area sales manager for MillerCoors Brewery, and Shane is a sales associate for the Canadian sales team at Bloomberg. "It took me several years, and I had to take classes at night, but it was a goal of mine … so I did it," she says. "I wanted my children to grow up to be responsible, hardworking people, and to realize their own strengths."
Jackie Mattia To truly understand Jackie Mattia's impact as a mother, one needs only to look at the accomplishments of her son, AJ, 13. He was diagnosed with cancer in March of 2011, and 11 surgeries later—including a leg amputation—he has been in remission since December of last year, and has become a strong proponent for pediatric cancer research. After selling golden shoelaces to raise some $30,000 for the Go4TheGoal Foundation, he has since decided to launch an organization of his own. "I've always believed in supporting my children … whether that means attending their sporting events or helping them beat an illness," she says.
A hairstylist and decorator, Mattia is a single mom who has always made her family—AJ, Nicholas, 12, and Gabby, 10—her top priority. What she didn't realize was that she would end up building a whole new family within her community in Washington Township. "We don't have relatives nearby, so I had to learn a hard lesson for the sake of my kids—how to say 'yes' to accepting help," she says, recalling how many people in the community came together to help the family coordinate their day-to-day responsibilities with AJ's hospital visits and treatments. "It's because of their overwhelming support that today, even the rainiest of days is sunny to me."
As such, Mattia has instilled a strong urge to give back in her children, and while AJ tenaciously fights for funding and awareness of pediatric cancers, Mattia strives to always be there to lend a hand to someone in need. "My community became my family, and I feel so blessed and grateful for anything someone else does for me … so I'll do anything I can to give back," she says. "You can't help but realize that there's always somebody else in a worse situation than you are, and you have to be grateful for every moment."
Like many moms, Mattia struggles to balance it all, from work to going back to school to preparing dinner to cheering on her kids at their baseball games and hockey matches and other various sports and after-school activities—but she does it with a smile on her face. "It's hard to juggle it all sometimes ... my life is crazy and chaotic and sometimes I just don't know how we do it," she says. "But I wouldn't want it any other way."
Published (and copyrighted) in Suburban Family Magazine, Volume 4, Issue 3 (May, 2013).
For more info on Suburban Family Magazine, click here.
For information about advertising in Suburban Family Magazine, click here.
To find out where to pick up your copy of Suburban Family Magazine, click here.