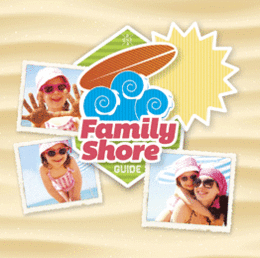 Family Shore Guide
It wasn't too long ago that we wondered what kind of summer season we'd have on the Jersey Shore; would our favorite beaches and token sweet treat spots for the kids be prepared for us after Sandy? But after doing our research, we can't believe it was ever a question. All along the coast, towns are gearing up for what could be the best year yet. Thanks to the resiliency of volunteers and business owners, they're ready, and summer just can't come soon enough for us—this year more than any other.
This year, we've put together a town-by-town guide of everything you need to know to plan your itinerary, starting with where to kick off your day with breakfast to how to wind down at night. We know we can't tell you how to pack your kids' endless amount of belongings. No one's figured that one out quite yet; but we can tell you what to do when you get there.
AVALON
Meal Planner
Uncle Bill's Pancake House (3189 Dune Drive, 609-967-8448) remains one of the most popular breakfast choices in Avalon (pop star Taylor Swift was spotted grabbing pancakes here in 2011), but reservations can get pretty lengthy, especially during holidays and weekends. The unassuming Fishin' Pier Grille (32nd and Boardwalk, 609-967-8144), located right at the end of the boardwalk, is one of the area's best-kept breakfast secrets, and serves up tons of classic breakfast plates, including our area's much-loved fried scrapple. When it comes to on-the-go, though, locals remain true to Gertie's Deli (2001 Dune Drive, 609-368-3900) for their quality hoagies and fresh-pressed paninis. But don't neglect the power of a quality slice of pizza, like what you'll get at Circle Pizza (21st and Dune Drive, 609-967-7566). The kids will like their signature buffalo and BBQ chicken pies, while we suggest you power up with a slice of Athlete Pie, which uses whole-wheat dough and lots of fresh veggies for an added energy boost. And after a full day in the ocean, what is more appealing than seafood? For shellfish alongside kid-friendly alternatives, head to Bobby Dee's Rock 'N Chair (2409 Dune Drive, 609-967-3300). Little ones will love the fried shrimp and brick oven pizzas, while you can chow down on potato-crusted Norwegian salmon or fresh-made crab cakes.
Beach It
You'll find plenty of public bathrooms by the 32nd Street beach at Borough Hall (32nd and Dune Drive), but no showers or changing areas. You can make a call to the Avalon Beach Patrol (609-967-7587) and rent free surf chairs at 9th, 30th and 80th streets to assist handicapped beach-goers when navigating the sand. Surfers want to paddle over to 30th Street; and if you're thinking of bringing a raft or inflatable ocean toys, look into their raft beaches (located at 12th, 18th, 24th, 28th, 35th, 40th, 50th, 61st, 69th and 78th streets).
Snack Time
There's no shortage of great ice cream counters here. Ask any two locals and you're bound to get two different answers as to what reigns supreme, but both Avalon Freeze (23rd and Dune Drive, 609-967-4141) and Sunday Best Homemade Ice Cream (2900 Dune Drive, 609-368-1121) remain at the front of the pack. For a quick mid-meal bite you'll want to try out The Real Enchilada (224 21st St., 609-967-8226), which serves up perfectly portioned shrimp and fish tacos.
Just for Fun
Mini golf goes extreme at Pirate Island Golf (2738 Dune Drive, 609-368-8344), where 18 holes take interesting twists and turns through a pirate-themed course. You can head out for a full day of fishing with Miss Avalon II (1400 Ocean Drive, 609-967-7455), where a professional crew will guide fisherman of all sizes through the life of a deep-sea wrangler.
Parents' Night Out
When it comes to date night dinner, The Diving Horse (2019 Dune Drive, 609-368-5000) is a necessary stop. This BYOB does fine dining right, with plates like locally sourced Barnegat Light scallops and short ribs in a tomato conserva. And you won't want to neglect the nightlife, including The Princeton (2008 Dune Drive, 609-967-3465), which has its own night shuttle, live DJs and constantly rotating band appearances. Don't feel guilty about booking a babysitter; after all, you need a vacation, too.
Rainy Day Activity
There's plenty of great boutiques to shop the rainy day away, like The Preppy Palm (2533 Dune Drive, 609-368-7300) for women's apparel and Global Pursuit (262 96th St., 609-368-5556), which sells high-end active wear for all ages. You can always get a taste of the tubular past and head over to the Avalon History Center (215 39th St., 609-967-0090) for their summer exhibit on the history of surfing in Avalon.
Datebook
Avalon Family Fun Fest, July 1-5 at various locations, (609) 967-8200, AvalonBoro.org
"The Brendan" Surf Contest and Movie Night, Aug. 2-3, at various locations, 609-967-0100, BrendansFund.org
National Night Out, Aug. 6, 6 p.m. at 30th and Avalon Ave., (609) 967-8200, AvalonBoro.org, prices vary
CAPE MAY
Meal Planner
Most Cape May regulars flock to The Mad Batter (19 Jackson St., 609-884-5970) to start their day. There you can find award-winning pancake platters alongside inventive omelets, Belgian waffles and egg plates. For breakfast on-the-go, don't neglect Zoe's Restaurant (715 Beach Ave., 609-884-1233), located right across from the beach. Their from-scratch menu has the typical pancake dishes, but go for one of their monster, homemade and seasonal muffins. Need a mid-day beach break? Step off the sand and across the street to Hot Dog Tommy's (319 Beach Ave., 609-885-8388), which has become a bit of a Cape May landmark. The tiny stand creates hot dog concoctions with toppings like crushed potato chips, chili and even mashed potato. But if you're not willing to brave Tommy's continuous line, you might want to try Key West Tacos (479 W. Perry St., 609-898-8226), which loads up tacos, nachos and rice with fixings like lump crab, sloppy Joe meat, and Ahi tuna. When it comes to evening eats, The Lobster House (906 Schellengers Landing Road, 609-884-8296) has become a local staple in fine dining, but we like to sit on their fast-casual side of the dock. Built right into Fisherman's Wharf, the open eating space and raw bar serves up The Lobster House's fresh seafood options in a more relaxed and kid-friendly atmosphere, with a view that's hard to beat. For a more dressed-up night out, check out Lucky Bones Backwater Grille (1200 State St., 609-884-2663), which serves amped-up pizzas, burgers and entrees alongside an extensive kid's menu that has healthy options like grilled salmon at surprisingly affordable prices.
Beach It
Beach Ave. between Howard and Congress streets is packed with public bathrooms, outdoor showers and lots of on-the-go eateries. Plus, metered parking runs along the street and is only steps from the sand, and takes the pain out of hiking your beach chairs, umbrellas, towels and toys to that perfect spot.
Snack Time
Cool down at Cione (315 Ocean St., 267-496-7788), which serves up specialty Italian-inspired gelatos like panna cotta, white chocolate and stracciatella—or chocolate chip—that will make kids and grown-ups equally happy. Or you can go with the old standard, Uncle Charley's Ice Cream (310 Washington St., 609-884-2197), which proves classic ice cream flavors never go out of style. Then again, you can just follow your nose to the Cape May Popcorn Factory (43 Perry St., 609-898-7779) and try one of their handmade popcorn and kettle corns, including candy-coated flavors like banana, pina colada and strawberry banana. But you can't come to Cape May without stopping by James' Candy Company (326 Washington St., 609-345-2177) for their famous Fralinger's saltwater taffy and coconut macaroons. These classic Jersey Shore snacks have become a staple in Cape May since the early 1900s, and have some serious staying power.
Just for Fun
One of our favorite days out starts aboard one of Cape May Whale Watcher's (1218 Wilson Drive, 609-884-5445) ships, where visitors of all ages spend a full day on the open ocean watching for dolphins, whales, porpoises and more marine life. Older kids and teens who can go a bit longer on their feet will want to try a trek up to the top of the Cape May Lighthouse (215 Lighthouse Ave., 609-884-5404) to get a full view of the area. Meanwhile, grab a helmet and take your little ones for a spin on a surrey. And don't forget the Cape May County Park and Zoo (707 Route 9 N., 609-465-5271), a fun and free spot with more than 550 animals in exhibit, including giraffes, bears, lizards, snakes and even some baby snow leopards, born this past April.
Parents' Night Out
There's no shortage of grown-up getaways. You could spend a full day at Congress Hall (251 Beach Ave., 609-884-8421), the resort with spa treatments available at the Sea Spa, fine dining at the Blue Pig Tavern, cocktails at The Brown Room, and a thriving club scene at The Boiler Room. Or you could enjoy one of the area's many wineries, like the fairly new Willow Creek Winery (168 Stevens St., 609-770-8782) or Turdo Vineyards (3911 Bayshore Road, 609-884-5591).
Rainy Day Activity
No amount of rain can stop the tickets from flowing at the boardwalk's two arcades, Family Fun Arcade (732 Boardwalk, 609-884-7020) and Cape May Arcade (406 Beach Ave., 609-884-1311), each with classic games like skeeball to entertain everyone. There's also the Naval Air Station Wildwood Aviation Museum at Cape May Airport (500 Forrestral Road, 609-886-8787), the former WWII dive bomber training facility which now houses interactive flight displays and historic planes and engines.
Datebook
24th Cape May Music Festival, May 26-June 13 at various locations, (609) 884-5404, CapeMayMAC.com, prices vary
Harbor Fest, June 6, 10 a.m.-5 p.m. on Delaware Ave., (609) 884-5508, CapeMayHarborFestival.com, free admission
FunFest, June 8-9 at the Historic Cold Spring Village, 720 Route 9 S., (609) 898-2300, HCSV.org, free admission
Victorian Family Fair, June 28, 10 a.m.-4 p.m. at the Emlen Physick Estate, 1048 Washington St., (609) 884-5404, CapeMayMAC.com, free admission
34th Independence Day Parade, July 6, 1 p.m. near Convention Hall, 714 Beach Ave., (609) 898-5400, CapeMay.com, free
Christmas in July, July 13-14 at the Historic Cold Spring Village, 720 Route 9 S., (609) 898-2300, HCSV.org, free admission
Captain Kidd Treasure Hunt, July 21, 1 p.m. at Convention Hall, 714 Beach Ave., (609) 884-9565, CapeMayRecreation.org, call for pricing
2nd Annual Craft Beer & Crab Festival, Aug. 10, 11 a.m.-7 p.m. at the Emlen Physick Estate, 1048 Washington St., (609) 884-5404, CapeMayMAC.com, free admission
Seafarer's Weekend, Aug. 24-25 at the Historic Cold Spring Village, 720 Route 9 S., (609) 898-2300, HCSV.org, free admission
LONG BEACH ISLAND
Meal Planner
Ship Bottom's The Sandbox Café (2604 Long Beach Blvd., 609-361-2425) is commonly recognized as one of the best breakfast spots around, and one look at their famous sizzling pancakes shows us why. Pancakes come mounded with fruit, butter and confectioners sugar sitting atop sweet maple syrup in a hot deep dish. It's like the breakfast version of a sizzling fajita. Or try the cinnamon raison French toast—or their signature creation, The Cyclops—at Mustache Bill's Diner in Barnegat Light (Broadway & Eighth St., 609-494-0155). For lunch, you can't go wrong with the heart-smart, low-sodium options at Greenhouse Café (6th St. & the Blvd., 609-494-7333) or the hot wings at The Chicken or the Egg (207 N. Bay Ave., 609-492-FOWL), where sauces range from mild to ludicrous. To wrap up the evening, keep it simple and stop by Panzone's in either Surf City (2117 Long Beach Blvd., 609-494-1114) or Beach Haven (1106 N. Bay Ave., 609-492-5103) for a gourmet pizza (think eggplant).
Beach It
Made up of six separate municipalities, LBI has approximately 18 miles worth of beaches, so everyone has their favorite spot. Start off in either Surf City or Beach Haven; it's convenient, being they're the first stops off the bridge, and they're the more family friendly spots. Plus, it's convenient to check out all the nearby sans beach attractions, such as Fantasy Island.
Snack Time
We know they're known for their burgers (where you can get anything from a classic to a peanut butter burger), but it's the enticing sides like fried zucchini sticks and pickle chips that draw us to Woodies Too (13410 Long Beach Blvd., 609-492-1189). For something light, the Pearl Street Market (229 Pearl St., 609-492-3910) offers fresh seafood, gourmet cheeses and breads, while for the sweet tooth fix, you have to try Showplace Ice Cream Parlour (Centre St. & Beach Ave., 609-492-0018). The staff sticks to the sundae basics to offer a traditional treat, but the presentation is what stands out. Expect traditional red and white pinstripe uniforms, and servers appearing to come straight off the stage at neighboring Surflight Theatre, putting on music and gimmick routines for patrons.
Just for Fun
Known as a family casino arcade, Fantasy Island (320 7th St., 609-492-4000) offers all the classic games for every member of the family plus outdoor rides from the dragon coaster to the scrambler. Thundering Surf Waterpark (Bay & Taylor Ave., 609-492-0869) provides a way to keep cool without the sand whether it's the lazy river, towering waterslides or flowboarding. And don't forget there's more to LBI nature than the beach: Take the family to Barnegat Lighthouse State Park (Barnegat Light, 609-494-2016) for hiking trails, fishing and bird watching.
Parents' Night Out
For some serious romance, couples have to reserve a candle-lit table at The Gables (212 Centre St., 609-492-3553), whether it's inside the pristine Victorian by the wood-burning fire or outside in the garden courtyard, where the chef draws inspiration from local organic meats, produce and fresh-caught seafood. If there's time for a nightcap on the way home, make it at Daddy O's Hotel (4401 Long Beach Blvd., 609-494-1300). Not sure what to order? Try the Liberace sparkling cosmo; you can thank us later.
Rainy Day Activity
The Surflight Theatre (201 Engleside Ave., 609-492-9477) is a reliable source of entertainment on those rainy days. This summer, the Children's Theatre series will include performances of Cinderella, Peter Pan and Captain Hook, The Cat in the Hat, Alice in Wonderland, Sleeping Beauty and Willy Wonka.
Datebook
LBI Thank You Fest for First-Responders, June 14-16, varying times and locations across the island, LBIThankYouFest.org, free
Jazzy Scallop Festival, June 29, 2:30-5 p.m. at Viking Village Commercial Fish Dock, 1801 Bayview Ave., (609) 494-0113, VikingVillage.Homestead.com, $25 in advance, $30 at the door
Ship Bottom Summer Sizzle, July 6, 2-10 p.m. at Ship Bottom Fire Company, (609) 494-2561, ShipBottomFireCo.com, donations requested
MARGATE/VENTNOR
Meal Planner
Start your day off just two blocks from the beach at Hannah G's (7310 Ventnor Ave., Ventnor, 609-823-1466) and get it started right with their "power cakes"—organic pancakes with your choice of fresh fruit topping. There's also a gluten-free menu. For lunch, it's all about the convenience with Dino's Sub & Pizza Shop (8016 Ventnor Ave., Margate, 609-822-6602). Hoagies and pizza plus beach delivery; need we say more? Depending on what you're in the mood for come dinner time, there's Burger.org (8409 Ventnor Ave., Margate, 609-350-7039), where you can't go wrong with their selection of classic burgers for the kids and maybe the El Dorado burger, complete with hummus, mushrooms and eggplant, for mom or dad. For something a little more dressed up, try the family-friendly Red Room Café (141 N. Dorset Ave., Ventnor, 609-822-1067), where the Gatta family takes great pride in their housemade pasta and mozzarella specialties.
Beach It
Good news for those lugging all of their kids beach toys: Margate's beaches are narrower than most others along the coast; and Ventnor is always less crowded than its Atlantic City neighbor. Just keep in mind that Margate's restrooms are located at Huntington Avenue's Bloom Pavilion, Rumson Avenue, Benson Avenue's Greenhouse and Adams Avenue, while Ventnor's are at Suffolk and New Haven avenues, the Fishing Pier and City Hall.
Snack Time
If you need something on the beach to tide you over until dinner, stop by Hot Bagels & More (7807 Ventnor Ave., Margate, 609-823-4144) for their selection of muffins, banana bread and other baked goods that'll keep you snacking all day. Whether for lunch or a sugar fix, stop by Junior's Doughnuts & Dogs (9315 Amherst Ave., Margate, 609-823-8790), and the Margate Dairy Bar (9510 Ventnor Ave., Margate, 609-822-9559) is a must for anything from creamy soft serve to funnel cake fries, often accompanied by live music, too. Plus, the place is in the midst of a complete renovation post-Sandy.
Just for Fun
For a day on the water, try back bay fishing or, for those with strong sea legs, a six- or eight-hour deep sea fishing trip with Jessie O' Fishing and Cruising (9317 Amherst Ave., Margate, 609-412-3635). If venturing out of town, the amusements at Storybook Land (6415 Black Horse Pike, Egg Harbor, 609-646-0103) are within a 30-minute's drive, and there's the nearby Marine Mammal Stranding Center (3625 Brigantine Ave., Brigantine, 609-266-0538), a nonprofit open to the public complete with a museum and gift shop.
Parents' Night Out
Make sure you reserve a table at Salt Ayre Bistro (7309 Ventnor Ave., Ventnor City, 609-428-6952) if you didn't during their inaugural season last year. Whether you choose the lacquered Scottish salmon or oysters on the half shell at this cozy BYO, we recommend starting off with the chicken pate, served on toasted croute with baby greens, bacon, raisins and sherry vinegar. For even more of a raw seafood selection—like a Lobster Rock Roll of lobster tail tempura and spicy kani salad, check out the latest outpost of Megu Sushi (5214 Atlantic Ave., Ventnor, 609-289-8693). If you crave more of a nightlife scene, you'll find it at the Tiki Bar or any of the other indoor and outdoor nooks at Ventura's Greenhouse (106 S. Benson Ave., Margate, 609-822-7668).
Rainy Day Activity
What better place to spend a rainy day than at Lucy the Elephant (9200 Atlantic Ave., Margate, 609-823-6473)? As if it wasn't iconic enough, it quickly became the face of the "we survived Sandy" movement. There's also the nearby Atlantic City Aquarium (800 N. New Hampshire Ave., 609-348-2880) where you'll find a tropical rainforest, terrapin turtles, sharks and a touch tank, and the IMAX Theatre at the Tropicana (2831 Boardwalk, 609-340-4000).
Datebook
Margate Farmers Market, June 13 through Aug. 29, 8:30 a.m. to 12:30 p.m. every Thursday at Monroe & Amherst avenues, (609) 823-1163, SteveAndCookies.com
OCEAN CITY
Meal Planner
With the kids anxious to hit the sand, a quick stop for breakfast might be just what you're looking for. In that case, we recommend Browns (110 Boardwalk, 609-391-0667). While they're known for their fresh doughnuts, you can also grab any number of breakfast options, like the Browns Special—eggs scrambled with crisp bacon. Come lunchtime, try Augie's Omelette House and Waffle Grill (709 E. 9th St., 609-391-0222). It's the perfect stop if you skimped on your breakfast—think anything from a Spanish frittata to the Chunky Monkey Belgian Waffle thanks to breakfast served all day—or go for the lunch menu, packed with all the standard club sandwiches. For something a little different, try the spicy tuna wrap with Cajun seasoning. When you're winding down at night, you never really know how tired kids are going to behave, but we have found the eclectic menu—and outdoor seating—at Island Grill (100 Atlantic Ave., 609-391-9616) to be the perfect spot. The kids can keep it simple with a flatbread pizza or grilled shrimp. But for the adults, sample the fresh, baked tilapia with maple pecan crust or, if you're feeling a little adventurous, check out the "safari menu," which is constantly changing but offering out of the ordinary fare such as wild boar, alligator and even kangaroo.
Beach It
There are two key components to picking the best beach for parents: access to parking and, yes, bathrooms (especially ones with changing tables.). That's why we go straight to the 59th Street beach. Of course there's bathrooms up and down the boardwalk, but here you're a little bit removed from the hectic hunt for a parking spot, plus this is one of two locations with sand wheelchairs available if handicapped accessibility is an issue. If you want to be in the center of the action, try the Music Pier at Moorlyn Terrace and the Boardwalk.
Snack Time
We can't ignore the staples that no trip to the beach would be complete without (we're looking at you Fudge Kitchen, 800 Boardwalk, 609-884-2834). But don't be afraid to venture off the boards. Step back in time with Johnny B Goode's '50s-themed ice cream parlor (14th and Asbury Ave. or 34th and West, 609-525-0646, 609-525-0648) and enlist your family's help to finish the Duke of Earl banana split.
Just for Fun
For a bargain, we recommend Playland's Castaway Cove (10th and Boardwalk, 609-399-4751) And mark June 26 on your calendar: They're offering unlimited rides for $10. For those drawn to the waves, the 7th Street Surf Shop (720 Asbury Ave., 609-398-7070) offers surf lessons for kids as young as 6. North Star Fishing & Cruises offers half- and full-day excursions (300 Bay Ave., 609-391-8300), while those looking for a little bit of fright in the night will enjoy Ghost Tour of Ocean City (tours start at 9th St. and Asbury Ave., 609-814-0199), where legends of haunted Victorian homes, pirates and the Jersey Devil will come to life. And don't forget Family Night, held every Thursday in July and August on the boardwalk, full of free activities such as face painting, music and karaoke.
Parents' Night Out
Did you know the Flander's Hotel isn't reserved just for guests? Their Emily's Restaurant (11th St. and Boardwalk, 609-399-1000) serves a seasonal menu and provides just the white tablecloth fine dining experience you crave—plus patio dining—without traveling too far from the kids. For fresh local fare from clam chowder to steamed mussels and lobster, hit up Spadafora's Restaurant and Clam Bar (843 Atlantic Ave., 609-398-6154) a casual, unassuming spot that's earned its solid 33-year reputation. If relaxation is what you seek, look no further than the one-hour or 90-minute couples' massage at Compass Spa & Wellness (803 E. 8th St., 609-399-9136).
Rainy Day Activity
There's numerous indoor amusements such as Jilly's Arcade (12th St. and Boardwalk, 609-399-2814) and Gillian's Wonderland Pier (6th St. and Boardwalk, 609-399-7082), but for something different, try some walk-in arts and crafts at the Butterfly Boutique (943 Asbury Ave., 609-391-0812) or pottery projects at Glazed Over Studios (854 Asbury Ave., 609-398-8880).
Datebook
41st Annual Ocean City Flower Show, May 31-June 2 at the Music Pier, Moorlyn Terrace & Boardwalk, (609) 525-9300, OCNJ.us, free admission
Wonder Bear's Birthday Bash at Gillian's Wonderland Pier, June 6, 6 p.m. at Gillian's, 6th St. & Boardwalk, (609) 399-7082, OCNJ.us, all rides cost 1 ticket
Johnson's Popcorn Father's Day Family Fun Fest, June 16, 1 p.m. at the Music Pier, Moorlyn Terrance & Boardwalk, (609) 399-2629, free, some fees may apply
Broadway on the Boardwalk, June 26, 7:30 p.m. at the Music Pier, (609) 525-9300, OCNJ.us, $20/$18 admission
Sand Sculpting Contest, July 3, 9 a.m. at the 6th Street Beach, (609) 525-9300, OCNJ.us, free
Nights in Venice, July 20, 6 p.m. from Longport Bridge to Tennessee Ave., (609) 525-9300, OCNJ.us, free
SEA ISLE CITY
Meal Planner
A big league breakfast favorite around town has always been Dock Mike's Pancake House (4615 Landis Ave., 609-263-3625), where they reinvent the standard pancake with ingredients and cranberry, orange and even coconut. Or grab a quick breakfast sandwich and some beach snacks at Blitz's Market and Grill (86th and Landis, 609-263-3149). Hank Sauce (8605 Landis Ave., 609-602-4663) has become famous for the company's hot sauce blends, but don't miss out on their small and mighty menu featuring burgers, wraps and sandwiches. For pizza and classic Italian dinner entrees that the entire family can agree on, check out Uncle Oogie's Pizzeria's (6208 Landis Ave., 609-263-6086) impressive sit down and take-out menus. But if you want a fun family night out, sit down dockside at Mike's Seafood (4222 Park Road, 609-263-3458) right on the water, then grab some food for the Shore house at Mike's adjoining market.
Beach It
The surf's always up at Heritage Surf & Sport (3700 Landis Ave., 609-263-3033). You can rent foam long boards, then take them right across the street to the 37th Street surf beach for a full day of shredding. You'll find public bathrooms at 32nd, 40th, 44th and 85th streets, and volleyball nets set up for the public to play with at 25th, 30th, 35th, 53rd, 57th, 67th 72nd and 88th streets.
Snack Time
Sea Isle City has joined in the frozen yogurt fun with YoHo Frozen Yogurt House (4215 Landis Ave., 609-486-6927), a pour-your-own shop with low-fat flavors and plenty of topping choices. Then there's the much-loved standard, Marita's Homemade Ice Cream (5912 Landis Ave., 609-263-6800) and their creative ice cream and water ice flavors like s'mores and white chocolate mousse. And traditionalists can still get their fill and stop by James Candy Company (14 John F. Kennedy Blvd., 609-263-3657) for the Shore regulars like salt water taffy and handmade fudge.
Just for Fun
Gillian's Funland (42nd and Bay, 609-263-1363) is a fun alternative to the ocean, with tons of amusement park rides for kids and teens. Rent a boat for a full day or half day at Larsen's Marina (7 Ludlum Landing Road, 609-263-1554). You can also rent crabbing supplies and fishing poles if needed. You can also rent some beach cruisers at SIC Cruisers (6300 Landis Ave., 609-263-3700) and spend a day biking around the island.
Parents' Night Out
Sure, you come to the beach for the waves, but just as many come to Sea Isle City for the nightlife. The Dead Dog Saloon (3815 Landis Ave., 609-263-7600) always has live music going, while Shenanigans (3815 Landis Ave., 609-263-3900) is always ready with a new cocktail or drink special. But if you're looking for a quiet night out, try dinner at the BYOB La Fontana (5000 Landis Ave., 609-486-6088) or a massage at Elements Salon & Spa (4315 Landis Ave., 609-263-1161).
Rainy Day Activity
Take a look at summers past at the Sea Isle City Historical Museum (4800 Central Ave., 609-263-2992), which features rotating exhibits and a gift shop. You can stock up on beach gear for the sunnier days or just splurge on yourself at shops like Jamaican Me Crazy (4204 Landis Ave., 609-263-0330) and the White Lotus Boutique (28 38th St., 609-287-7217), or find a good read to curl up with at The Book Nook (3500 Boardwalk, 609-263-1311).
Datebook
Eastern Surfing Association Surf Contest, June 1, 7 a.m.-5 p.m. at the 40th Street Beach, 609-884-5277, SNJ.SurfSea.org, free with beach pass
Health and Fitness Fair, June 1, 9 a.m.-noon at Excursion Park, JFK Blvd., and Pleasure Ave., (609) 263-9090, Sea-Isle-City.NJ.us, free entry
Sea Isle City Craft Beer Festival, June 8, 3-7 p.m. at Kix McNutley's, 63rd and Landis Ave., 609-263-9090, price TBD
Skimmer Festival, June 15, 9 a.m.-4 p.m. at JFK Blvd. and The Promenade, (609) 263-8687, Sea-Isle-City.NJ.us
Junior Olympics, July 4, 9:30 a.m. at Dealy Field, 59th St. and Central Ave., (609) 263-0050, Sea-Isle-City.NJ.us, call for pricing
Baby Parade, July 17, 6:30-7:45 p.m. at the Promenade, 34th to 44th streets, 609-263-8687, Sea-Isle-City.NJ.us, free
STONE HARBOR
Meal Planner
Start the day at Polly's Place (9627 3rd Ave., 609-769-5191) with some of their pancakes or omelets and seating right on the bay. Yvette's Café (221 96th St., 609-368-1855) is close to the beach and a great spot to break for a quick lunch, or head down toward the bay and grab a slice at Stone Harbor Pizza (315 96th St., 609-368-5454). The Food Network's Diners, Drive-Ins and Dives stopped by the Quahog's Seafood Shack (206 97th St., 609-368-6300) to dive into their fresh shellfish dinners, and on a trip to Stone Harbor we're likely to do the same. Still, after a day of big waves and lots of exercise, sometimes a healthier alternative can be refreshing, and for that we suggest The Green Cuisine (302 96th St., 609-368-1616). You'll find lots of lighter entrees using fresh veggies and low-fat proteins.
Beach It
Unlike most beaches, pets are allowed to enjoy the ocean every night from 7 to 9 p.m. with a leash. During the day, you'll find public and free parking on most streets running right up to the beach with public bathrooms at 82nd, 95th and 103rd streets. Plus, you can stop by Harbor Bike & Beach (9828 3rd Ave., 609-368-3697) and rent some chairs, boogie boards or beach gear and avoid the stress of packing your car up after a long day.
Snack Time
Doughnuts and sticky buns from the Bread & Cheese Cupboard (246 96th St., 609-368-1135) are addicting, and their pepperoni bread is the ultimate diet-busting snack. Or you can cool down at Springer's Homemade Ice Cream (9420 Third Ave., 609-368-4631) with more than 45 ice cream options like blueberry cheesecake, cotton candy, and maple walnut made in-store every day. There's also Tutto Gelato (9712 Third Ave., 610-761-3551), which serves up a creamier, lighter Italian-style ice cream.
Just for Fun
Get in touch with nature at The Wetlands Institute (1075 Stone Harbor Blvd., 609-368-1121) and learn all about the natural wonders located right in your backyard. But a trip to the Shore doesn't seem right without a little mini-golf, so try out the newly renovated Tee Time Miniature Golf (239 96th St., 609-967-5574).
Parents' Night Out
Active moms and dads might want to escape with a day at Stone Harbor Golf Course (905 Rt. 9 N., 609-465-9270) and a few good greens. Or you can take a break from the kids' menus and sandwich shops and enjoy some Asian Fusion at Jay's on Third (9836 Third Ave., 609-368-1000). It's an eclectic BYOB that serves up inventive takes on local ingredients.
Rainy Day Activity
Don't let clouds spoil your kids' creativity. Island Studio (261 96th St., 609-368-6500) offers pottery painting programs along with mosaic classes and glass fusing, which blends colorful glass to create beads, tiles and more.
Datebook
Stone Harbor Seafood Festival, June 8-9 on 96th Street (609) 368-5102, StoneHarborBeach.com
Wetlands Institute's Crabulous Crab Day, July 19, 9:30 a.m.-3 p.m. at The Wetlands Institute, 1075 Stone Harbor Blvd., (609) 368-1211, WetlandsInstitute.org, $8-$30
Stone Harbor Art and Crafts Show, Aug. 3-4 at 80th Street Field, (609) 368-5102, StoneHarborBeach.com
WILDWOOD
Meal Planner
The Marvis Diner (4900 Pacific Ave., 609-552-0550) is open all day, but people line up for breakfast, specifically the endless pancake options and challah bread French toast. Prime Stache (113 N. New Jersey Ave., 609-523-8886) is a fun, new hot dog joint opened last year by the Philadelphia Eagles' own Brent Celek that serves quality dogs and all sorts of sausages with reinvented toppings like pulled pork and spaghetti. The lunch menu at Dogtooth Bar & Grill (100 E. Taylor Ave., 609-522-8383) is good for a sit-down destination with plenty of burgers, salads and paninis. And for dinner, we like to grab a bite on the boardwalk after we hop on a ride or two. For that, there's the legendary Sam's Pizza Palace (2600 Boardwalk, 609-522-6017). The giant Jersey Shore serving is made even better with Sam's simply tasty ingredients. There's plenty of spots off the boards, however, like the Beach Creek Oyster Bar (500 W. Hand Ave., 609-522-1062), a seafood restaurant with fresh options for kids and adults.
Beach It
The best thing about Wildwood beaches? They're free. Your family gets full access to any Wildwood and Wildwood Crest shores without the worry of hiding from pesky beach tag inspectors. There are metered parking spots all around the boardwalk, but check out some of the paid lots to avoid the stress of finding a spot on the street and feeding a meter.
Snack Time
Tornado Fries (3118 Boardwalk, 877-247-8899), or a long skewer of thin-cut, deep-fried potato, spiraled and served piping hot, have become a yummy part of Wildwood boardwalk. Your little all-star will love The Dugout (2810 Pacific Ave., 609-522-5331), a baseball-themed ice cream shop with more than 30 flavors and live baseball games playing through the shop. Above all other snacks, don't leave Wildwood without stopping by Duffer's (5120 Pacific Ave., 609-729-1817) for one of their insane ice cream concoctions.
Just for Fun
Digesting that Duffer's cone is easier to do at the adjoining 18-hole Duffer's Mini Golf Course (5120 Pacific Ave., 609-729-1817). But of course you're on the Wildwood boardwalk, the home of Morey's Piers (3501 Boardwalk, 609-522-3900) and dozens of coasters, water rides, games and carnival rides. There's a ride for every age, and it's pretty hard for even the most stubborn teen to find a reason to be bored.
Parents' Night Out
Escape with a sunset dinner dolphin watching cruise onboard The Starlight Fleet's (6200 Park Blvd., 609-729-7776) ship. Food, drink and a beautiful view of the sunset on Cape May Canal combine for an unforgettable evening. You also can watch the sunset without leaving land at Boat House Restaurant (506 W. Rio Grande Ave., 609-729-5301) and enjoy dinner on their enclosed deck with a view of the harbor. But if you're looking for no frills, good food and a few beers, check out Jersey Girl Bar and Restaurant (3601 Atlantic Ave., 609-523-1800) and stay for the live music and unbeatable cheddar crab dip.
Rainy Day Activity
Head indoors to Pirates of Wildwood (3400 Boardwalk, 609-602-4354), the boardwalk's indoor miniature golf course. It's a 3D course in the dark with only black lights and glow-in-the-dark paint to light your way, and it's like no other course you've seen before. Or check out the Doo Wop Experience museum (5400 Ocean Ave., 609-523-1975) with its Neon Sign Garden shining out front for a look into Wildwood's retro-rad past.
Datebook
Wildwoods International Kite Festival, May 24-27 at the Wildwoods Convention Center, 4501 Boardwalk, (732) 832-4884, SkyFestivals.com, free
Father's Day Festivities, June 16 at Morey's Piers, 3501 Boardwalk, 609-522-3900, MoreysPiers.com, free for fathers
Italian American Festival, June 28-30 at Olde New Jersey Ave. in North Wildwood, (609) 780-2563, KofC2572.org, free entry
New Jersey State Barbeque Championship and Anglesea Blues Festival, July 12-14 at 201 New Jersey Ave. in North Wildwood, 609-523-6565, NJBBQ.com, free entry
Wildwood Baby Parade, July 31, 5:30 p.m. at the Wildwoods Convention Center, 4501 Boardwalk, 609-729-4000, WildwoodsNJ.com, free
Published (and copyrighted) in Suburban Family Magazine, Volume 4, Issue 3 (May, 2013).
For more info on Suburban Family Magazine, click here.
For information about advertising in Suburban Family Magazine, click here.
To find out where to pick up your copy of Suburban Family Magazine, click here.