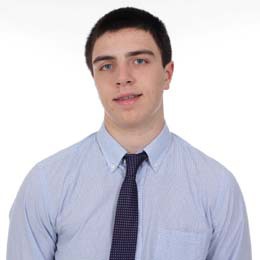 Star Students: May, 2013
Know a Star Student? Tell us about him or her at Family@SouthJersey.com.
Mrs. Barnes' Bells Elementary School Second-Grade Class
Washington Township
Students in Joann Barnes' class learned that civic engagement and literacy go hand in hand after reading the book Pass It On, which is about people who volunteer in the community. After reading the book, they ran a canned food drive in which they donated all proceeds to The Mothers' Cupboard food pantry.
James Wash (pictured)
Marlton
Out of 1,200 students statewide who competed in the State Leadership Conference and Competitive Events in East Brunswick, Cherokee High School sophomore Wash won second place for the Introduction to Technology Concepts competition. He was one of six business students from Cherokee's Future Business Leaders of America club led by business teacher Shellie Hughes who competed, and Wash will be heading to Anaheim, Calif., this summer to compete in the FBLA National Leadership Conference.
Nicholas Maricondi
Mount Laurel
Lenape High School senior Maricondi was awarded the annual Volunteer Service Award for his school. He is one of five winners, one from each school in the Lenape Regional High School District, and was recognized for his hard work participating and leading in projects like Give Kids the World, blood drives, and more.
Mitchell Rothstein 
Voorhees
Rothstein's "Sublimation Nation" project, which focused on figuring out whether water, oil or air sublimate carbon dioxide the best, won third place in chemistry at the Coriell Science Fair.?His project will move on to the Delaware Valley Science Fair, where he will complete against other students in Pennsylvania, New Jersey and Delaware.
Sean McGough
Washington Township
The teaching staff at Washington Township High School recently awarded senior McGough the "People's Choice Award," an award given to students who go the extra mile for others on their own accord. An honor student at the school who recently committed to study psychology at Richard Stockton College of New Jersey in the fall, McGough plays baseball, soccer, football and basketball, but also works with the homeless through the Heart of Camden program, a group dedicated to helping those in need in the city.
Daphni Sawyer
Moorestown
Sawyer, from Moorestown Friends School, submitted several poems to the Scholastic Art & Writing Awards competition, which recognizes upcoming artists and writers in junior and senior high school, and was awarded the Silver Key, which is only given to the top 10 to 15 percent of entries. Judges not only look for skilled works, but originality that illustrates the vision of the writer/artist, and past illustrious recipients include Andy Warhol and Sylvia Plath.
The Cherry Hill East Choirs
Cherry Hill
The Cherry Hill East Choirs conquered the competition at this spring's Boston Heritage Music Festival. The East women took home the award for most outstanding choral group and came in first place for their division. Both the concert and chansons choirs also came in first.
Elizabeth Haddon Elementary Students
Haddonfield
Students at Elizabeth Haddon School have maintained eight raised vegetable beds for the past two years, learning the importance of healthy eating. This year, students were also part of a pilot salad bar program that included vegetables from their own garden, and they were recognized for their efforts by the New Jersey Department of Agriculture's Division of Food and Nutrition during Jersey Fresh Farm to School Week.
Allan Wang
Medford
Wang, a junior at Bishop Eustace, was selected as a New Jersey Governor's School Scholar for the New Jersey Governor's School in the Sciences at Drew University. For a three-week period, he will be immersed in a challenging and intensive program. Governor's School in the Sciences provides a series of courses, laboratories, projects, field trips, seminars, lectures and other activities centered on math and science.?
Kayla Brennan
Marlton
Brennan, an Evans School student, made a presentation to her fellow students and staff at the school during an all-school assembly, encouraging acts of kindness in light of the Sandy Hook Elementary School tragedy. This fourth-grader took the time to explain how her exposure to the book 26 Acts of Random Kindness changed her life, and how her goal for the year was to accomplish her own 26 acts of random kindness in the hopes that others would be encouraged to do the same.
Moorestown High School Students
Moorestown
Instead of having a pep rally this year, the students at Moorestown High School decided to create an event called "Colors for Causes" where teams raised money for different charities. The full-day event included a volleyball tournament and a 5K run, and students were asked to find event sponsors for the charities they picked. The students did not have a fundraising goal in mind, but they wanted to raise as much money as possible for the American Red Cross, the Epilepsy Foundation of Western Central Pennsylvania, the Ronald McDonald House, and the Foundation for Breast and Prostate Cancer.
Lenape High School National Honor Society
Mount Laurel
The Lenape High School NHS raised money for two important causes this year—a friend in need and the Colon Cancer Alliance. When fellow student Matt McConnell suffered a devastating spinal cord injury, the group came together to raise more than $20,000 to help with his medical expenses, and when it came time to choose the recipient of the $700 in funds raised during its dance-a-thon, the group chose the Colon Cancer Alliance.
Published (and copyrighted) in Suburban Family Magazine, Volume 4, Issue 3 (May, 2013).
For more info on Suburban Family Magazine, click here.
For information about advertising in Suburban Family Magazine, click here.
To find out where to pick up your copy of Suburban Family Magazine, click here.