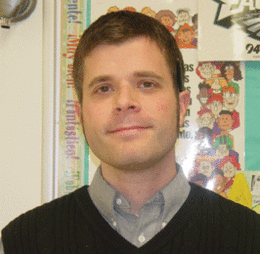 Star Teachers: May, 2013
Know a Star Teacher? Tell us about him or her at Family@SouthJersey.com.
Chris Janeczko (pictured)
Washington Township
The National Endowment for the Humanities (NEH) Summer Seminar for School Teachers selected Orchard Valley Middle School social studies teacher Janeczko to join 15 other NEH Summer Scholars for four weeks in Philadelphia. This summer's seminar will be "The Abolitionist Movement: Fighting Slavery and Racial Injustice from the Revolution to the Civil War," and participants will study humanities topics and text.?Janeczko?will receive $3,300 for research expenses, books and travel expenses as well as a certificate recognizing his participation in the program.
Deborah Lord
Moorestown
The Washington Crossing (PA) Audubon Society selected Moorestown Friends School middle school science teacher Lord, who is also a geologist, to receive a scholarship to attend a teachers' workshop titled, "Sharing Nature: An Educator's Week," in Maine. As a recipient of the scholarship, Lord will have the opportunity to participate in environmental workshops incorporating theater, music, art and journalism at National Audubon's Hog Island Center on Muscongus Bay in July.
Jack Jeckot
Mount Laurel
Teacher and co-founder of Mount Laurel Schools' Special, Talented Enrichment Program (S.T.E.P.), which focuses on musical theater, Jeckot will be retiring in June after 40 years of teaching. Together with wife, Christine, Jeckot has written and performed 15 original plays as well as reimagined countless fairy tales and other stories with S.T.E.P. Their final performance together was Harrington and Hartford elementary schools' spring musical "Rosabella."?
Donald Garecht
Collingswood
The Diocese of Camden's Office of Catholic Schools recognized Good Shepherd Regional School Principal Garecht with the Principal of the Year award for the 2012-2013 school year. Garecht, who has been in the education profession since 1969, has been principal at Good Shepherd since 2005 and was previously a math teacher in Marlton and Philadelphia.
Leanne DeBlieu and Deana Guittar
Marlton
DeBlieu and Guittar were recently honored as Teachers of the Month for Cherokee High School North and South, respectively. DeBlieu is a long-time science teacher and chair of the department, while Guittar is an art teacher, set design advisor for the winter drama and spring musical, as well as advisor for the National Art Honor Society.
Laura Norris
Haddonfield
As the orchestra director at Haddonfield middle and high schools, Norris partnered with Play It For Good, a non-profit group that organizes benefit concerts, to put together a concert with proceeds going toward the schools' orchestra program. Norris, a violinist, performed a variation of her master's degree recital during the concert at the First Presbyterian Church in Haddonfield, and was accompanied by a piano, a French horn and a double bass.
David Reader
Cherry Hill
Reader, a?history teacher at Camden Catholic High School, is not content to just teach his students about history—he also aims to be a part of it.?He recently had an essay published on the effect of the French Revolution on Philadelphia, and?last summer had a fellowship with the Historical Society of Pennsylvania, an experience he presented on at the Philadelphia Federation of Teachers Educational Conference in March.
Vicky Gorman
Medford
Gorman, a seventh-grade science teacher at Medford Memorial Middle School, oversaw the school's entry in the Beneficial School Challenge grant competition. The school received a $5,000 grant thanks to the proposal from two of Gorman's students. The grant will help create a Citizen Science Education Program, an online resource for Medford science enthusiasts that will include weather updates and data on local groundwater.
Michelle Carafiello
Voorhees
Health and physical education teacher and head coach of the Voorhees Middle School girls soccer team, Carafiello organized the 4th Annual VMS Career Fair, an event aimed at helping students learn and grow into successful young adults. A variety of careers were presented to the students by volunteers during three sessions over the course of the day, allowing the students to interact with and be exposed to professionals and careers they may not have previously known about.
Julie Lyons and Tara Bartelt
Washington Township
Eager sixth-grade girls at Bunker Hill Middle School were introduced to a world of mechanics during "Introduce a Girl to Engineering Day," thanks to an ExxonMobil grant obtained by Washington Township science teachers Lyons and Bartelt. This is the 10th year ExxonMobil has partnered with the National Engineers Week Foundation to make the program available and promote interest in engineering while helping to reduce the gender gap in the science, technology, engineering and math (STEM) fields.
Taunton Forge Elementary Teachers
Medford
The state Department of Education last month released a list of the 57 highest-performing schools in the state. As the only "high-performing" school in Burlington County (one of three in South Jersey), Taunton Forge Elementary was on the list, meaning its students' test scores are in the top 10th percentile in the state. Taunton Forge's teachers and faculty were honored by Superintendent Joseph J. Del Rossi for the accomplishment.
Osage Staff Volleyball Team
Voorhees
Teachers and staff at Osage Elementary School won the Voorhees Township Education Association Elementary Volleyball Challenge. Four Eastern High School students will be awarded $1,000 college scholarships thanks to the event, which raised money for the Voorhees Township Education Association Scholarship Fund from concession and ticket sales. Recipients of the scholarship must have attended one of the four Voorhees elementary schools to earn the award.
Published (and copyrighted) in Suburban Family Magazine, Volume 4, Issue 3 (May, 2013).
For more info on Suburban Family Magazine, click here.
For information about advertising in Suburban Family Magazine, click here.
To find out where to pick up your copy of Suburban Family Magazine, click here.