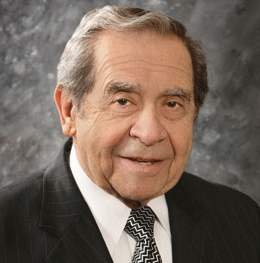 Star Citizens: May, 2013
Know a Star Citizen? Tell us about him or her at
Family@SouthJersey.com
.
Daniel J. Ragone (pictured, photo by Donna Connor)
Haddonfield
Ragone, a certified public accountant, recently received the New Jersey Hospital Association's Healthcare System Trustee Award for 2013. He is a longtime board member with the Kennedy Health System Board of Directors, the Board of Trustees of Kennedy University Hospital and the William G. Rohrer Charitable Foundation. Ragone also received the Kennedy Beacon Award in 2009 and has collected $700,000 in grant money to assist in Kennedy's health programs and expansion.
Eric Stoopler
Cherry Hill
Of 2,500 educators at the University of Pennsylvania, Stoopler was one of seven professors chosen to receive the university's Christian R. and Mary F. Lindback Foundation Award. In addition to being an associate professor of oral medicine at the university's dental school, he is also the director of the Postdoctoral Oral Medicine Program.
Jeremy Shpigel
Mount Laurel
At the start of the baseball season, 12-year-old Shpigel, an infielder in the township recreation league, collected new and gently used baseball equipment for the charity organization Pitch in for Baseball. The collection drive continued through April with bins at Lenape High School, the Mount Laurel Public Library, all of the Mount Laurel fire department stations, and Adath Emanu-El synagogue.
Victoria Napolitano
Moorestown
At the request of Councilwoman Napolitano, Moorestown Mayor Stacey Jordan declared April to be Autism Awareness Month in Moorestown. Napolitano is a local ambassador for Autism New Jersey, as the disorder is an issue dear to her heart. As an ambassador, Napolitano spent the month working to raise awareness in town and to teach acceptance of the disorder.
Sandra Lynch Massi
Marlton
The Burlington County Advisory Council on Women and the Board of Chosen Freeholders chose firefighter and EMT Massi as one of Burlington County's Outstanding Women of the Year. She was honored with the award for her contribution to fundraisers such as the Muscular Dystrophy Fill the Boot fundraiser, Relay for Life, and by completing the Marine Corp Marathon for the I.A.F.F. Charitable Fitness Team. Massi is also a member of the Athletic Trainers Society of NJ, the Mullica Hill Women's Triathlon Club, the Cooper Hospital Critical Incident Response Team, the Burlington County Technical Rescue Team, and the Mercury Critical Incident Stress Management response team.
Jack Schwab
Haddonfield
All it took was a vacant construction lot and strong leadership skills from St. Joe's Prep junior Schwab to create King's Garden, a vegetable garden consisting of several raised beds at Christ the King Regional School. With the help of his fellow Boy Scout troop members, the lot, which was Schwab's Eagle Scout project, was prepared in time for Earth Day.
Art Treiman
Cherry Hill
Local dad Treiman created the?Science Explorers 4-H Club, a robotics club for children between the ages of 10 and 14.?Kids can learn about engineering and science through working together and building different kinds of robots that can be entered in future competitions. Treiman provided all of the machinery and computer programming for the children to work with.
Adrianne Morse
Mount Laurel
This kindergarten student at Countryside Elementary is celebrating her fifth year cancer free by giving back to the community. She hosted an Alex's Lemonade Stand on May 18 at the baseball field at Laurel Acres Park to raise money and awareness for neuroblastoma, the same cancer that took the life of Alex's Lemonade Stand's founder Alex Scott.
Reverend Canon Donald J. Muller
Medford
Rev. Muller was nominated by the Episcopal Election Committee for the position of 12th Bishop of New Jersey, along with eight other candidates from across the country. The position ended up going to a nominee from Florida, but the nomination of Muller, rector at St. Peter's Episcopal Church in Medford, was an honor to both him and his parishioners.
Matt Buchan, Zach Spuler, Jonmarc Rayesky and Connor Hunt
South Jersey
These middle school friends from Mount Laurel, Marlton, Medford and Haddon Heights have been raising money to drill a water well in Nepal. The non-profit organization Water will collect the profits from their fundraising to go toward clean drinking water in third-world countries.?So far, they have raised a little more than $2,000 toward the well and have a goal of raising at least $8,000 by June.
Mark LeChevallier
Voorhees
As director of innovation and environmental stewardship at American Water's headquarters, LeChevallier gave a keynote presentation at the 17th Annual Water Reuse & Desalination Research Conference. The conference took place in Phoenix, Ariz., where LeChevallier spoke about methods of reusing water.
Kim Greer and Maria Arizzi
Washington Township
Five years ago, Greer and Arizzi were dissatisfied with the before-and-after school program available at Whitman Elementary. Leaving their jobs as an ultrasound technician and a financial planner, respectively, they worked together to create Kids Choice at Whitman. Since then, Kids Choice expanded to Bells Elementary, and has now expanded to Birches Elementary.
Published (and copyrighted) in Suburban Family Magazine, Volume 4, Issue 3 (May, 2013).
For more info on Suburban Family Magazine, click here.
For information about advertising in Suburban Family Magazine, click here.
To find out where to pick up your copy of Suburban Family Magazine, click here.