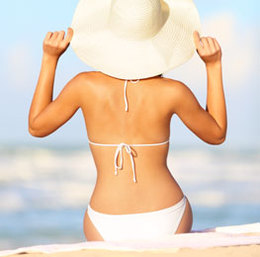 Here Comes the Sun
Before beach season officially arrives, we wanted to stop in honor of Skin Cancer Awareness Month to ask local experts what to look out for and how to be safe this summer.
Skin cancer is the most common form of cancer in the United States—yet it's the most preventable. With the warm weather now upon us, it's important to remember to protect your skin from the sun's damaging rays before it's too late.
The American Academy of Dermatology estimates that one in five Americans will be diagnosed with skin cancer in their lifetime, and more than 3.5 million new cases of skin cancer will be diagnosed in the U.S. this year, with melanoma being the most common form diagnosed among 25- to 29-year-olds. In addition, research shows indoor tanning, including use of tanning beds and sun lamps, increases a person's risk of getting melanoma by 75 percent.
While melanoma is the most serious type, non-melanoma skin cancer includes basal cell carcinoma and squamous cell carcinoma.
"The good news is that skin cancer is preventable," says Dr. Sandra D. Elder of Aesthetic Dermatology and the Skin Rejuvenation Center in Marlton. "The most obvious form of protection is use of a broad spectrum sunblock with an SPF of 30 or higher, reapplied every two to three hours," she says. "It's important to use about an ounce of sunscreen—enough to fill a shot glass—to cover any exposed areas of the body. In addition, try to avoid the sun during the peak hours of 1 to 4 p.m., seek shade whenever possible, and wear a hat and protective clothing if you'll be out in the sun for prolonged periods of time."
What to look for
Additional risk factors for skin cancer include having fair skin, especially if you have blond or red hair and blue, green or gray eyes; previous severe or blistering sunburns; skin that burns or freckles easily, rather than tans; or a significant number of moles on the skin. If a close relative such as a parent has had skin cancer, it also increases your risk of developing skin cancer.
"We continue to see a tremendous increase in the frequency and incidence of skin cancer, which is of great concern because melanoma is a potentially fatal type of cancer," says Cooper University Health Care's Dr. Steven M. Manders, professor of dermatology and pediatric dermatology at the Cooper Medical School of Rowan University in Camden. "Protecting your skin involves more than just the application of sunscreen. It's important to check your skin regularly and be aware of any new or changing spots on your skin. It's always a good idea to have a baseline exam by a dermatologist and check out any suspicious lesions that you notice on your skin."
Dark, pigmented lesions with multiple colors and irregular borders typically indicate melanoma. The American Academy of Dermatology defines the ABCDE's of melanoma as:
* Asymmetry: One half of the lesion or mole is unlike the other half.
* Border: An irregular, scalloped or poorly defined border.
* Color: Varies from one area to the other; has shades of tan, brown or black or is sometimes white, red or blue in color.
* Diameter: Melanoma is usually greater than 6 mm (about the size of pencil eraser) when diagnosed, but can be smaller.
* Evolving: The mole or skin lesion looks different from the rest or changes in size, shape or color.
If you notice any of these conditions on your skin, it's important to seek a consultation with a physician or dermatologist immediately.
"When caught early, melanoma is highly treatable," says Manders. "Treatment options for non-melanoma types of skin cancer typically include cryotherapy, which involves freezing the affected area with liquid nitrogen, the use of a topical cream called imiquimod, which provides a type of immunotherapy that uses the patient's own immune system to fight the cancer, or surgical removal. For more serious melanoma, the treatment is surgical removal."
Tips for prevention
Once a person is diagnosed with skin cancer, the risk of reoccurrence is higher. Regular checkups by a dermatologist can help identify and treat problem areas on a proactive basis. Without treatment, skin cancer can grow deeply and require removing muscle and even bone. Even after removal, there is a chance the cancer can spread and treatment may be more difficult.
In addition to protecting your skin from developing skin cancer, being proactive can help prevent photoaging, or premature aging of the skin. Photoaging is what causes fine wrinkles around the eyes and mouth, age spots and other unwelcome pigmentation you typically see on your skin as you get older. In addition, it causes your skin to feel rough and look weathered.
According to the AAD, photoaging is not just a result of growing older, but is the end result of your accumulated time spent in the sun over the years, and what you did or didn't do to protect yourself from the sun's damaging UV rays. Tips to prevent photoaging include the same measures as preventing skin cancer, including applying sunscreen, staying out of the sun and wearing hats, sunglasses and protective clothing. In addition, skin rejuvenation treatments can help with protection and keeping your skin looking healthy and smooth.
"Chemical peels and microdermabrasions can help keep your skin looking younger and healthy," says Donna Goudge, an aesthetician and skin care specialist at the Lyle M. Back, M.D. Cosmetic Surgery Center of Cherry Hill. "When it comes to protecting your skin, you can also use a moisturizer before applying sunscreen to help keep your skin soft. Wearing a daily moisturizer with a skin tint that matches your skin tone, especially one that that also has an SPF to protect against the sun's UVA and UVB rays, can also keep your skin looking tan and healthy. Even when it's cloudy or overcast outside, it's important to protect your skin."
So go ahead and enjoy the sunshine, but don't forget these important safety tips for both you and your family so you can enjoy many more summers to come.
The first Monday in May was recognized as Melanoma Monday by the American Academy of Dermatology as a kickoff to National Skin Cancer Awareness Month. Throughout this month, the AAD is offering free skin cancer screenings. Just visit AAD.org for more information.
Resources
Aesthetic Dermatology
771 Route 70 E., Suite D-150
Marlton
(856) 596-3393
ElderDermatology.com
Cooper University Health Care
One Cooper Plaza, Camden
1 (800) 8-COOPER
CooperHealth.org
Lyle M. Back, M.D. Cosmetic Surgery Center of Cherry Hill
1942 Route 70 E.
Cherry Hill
(856) 751-7550
ILoveLyleBack.com
Published (and copyrighted) in the Art of Living Well pull-out section of Suburban Family Magazine, Volume 4, Issue 3 (May, 2013).
For more info on Suburban Family Magazine, click here.
For information about advertising in Suburban Family Magazine, click here.
To find out where to pick up your copy of Suburban Family Magazine, click here.