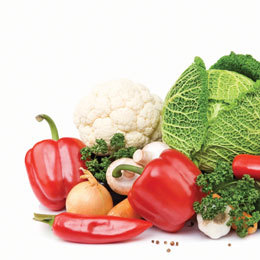 The Right Choices
How the daily dietary decisions you make directly impact your life
You may be familiar with the saying, "You are what you eat," but what you may not realize is that the modern food that we put in our bodies is transforming—becoming more and more processed—and that may be changing our health for the worse. However, with some simple steps and important tips to keep in mind, you can reverse the tide.
How food is affecting us
According to Tammy Lang—the owner of South Jersey Center for Nutrition & Wellness—depression and anxiety are on the rise, and there are more and more cases being reported of ADD or ADHD.
Lang believes a lot of that comes down to modern ingredients and processed foods. "Today, colicky babies [for example] are not really that abnormal, but what we don't realize is that it didn't used to happen all that much," she says. "A big part of that comes from generations of poor eating habits. If you don't get those nutrients, you can pass that on to children."
As pointed out by Jonathan Glyn, marketing team leader of Whole Foods Market in Marlton, what you pass down from generation to generation isn't simply genetics—it also lies in tradition and what you literally place on your plate every day for your family. "[It] affects every aspect of your life, from your energy level to your wallet," Glyn says. "People who have bad diets statistically suffer from diseases that are a result of poor nutrition."
It's as simple as the fact that when we eat poorly, we cannot rebuild the cells the way we should. "Nutrients to cells are like bricks and mortar to a building," Lang says. "You can be subject to obesity, lethargy, sleep issues, headaches, acid reflux, bowel issues, allergic reactions and more. When you eat poorly, you decrease your immunity."
Unfortunately, the majority of Americans follow the Standard American Diet, which is high in both carbohydrates and sugar. It includes high amounts of meat, sugary desserts and fatty foods. "It is a known statistic that if we keep going, by the year 2020, 75 percent of all Americans will be considered obese or overweight," Lang says.
Our diets are making us sick, whether we realize it or not, and it's happening at an alarming rate, according to Lori Langer, a registered dietitian and nutritionist whose business, Live Well Nutrition Consulting, is in King of Prussia, Pa. "Poor eating habits can negatively impact every system in the body, causing heart disease, diabetes, bone and joint afflictions, asthma, skin disorders, gastrointestinal diseases and more. As a population, Americans probably consume the unhealthiest foods."
What we should and shouldn't avoid
It's simple: "Stay away from or limit processed foods," Langer says. "If there are more than a few ingredients on a label, it's probably not your best choice. The healthiest foods don't have a label; they look like they were just picked from a garden or farm."
Like Lang says, "You can't walk up to a head of romaine and read a label."
So what should you eat? Shoppers should be drawn to colors in the produce section.
It's also good to mix in whole grains such as whole wheat, brown rice, quinoa, barley, buckwheat and oatmeal, over refined white flour products. Whether walking the aisles at the grocery store or sitting down at a restaurant, resist temptation; avoid or limit high-sugar and high-fat foods.
"The biggest things to avoid are high-fructose corn syrup and trans fats. High-fructose corn syrup is literally a toxin in the body," Lang says. "It causes inflammation, increases insulin in the bloodstream, and causes more obesity. Practically everything you pick up in a box has it, and you can't even imagine how toxic it is to the body."
Lang says it is crucial for people to avoid sugar and to come to understand the detrimental affects it can have on one's body. "Sugar is as addictive as cocaine. I don't know that people realize that sugar is toxic," Lang says. "Try to get rid of processed foods as much as possible, shop around the outside of the store, avoid refined grains, and decrease the carbohydrates and sugary drinks."
Making it easier to eat healthier
It's understandable how we've come to be a society thriving on fast, high-processed foods when you look at how fast-paced life has become.
"The biggest thing that people can do to eat better is to plan," Lang says. "If you just plan what those meals are, you can think ahead, cook up an extra pound or two of ground beef and then freeze it. Make up more than one meatloaf, freeze it, and then when it is time, just throw it in a pan and cook it. Within 30 minutes, you have a healthy meal."
Shopping at a store that specializes in healthy food can always make that planning easier to do. "We like to help our customers choose more whole foods," Glyn says. "We don't sell anything with artificial ingredients or flavors or genetically modified food. It isn't allowed in the store. In addition, [our stores] have a healthy eating specialist who can help show you where products are and how to read the labels, as well as provide recipes."
There are also ways to reduce the expense of getting the right foods, Langer says. "You can join an organic food cooperative to curb the cost of purchasing organic foods," she says. "Also, buy local produce. It's likely to be sprayed with less sulfites (a preservative), since a long shelf life is not anticipated. Stock up on fruits and vegetables when in season, and freeze for later use. You can also buy meats and grain products in bulk, when they are on sale, to save money."
While changing eating habits can often be overwhelming, Lang has some advice on getting started. She suggests you first concentrate on getting enough "clean" protein that is free from antibiotics and hormones, increase the amount of raw, not cooked, vegetables, and to drink more water.
"Food is emotional," Lang says, meaning it's often connected to mood, and bad habits are hard to break. "It just takes time."
Resources
Live Well Nutrition Consulting
King of Prussia, Pa.
(267) 884-2945
LiveWellNutrition
Consulting.com
South Jersey Center for Nutrition & Wellness
553 Beckett Road
Suite 506, Swedesboro
(856) 467-3535
SJNutrition.com
Whole Foods Market
940 Route 73 N.
Marlton
(856) 797-1115
WholeFoodsMarket.com
Published (and copyrighted) in the Art of Living Well pull-out section of Suburban Family Magazine, Volume 4, Issue 3 (May, 2013).
For more info on Suburban Family Magazine, click here.
For information about advertising in Suburban Family Magazine, click here.
To find out where to pick up your copy of Suburban Family Magazine, click here.