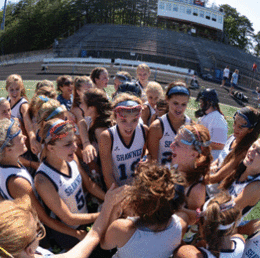 Fight to the Finish
The spring season is well underway, and we've got our eyes set on the best matchups of the year.
Athletic rivalries are as much a part of the high school experience as prom and senior trip. For most athletes and coaches, every win might be enjoyable, but there's one team they love to beat more than any other. It might be because of tradition, proximity, or the fact that they're usually competing against each other for championships. Whatever the reason, rivalry games are always special, and South Jersey has a number of them—some that have carried on for decades, others that are just starting to write their history. Here, we highlight a dozen to keep an eye on in this current spring season by going straight to the source about what makes these matchups strong—the coaches and athletes.
Washington Township vs. Eastern Softball
Long-time competitors in the Olympic Conference American Division, these two schools are rivals in just about every sport. What makes the softball rivalry unique is that year in and year out, these are two of the top teams in South Jersey. The V¬ikings are coming off a Group IV state championship in 2012 and also reached the state final in 2010, while the Minutemaids captured the Group IV state crown in 2002 and have won three South Jersey championships in the last 12 years. Washington Township coach Tracy Burkhart: "They're [Eastern] well-coached and they're competitive, and the last four years they've had really good pitching. Talented softball players are going there and it makes for a good rivalry."
Eastern coach Jamie McGroarty: "We've always had a tough time winning at their place. It's a tough place to play because they're always such a good team. We've had a little more success the last couple years, and you can kind of gauge your season on how you do against Washington Township. When you're talking about winning the conference or a Group IV sectional title, they're one of the teams you have to go through."
Washington Township senior Kristen Turner: "Usually it's a close game and one play can change the game. Hopefully that play goes our way this year and we can beat them both times. We get pumped up for our rivalry games, like Cherokee and Shawnee. But when it comes to Eastern, that's the game where we all come together and get really excited."
Eastern senior Madison Tiernan: "Township is definitely [our biggest rival]. They're always strong. It usually goes back and forth and we've been lucky the last few years to [sweep] them. They're very solid; their pitching is always good. It should be a good test for us this year to see where we stand."
Camden Catholic vs. Paul VI Softball
The Fighting Irish and the Eagles join Bishop Eustace in the triumvirate of local Catholic school rivals. All three are located within a short drive of each other in Camden County, and all three compete in the Olympic Conference National Division in most sports. Paul VI finished second to Camden Catholic in the softball standings in 2012, with the Irish advancing all the way to the South Jersey Non-Public A final.
Camden Catholic coach Mavreen Hering: "We've been pretty dominant in our conference lately. We've only lost one conference game in the last five years [to Bishop Eustace]. But that's probably going to change soon. Paul VI has brought in some really good players and Dawn Mader is back coaching, and she's heavily involved in ASA. So it's probably going to get a lot more even, but hopefully we keep winning."
Paul VI coach Dawn Mader: "We're close together, we're both Catholic schools, we battle for the same athletes to come to our schools. I remember when we won the conference over them in 2002. I think they were champs in 2001, and then we won for the first time in 15 years. This year should be a good year for us, and they have Susan Wysocki and Ali Summers, who are two great players."
Camden Catholic senior Ali Summers: "When we play Paul VI, we don't go in expecting a win. We know we have to be even more mentally prepared than usual because they're always going to give us their 'A' game. The conference is going to be tough this year and Paul VI is one of the teams that we have to worry about."
Paul VI junior Brielle Pietrafesa: "In all the sports at PVI, Camden Catholic is the rival. When we see their name on the schedule, we get so hyped for the game. We have team bonding before the game, we have a team pasta party and we all get so excited to play them. We haven't beaten them in such a long time. We want to win the conference this year, so beating them would be such a big accomplishment."
Cherry Hill East vs. Cherry Hill West Baseball
This is another one of those rivalries that applies to all sports, since it pits one side of Cherry Hill against the other. In baseball, both schools have a rich history of excellence, especially West, which has six state final appearances on its resume. The best year for the rivalry was 1992, when both squads were nationally ranked by USA Today. The Cougars won a regular-season matchup against West that year, but the Lions came back to defeat their rival in the South Jersey Group IV final in a thrilling 1-0 game. West went on to win the state title, becoming the first team in state history to capture four straight state crowns. This season's meeting is scheduled for May 9.
Cherry Hill East coach Erik Radbill: "We have a much stronger hatred for Washington Township and Cherokee and teams like that. We only play West once a year; we're not in the same division anymore. So it's not as heated as you might think; it's not as big a deal as the East-West football game. We've gotten into heated games, words [are] spoken, with all of the other teams. That kind of stuff doesn't happen with West. It's a friendly competition."
Cherry Hill West coach Dan McMaster: "I coached over at East for six years. I was an assistant under Dave Martin and Erik Radbill. Erik and I worked together for six years and he gave me his blessing to pursue other opportunities. It's a friendly rivalry. Erik and I have a good relationship and we make sure that we continue the tradition in a positive way. We kind of rise to the challenge; we both try to prove that we're the better team, the better program. I think each school uses the other as a measuring stick."
Cherry Hill East senior Nick Della Vecchia: "We grow up playing baseball together … and it's always good playing against them when we get to high school. We know each other so well; that's what makes it a great rivalry. The games we get up for the most are division games and West. Those are the teams we want to beat the most."
Cherry Hill West senior Brad Machinski: "I came up to varsity when I was a sophomore, and playing in that game was just nuts. There's just something about it. The crowd is huge, everyone comes out to watch, everyone knows about it. It's just something everyone looks forward to being a part of."
Bishop Eustace vs. Paul VI Baseball
Annually two of the best teams in the Olympic National, the Crusaders and Eagles shared the division crown last year. They split a pair of regular-season games, but Bishop Eustace took the rubber match, defeating the Eagles in the first round of the Non-Public A playoffs. The division championship could again come down to their two head-to-head matchups.
Bishop Eustace coach Sam Tropiano: "It's a combination of things. We're close, we're both parochial schools, they have a good program that we respect. We're also in the same playoff bracket, Parochial A, so we get to see each other a lot. We met three times last year, and there's always a chance you can meet in the Diamond Classic or another tournament, too, so sometimes it's four times."
Paul VI coach Pat Fisher: "Baseball-wise, it's definitely gotten better over the last couple of years. When I first got hired four years ago, they told me we had lost to them 13 straight times. To me, it's not a rivalry if you're always losing. But luckily we've been able to beat them a few times since I've been here and I think they're starting to respect us more."
Bishop Eustace senior and University of North Carolina recruit Zac Gallen: "A lot of the kids go to the same grade schools, and it also spurs from the other sports, like football and basketball. They're right down the street and we see them two times a year. They're always going to put out a good game and there's definitely a different level of intensity that both teams bring to the game. I doubt it's as intense [as the North Carolina-Duke rivalry], but I'm using it as a good stepping stone."
Paul VI senior Bobby McSorley: "I think they're a bigger rival than Camden Catholic. The consensus of the team is that we have a bigger passion when we play Bishop Eustace. At that point, the rankings go out the window and we're each playing for our school. There's a lot of adrenaline in the first few innings and then you have to bear down and play. But there's definitely something extra that day."
Lenape vs. Cherokee Boys Lacrosse
The four schools in the Lenape district—Lenape, Cherokee, Shawnee and Seneca—can all be considered rivals. For Lenape and Cherokee, the proximity of the schools and the students' familiarity with each other lends to an especially intense series, and that includes the lacrosse field. The athletes have usually been competing against each other since youth lacrosse, and in high school they meet twice a year as members of the Olympic American.
Lenape coach Bill Sutphin: "Four or five years ago, Cherokee had a really good team that went far in the playoffs. They had some good, college-bound players and they really took it to us. That's the game we remember, because we want to work hard to make sure that doesn't happen again, and it's been close ever since then."
Cherokee coach Pete Corelli: "We have huge rivalries with all of our sister schools, Shawnee and Seneca, too. But Lenape is the closest one to us and they beat us two times last year. We had their number the years before that, but they're always tough games, always physical games. We made preseason goals, and that name came up a lot. We want to regain that dominance over them."
Lenape senior Reed Hofmann: "We play against them from a young age. They're like 10 minutes from our school and we're in the same division, so we play them twice a year. Cherokee and Lenape in every sport just don't get along too well, so right when we step on the field there's intensity, there's a lot of energy and enthusiasm."
Cherokee senior Shae McCusker: "They're a two-minute ride down the road and there are a lot of people on the borderline [between the two schools]. Either you know the person so you've gotta beat them, or you hate the person so you've gotta beat them. The games get scrappy; they get intense."
Moorestown vs. Shawnee Girls Lacrosse
This is the mother of all rivalries. While not in the same conference, these two programs are among the elite in the entire state, with one or both playing in a state final every year since 1987. Moorestown has a New Jersey-record 19 state championships—including last year, when it won the Tournament of Champions—while Shawnee is second on the list with seven state crowns. The Quakers will visit the Renegades on May 7, but chances are that won't be the only time they see each other this season. The rivals have met in the playoffs for 14 straight years and 19 times since 1988. With Shawnee moving up to Group IV this season, the only postseason meeting would be in the Tournament of Champions if both teams claim state titles—but we're not putting anything past them.
Moorestown coach Deanna Knobloch: "We always strive to beat Shawnee because they're one of the top teams in South Jersey. As coaches and players, we highly respect their program. We know it's always going to be a good game, a heated battle. And no matter what the score is, I think the best part of this rivalry is what happens after the game. All the girls on both teams are still friends. Winning and losing is not important; what's important is the friendships they've developed, which will last a lifetime."
Shawnee coach Janae Zechman: "The girls play together all summer and they've probably been on the same club team since middle school. They all know each other's strengths and weaknesses, so that makes it interesting when we play. Unfortunately, one of us always has to bump the other out to advance in the playoffs, because we always wind up in the same group. This year, we're actually in Group IV, so we should not be meeting in the playoffs. But you never know what might happen down the road."
Moorestown senior Mary Flick: "We have different traditions that we do before the Shawnee game to get us all hyped up, and the tension in the locker room before we come out is always high. It's not really a nervous feeling, just an excited feeling to get out there against good competition. Whoever is gonna go out there and put more heart on the field is what it's gonna come down to. A lot of my best friends play on Shawnee. It's always fun to see each other, but at the same time there's that feeling of, 'Who's gonna win the bragging rights?'"
Shawnee senior Glade Nugent: "There's always an edge to that game and it's a lot of fun. Moorestown has won back-to-back championships. They're always such a good team. That's one reason we absolutely love to play them; it gives us a challenge and we have to work hard. It's an honor to be playing them."
Seneca vs. Clearview Girls Lacrosse This is far from a traditional rivalry, since Seneca has only been around since 2003 and the two teams haven't met on the lacrosse field in several years. But it certainly has the potential to become a terrific rivalry, with both programs establishing themselves as South Jersey powers. Seneca has won two straight Olympic Patriot championships, but Clearview moves into the neighborhood this year and has plans on challenging that streak. The Pioneers captured their first-ever South Jersey Group IV title in 2012. The new rivals get reacquainted on April 26 at Seneca, with the second meeting scheduled for May 9.
Seneca coach Morgan Crothers: "I think in general, the rivalries are our sister schools—Lenape and Shawnee and Cherokee. We used to play Clearview a few years ago when we were in the same division, but we were both kind of second fiddle to Shawnee. We've talked about what we need to do to win the division this year, and Clearview is definitely one of the teams we have to go through. I think it could turn into a good rivalry."
Clearview coach Megan Conklin: "I think any time you establish a relationship between two competitive teams, there's always a rivalry that goes along with that. We had a rivalry with Seneca years ago when we played them. We'd go back and forth, win by one and lose by one. We haven't played them for a few years but we've scrimmaged them. I'm excited to see them again. We'll play them twice now that we're in the same division. I definitely see the potential for a rivalry with them."
Seneca senior Sarah Regn: "We usually scrimmage them every year and they're always great competition for us. There's definitely a rivalry with our sister schools, but now that we're in the same division as Clearview, we know we're going to have tough games with them and we're willing to put up a fight. One of our goals is to win the conference and we're going to work really hard to do that, and we know Clearview is one of the teams we have to beat."
Clearview senior Sara Kramer: "In most sports, Kingsway is our rival, but in lacrosse it's usually Washington Township. But we used to scrimmage [Seneca] and they would always be tough scrimmages; they would go back and forth a lot. I think there will be intensity. We have a chance to win the division if we can beat them."
Eastern vs. Cherry Hill East Boys Volleyball
Any discussion of the top volleyball programs in the area must include these two teams, which are often jostling with each other for position in the South Jersey rankings. The Olympic Conference American Division championship has gone to one of these schools every season for the last five years, with the Vikings taking three of those titles. Cherry Hill East coach Karl Moehlmann, who is retiring after this season, has a slight edge in career wins over Eastern's Tom Armour, 318-304.
Eastern coach Tom Armour: "Everybody rises to the occasion for this match. In the '90s, they were state champs three years in a row; they beat everybody. Over the last several years, we've been on top. I also run South Jersey Volleyball Club, and several of their boys play in the club and several of my boys play in the club. So in the winter, they're playing on the same team and, when high school comes around, they're going against each other. So it's a very positive rivalry; there's no animosity."
Cherry Hill East coach Karl Moehlmann: "Last year, they had a very good team and they won the division. This year, we hope to be on top again and finish with the best record. That's what a rivalry is supposed to be. It's my last chance to win; Tom Armour will outlive me [in coaching]. All he has to do is wait one more year and he'll have the most wins. But when I step down this year, I want to make sure that's not the case yet—all in friendly competition, of course."
Eastern senior Narindra Peaks: "My freshman year, it was a lot bigger rivalry. They had Eric Zaun, who was one of the best hitters in the state, and we had Fran Bolletino, who was one of the best hitters in the state. Since then, it hasn't been as great a rivalry. … But there's still the fact that they're five minutes down the road and we're always like, 'We don't want to lose to this team, do we?'"
Cherry Hill East senior Nick DiVito: "I would say [Cherry Hill] West is our rival in a lot of sports, but Eastern is definitely a rival in volleyball. I'm not sure about their team this year, but Eastern is historically always good and I'm sure they'll be a threat."
Kingsway vs. Delsea Boys Track
The Dragons and Crusaders have a long history of competition in all sports as members of the Tri-County Conference Royal Division. During track season, they usually can be found battling it out for division as well as Gloucester County and South Jersey championships. Delsea has owned the rivalry lately—it hasn't lost a dual meet to any team since 2008—but Kingsway will look to end that streak on May 13.
Kingsway coach Mel Carter: "We've been going at it for years, but it's not just us. We both also have rivalries with Highland and Williamstown in our division; the list goes on and on. But Delsea has really come on as a track program and, over the last 10 years or so, that's really become a big rivalry."
Delsea Coach Ronn flaim: "We know that Kingsway is not only going to be one of the top teams in the league, but also in South Jersey. We're in the same group also, so we see them a lot through the course of the year. For us to win any titles, whether it be the conference, the county, the sectional, even a relay meet, we know they're one of the teams we have to beat. I'm sure they look at us the same way."
Kingsway senior Derrell Manhertz: "Kingsway and Delsea have a long-time rivalry, since before I came here. It's just been a known thing that they're rivals with each other. At times it can be friendly, at times it can be intense."
Delsea senior Josh Awotunde: "Kingsway is always a top team in our conference. Every year it comes down to them and us and a few other schools. This year, we're focusing on them because they're one of the toughest teams in the conference. It's not just one event; they're competing with us in every event. We match up perfectly in a way."
Haddonfield vs. West Deptford Girls Track
From the fall to the spring, these long-time Colonial Conference members seem to battle it out in a number of sports. The rivalry is probably the strongest in soccer, but it certainly carries over to girls track. Last year, the Eagles lost only one dual meet, and it came at the hands of Haddonfield. The Bulldawgs have won the conference in 13 of the last 14 years, and last year, they were Group II state champions.
Haddonfield coach Jason Russo: "West Deptford and Haddon Heights are definitely the two teams we get the most excited to compete against. West Deptford, every year, they always tend to be very, very competitive and they're always prepared for our meet. When we go over to West Deptford or they come to our place, there's a little bit of extra intensity there. We know the other schools are going to compete, but we know West Deptford isn't going to be satisfied with just competing. They want to win."
West Deptford coach Mark Drummond: "For us, they're kind of the gold standard in South Jersey, especially considering what they've been able to accomplish for a small school. It's a good year any year you can compete with them. Their coaches are very knowledgeable and involved in the sport, just like our coaches are, and that makes it interesting and enjoyable to go up against them. We're friendly off the track, but on the track, we're both doing everything we can to get the win."
Haddonfield xenior Emily Carson: "As a team, West Deptford is one of the more well-rounded teams in our conference. There's also Woodbury and [Haddon] Heights; there's a lot of good teams. But there's always been that rivalry between us and West Deptford. Some of the soccer players also run track, so it definitely carries over. It's a little different but you can tell it's still there. It's a fun bus ride when we win."
West Deptford senior Megan Knoblock: "They are definitely our No. 1 rival this season and every season. We have a lot of young talent that came in this season, and from the beginning we made it our goal to become conference champions, which West Deptford hasn't done in years, since 1997 or something. With the group of girls that we have, we feel that we can do it, and we have to go through Haddonfield."
Gloucester Catholic vs. Pitman Golf
In most sports, you can't beat the rivalry between Gloucester Catholic and Gloucester High, as the city series has produced countless memorable moments. But the Lions don't have a golf team, so on the links, the Rams have found a worthy adversary in Pitman. Gloucester Catholic captured the team title at the Tri-County Conference Championships in 2012, with third-place finisher Pitman 11 strokes back. The two teams also shared, with Woodstown, the Tri-County Classic Division regular-season championship.
Gloucester Catholic coach Beth Quinn: "In our division, it's Woodstown and Pitman. I can't really decide which one is the biggest rival. I think all three of us are going to vie for the title again this year. Golf is definitely different from other sports. The kids know each other from playing all the junior tours and summer golf. When we get to the course, they know what to expect from the competition and it's pretty friendly for the most part. I enjoy it; it's not blood and guts like the other sports."
Pitman coach Josh Bennett: "It used to be us and Woodstown were really big rivals, and we still are, but in the last couple of years, the Gloucester Catholic rivalry has definitely picked up. The kids look forward to that match. Last year, the last time we played Gloucester Catholic, we lost by one stroke, and because of that we had to share the conference with them instead of winning it outright. So it's a pretty big deal."
Gloucester Catholic sophomore Connor Goodrich: "The one kid, Eric Stafford, me and him have been good friends for a while. We've always had a friendly rivalry between us, and it's a pretty big rivalry between our schools. We really want to do good against them, but you want to remain respectful. We're all friends at the end but we still want to beat them."
Pitman junior Eric Stafford: "On different tours [Goodrich and I have] played against each other. The Golf Association of Philadelphia has an event every year; you get seeded in different flights and then it's match play. About four or five years ago, we went head-to-head in match play and it was a close match. I remember it well; it was a fun match. So we've known each other for a while and we're friends. I think that helps fuel the rivalry a little bit."
Moorestown Friends vs. Gill St. Bernard's Tennis
As a member of the Friends School League, many of Moorestown Friends' regular-season matchups come against Pennsylvania schools, and one of the toughest rivals is the powerhouse Friends Central team. But a budding rival for Moorestown Friends is Gill St. Bernard's in Gladstone, which defeated the Foxes in last year's South Jersey Non-Public B final. That loss ended a streak of three straight South Jersey championships for the Foxes, who feel they have a shot to get back on top this season if they can get past their new playoff rival.
Moorestown Friends coach Mike Bodary: "Probably our best rival, even though it's a new one, is Gill St. Bernard's. They're probably our biggest competition as far as winning the sectional title again. They beat us 4-1 last year, but one of the losses was a three-setter. It was pretty close and we're stronger this year."
Gill St. Bernard's coach Sean Welcome: "It's totally different now because we used to be in the North [group] and we always played Montclair Kimberley in the sectional final. It's nice to have someone different, that's for sure. It would be great for both schools if we could meet every year in the final."
Moorestown Friends senior Luke Timber: "We have some rivals in the Friends League, Friends Central and Shipley. Gill St. Bernard's is our rival, but they're really far away from us and the only time we play them is in the playoffs. They're near North Jersey, so we don't really know any of the kids on the team. But we're a little upset about them ending our streak, and we want to get back this year and show them the team that we have now."
Gill St. Bernard's senior Alec Rowe: "I don't know if we played them before last year, but we definitely can become rivals because we're in the same group. If both teams are consistently good, we should meet in the state final every year."
Photos: Shawnee Girls Lacrosse Team, Kingsway Boys Track
Published (and copyrighted) in Suburban Family Magazine, Volume 4, Issue 2 (April, 2013).
For more info on Suburban Family Magazine, click here.
For information about advertising in Suburban Family Magazine, click here.
To find out where to pick up your copy of Suburban Family Magazine, click here.