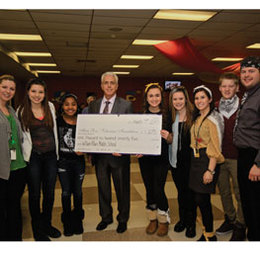 Star Students: April, 2013
<P>
<B>William Allen Middle School Students</B> (pictured)
<BR>Moorestown
<BR>For five days during lunch period, the students of WAMS sold bandanas and bracelets to raise more than $1,700 for the Alicia Rose "Victorious" Foundation. Alicia died at the age of 17 from cancer, and the foundation in her honor raises awareness of pediatric cancer and aims to make hospital life as comfortable as possible for patients.
<P>
<B>Sarita Jamil, Elena Malloy, Anna Wechsler and Dragan Vujovic</B>
<BR>Mount Laurel
<BR>Four of Lenape High School's best took on the Deborah Heart Challenge recently in honor of National Heart Month. The students faced a barrage of questions about the cardiovascular system from the doctors of the Deborah Heart and Lung Center.?Teams from several other high schools in the area provided stiff competition but?Lenape, defending its title, won again this year for the eighth consecutive time.
<P>
<B>Pink Panthers Breast Cancer Team</B>
<BR>Voorhees
<BR>Founded by a group of elementary school students?as the Osage Breast Cancer Team, this group has raised thousands of dollars in the last five years for the Susan G. Komen Foundation. Andrew Coard, Ava Duffet, Kara Duffet, Simone Brooks, Colin Coard, Sajin Maharaj, Karl Samuels, Rahul Shah, Rohit Abraham, Philip Perez, Liam Johnson and Karnaveer Pannu are now Eastern High School freshmen and they conduct several fundraisers a year, including participating in the Mother's Day Susan G. Komen Breast Cancer Walk in Philadelphia.?
<P>
<B>Shawnee High School DECA Students</B>
<BR>Medford
<BR>Shawnee's showing at the DECA State Competition was very impressive this year, with 31 students from the high school participating. The students were given a rigorous test, along with partaking in roleplays. While six students made the finals this year, only senior Tyler Babik will move on to the International Competition in California at the end of April.
<P>
<B>Matthew Chalmers</B>
<BR>Marlton
<BR>The President's Council on Service and Civic Participation, founded in 2003, honored Chalmers, a junior at Cherokee High School, with a Volunteer Service Award in recognition of the hours he donated to various civic organizations during the past year. In being honored, Chalmers is an inspiration for other students to follow. ?
<P>
<B>Melissa Olt</B>
<BR>Mount Laurel
<BR>Olt won third place at the Computer-Aided Design (CAD) Architecture with Animation competition, run by the Technology Student Association. She was challenged to design a modern glass house encompassing 2,000 square feet that had a view of the mountainous landscape outdoors, while still providing privacy for its residents.
<P>
<B>Thomas Paine Elementary School</B>
<BR>Cherry Hill
<BR>Led by Tarah Miller, whose daughter Julia is afflicted with a neurological disorder called Rett syndrome, the Thomas Paine Elementary School student body showed its support by selling paper flowers for a dollar each. The overwhelming response not only covered the school foyer with the flowers, but raised more than $1,000 for Girl Power 2 Cure, Inc., a nonprofit organization funding research for Rett syndrome. ?
<P>
<B>Alexis Hartman and Kevin Bookwalter</B>
<BR>Marlton
<BR>The All-South Jersey Junior High Select Orchestra has two new violinists from Marlton Middle School in its string section. The rigorous audition requires all participants to know their scales and sight-read, and both students, Harman and Bookwalter, stepped up to the challenge.
<P>
<B>Rebecca Fisher and Elisabeth Siegel</B>
<BR>Cherry Hill
<BR>The Philadelphia Singers selected Fisher and Siegel from Cherry Hill East to perform "Carmina Burana" with the Philadelphia Orchestra at the Kimmel Center in February. As a part of the Philadelphia Singers' mentor program, Fisher and Siegel are also members of East Singers and Belles of East.
<P>
<B>John Wassmuth</B>
<BR>Washington Township
<BR>Wassmuth usually performs as an accompanist for Washington Township High School's choral ensemble, but he got a chance to shine in the New Jersey Music Teacher Association's Young Musicians Competition. He scored first place in the senior division, performing Chopin Ballade No. 1, among the most difficult pieces in the solo piano repertoire.
<P>
<B>Reeves Balderson</B>
<BR>Moorestown
<BR>A trip to the beach turned into a science experiment for this William Allen Middle School student. His three-year project to turn saltwater to freshwater won him "Best of Fair" at the Coriell Institute Science Fair. This is the second year in a row Balderson won the honor, which also comes with a $500 prize.
<P>
<B>Haddonfield Middle School Seventh-Graders</B>
<BR>Haddonfield
<BR>In honor of their town's tricentennial celebration, more than 100 seventh-graders from the school created clay replicas of the buildings that line Kings Highway from the high school to the PATCO station. The replicas were staged in the windows of a local business, Animo Juice, for the foot traffic of Haddonfield to enjoy.
<P>
Published (and copyrighted) in <B>Suburban Family Magazine</B>, Volume 4, Issue 2 (April, 2013).
<BR>For more info on Suburban Family Magazine, click <A HREF=http://www.southjersey.com/?fa=contact&type=shg Target=main>here</A>.
<BR>For information about advertising in Suburban Family Magazine, click <A HREF=http://www.southjersey.com/?fa=advertising_rates Target=main>here</A>.
<BR>To find out where to pick up your copy of Suburban Family Magazine, click <A HREF=http://www.southjersey.com/?fa=distribution Target=main>here</A>.