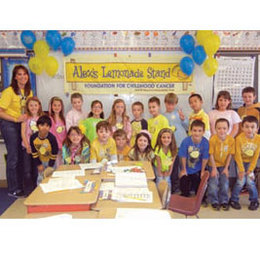 Star Teachers: April, 2013
Marla Ruh (pictured)
Washington Township
Ruh seized a unique opportunity to instill the importance of giving back to the community as well as building a foundation for math skills in her second-graders at Wedgwood Elementary School. Her class set up a lemonade stand at the school, and acted as accountants for the mini-business, using charts while calculating their sales. In the end, the students learned a practical counting lesson all while raising?$560 for Alex's Lemonade Stand.
Sharon Clarke
Voorhees
Three of Voorhees Township music director Clarke's talented middle-school students played with the Olympic Conference Senior High Band at Washington Township High School's Performing Arts Center recently. Under the instruction of Clarke, seventh-grade girls Michelle Xu and Paige ReHill played the clarinet and sixth-grader Kelsey Piatkowski played the flute. Middle-school students Irene Nam, Yinin Li and Michelle Xu also performed in the 2013 South Jersey Junior High School Band.
David Gamber
Moorestown
Under the instruction of Gamber, an art teacher at Moorestown Friends School, several students designed bowls for the school's Empty Bowls dinner fundraiser, an event benefiting the Food Bank of South Jersey and the program's scholarship fund. During the event, attendees could purchase a bowl made by the students and also enjoy food and drink with friends, all for a good cause.
Maureen Schoenberger
Medford
This technology teacher wants her Medford?students in Allen and Chairville schools to be one step ahead of technology. To do so, she was selected to attend the Teacher Educator Institute in Boston at the Museum of Science this May. She's one of a host of teachers across the country selected to participate in the intensive three-day workshop concentrating on the Engineering is Elementary Curriculum, which fosters science, technology engineering and mathematical (STEM) literacy.
Ron Smith
Haddonfield
This Haddonfield Memorial environmental science teacher's course is crowded with students itching to make an eco-friendly difference on their community. His curriculum requires students to independently locate and work with an organization that promotes sustainability. Of the 80 students in his classes, some are working with local beekeepers, while others are studying the benefits of organic eggs and even personally raising chickens.
Sarah Warren
Medford
In between coaching the girls swim team at Shawnee and being a teacher and the service learning coordinator, Warren (pictured at far left) has her hands full. As part of her job as service learning coordinator, Warren recently matched Shawnee seniors with the fourth- and fifth-graders at Taunton Forge Elementary for their Day of Service. It is Warren's hope that this "buddy" system will give the younger kids positive student mentors and inspiration.
Rosalie Rucker
Washington Township
Rucker takes pride in helping her first-graders grow up to be tech-savvy. She recently organized a visit with Boeing engineer Ron Ronsayro, who helped teach students about airplane engineering through simple concepts using Microsoft Paint and then building model airplanes. Rucker has been working to expose students to the countless career opportunities that mastering the use of technology creates.
Dana Pilla
Haddonfield
For the third year in a row, Haddonfield students have been awarded for their work with the Foreign Language Educators of New Jersey annual podcast competition. Pilla, a Spanish teacher for Haddonfield Middle School, helped her students submit one-minute long podcasts to the judges to show how well they speak in a foreign language. One of her eighth-grade students, Sophia Kurtz, was a runner-up in the middle school category for her podcast giving a tour of Haddonfield.
Kerry Morlino
Cherry Hill
At Sharp Elementary School, art teacher Morlino wanted to make an impact on both her students and the community by bringing them together, inspiring creativity and imagination.?She put together the Sharp Art Night, which attracted more than 90 percent of the students and their families. All were encouraged to compliment each other on their work and help the youngest students with their projects, making it truly a group venture.
Mike Curcio and Dana Cummins
Mount Laurel
Along with being health and physical education teachers, Curcio and Cummins are the advisors of Lenape High School's Drivers' Education Club.?The club partnered with Allstate Insurance for the second year in a row to advocate safe driving among teenagers through the "X to Text" program. Students in the club encouraged 11th and 12th grade students to pledge during their lunch periods not to be distracted while driving and to not text and drive.
Maura DiMedio
Marlton
The Foundation of Leadership students from Cherokee, Lenape, Shawnee and Seneca came together to partake in the annual Clothing Drive Competition to benefit Goodwill. DiMedio, the advisor for the group at Cherokee High School, has led her students in the right direction, raising more than 5,635 pounds of clothing for the drive, almost 4,000 more pounds than any other school.
Christy Marzano, Amy Hoppel, Michele Loughlin and Christina Hepperlen
Medford
These educators went above their basic language arts curriculum in organizing a Genocide Awareness Day for their seventh-grade students at Medford Memorial. The 250 students conducted a wide variety of research projects (on genocides including the Holocaust and Cambodia) in efforts to expand their education beyond the books. The exhibit displaying their research was visited by more than 100 administrators, parents and teachers.
Published (and copyrighted) in Suburban Family Magazine, Volume 4, Issue 2 (April, 2013).
For more info on Suburban Family Magazine, click here.
For information about advertising in Suburban Family Magazine, click here.
To find out where to pick up your copy of Suburban Family Magazine, click here.