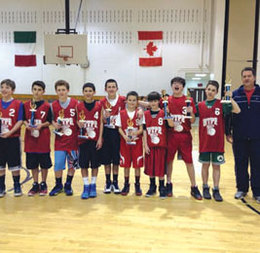 Star Coaches: April, 2013
Anthony Tigano (pictured)
Washington Township
Washington Township 12-year-old boys coach Tigano led his team to an undefeated season and coached the nine middle school basketball players on his team to a win during the championship game of their division.
Tim Pawliczek
Cherry Hill
Coach Pawliczek, of the U14 Cherry Hill SC Sharks girls soccer team, led his team to victory against the Greater Chester Valley SA Sonic Boom at the Mid Atlantic Premier Soccer (MAPS) Spring Challenge at the Tuckahoe Turf Farm. The win sets the team up for a strong season, and earns them 205 points towards national ranking.
Brian Earl
Medford
A 1995 Shawnee graduate and former Renegades star athlete, Earl completed his sixth season as an assistant basketball coach at Princeton this winter. Earl, who also played at Princeton and was the Ivy League Player of the Year in 1999, coordinates the defense for the team, and helped the Tigers to a 17-11 overall record and 10-4 mark in the Ivy League this season under head coach Mitch Henderson.
Ron Ippolite
Washington Township
Wrapping up his third year coaching the Washington Township High School varsity wrestling team, which ended its season with an 18-8 record, Ippolite was voted by his peers to be the 2013 District Coach of the Year. That impressive record this past winter earned the team second place in the Olympic Conference American and third in District 30.
Craig Dewar
Mount Laurel
The head coach for the Burlington County College men's soccer team, Dewar was named Coach of the Year by the Garden State Athletic Conference after the Barons went 10-6 in the season and were named Region XIX runners-up. Dewar's team was also recognized as one of the best in the country for the second year in a row by the National Soccer Coaches Association of America.
Ron Powell
Marlton
Powell, a now-retired basketball coach with a 438-240 overall record and a four-time winner of Coach of the Year, can add another honor to his resume: He has been inducted into the Albert J. Carino Basketball Club of South Jersey Hall of Fame. The only coach in New Jersey to have 200 wins at two different high schools—Rancocas Valley Regional and Cherokee—Powell is also the only coach in the state to win the Tournament of Champions at two different high schools.
Tim O'Reilly
Moorestown
The Moorestown High School golf team, led by coach O'Reilly, took a first place finish out of 18 teams at the Pinelands-hosted Wildcat Golf Tournament in Little Egg Harbor with a score of 323, while three Quakers claimed the top three individual finishes at the event.
Lynn Santilli Connor and Marisa Edmund
Haddonfield
As coaches for the newly-organized Haddonfield Youth Girls Lacrosse program, which is conducting its first season this spring, Connor and Edmund are making it possible for girls in grades K through 8 to start playing the sport at a younger age while also leading a healthy and active lifestyle.
Frank Smith
Mount Laurel
Capping off a successful 27-2 season, Smith coached the fifth-grade girls on his Mount Laurel travel basketball team to a win over the Voorhees squad in the Inter-County Basketball League Championship. The Rebels finished 18-1 in their league, and also won the 8th Annual Voorhees Tip-Off Classic and 15th Annual Warrington-Warrick Warmup Tournament.
Rich Lockwood, Jim Schade and Andy Spirt
Voorhees
In recognition of their dedication to youth soccer in Voorhees, Lockwood, Schade and Spirt were inducted recently into the Voorhees Soccer Association Hall of Fame. All three men were eligible for the award because they have coached with the VSA for more than 10 years.
Vince Ridge
Moorestown
Moorestown Ice Hockey Club coach Ridge was named Coach of the Year by the South Jersey High School Hockey League after his team was able to rack up a number of wins and end their season with a 19-2-1 record.
Allison Noyes, Andrew Waggoner, Kaitelyn Miller
Cherry Hill
Facing four other teams from the tri-state area, coaches Noyes, Waggoner and Miller led the Katz JCC Sharks to their first JCC Mid-Atlantic Swim League Championship. An 80-member team ranging in ages from 6 to 18, including some athletes with special needs, the group proudly displays their first title banner over the indoor pool at Katz JCC.
Published (and copyrighted) in Suburban Family Magazine, Volume 4, Issue 2 (April, 2013).
For more info on Suburban Family Magazine, click here.
For information about advertising in Suburban Family Magazine, click here.
To find out where to pick up your copy of Suburban Family Magazine, click here.